Cabo de la Vela will take you more time, energy, and money to reach than the beaches of Parque Tayrona, however, those who make the journey to will be rewarded with a little slice of paradise.
For visitors to Colombia's La Guajira Peninsula, the little seaside village of Cabo de la Vela is where most will spend their nights.
As I booked a package tour from Santa Marta, we ended up staying at a lodge 15 minutes from the main village.
The small distance offers guests an idyllic, private beach setting versus the village center, which is a collection of small wooden homes and businesses belonging to the indigenous Wayuu people.
The dining room was a windowless, thatch-roofed building with gorgeous views of the sparkling turquoise waters.
Two wooden umbrellas were planted in the sand, offering guests small areas of shade from the intense Colombian sun.
12 PM
The first thing everyone wants to do upon arrival is to go for a swim. And who can blame them?
The water is perfectly warm all day long, even when it's cloudy.
1 PM
Imagine returning from a swim on your own deserted beach to freshly boiled lobster smothered in butter!
That's exactly what can happen, as long as the lobster is available that day, and you're willing to pay the extra 15,000 pesos ($8) for it.
Otherwise, you may end up with fresh, fried Pargo (red snapper).
2 PM
After lunch, you'll jump back in the Land Cruiser and visit some of the local sites, which hold spiritual significance for the Wayuu people.
More swimming ensues at another beach.
6 PM
Sunsets in Cabo de la Vela are a sight to behold, and because the area doesn't get much rain, you have a good chance of catching a pretty one.
Once the sun goes down, you'll have a few hours of electricity provided by generators.
7 PM
Entrees for dinner are on a rotation. However, you can be sure that whatever's on offer is a staple of the local diet. Entrees include Pargo, lobster, goat, and beef.
And if you like goats, try not to notice them grazing around the lodge, because chances are you'll end up eating one of them.
9 PM
The 6-hour drive from Santa Marta, the heat, the swimming, and the (optional) beers tends to catch up with everyone by mid-evening.
The local Wayuu are known for their woven hammocks. Therefore guests spend the night sleeping in them under a thatched roof.
The hammocks are designed with extra flaps that hang down on the sides; however, they can be wrapped over you for warmth, and protection from bugs and mosquitoes.
Depending on your bargaining skills, the colorful hammocks go for $200 – $300 if bought directly from the Wayuu.
Prices can be double or more if purchased in other parts of Colombia, and even higher when bought from abroad.
At night, before going to sleep, or during a midnight run to the toilet, be sure to look up at the dark sky for some of the brightest stars you'll ever see.
The lack of development on La Guajira, combined with its coastal location, ensures minimal light pollution to obscure views.
The Next Morning
A breakfast of arepas with eggs and cheese will be served, along with hot chocolate or coffee.
Morning swims at sunrise are popular, and then you'll have some time to kill with a book or cards before it's time to leave.
For one night trips, you'll head back to Santa Marta. For two night trips, you'll either stay another night at Cabo de la Vela (not recommended as there's nothing to do), or drive and take a boat to Punta Gallinas, the northernmost point of the peninsula, Colombia, and therefore, the South American continent (recommended).
How to Get There
Single or multi-day tours can be booked through several companies with offices in central Santa Marta and Taganga.
I booked a 2-day trip through Magic Tour Taganga, which also has an office in Santa Marta, near the Cathedral (Calle 16, 4-41. Tel: 421-5820).
The cost was $215 and included all transport, two nights accommodation in a hammock at a ranch outside Cabo de la Vela, and seven meals.
____________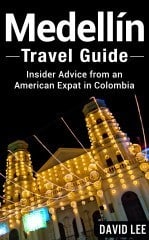 My 138-page, all-original Medellín Travel Guide is available for Kindle and PDF.
.
Dave is the Founder and Editor in Chief of Go Backpacking and Feastio. He's been to 66 countries and lived in Colombia and Peru. Read the full story of how he became a travel blogger.
Planning a trip? Go Backpacking recommends: