It was obvious when I awoke my first morning in Taganga, a small fishing village on Colombia's Caribbean coast, that the beach would not be joining the illustrious list of other tropical paradises I've been lucky enough to visit.
The heat and humidity had me sweating from the moment I stepped off the plane, and that was after the sun had already gone down.
I'd spent the first night in a 6-person hostel dorm room, and by the following morning, was ready to find myself a private room within reach of a sea breeze.
The main strip of Taganga looked downright depressing. Hungover.
In the same way Koh San Road in Bangkok looks hungover every morning as the streets are cleaned of the garbage produced from the partying the night before.
I sat down in one of the few restaurants that were open for breakfast and took a look around.
A couple of travelers were hanging out by the beach, drinking fresh tropical fruit juices. I guessed they were up early to go diving.
There were lots of dive shops, as Taganga has a well-deserved reputation for being an inexpensive place to get your PADI certification.
My friend Marcello from Wandering Trader got his certification there a month or so earlier. The cost for open water certification is about $250 – $300.
The beach itself was small. But the surrounding mountains were not covered in the lush jungle as I imagined.
It appeared more like scrubby bushes. It felt dry and desert-like.
The beach was dirty, yet served its purpose for allowing visitors to sunbathe.
I wondered if this was what it was like in February 2009, when I'd met a group of Irish backpackers in Barranquilla who'd spent an entire month in Taganga. Because I didn't see the appeal.
Maybe the beaches of Thailand had spoiled me, or my expectations grew out of control over the two years it took me to finally visit.
Whatever the case, I was disappointed with what I found, though there were a few silver linings.
Reasons to Visit Taganga
Nightlife
What the village lacks in terms of daytime atmosphere, it makes up for at night with beach bars and a few discotecas.
It turns out the nightlife is better in Taganga than Santa Marta, which doesn't say much for the latter.
I went out dancing at discoteca Sensation one night, and it was bringing in a mixed crowd of Colombians and foreigners.
Cheap diving
Go for a few days to get certified, and then get the heck out.
That said, there are plenty of other inexpensive places in the world to get certified, and they offer much prettier beaches (and I bet much clearer views underwater too).
Gili Trawangan and Koh Phi Phi come to mind if you want to go diving in Southeast Asia.
Base camp for exploring the region
Taganga may not be an idyllic beach, but for many, it will hold more appeal than staying in the nearby city of Santa Marta.
You can book the same activities from either location, including transport to Parque Tayrona, treks to Ciudad Perdida (The Lost City), and package trips to La Guajira.
Fresh seafood
Available at all the restaurants. I highly recommend the pargo (red snapper) if available.
____________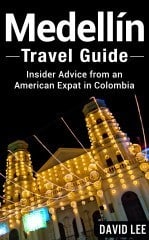 My 138-page, all-original Medellín Travel Guide is available for Kindle and PDF.
.
Dave is the Founder and Editor in Chief of Go Backpacking and Feastio. He's been to 66 countries and lived in Colombia and Peru. Read the full story of how he became a travel blogger.
Planning a trip? Go Backpacking recommends: