Planning a trip to Santa Marta, Colombia? Santa Marta serves as an excellent base in Colombia for travel adventure.
You can learn to scuba diving in Taganga, tackle the Ciudad Perdida ("Lost City") jungle trek, or head off in a 4×4 through the deserts of La Guajira.
Whatever you're looking for, this Santa Marta city guide has you covered.
Introduction
At first glance, Santa Marta does not impress.
Instead of a destination unto itself, most foreign tourists use it as a base camp for exploring other points of interest along the coast, or the famous Ciudad Perdida Trek.
The attractive city center is much smaller than Cartagena, and the beaches can't compare to the natural beauty of Playa Blanca or Parque Tayrona.
But if you give it a chance, a few days without judgment, you may find the charms of this small coastal city growing on you.
Getting There & Away
By Plane
Santa Marta is served by the Simon Bolivar Airport, located along the beach, about 20 minutes south of the city center.
To get to your hostel or hotel from the airport, take a taxi for about 45,000 to 50,000 pesos ($15 – $17).
If you're heading straight to Taganga, expect to pay 50,000 to 60,000 ($17 – $20).
If you notice other backpackers from your flight, ask if you can share a taxi to split the cost.
Currently, Santa Marta Airport (SMR) does not serve any international flights, but flights from within Colombia can be had for a bargain when we checked Skyscanner.
Here are some sample prices when booking a few months in advance:
By Bus or Minivan
Santa Marta's central bus station is outside the city center and offers regional and long-range buses to destinations around the country.
Regular buses leave for the two-hour trip to Barranquilla, and it's a four-hour ride to Cartagena further west along the coast. It's about a 12-hour journey to Medellin.
Sample prices and destinations from Santa Marta:
Santa Marta to Barranquilla: 10,000COP (~$3.50)
Santa Marta to Cartagena: 28,000 COP (~$9.50)
Santa Marta to Medellin: 108,000COP (~$36)
Santa Marta to Bogota: 110,000COP (~$37)
When leaving the city, you can usually show up and find a bus departing within a few hours for wherever you're headed, especially if it's another major city such as Cartagena or Bogota.
The exceptions are national holidays, such as Semana Santa in April and the month of December, when a more significant number of Colombians are taking vacations.
Private minivan services also serve the coast.
They are more expensive than regular buses but faster and more comfortable. Your Santa Marta hostel or Santa Marta hotel can help you book them.
Check out this "door-to-door" transfer from Santa Marta to Barranquilla for $28.00.
Getting Around Santa Marta
By Foot
Santa Marta's city center (Centro) is small, and best experienced on foot.
Take a tour: The Santa Marta Sightseeing Tour goes by bus to La Quinta de San Pedro Alejandrino, where Simón Bolívar died and where you'll also learn about his fascinating life.
The tour continues to Taganga, known for its spectacular sunsets and is one of the most pristine Colombia beaches.
Upon returning to Santa Marta, the tour continues on foot to see the city landmarks. Prices from $37, click here to learn more.
By Taxi
Taxis are an easy and inexpensive way to get around the larger metropolitan area, including the upscale suburb of Rodadero to the south, the fishing village of Taganga to the east, and the airport.
You can hail them from the street; however, it's safer to call a taxi service to have one pick you up.
Upon calling, they will give you a code (clave) to confirm with the driver, thereby ensuring you're getting in the right taxi.
Be forewarned. Sometimes the taxis don't show up, so leave yourself extra time if you're meeting someone at a specific time.
Taxis in Santa Marta do not have meters, so be sure to confirm the price in advance, and try to bargain a little.
Taxi drivers along the coast are more likely to quote inflated prices on account of all the tourists.
For safety purposes, it's better to sit in the back seat, with the windows rolled up. Do not take valuable possessions out of your pocket, purse, or bags while in the taxi.
Smartphones are an especially popular target for thieves. Some taxi drivers work together with the thieves, and garner a share of whatever is then stolen from you.
By Bus
A plethora of private buses, big and small, ply the city streets and can take you just about anywhere you need to go.
The bus routes are posted in the front windows and feature major landmarks, universities, and shopping centers to help you get your bearings.
Flagging a bus is as easy as holding your hand out as it approaches. To get off the bus, look for a red button on the inside to push, or if you can't find one or it's not working, alert the driver that you want to get off.
The average cost of a ride is about 2,400 pesos ($0.80).
Where to Stay in Santa Marta
Hostels and Hotels
The main backpacker neighborhood is located in the historic city center (Centro) and is likely the top choice when deciding where to stay in Santa Marta.
However, depending on your preferences, just as many backpackers stay in the upscale suburb of Rodadero or the nearby fishing village of Taganga.
So are you looking to enjoy some Colombia beach time? Take Spanish lessons? Go Scuba diving in Taganga? Taking the Ciudad Perdida Trek?
See below for some of the best hotels in Santa Marta.
We used Hotels Combined to find the best deals for hostels in Santa Marta (and hotels in Santa Marta).
Hotels Combined is a meta-aggregator that scours all the main booking sites to find the best price, so we have found it to be the perfect place to start.
La Brisa Loca – Pictured above. A Large, historic two-story building in the city center. The ground floor includes a pool, and the rooftop is a popular hangout in the evenings.
The 2nd-floor bar is party central. Despite the central location, the possible downside is it's a party hostel and can get very loud at night and on the weekends.
But if you're up for a party, this is the hostel for you! Check pricing and availability on Hotels Combined.
El Hostal de Jackie – Another fab hostel with a swimming pool and terrace with a bar right in the historical center of the town.
Walking distance to the beach, as well as landmarks like the cathedral and Museo del Oro.
Shared kitchen facilities, breakfast included with private room rates, very convenient to explore Santa Marta and the coast. Check pricing and availability on Hotels Combined.
The Dreamer Hostel – Located about 15 minutes outside the city center, and they boast being the closest hostel to Tayrona Park.
This hostel was recommended to me by several friends, one of whom is a writer for Lonely Planet.
As such, it is very highly rated with a restaurant (Italian) and bar onsite, a swimming pool, shared kitchen, BBQ and lots more, it's hard to wrong here. Check pricing and availability on Hotels Combined.
Hotel Mar Azul Inn – If you want some great Colombia beach time, and if your budget will allow it, this is an excellent 3-star option in El Rodadero just south of Santa Marta, with the beach just a three minute walk away.
Lots of restaurants and bars nearby, Santa Marta center is about 10-15 minute drive, $5 – $7 in a taxi, or 3,000 COP ($1) by bus. Check pricing and availability on Hotels Combined.
For great places in Taganga, check out Hostel Villa Mary, or La Tortuga Hostel.
Both are reasonably priced and very well located within a few minutes walk to one of the best Colombia beaches and plenty of restaurants nearby.
See also: Best Hostels in Santa Marta
Short Term Housing
If you plan to spend a few weeks or months in the city, then you'll want to rent a room or apartment.
CompartoApto.com offers free listings for rooms and apartments, most of which are provided by Colombians for 375,000 – 800,000 pesos per month ($125 – $270), utilities included.
Couchsurfing
Couchsurfing is another option that can help you save money and give you a chance to see the city through a resident's perspective.
As most Colombians live with their parents until married, it may be hard to find a place to stay. However, you may be able to meet up with locals for coffee or a drink.
Things to See & Do in Santa Marta
Santa Marta's more of a hub for planning your next adventure like the Cuidad Perdida Trek or exploring some splendid Colombia beaches than a destination in and of itself. There's not much to see or do within the city itself.
Historic Old City
Check out the old Spanish Colonial architecture by going for a casual walk around the city center.
Santa Marta and area Sightseeing Tour
Outside the City
Taganga – Take a 10-minute taxi ride over a mountain to arrive at this small fishing village, and backpacker favorite.
Taganga is filled with dive shops, and it's possible to get your PADI open water certification for about $300.
Parque Tayrona – A national park where the unspoiled jungle meets the sea.
An easy, 30-minute hike through the jungle, plus another one or two hours walk along the beaches, will bring you to the tropical paradise that is El Cabo.
Any hostel or hotel in Santa Marta can help you arrange transport to Parque Nacional Tayrona, or take a taxi.
A daily, 45-minute to 1-hour speedboat service is also available from/to Taganga for 40,000 pesos ($22).
Ciudad Perdida (The Lost City) Trek – This five or six-day jungle trek to old ruins is incredibly popular with backpackers. While not particularly strenuous, trekkers must be willing to get wet and dirty.
La Guajira Peninsula – Several tour companies in Santa Marta can arrange multi-day trips to Cabo de la Vela and La Guajira Peninsula.
This desert region forms the northern tip of Colombia and the South American continent.
It's inhabited by the indigenous Wayuu people, who are known for making high quality woven bags and hammocks.
Tours can be expensive ($250+), and a third of the driving is off-road; however, if you want a beautiful beach all to yourself, this is the adventure for you.
Interested in the "Lost City" Ciudad Perdida Trek?
There are a couple of great organized options, a 4 or 5 day Ciudad Perdida Trek, or a 7 Day Ciudad Perdida Trek offered by GAdventures.
Food & Drink
Like Cartagena, Santa Marta offers an array of restaurants to feed hungry visitors, with many of the best located within the historic old city.
The city's proximity to the sea ensures fresh seafood is widely available.
However, be aware that the high heat can lead to seafood and crustaceans to go back quickly, leaving travelers to recover from unexpected bouts of traveler's diarrhea and food poisoning.
Regional Dishes
Ceviche – Raw seafood fans will delight in the availability of fresh ceviche, from vendors selling small cups on the beach to nicely presented dishes in the city's restaurants.
Arroz de coco (coconut rice) – Coconut makes everything better, and this flavored rice is a coastal favorite.
Fresh fruit & juices – Keep yourself cool by sampling the wide variety of fresh tropical fruit and juices available throughout the city. Buy your mango, watermelon, and maracuya from street vendors to keep costs down.
Pargo (red snapper) – Served whole, this is a must for any fish lover.
Langostinos (lobsters) – Warm water lobsters are in abundance, and affordable for most who want to try them.
Restaurants
Agave Azul – Sabores de Mexico – Calle 14 #3 – 74, adjacent La Brisa Loca in Centro. Excellent Mexican food and happy hour drink specials.
Ben and Joseph's Bar & Restaurant – Carrera 1 # 18 – 67, Centro. On the road running parallel the city's main beach and marina.
Nightlife
Santa Marta's nightlife scene is more on the scale of pueblo than a big city.
The city doesn't have a Zona Rosa, or central nightlife district. However, there are a bunch of small bars and clubs around Parque de Los Novios in Centro, as well as bigger clubs in the upscale Rodadero suburb to the south.
It may sound counterintuitive, but if you're looking to party on the weekends, head for Taganga, which offers several open-air discotecas along the beachfront.
As Taganga and Santa Marta are as much vacation destinations for Colombians as foreigners, you can expect a decent mix of people.
If you're staying in Taganga, it'll be a short walk. Otherwise, it's about a 10,000 peso ($6) taxi ride from central Santa Marta.
Bars & Clubs
El Garaje – Calle 8 + Carrera 3, Taganga. Popular bar on Wednesday and Saturday nights.
La Puerta – Calle 17 #2 – 29, Santa Marta. One of the most popular clubs in central Santa Marta.
Sensations – Calle 14 #1 – 04, Taganga. Open-air crossover club.
____________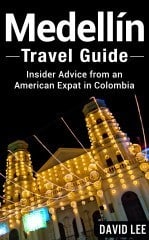 The 138-page, all-original Medellín Travel Guide by David Lee is available for Kindle and PDF.
.
Last Updated on November 10, 2019 by Dave Lee
Dave is the Founder and Editor in Chief of Go Backpacking and Feastio. He's been to 66 countries and lived in Colombia and Peru. Read the full story of how he became a travel blogger.