The best places to visit in Turkey run the gamut, from relaxing beaches and towns on the Mediterranean coast to fascinating geological and cultural sights further inland.
My foray to Turkey began with Turkish Airlines' invitation to fly business class from New York City to Istanbul for a week-long trip.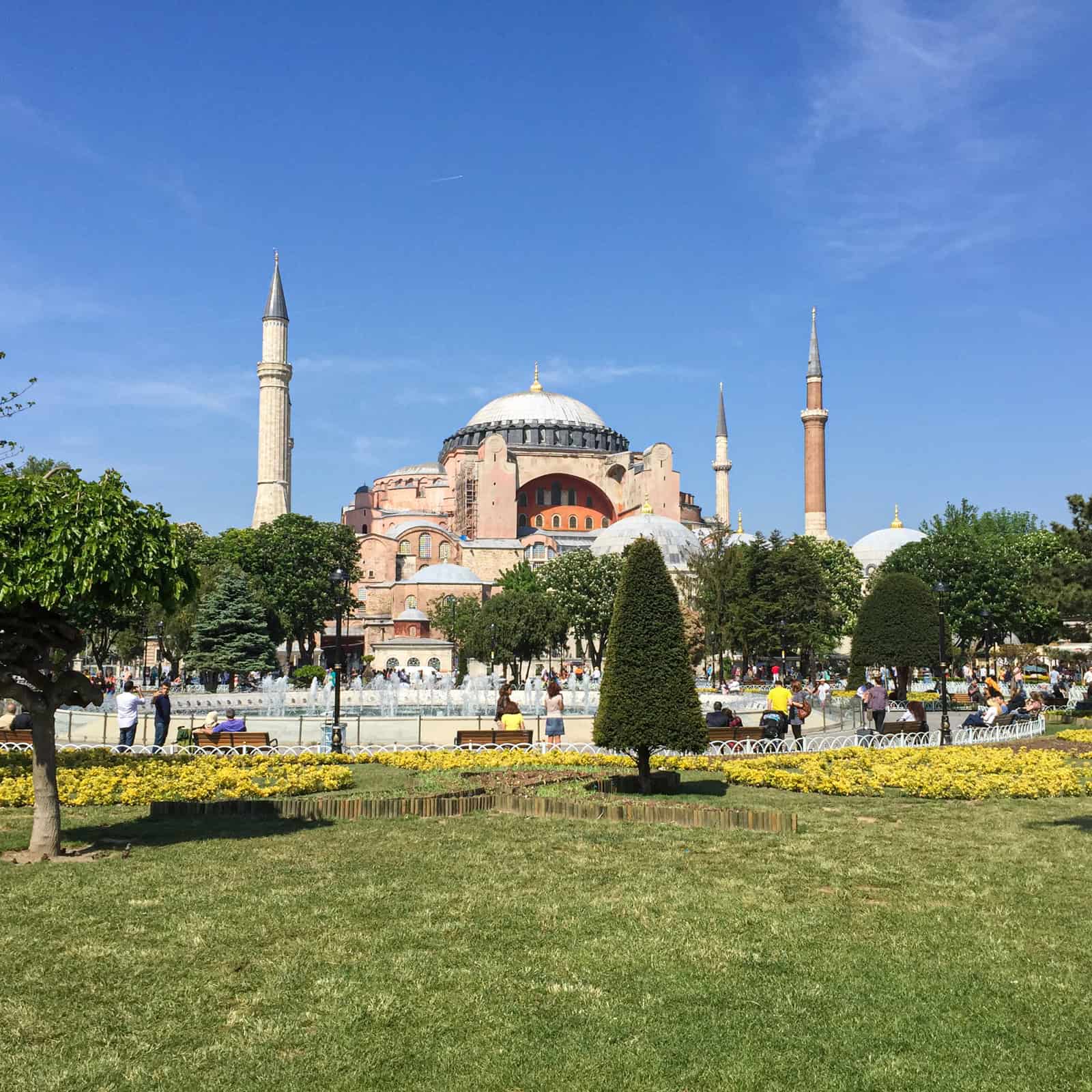 When the work portion of my adventure was over, I declined the return flight, choosing instead to backpack solo for another five weeks.
And six weeks, my friends, wasn't even enough! As often is the case, I prioritized the best way to spend my time, money, and energy.
This list is based on the most extraordinary places and historical sites I visited in Turkey. As with any trip, brushing up on some local vocab before you take off is always smart. I hope it serves you well to plan your trip when the time is right.
Where To Go in Turkey
1. Istanbul
Located in Northwestern Turkey, Istanbul connects Europe to Asia and has played an essential role in trade and travel for millennia.
The Bosphorus Strait bisects this large city; the European side to the west, the Asian side to the right.
Istanbul's Old City, Sultanahmet, is a UNESCO World Heritage Site. The Blue Mosque, Hagia Sophia, Topkapi Palace, Galata Tower, and Grand Bazaar are a few of the many noteworthy tourist attractions worth visiting.
A sunset cruise on the Bosphorus will give you a different perspective on the city. I also chose Istanbul as the place to experience a traditional Turkish bath.
Related: Best Things to Do in Istanbul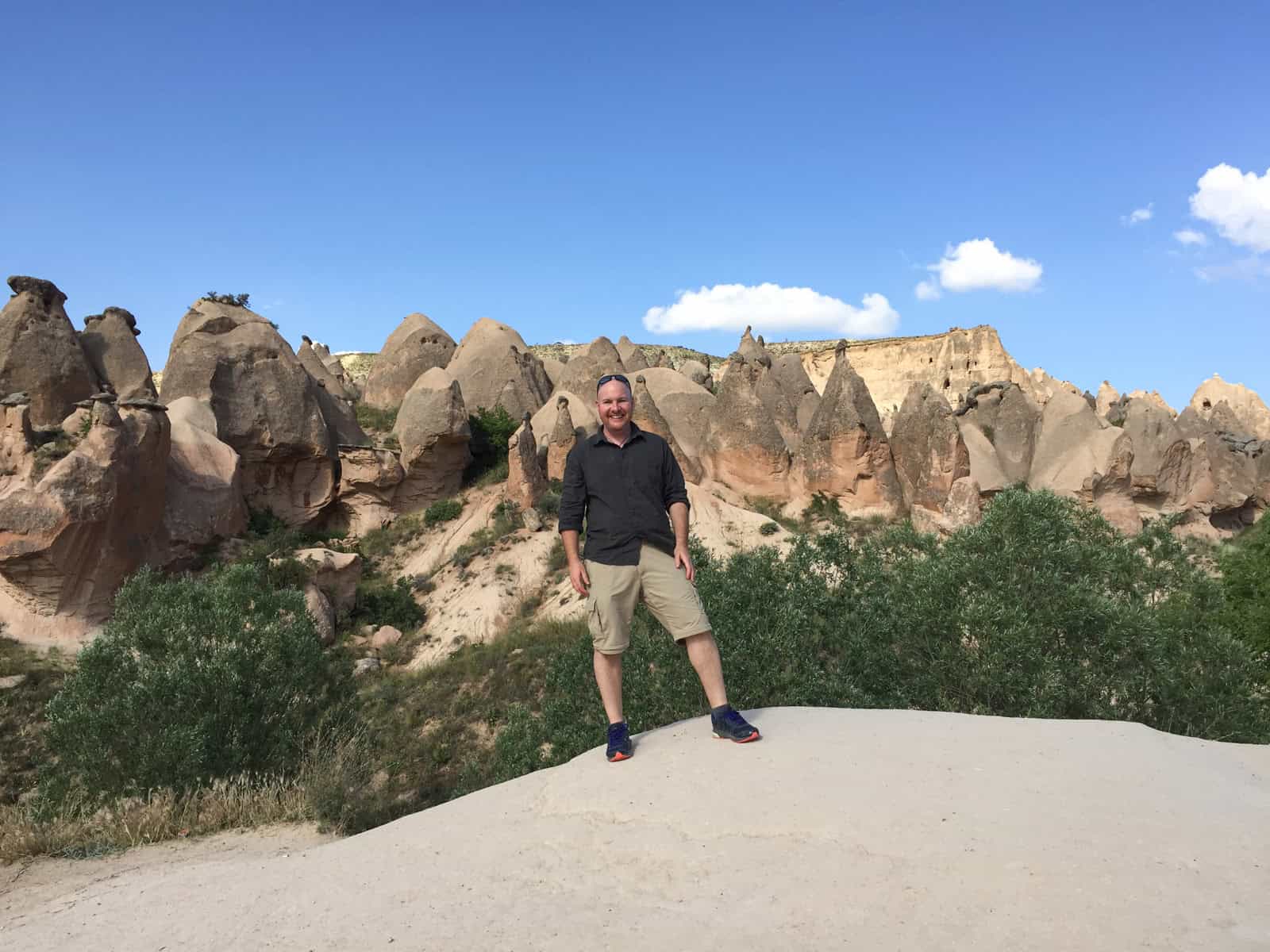 2. Cappadocia
If learning about cave-dwelling societies or going for hot air balloon rides are your jam, then Cappadocia is the best place to visit in Turkey.
Here you'll find fascinating landscapes full of fairy chimneys, stone spires that rise from the ground, and other intriguing rock formations, plus underground cities. Stay in a cave hotel or hostel for at least one night to get the whole experience.
Goreme National Park and the Rock Sites of Cappadocia were added as a UNESCO World Heritage Site in 1985.
Hot air balloon rides are a big business in Cappadocia, and for a good reason. They combine beautifully with the natural landscape, especially at sunrise.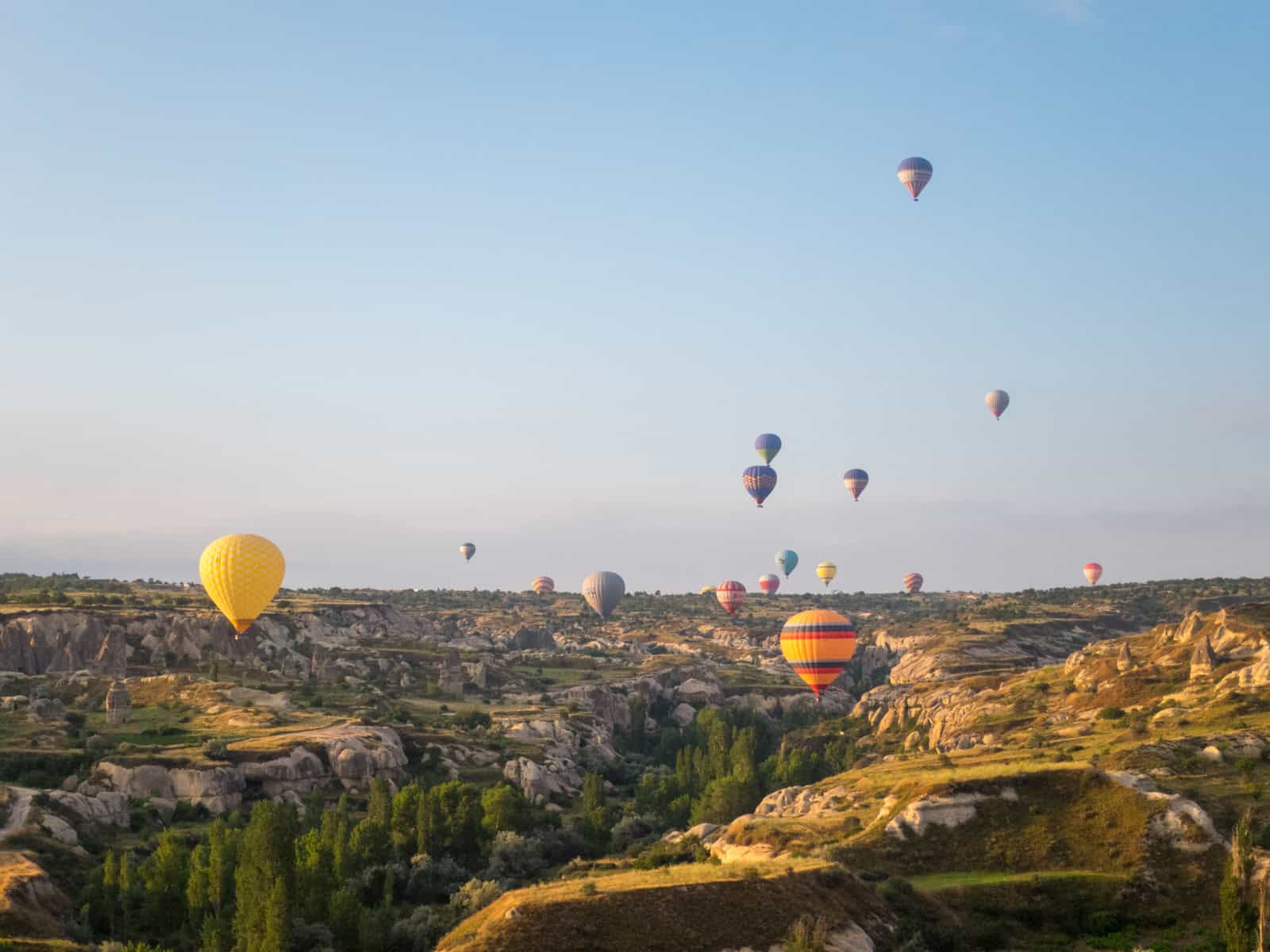 I chose Cappadocia as the place to go on my first hot air balloon ride, an experience I was scared to undertake but did so nonetheless.
It was unforgettable, from the pre-dawn excitement of firing up the balloon and getting aboard to our rise through the clouds to see the morning sun. And it's all done without the pilots being able to steer where you're going.
For safety's sake, research and pay a little extra to ensure you're going with a company with a strong safety record. A week after I left town, I read in the news that a balloon had hit power lines, causing riders to get injured.
If taking flight isn't for you, it's still possible to enjoy the sight of a hundred or more balloons flying over town as they prepare to land in the surrounding area.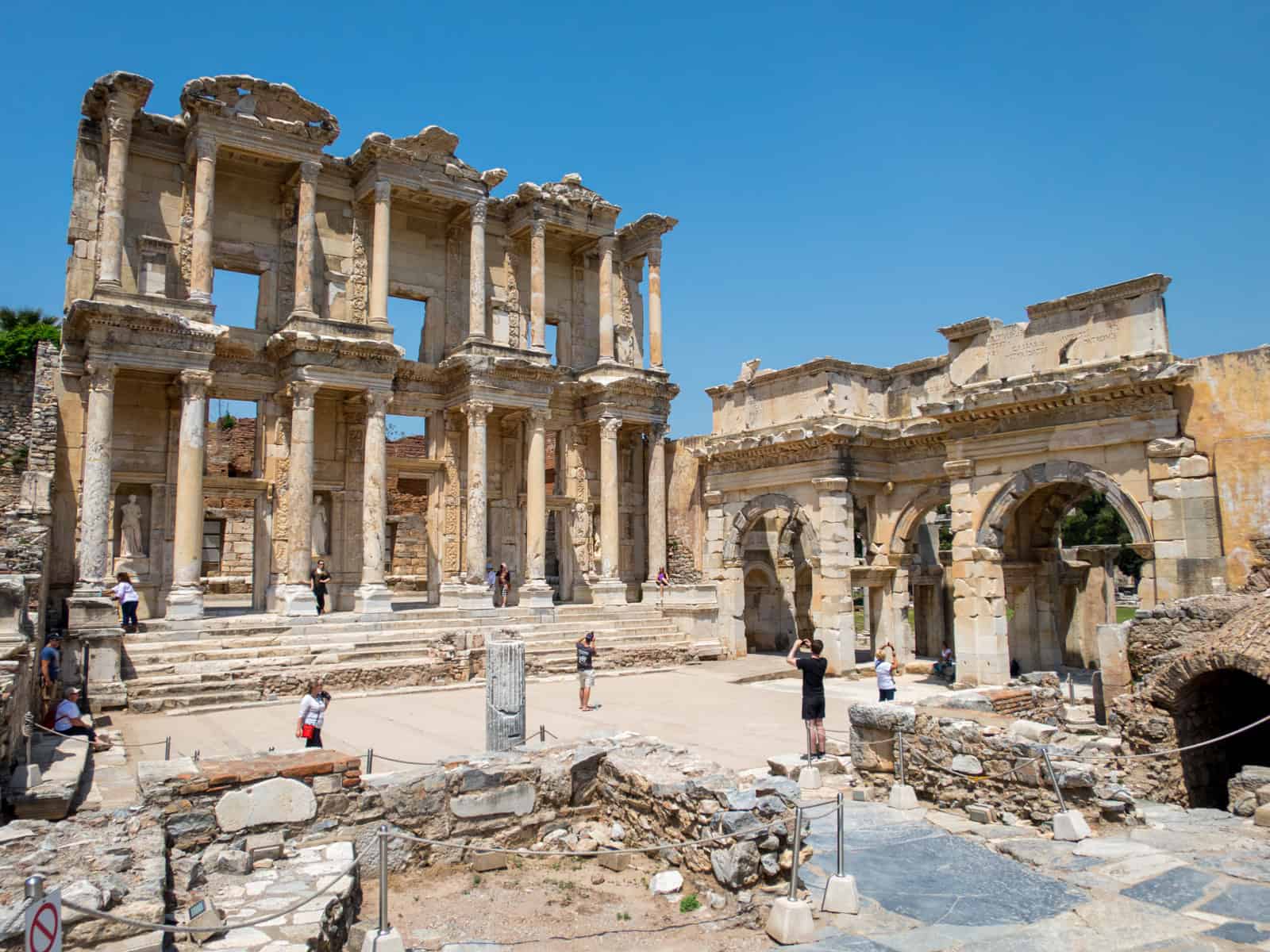 3. Ephesus
The ancient city of Ephesus was first inhabited by the Greeks as far back as the 10th century B.C. Later, the Romans used it until the 15th century A.D. That's 2,500 years of human history.
Highlights of these Roman ruins include the Library of Celsus (pictured above) and a 25,000-seat stone theater that once hosted gladiator fights.
"Little remains of the famous Temple of Artemis, one of the "Seven Wonders of the World," which drew pilgrims from all around the Mediterranean."

— UNESCO
Also near Ephesus is a small stone structure discovered in the 19th century, considered the Virgin Mary's last home. The building now functions as a small chapel, so it's possible to go inside.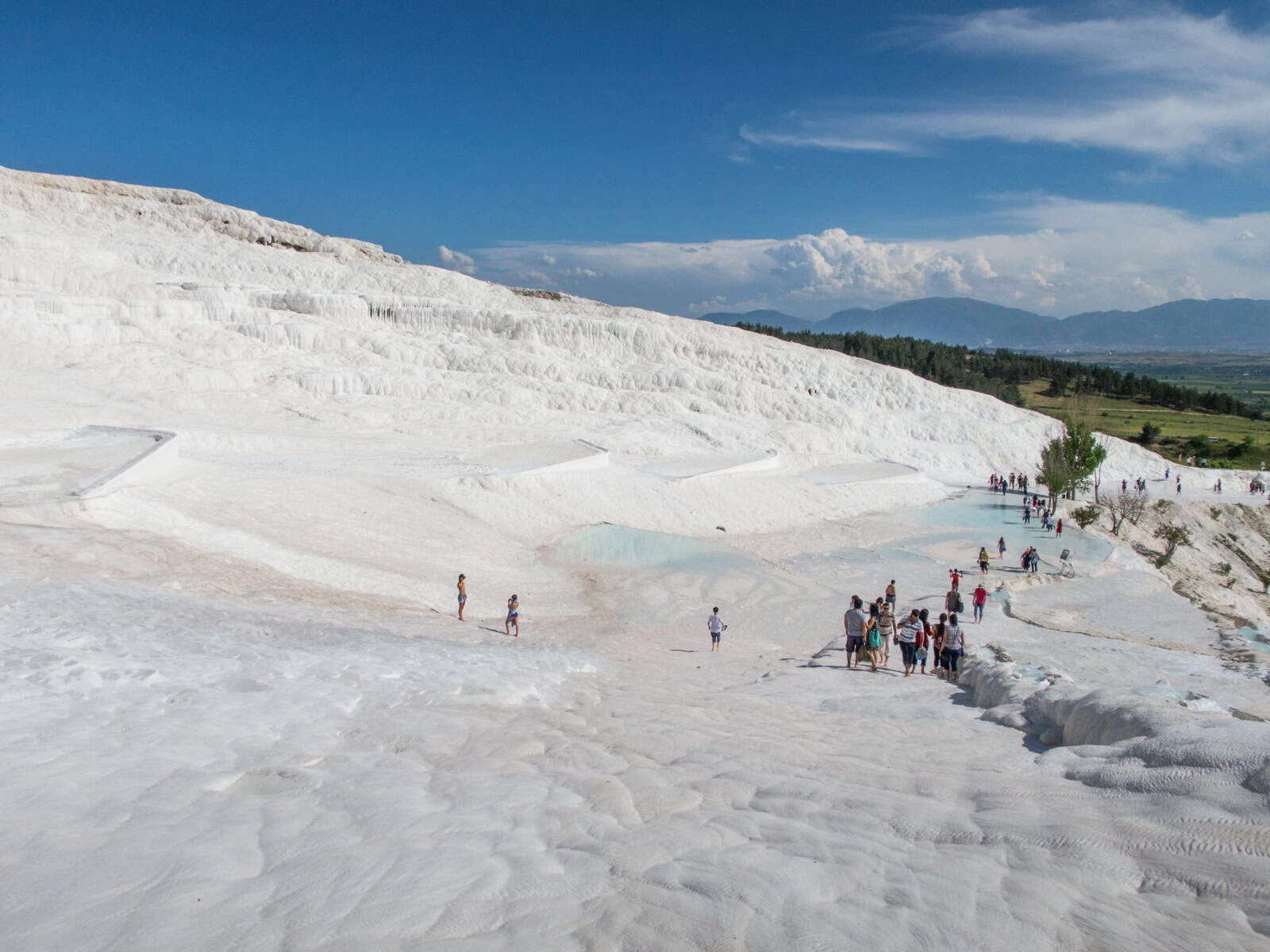 4. Pamukkale
A natural landscape derived from mineral deposits, Pamukkale (Cotton Castle in Turkish) has fascinated travelers in Western Turkey for over a thousand years.
The 656-foot (200-meter) tall outcropping features stepped terraces that fill with water, allowing visitors to soak in natural hot springs on their way down.
Pamukkale is one of the most beautiful places to visit in Turkey, so go early in the day to avoid crowds.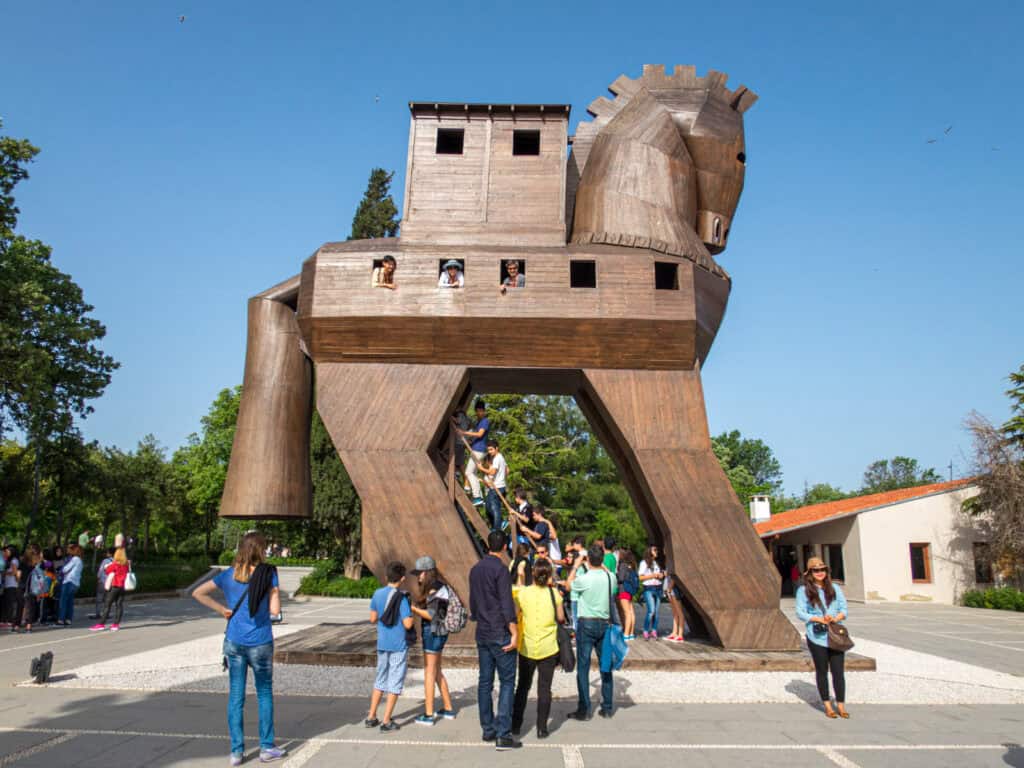 5. Troy
Canakkale is a city on the northwest coast of Turkey overlooking the Aegean Sea. It's worth visiting for two sites you can combine to see in a single day.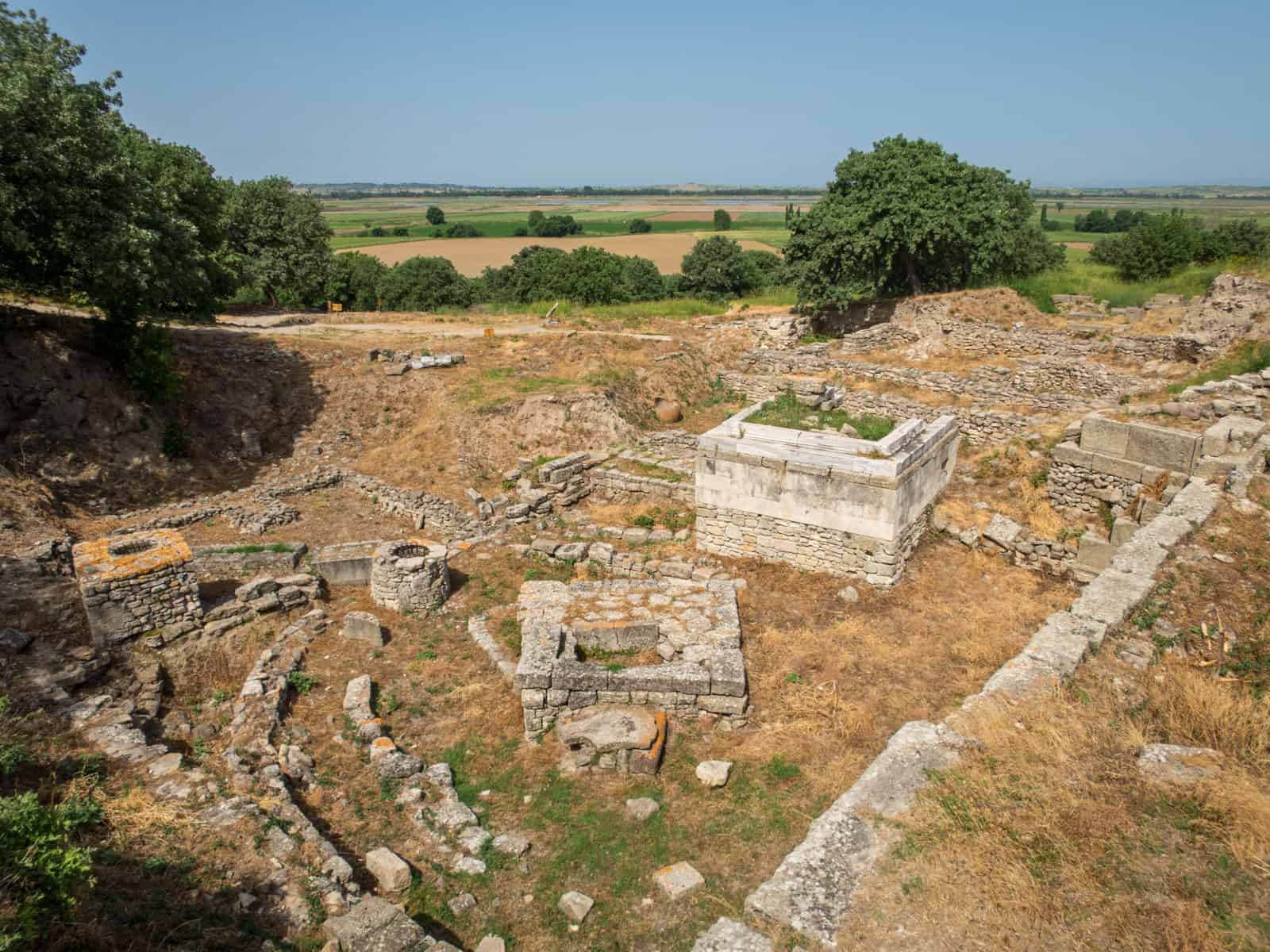 First and foremost, there's the 4,000-year-old archaeological site of Troy, another of Turkey's UNESCO World Heritage Sites.
Wander through the ruins on a guided or self-guided tour. There's not as much to see as at Ephesus, but it's still impressive.
The Troy Museum opened on-site in 2018 to offer further historical context and access to discoveries still being made today.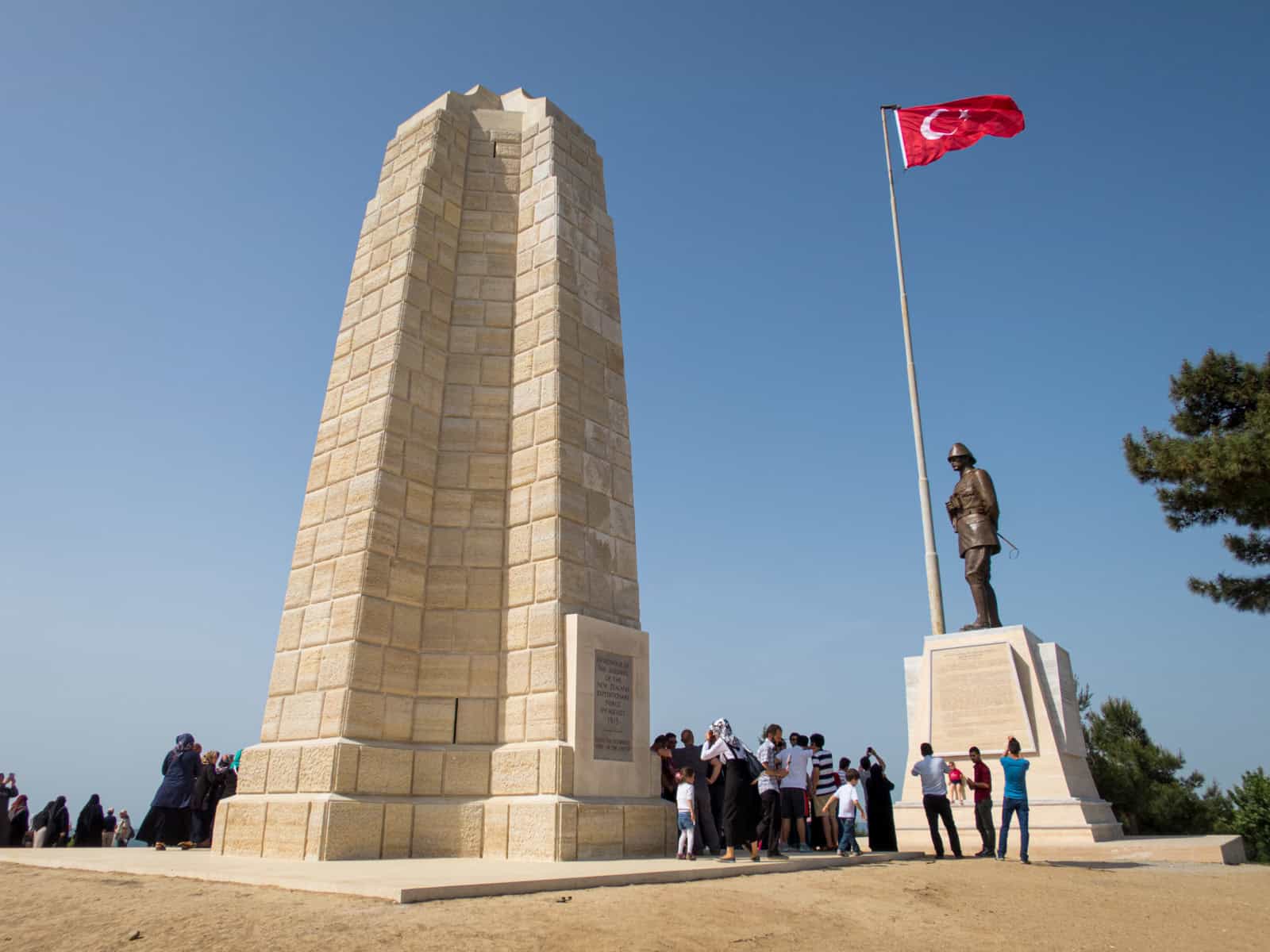 6. Gallipoli Peninsula
My second recommendation while staying in Cannakale on the Aegean Coast is a half-day tour of the Gallipoli Peninsula, the scene of fierce fighting during World War I.
Britain, France, and Russia lay siege to the Gallipoli Peninsula to weaken the Ottoman Empire's control of the Dardanelles Straits. These waters offered direct access to Constantinople (now Istanbul).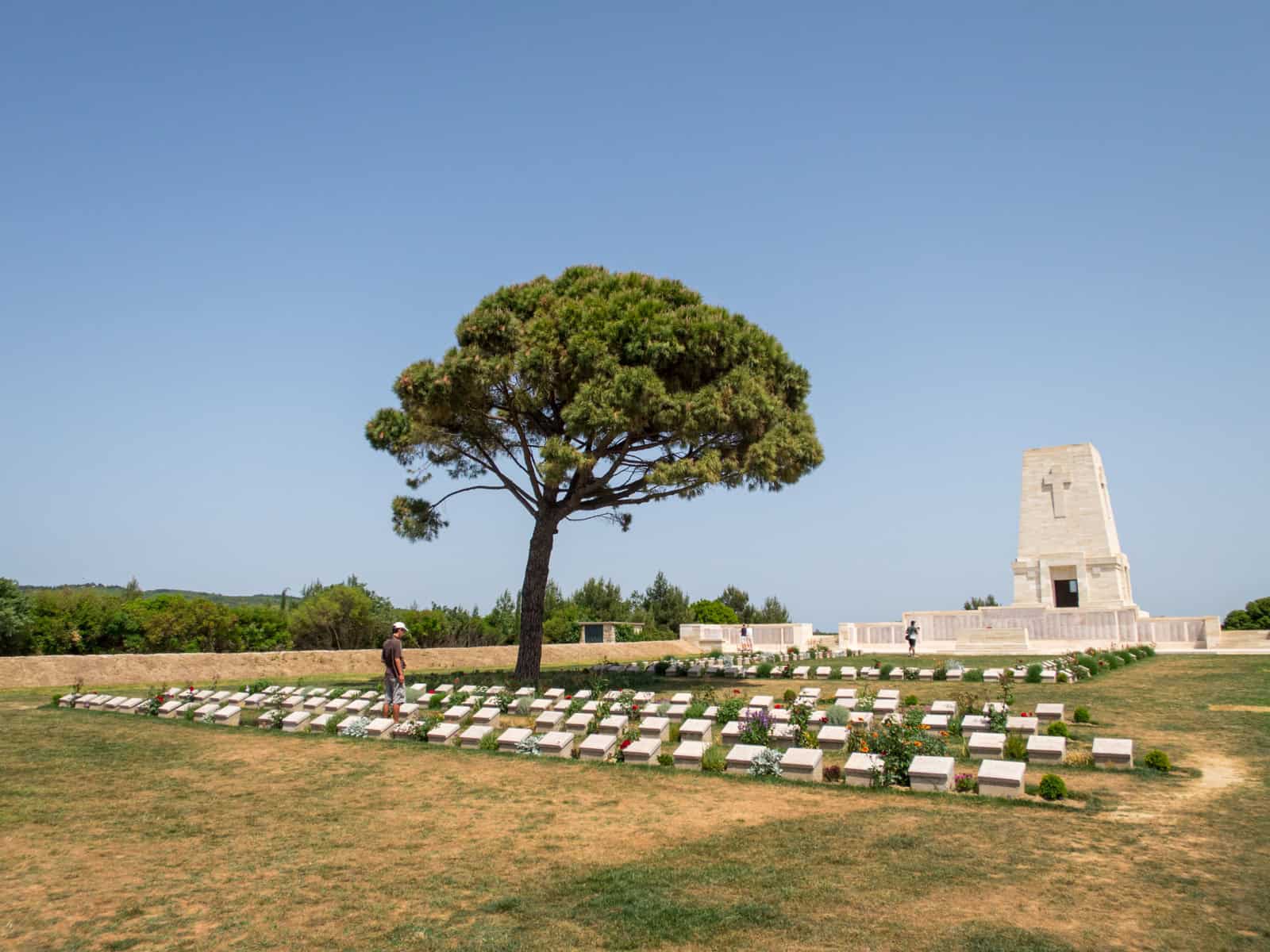 Over 250,000 people died during the fighting, which went on from February 1915 to January 1916.
Ultimately, the defending Ottoman forces prevailed, paving the way for Turkey's independence eight years later.
The tour includes visits to memorials and cemeteries for Turkish troops and soldiers from Australia and New Zealand. The latter countries remember the fallen annually on April 25, Anzac Day.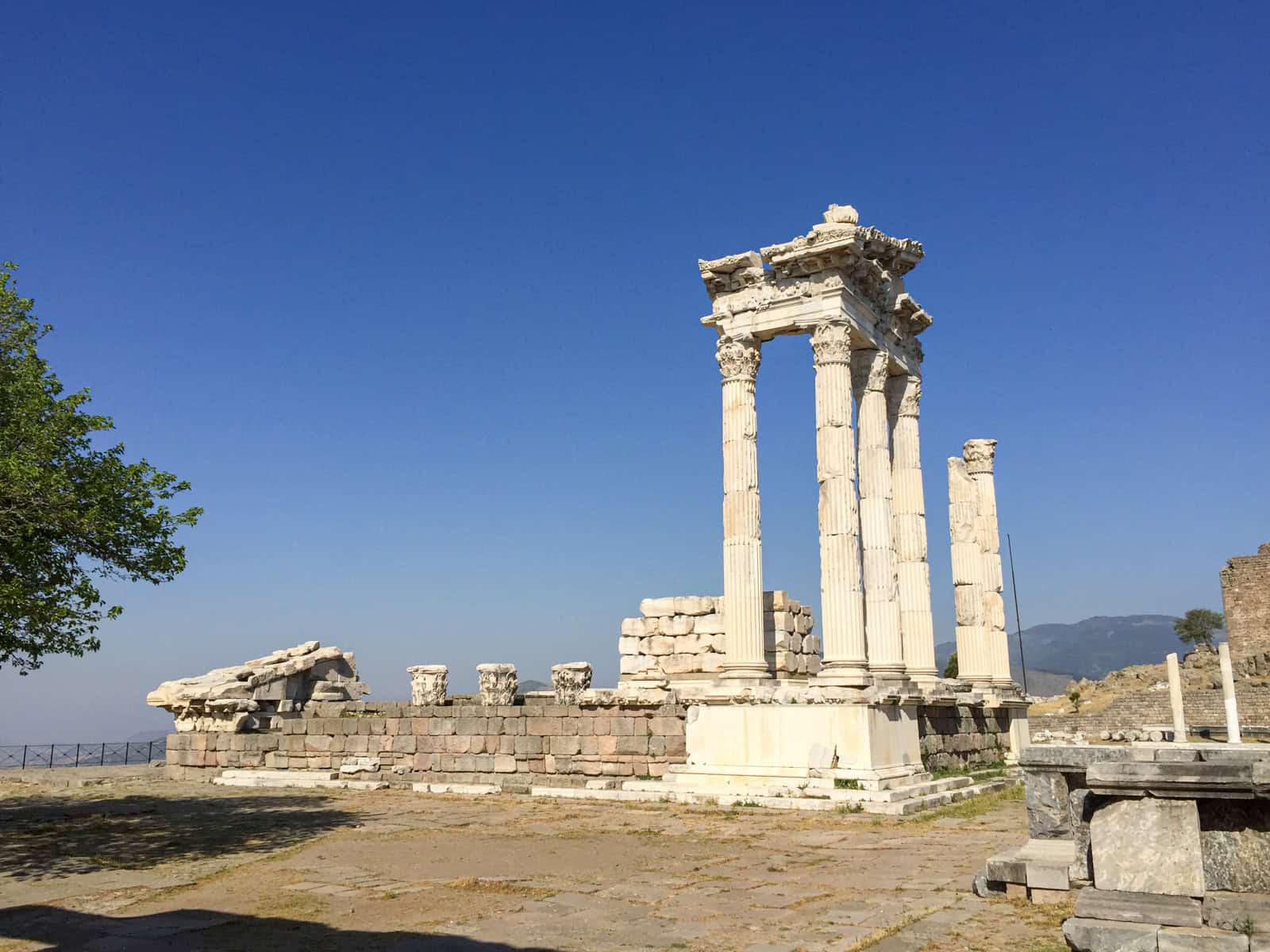 7. Pergamon
It's about a four-hour bus ride south of Canakkale to reach the city of Bergama, home to the former city of Pergamon.
Pergamon was founded in the 3rd century BC as the capital of the Attalid dynasty.

Located in the Aegean Region, the heart of the Antique World, and at the crossroads between Europe and the Middle East, it became an important cultural, scientific and political centre.

— UNESCO
Pergamon is built atop a 1,099-foot 335-meter high hill, offering a commanding view of the surroundings. It's accessible via cable car.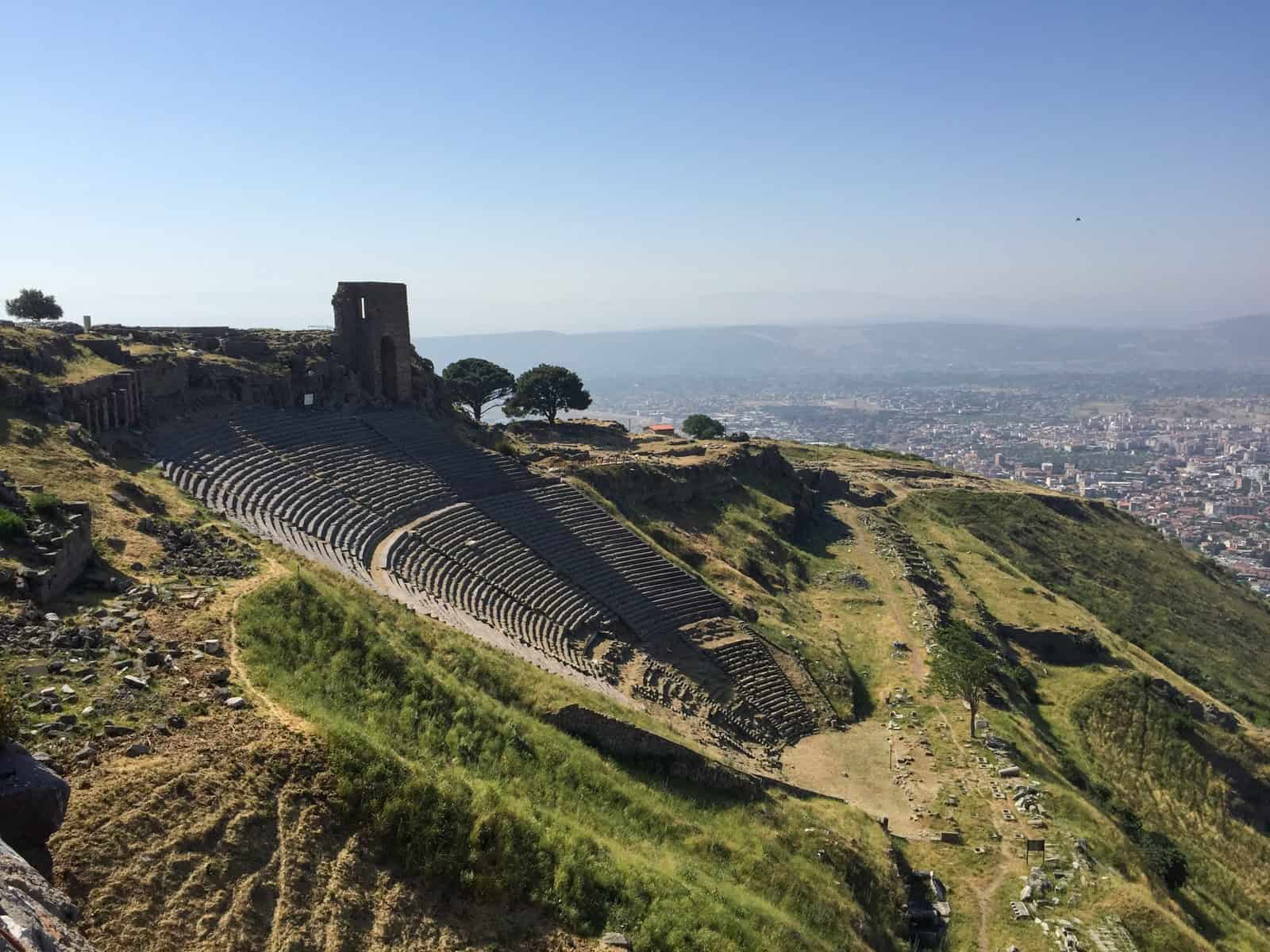 I had the best time exploring Pergamon; it felt like I had the ruins to myself.
Highlights included the Temple of Trajan, the steep 10,000-seat amphitheater built by the Romans, and a cute white and black dog that kept me company.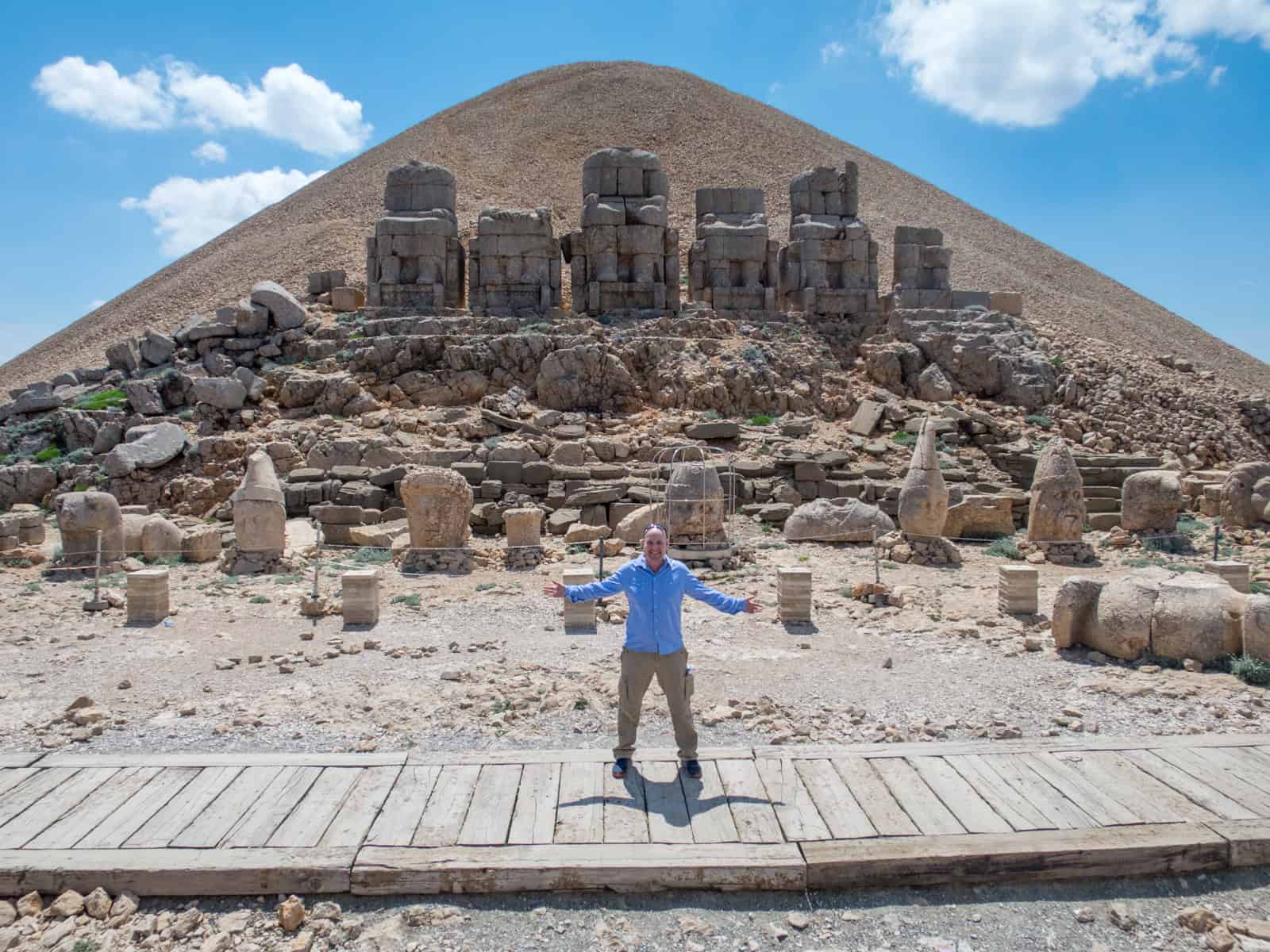 8. Mount Nemrut
One of the most memorable places to visit in Southeastern Turkey is Mount Nemrut (accessible via the town of Kahta).
Atop a 7,000-foot (2,134-meter) high mountain is Nemrut Dag, the royal tomb for Antiochus I, who reigned in the 1st century B.C.
A sizeable 49-meter mound of loose rock, known as a tumulus, helps protect the tomb.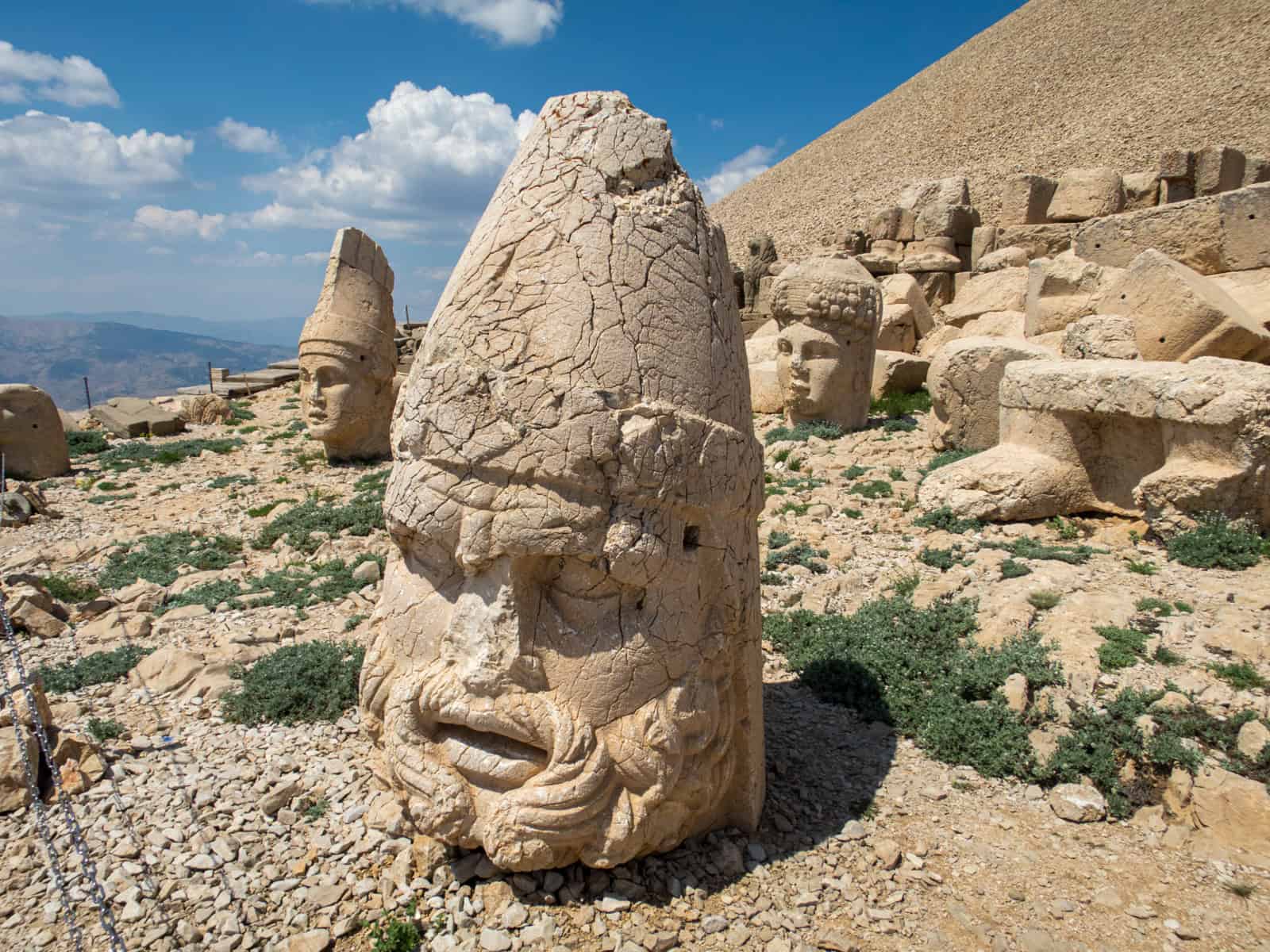 Statues surrounding the tumulus were beheaded at some point in its 2,100-year history. Rather than reconstruct them, they've been placed upright on the ground, which makes them fun to photograph.
Mount Nemrut is covered in snow half the year, so you should plan to visit between April and October. I was there in June, and the weather was terrific.
Transportation to and from the mountain can easily be arranged in Kahta. Access to the ruins requires about a 15-minute walk up modern stone steps.
I flew into Kahta and took a seven-hour bus ride west to Capadoccia on my way out.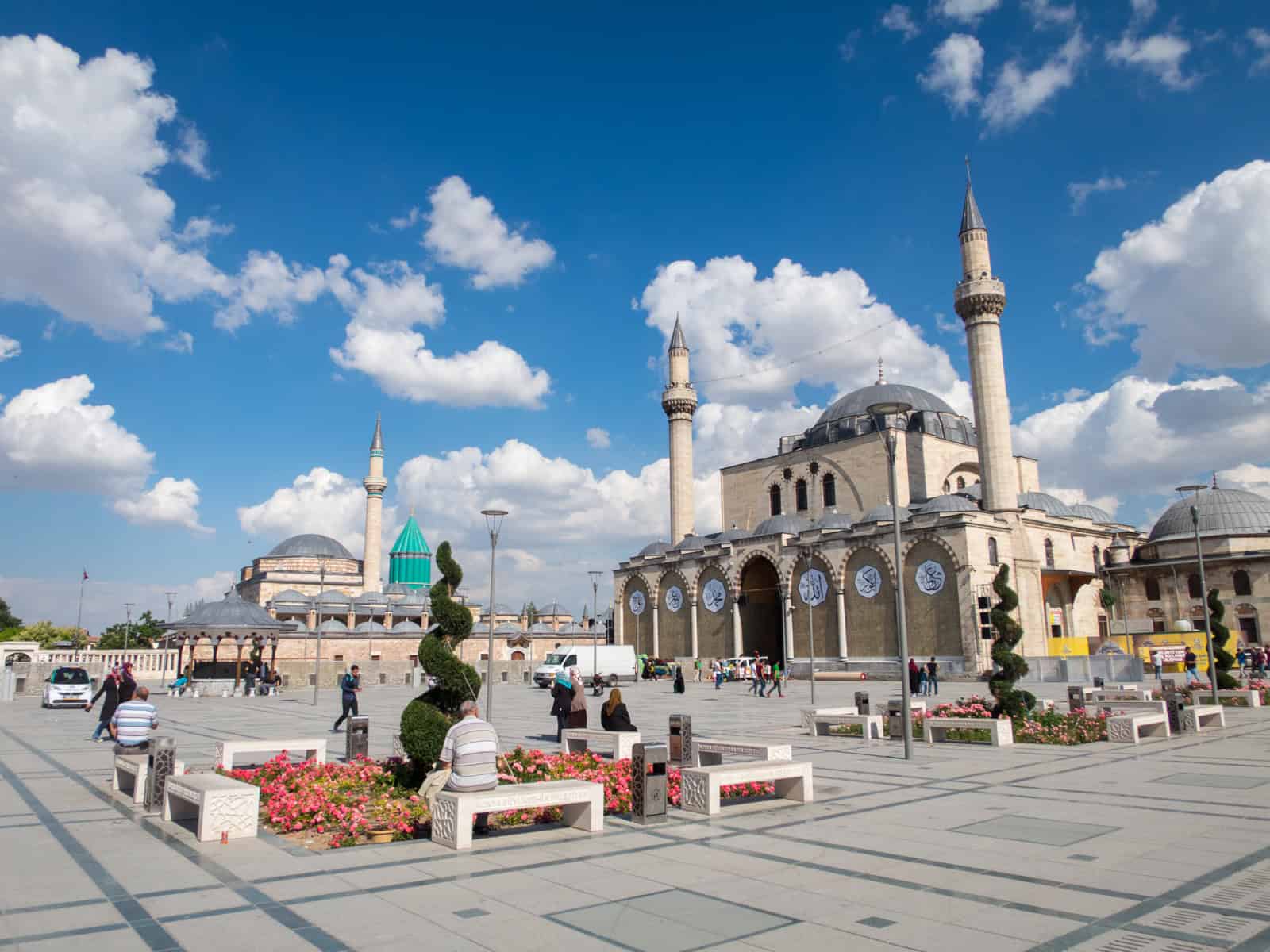 9. Konya
Following my time in Cappadocia, I traveled west by bus for about four hours to Konya, the province's capital. Konya is the final resting place of Rumi, a 13th-century poet and Sufi mystic.
"Your task is not to seek for love, but merely to seek and find all the barriers within yourself that you have built against it."

— Rumi
I read Rumi's poetry in my twenties. I was surprised to learn he was entombed along my route to the Turkish Mediterranean coast.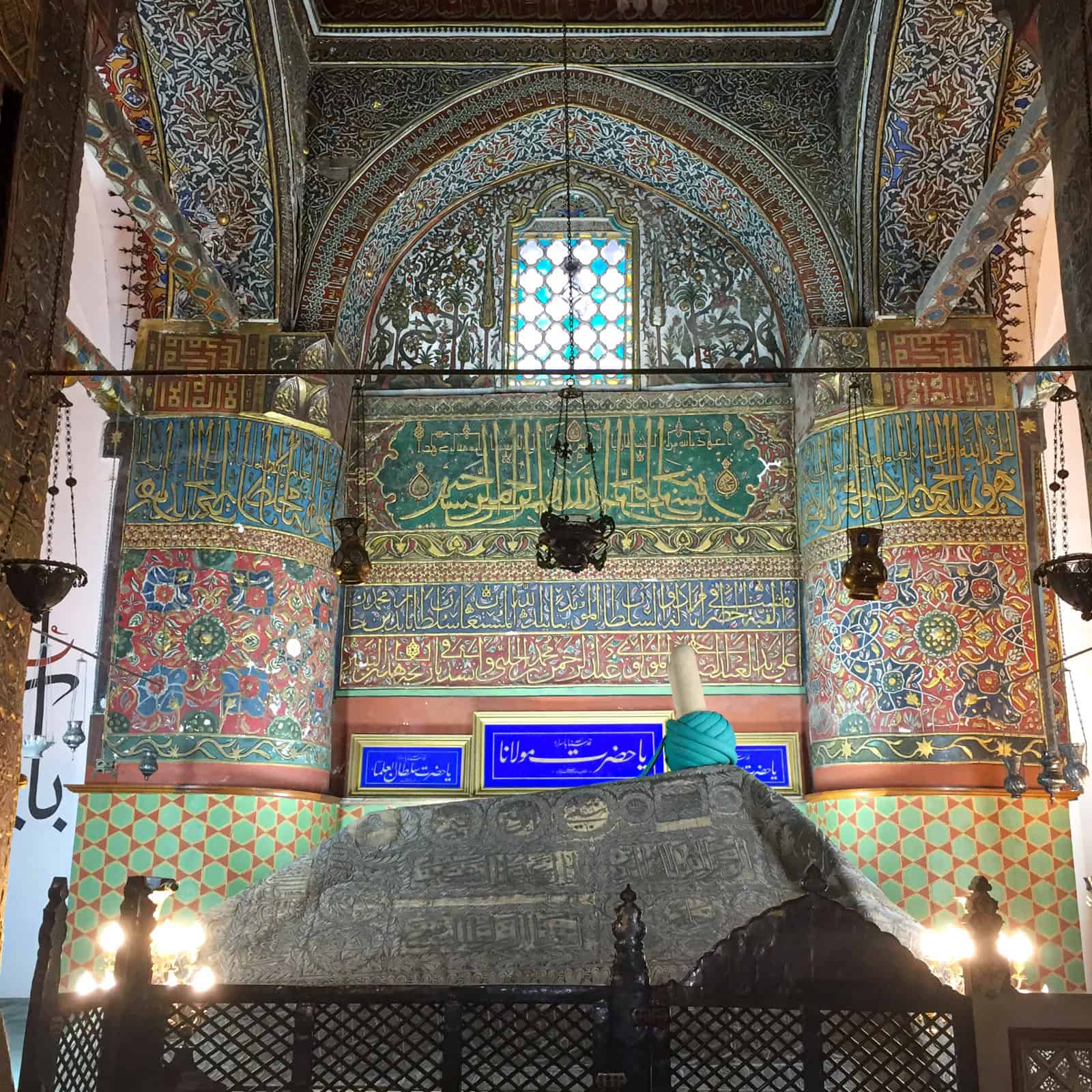 "Set your life on fire. Seek those who fan your flames."

— Rumi
Rumi's mausoleum is inside the Mevlana Museum in Central Konya. I stayed at a budget hotel a few blocks away from this great place.
If you choose to visit Konya for Rumi and want to tick another UNESCO World Heritage Site off your Turkey bucket list, there's Catalhoyuk.
Located a 40-minute drive southeast of Konya, Catalhoyuk is a 9,000-year-old Neolithic (New Stone Age) settlement.
The earthen ruins aren't as ornate or grand as what you'll see at Ephesus and Pergamon; however, they're some 7,000 years older. Enough has been excavated and preserved to make for an enjoyable half-day trip.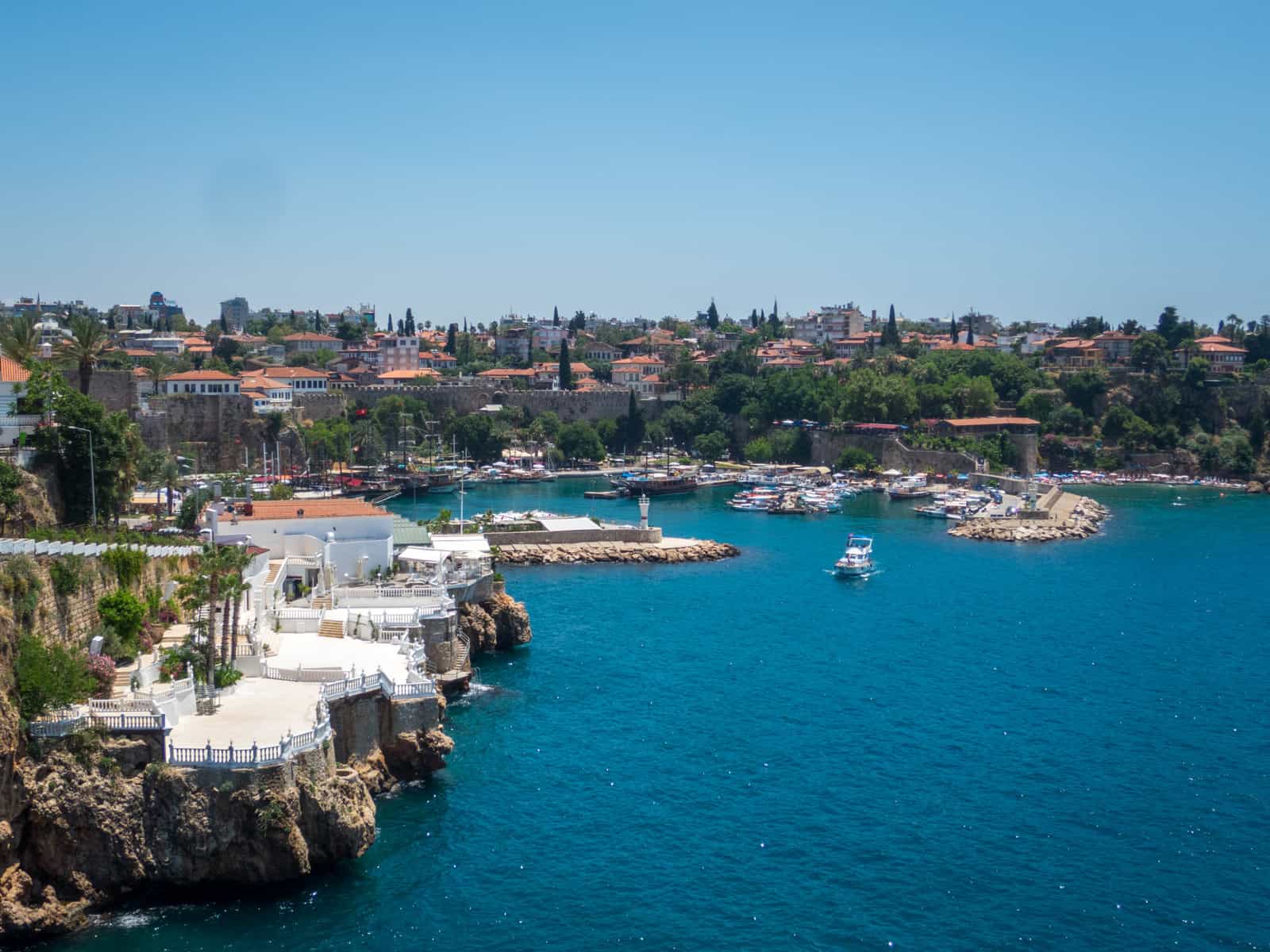 10. Antalya
I left Konya for the city of Antalya on the Turquoise Coast, aka the Turkish Riviera. It took about four hours by bus.
I spent the rest of my time in Turkey exploring its idyllic coastline, a popular vacation and yachting destination for Turkish and international travelers.
Antalya was founded by King Attalus II of Pergamon in 150 BC and became part of the Roman empire in 133 BC.
Hadrian's Gate is a notable structure built in 130 BC to honor the Roman emperor Hadrian. It's in excellent condition, and you can still walk through it.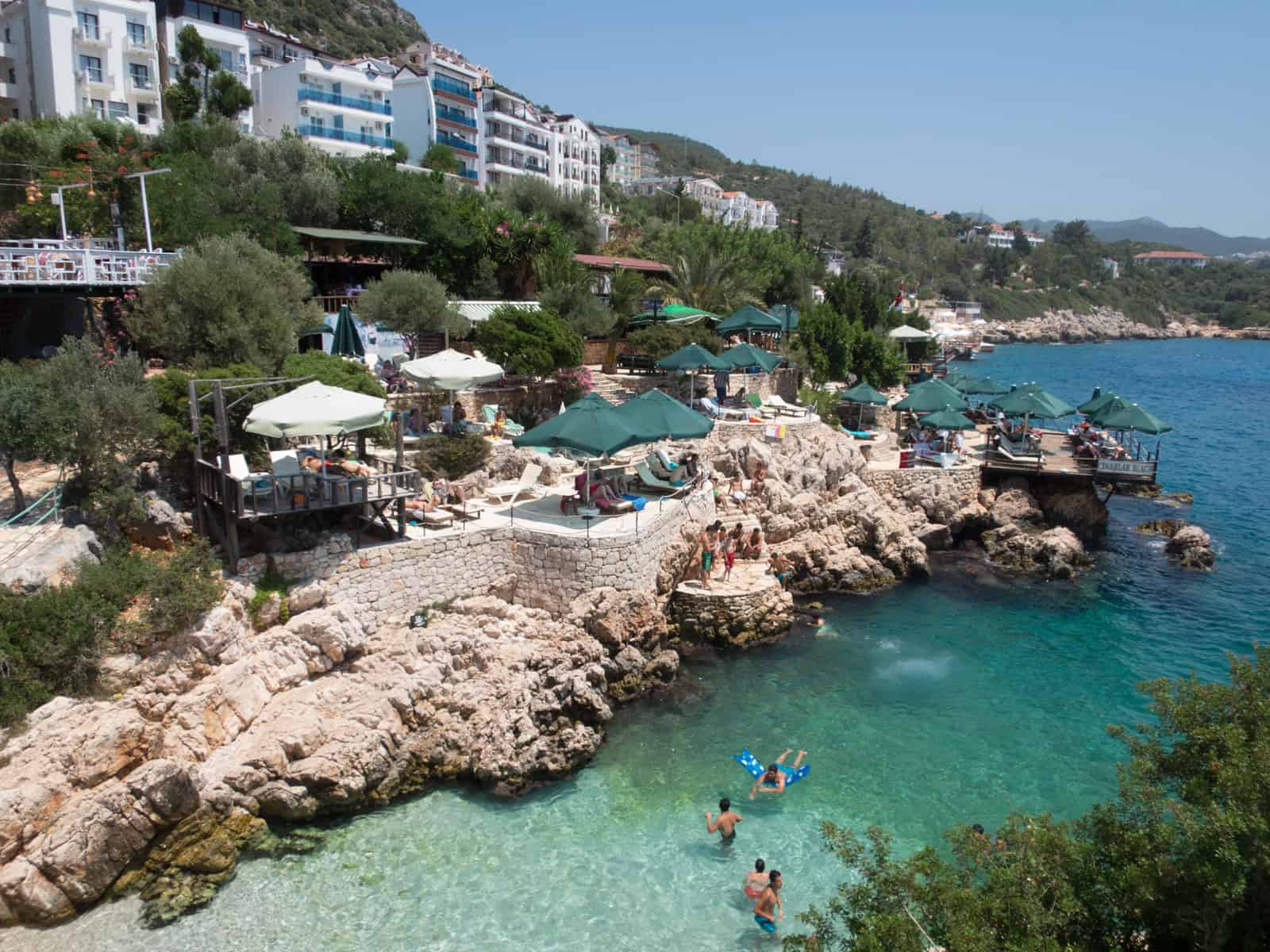 11. Kas and Kekova
Further west of Antalya is the small coastal town of Kas, one of my favorite places in Turkey and anywhere in the Mediterranean Sea. The coastline is dotted with beaches and inlets for swimming.
The highlight of my stay in Kas was a day-long boat trip for under $20 (lunch included). Sign up for a tour at the port downtown and spend the day sailing and swimming through some of the prettiest blue waters you'll ever see.
Enjoy lunch on the boat while taking in the natural beauty of your surroundings before disembarking to explore the ancient ruins of Simena, a 4th century B.C. Lycian city.
It's a short walk up a hill to reach Simena Castle and panoramic views of Kekova Island.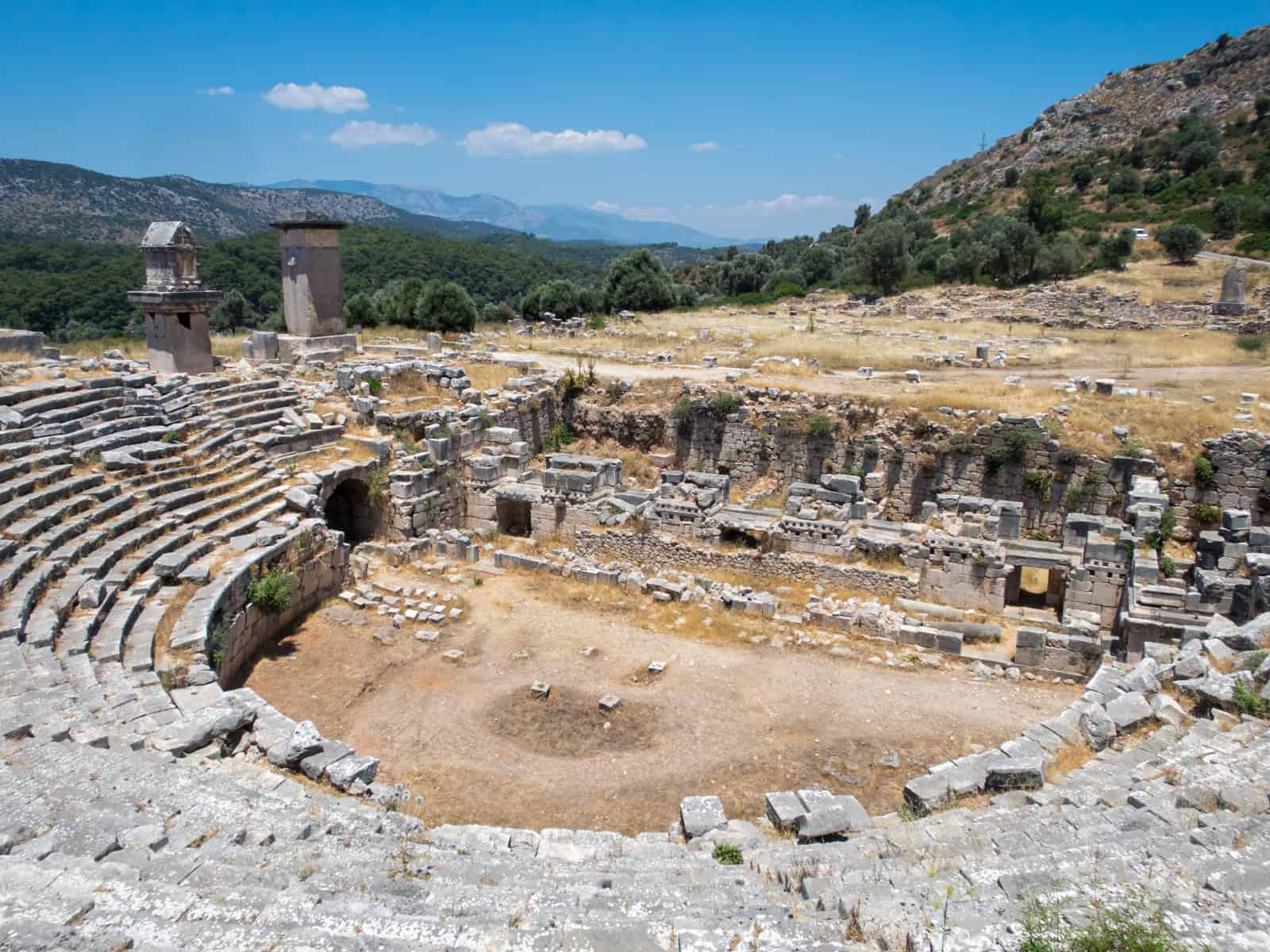 Xanthos-Letoon
Halfway between Kas and Oludeniz, another beach town on the Turkish Riviera, are the ruins of the Lycian capital of Xanthos.
Xanthos-Letoon is a remarkable archaeological complex. It represents the most unique extant architectural example of the ancient Lycian Civilization, which was one of the most important cultures of the Iron Age in Anatolia.

— UNESCO
If you're planning to spend time in either Kas or Oludeniz, it's worth a quick stop en route from one to the other to see Xanthos.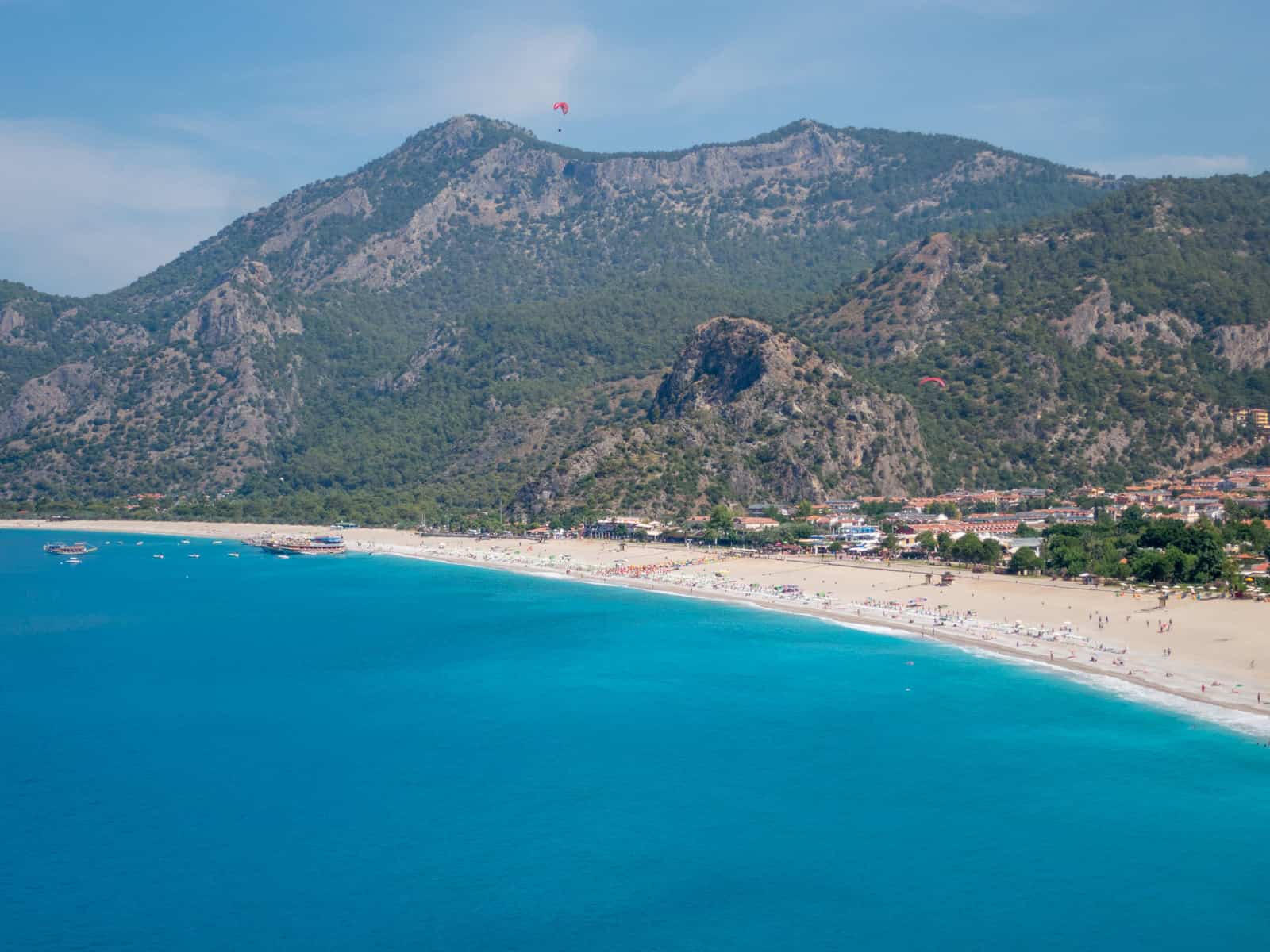 12. Oludeniz
When I was researching where to spend my time on the Turquoise Coast, one picture of Oludeniz was all I needed to see to add to my itinerary.
The sparkling blue waters of this long, rocky beach (and adjacent blue lagoon) live up to the coast's nickname, making it one of Turkey's prettiest places to visit.
Adventure seekers have the opportunity to go paragliding, taking off from a nearby mountaintop for scenic views while drifting over the water and beach.
The landing site is smack dab in the middle of town amid cafes and bars overlooking the beach. It's about a two-hour drive from Kas to Oludeniz (or vice versa).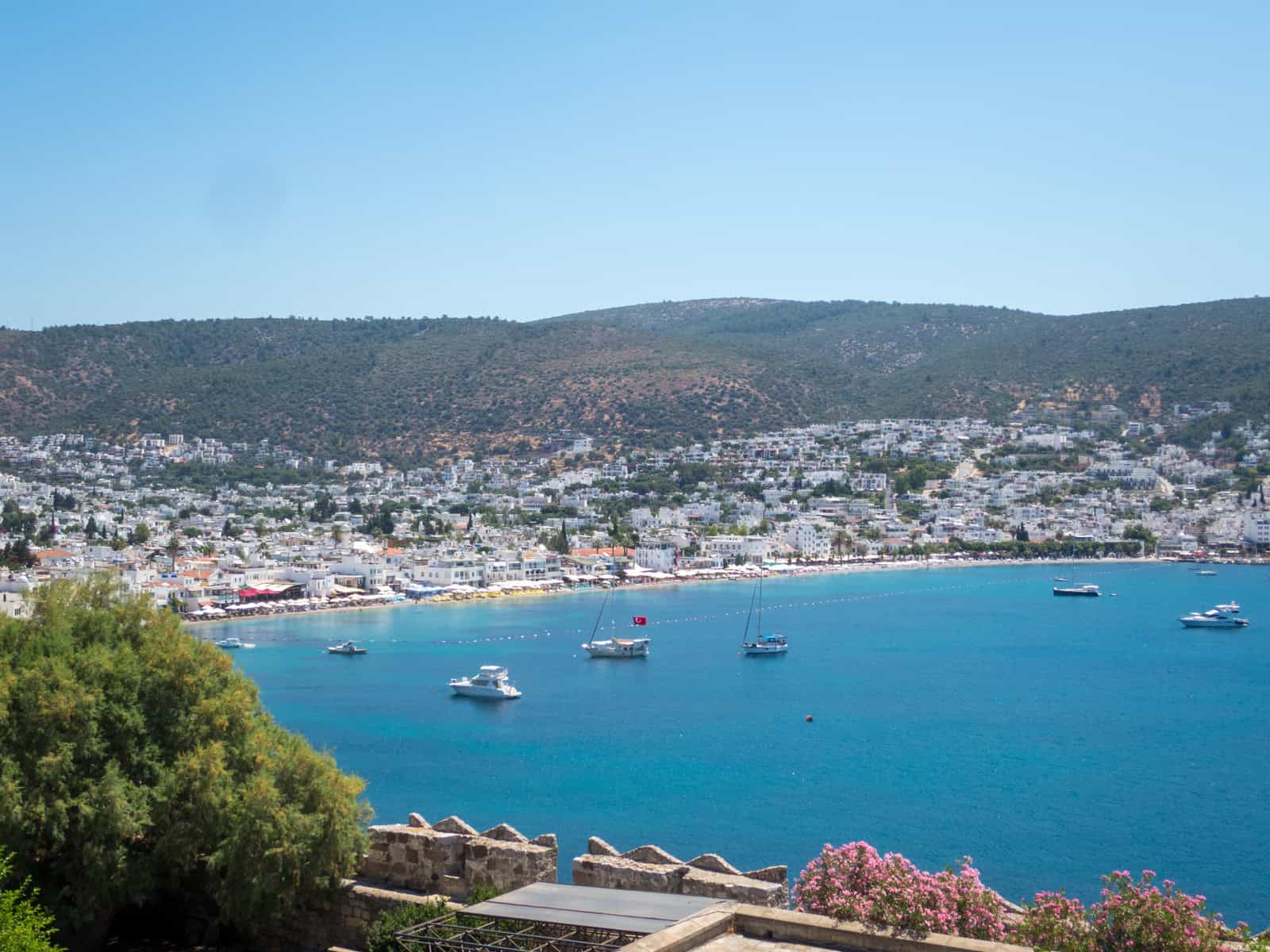 13. Bodrum
The last stop of my six-week backpacking adventure in Turkey was Bodrum, one of the best cities for hanging out on the Turkish Riviera.
It's a popular departure point for travel to Greece, whether by ferry (which I used to reach Rhodes), sailing tour, or chartered yacht.
Bodrum features two bays, separated by a small peninsula, home to the early 15th century Bodrum Castle.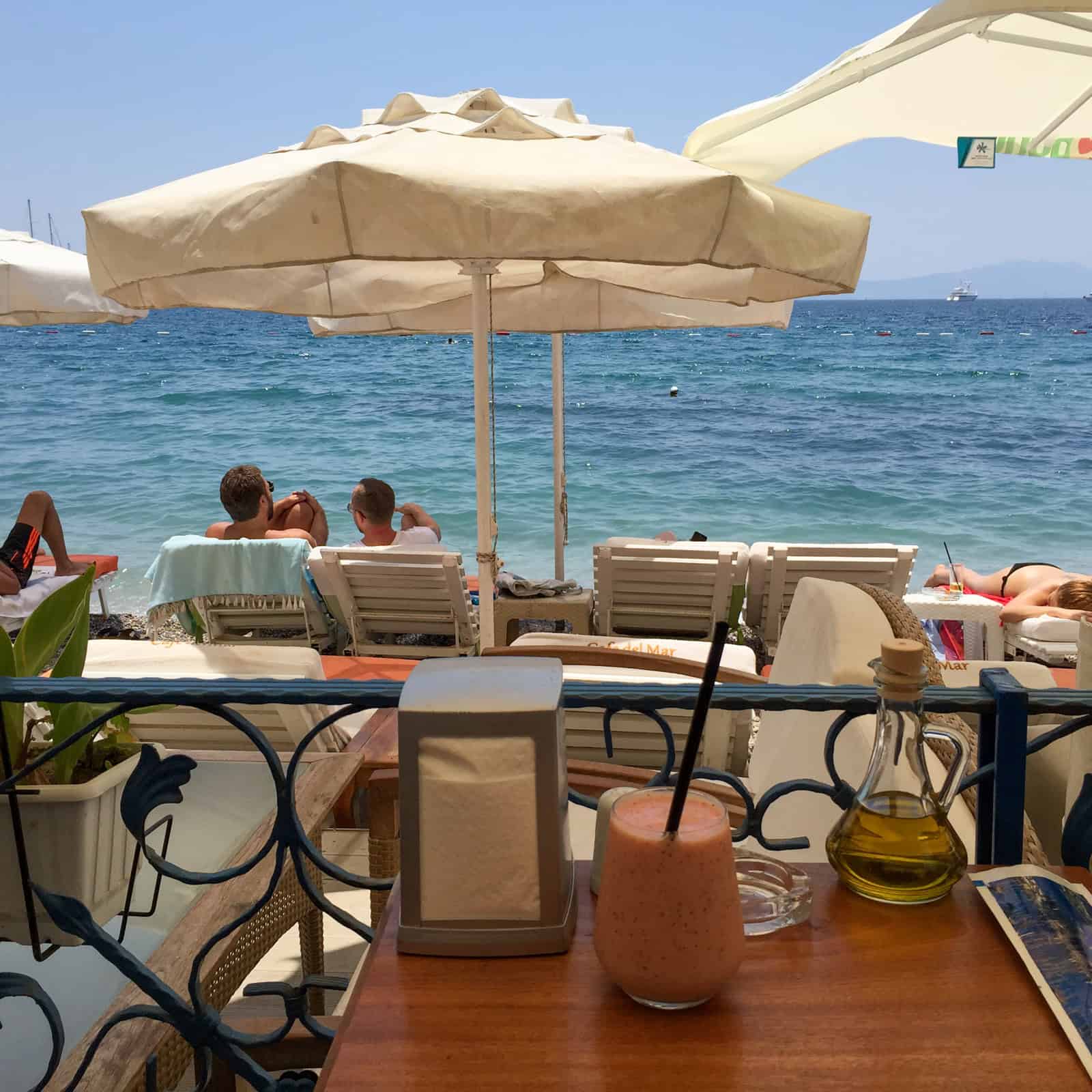 The 45-foot tall Mausoleum at Halicarnassus is worth a brief visit. It was constructed in 350 BC and was one of the original Seven Wonders of the Ancient World. A series of earthquakes from the 12th to 15th centuries left the mausoleum in ruins.
Beyond visiting those ruins and Bodrum Castle, I spent my time in Bodrum sipping fruit smoothies and taking in the watery views.
I arrived in Turkey to promote Turkish Airways and was awed at a country full of ancient sites and ruins of lost civilizations.
Turkey's best places to visit reflect its rich history and unique geography in the Eastern Mediterranean.
______
Turkish Airlines paid for my initial flight to Istanbul and visits to Ephesus and Pamukkale; the rest of my trip was at my own cost.
Dave is the Founder and Editor in Chief of Go Backpacking and Feastio. He's been to 66 countries and lived in Colombia and Peru. Read the full story of how he became a travel blogger.
Planning a trip? Go Backpacking recommends: