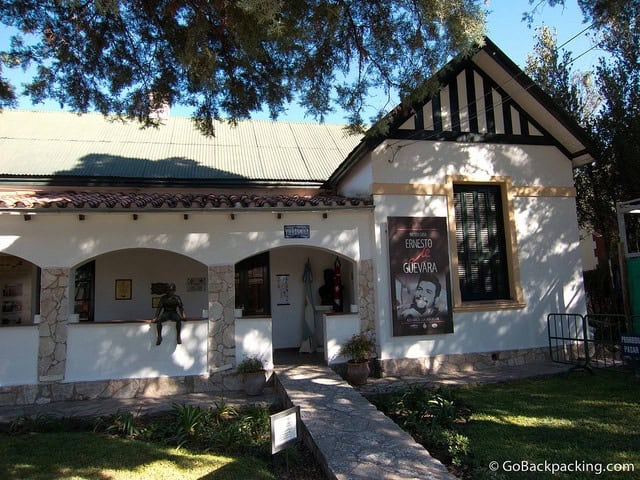 Until my visit to Ernesto Che Guevara's house in Alta Gracia, my knowledge of Argentina's most popular Marxist revolutionary was limited to his depiction as a young adult in The Motorcycle Diaries.
I watched the movie in 2011, in which we see Che leave his privileged home and life only to encounter poverty and suffering in South America.
In addition to providing some context for how and why he went on to foster revolution in Cuba, and later Bolivia, it's a terrific travel movie.
After seeing Patagonia, taking tango lessons in Buenos Aires, and exploring the beaches of Uruguay, I began my overland journey from Buenos Aires to Santiago, Chile.
The next big city en route to Santiago is Cordoba, which is known for its many universities.
It's also the jumping-off point for a visit to the small, nearby town of Alta Gracia, which was where Che Guevara lived as a kid.
On July 14, 2001, Che's childhood home opened to the public in the form of a museum, housing a collection of his furniture, personal items, family photos, and lots of handwritten letters.
Despite the small size, and the hefty cost of $15 for foreigners to enter it, I valued the fact that it was created within Che's former home.
Going from room to room, you can see how his life progressed, from boy to Marxist rebel.
It was also in this museum that I learned how he died on October 9, 1967.
After success in Cuba, he was attempting to lead a rebellion in Bolivia when he was captured and killed by their army.
Toward the end of my walk through the house, I noticed a few color photos of Fidel Castro and the late Venezuelan President Hugo Chavez.
Both had visited Che Guevara's house in Alta Gracia in 2006. It's probably the only place in the world where I can say I stood in the same place as both those men.
It's a shame the cost of admission is so high, as I know it's enough to dissuade a certain percentage of backpackers from making the trip to Alta Gracia.
While I wouldn't go out of my way to visit Alta Gracia, I believe it's a worthwhile side trip for those planning to pass through Cordoba.
_______
What You Need to Know
How Much: 75 Argentine pesos ($15) for admission. Argentinians only need to pay 15 pesos.
Museum Hours: 9 am to 8 pm, daily
Difficulty: Easy
Where to Book: Do it yourself (no organized tour required).
What to Bring: Camera
The trip from Cordoba to Alta Gracia takes less than an hour each way, and only costs a few bucks. From the Alta Gracia bus station, it's a short 10-minute walk to Che's house, and I picked up the bus to go back just a few blocks from the museum.
Dave is the Founder and Editor in Chief of Go Backpacking and Feastio. He's been to 66 countries and lived in Colombia and Peru. Read the full story of how he became a travel blogger.
Planning a trip? Go Backpacking recommends: