Last Fall, I set off from Munich, Germany on a two-month train trip through Europe, armed with a 15-day Eurail Global Pass.
My goal in partnering with Eurail.com was to answer the question on every budget traveler's mind, "how much money can you save by buying a rail pass versus paying for tickets individually."
The results from my Eurail cost comparison confirm without a doubt that there are hundreds of dollars to be saved, even thousands depending on the routes you choose.
Before we continue, please note all prices are subject to change, both for the rail passes and the individual train journeys.
The costs in the chart below are based on October/November 2012 rates.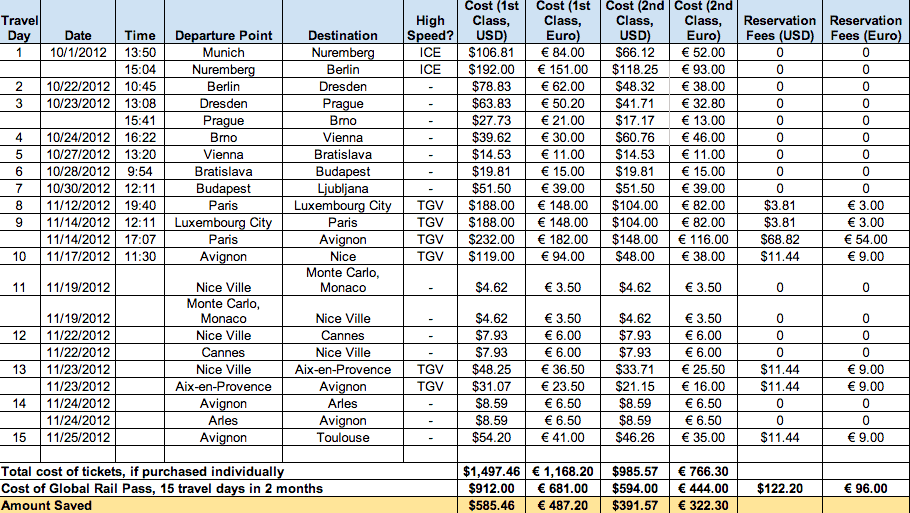 My Eurail Cost Comparison
Even though I was traveling with a 1st Class pass, I wanted to make this information relevant to travelers under the age of 26, and thus included the costs for a 2nd Class pass and individual tickets as well.
In the last two columns, you'll also see reservation fees in both US Dollars and Euros.
As you can see, if I'd purchased 1st Class tickets individually, I would've paid $1,497.
By comparison, the 1st Class Eurail pass was only $912, which equates to a savings of $585, or more than 30%.
For you young folk under 26, there's good news too.
My experience shows a cost savings of $392 between individually purchased tickets and the cost of a 2nd Class rail pass.
I used my pass in a variety of ways, from the high-speed ICE trains of Germany to the older trains of eastern Europe.
How to Maximize Your Savings
Fourteen years earlier, when I first used a rail pass to travel through Europe, I wasn't concerned with maximizing my savings, only getting from one major city to the next.
In 2012, that was still my primary concern, but I was more conscious of the money saved during each leg of my trip.
Due to time constraints, and my chosen itinerary, I didn't squeeze the most value of my rail pass that was possible. If that's your goal, here are the best ways to do it.
1. Take high-speed trains
Hands down, this is the best way to get your money's worth, and quickly.
My ICE train from Nuremberg to Berlin alone had a value of $192!
String a few of those together around Germany, and your Eurail Global Pass has more than paid for itself. Also note, I didn't have to pay any reservation fees.
France was a different story. I ended up taking more rides on their TGV routes, which also cost quite a bit.
Paris to Luxembourg City, a journey of fewer than three hours, cost $188 each way, or $376 round trip.
Unlike Germany, the reservation fees can add up in France but are still a small price to pay compared with the regular cost of tickets.
In addition to getting the most out of your rail pass, you're also cutting down on your transit time between destinations.
2. Take overnight trains
While I didn't take any overnight trains on this trip, I did so in 1998, and it can be an easy way to 1) cover a lot of ground, and 2) save on a night's accommodation.
I don't know if overnight trains are as popular in Europe as they once were, with the rise of discount airlines, but it continues to be an easy way to get the most mileage from each of your rail pass travel days.
3. Avoid routes with reservation fees
I know I just wrote about how amazing it is to travel by high-speed rail, but if you're really trying to keep costs to a minimum, avoid the train routes, such as the TGV lines in France, where you'll be required to pay reservation fees.
I was paying $11 per train ride in the south of France, which can add up quickly if you're doing a lot of short trips.
In Aix-en-Provence, I made the mistake of exiting my train thinking there'd be storage lockers for my luggage, allowing me to visit the city as a day trip.
Wrong. Even seemingly popular cities such as Aix-en-Provence, Arles, and Avignon lack storage lockers at the train stations. Nice, thankfully, had a left luggage service though I didn't need it there.
Once I'd gotten off the train, I had to pay another reservation fee of $11 to continue the final 20 minutes to Avignon where I planned to spend the night. An expensive mistake.
Eurail.com offers tips on how to avoid reservation fees by taking alternate routes.
4. Take advantage of special discounts on Eurostar, ferries, and more
While my rail pass didn't get me free passage on the Eurostar train from London to Paris, it did allow me to get a discounted rate of $91 for a 2nd Class ticket (bought the same day, which turned out to be very lucky).
Because I don't like to make plans in advance, I often showed up at the rail station expecting to board the next train to my destination.
Unfortunately, certain routes are so popular, that's not a reasonable expectation.
I made it from Luxembourg City to Avignon in southern France in a single day, but without having made advance reservations from Paris to Avignon, I was left semi-stranded.
I could either spend the night in Paris or pay a discounted rate for the same-day ticket to Avignon.
I chose to take advantage of the 50% discount my Eurail pass afforded me, paid $69 and boarded one of the last TGV trains from Paris to Avignon that day.
In addition to discounts off regular train tickets, you can save on ferry rides between Italy and Greece, and within the UK and Scandinavia.
5. Pay out-of-pocket for inexpensive train trips
As you can see in the chart above, I used my rail pass travel days on some super cheap day (under $10) trips to Monaco, Cannes, and Arles.
I let my itinerary guide me and wanted to maximize the use of my travel days.
If things were different, I would've paid for those cheap tickets out of pocket, and left the travel days for the long, expensive trips instead.
Putting all the practical benefits and cost savings aside, this second rail trip through Europe reminded me of how much fun it is to travel by train. And I won't be waiting another 14 years to do it again.
Visit Eurail.com to find the rail pass that's right for you.
Dave is the Founder and Editor in Chief of Go Backpacking and Feastio. He's been to 66 countries and lived in Colombia and Peru. Read the full story of how he became a travel blogger.
Planning a trip? Go Backpacking recommends: