Missing the bus meant a trip to Paraguay and the Jesuit Ruins. What?
This is just another story about the random things that happen when you're backpacking, the ebb and flow in which a slight setback can lead to a super discovery.
I never thought about traveling to Paraguay.
My two-month trip in 2012 was going to be Argentina and Uruguay, that's it, and we already know I made a stop in Chile to climb an active volcano.
Well, Paraguay was my first surprise detour.
The idea came about in Corrientes, Argentina, where I missed the bus to Colonia Carlos Pellegrini, a beautiful region I'll tell you about later.
At the bus stop, I met a French traveler and two German backpackers, and we decided to share a private car to get there, to save time and money.
I cannot remember if it was during the road trip or when we finally got to the hostel, but at some point, the French traveler told me about Paraguay. He had just gone, he said and loved it.
He said the ruins are nothing compared to what you find at Machu Picchu or in Central America, but that they were worth the trip, especially if you're passing Posadas, Argentina, on the way to Iguazu Falls.
I was, so I changed my itinerary a little.
You only need a day to see the ruins. You cross into Encarnación, Paraguay, from Posadas, and then take another bus toward the countryside.
Paraguay is cheap, then about 75 percent cheaper than Argentina, so I spent only $100 the whole day, transportation and meals included, as well as the entrance fee. You usually would get a Visa, but I went on a Saturday, changing everything.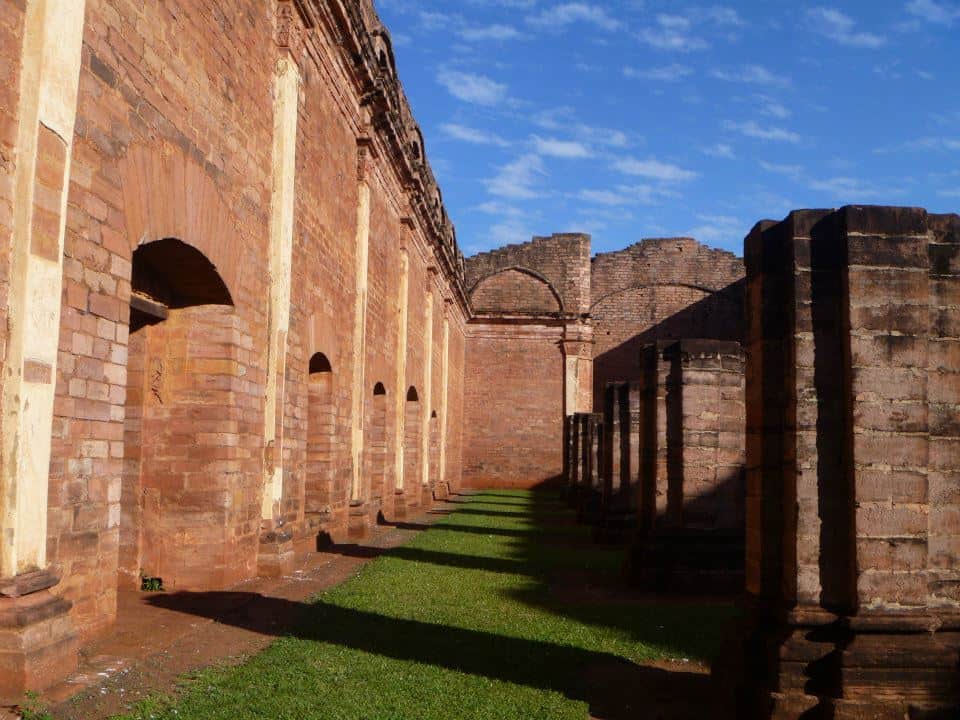 I went to both the ruins at La Santísima Trinidad de Paraná and Jesús de Tavarangüe, both well-preserved, a symbol of the Jesuit missioners that made this their home during the colonization of South America in the 17th century.
La Santísima Trinidad is just off the major northbound highway. You tell the bus driver to let you off at its access road, and he will.
I've loved ruins since I went to Chichen Itza in 2004, by chance on spring solstice, when the mirage of the snake appears on one of the Mayan temples.
Nothing near as grand happened in Paraguay, but I enjoyed it nonetheless.
On my way to Jesús de Tavarangüe, I had to stop at the gas station across the street from where the bus left me to wait for the next moto-taxi because these ruins are not a short walk from the highway.
Several locals were watching a World Cup qualifier and invited me to sit with them, watch, and have a beer while I waited.
I was there only 15 minutes, but it was fun.
Then I went to the last leg of the trip, where I spent about an hour before heading back to the highway to catch the bus to the border.
I decided then and there that I would return to Paraguay after going to Iguazu Falls to make my way to Asunción before crossing back into Argentina.
I should have left well enough alone.
Planning a trip? Go Backpacking recommends: