It was one of the most memorable adventures of my life.
Traveling off-road in a 4×4 for three days from San Pedro de Atacama to Uyuni across the Bolivian salt flats.
It felt bittersweet to be leaving the Atacama Desert, but there was only one way forward, and I knew it too would involve high altitudes and spectacular landscapes.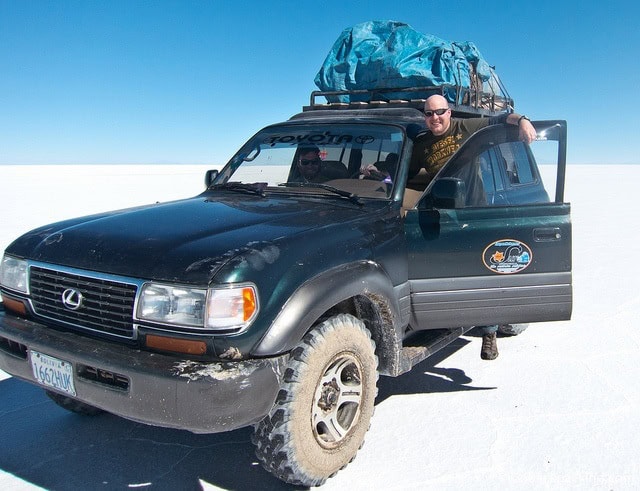 Booking the Trip
As with most multi-day treks and tours I've taken around the world, it's easy to book your Bolivian salt flats trip once you arrive in San Pedro.
There's little to no difference in itineraries offered by the local tour companies, though the prices do vary from $20 to $30.
You can pay a little more than average in the hopes that the SUV and food are nicer, but there are no guarantees.
And the variance in the dozen or more SUVs that I saw was negligible. Most are Toyota Land Cruisers, and all appeared quite capable.
One piece of advice I did try to heed was the importance of booking a trip with a driver who owns his own SUV and is thus more likely to take good care of it and you.
Drunk driving amongst Bolivians is an ongoing issue in the region, not to scare anyone away, but serious traffic accidents have occurred on the salt flats.
It's a good idea to have comprehensive travel insurance before embarking on this kind of trip.
By Western standards, my tour was astoundingly cheap.
I paid just $135 for the three-day, two-night trip, and this was considered on the expensive side compared to some of the other agencies with tours priced around $120.
Included in the price were:
4×4 transport from San Pedro to Uyuni
Two nights basic accommodation
Six meals, starting with lunch the first day and ending with breakfast on the last
Water and drinks during meals
The following were not included:
Bolivian entry fee ($135 for Americans, paid in cash in Uyuni)
National park fee ($27)
Sleeping bag rental ($3)
Drinks outside of those included at meals
Bottled water
The tour agency didn't tell me in advance that the driver would hold my passport as collateral until I paid for my Bolivian visa in Uyuni.
I learned that tidbit at the border crossing, where I was given no alternative but to hand over my passport to the driver I'd just met minutes earlier.
It is recommended you bring the following:
Snacks and water (I took 1.5-liter and 6-liter bottles)
Sunscreen
Sunglasses
Toilet paper
Warm clothes (dress in layers)
Bathing suit
Sleeping bag
Passport
Camera
Seven and a half liters of water may seem like a lot, but it turned out to be about right.
The rule of thumb is to drink one liter of water for every thousand meters of elevation.
I can't overstate how important it is to bring warm clothing.
On arrival in San Pedro, I'd already bought an alpaca sweater, hat, and gloves in the local market as night-time temperatures plummet quickly in the desert.
This is especially true at higher altitudes.
In the Western sense, you may view your driver as your guide.
Still, from the Bolivian perspective, I discovered my driver saw himself as a taxi driver who just happened to be transporting people in a place with no roads and exotic scenery.
Acclimatization
If you arrive in San Pedro from Santiago, whether by bus or plane, you'll want to allow as much time as possible to acclimatize to the higher elevation before leaving for Bolivia.
In San Pedro, you're sleeping at 2,400 meters, while your first night in Bolivia will be at 4,200 meters.
The second night will be a bit lower at 3,600 meters.
As a reference, in mountaineering, it's not advised to sleep higher than 300 meters above where you slept the previous night to allow your body to acclimatize.
Otherwise, you increase your risk of developing Altitude Sickness.
To help your body adapt, you should also take day trips from San Pedro to higher altitudes, such as the nearby Salar de Tara and Tatio Geysers.
This is the first in a series of posts from my wild ride through the Bolivian salt flats. Stay tuned.
_______
This post was brought to you by Southern Cross Travel Insurance.
Dave is the Founder and Editor in Chief of Go Backpacking and Feastio. He's been to 66 countries and lived in Colombia and Peru. Read the full story of how he became a travel blogger.
Planning a trip? Go Backpacking recommends: