Barcelona is one of Europe's most exciting cities and a perennial favorite among first-time backpackers. In this Barcelona travel guide, I'll draw on my three trips to the capital of Catalonia to help you find a place to stay, see the sights, and get some delicious Spanish food.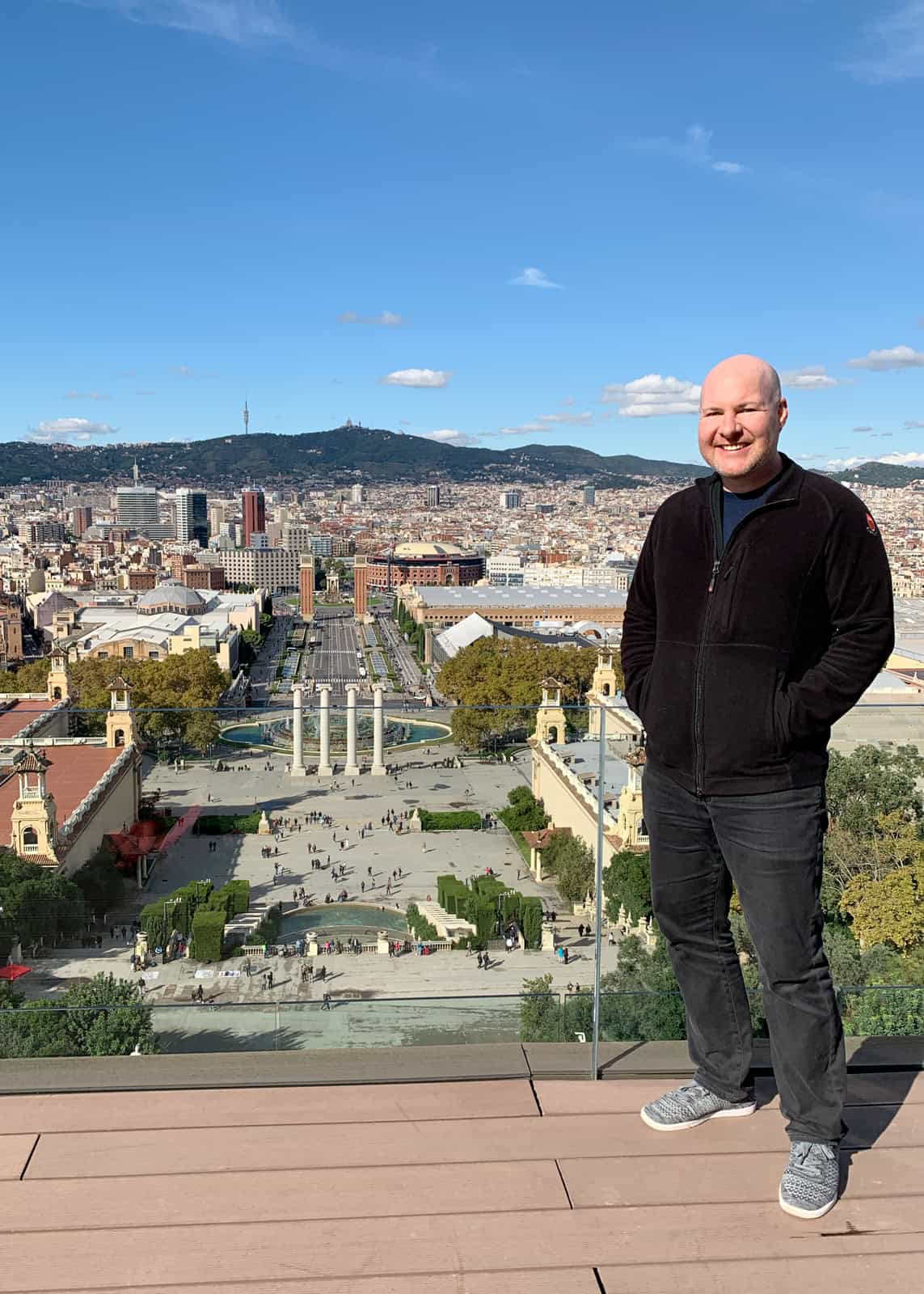 But first, a word about the weather. Barcelona can be visited at any time of year. I first visited in January during my trip around the world.
However, I much preferred subsequent fall visits in September and October. The crowds aren't as bad, and the air is cool, not cold.
While fall is my favorite season, I suggest Barcelona in spring for first-time visitors.
The temperatures and people are warming up, flowers bloom, and you can take better advantage of the beach.
Traveling to Barcelona is easy. It's one of Europe's best-connected cities, with direct flights from cities throughout the United States.
If direct flights aren't available from your city, you can easily connect through other major cities like New York City, London, and Berlin.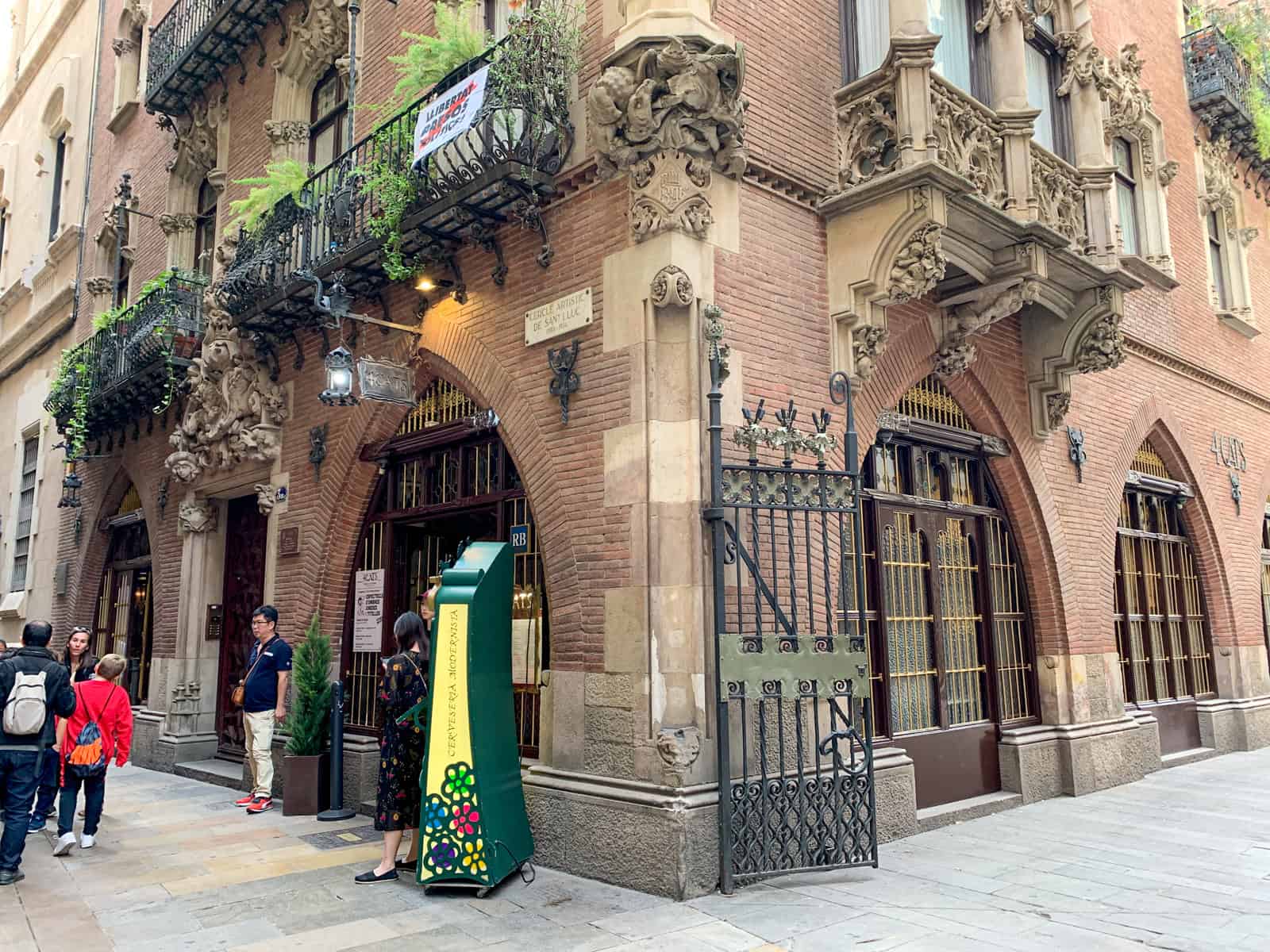 Where to Stay in Barcelona
Barcelona is Spain's second-largest city after the capital, Madrid. When looking at Barcelona apartments for rent, consider these neighborhoods.
Gothic Quarter
The centrally-located Gothic Quarter is my favorite place to stay in Barcelona.
Getting lost in narrow medieval streets will give you a sense of what life must've been like hundreds of years ago.
You'll have easy access to Las Ramblas, the marina, and the aquarium. Don't miss the impressive Barcelona Cathedral, built in the gothic style.
Barceloneta
If being by the beach is your preference, book a stay in Barceloneta, where you can rent a place within a block or two of the sea.
Plus, you'll still be within walking distance of the Gothic Quarter, several museums, and the marina.
Born
The small but trendy Born neighborhood lies between the Gothic Quarter to the west and Barceloneta to the east.
It's home to the Picasso Museum, the Basilica of Santa Maria del Mar, and several cool cocktail bars.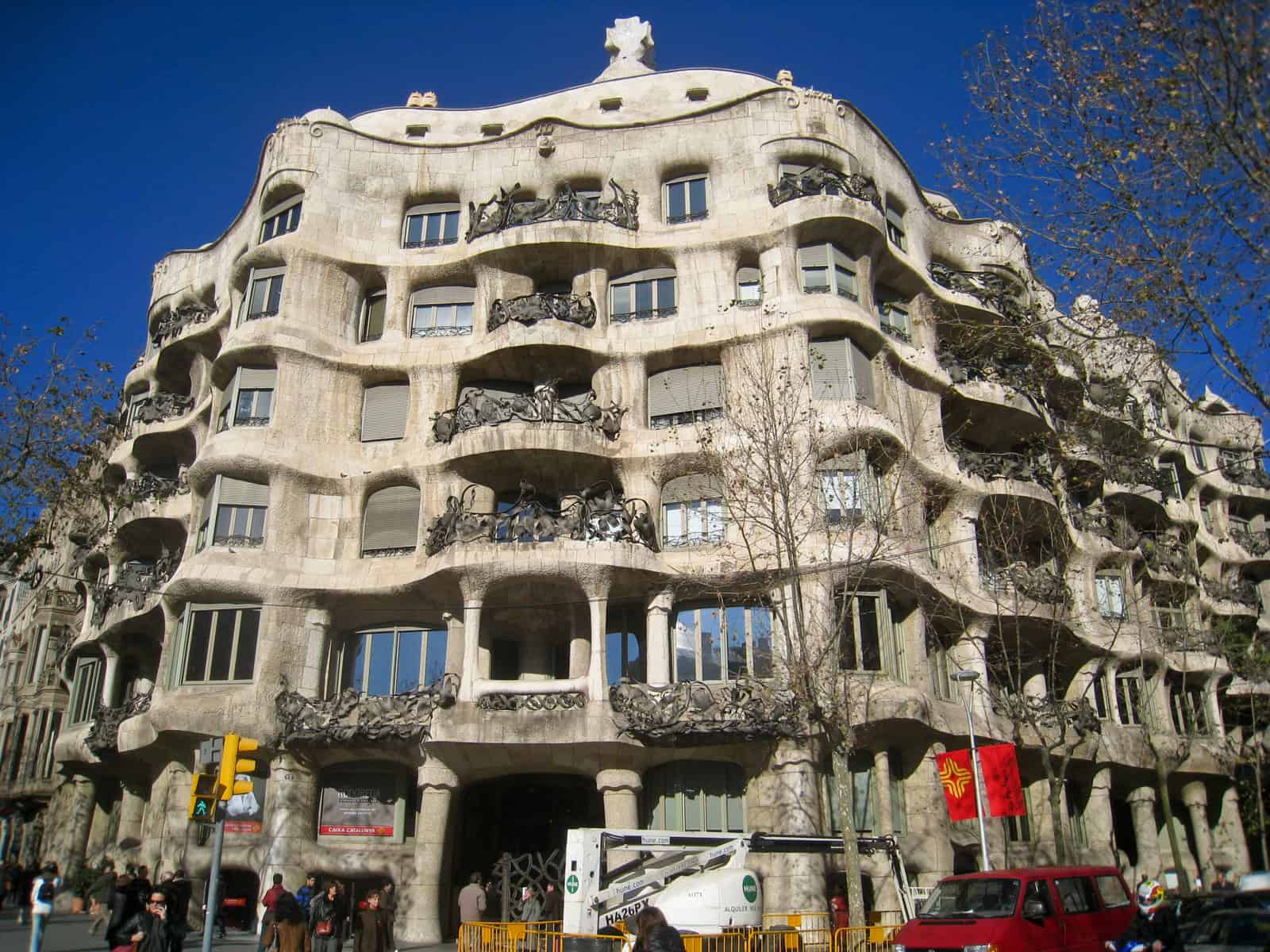 Eixample
North of the Gothic Quarter is Eixample, a large district that runs parallel to the coast.
This area is full of bars and restaurants and Antoni Gaudí's signature buildings, including La Sagrada Familia and Casa Milà.
Gràcia
Further inland, north of Eixample, is Gràcia, a neighborhood known for Gaudí's art nouveau architecture, exemplified in Casa Vicens Gaudí.
Stay here if you want to get a sense of Catalan culture without the crowds.
If you're looking to rent an apartment in Barcelona long term, you'd be well-served to choose one of these five neighborhoods.
Things to Do
First-time visitors to Barcelona have their work cut out for them regarding places to see and things to do.
Tens of millions of tourists visit the city annually, and there are plenty of tour guides, companies, and services competing for their attention.
Despite its size, Barcelona's central core is easily walkable, while sights and neighborhoods further away can be reached by subway or taxi.
Note: Uber is not operating in Barcelona at this time.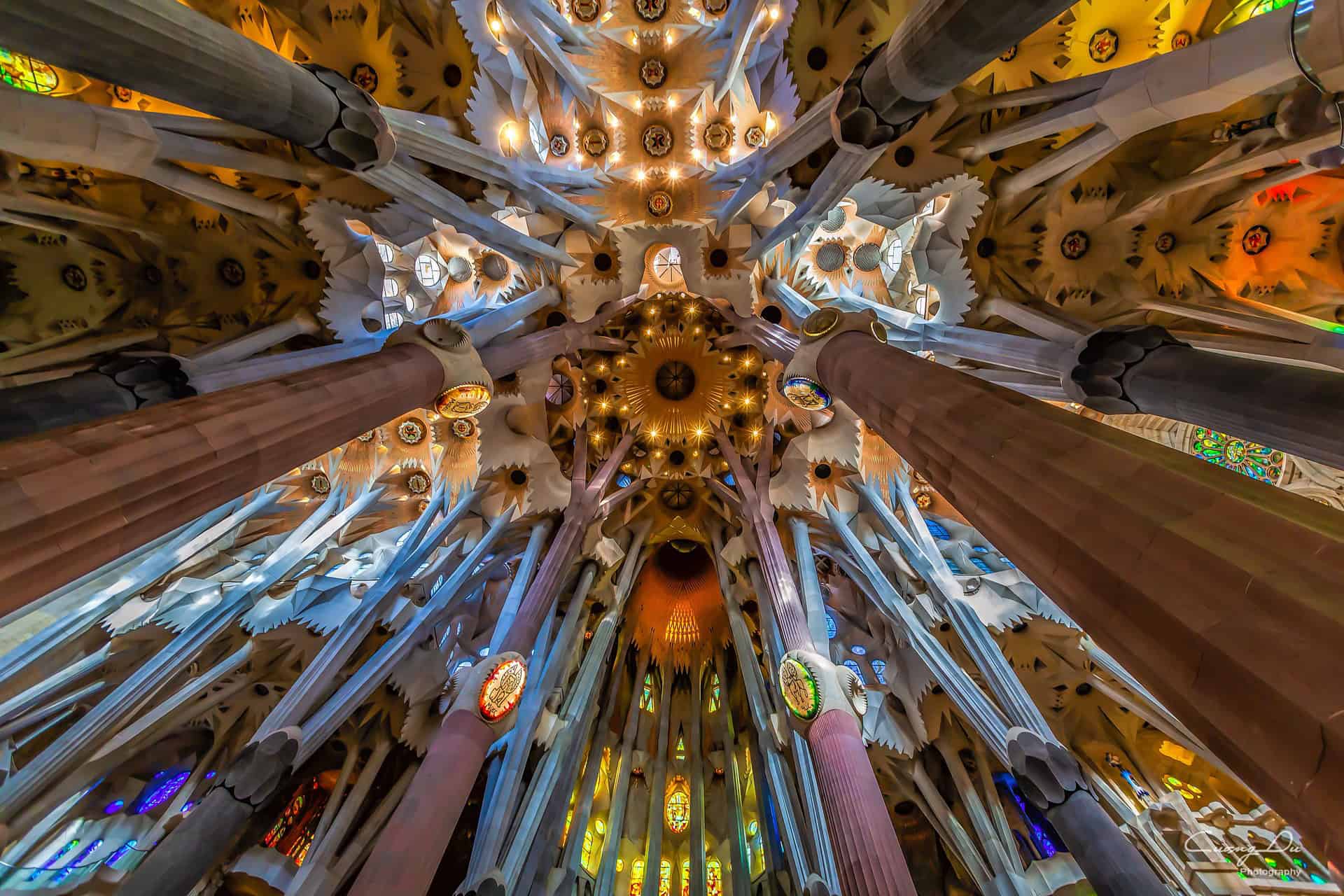 Modernist Architecture by Antoni Gaudí
Antoni Gaudí (1852-1926) is a Catalan architect known for his modernist buildings, mainly in Barcelona.
La Sagrada Familia is Gaudí's most famous work, and it's also where he is buried.
The cathedral is slowly nearing completion according to his original plans. It's due to be completed in 2026.
Other notable works include:
Casa Milà
Casa Vicens Gaudí
Park Güell
While I've taken a more haphazard DIY approach, a Gaudí-specific tour would be an efficient way to see his significant works in a single day.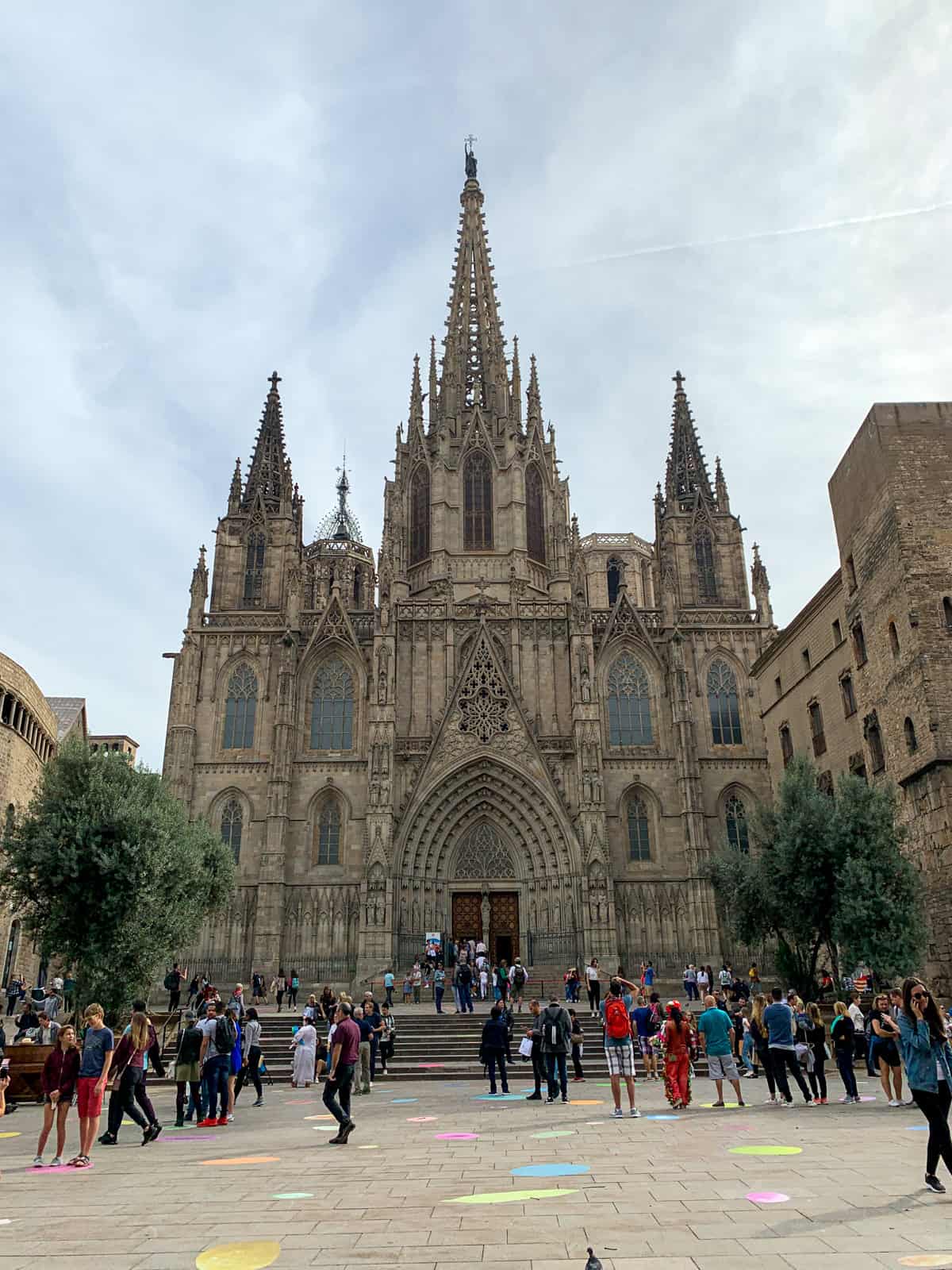 Explore the Gothic Quarter
The Gothic Quarter is the old medieval center of the city.
Labyrinthine alleys and passageways make it a delight to walk around day or night.
Plus, the Gothic Quarter offers visitors an escape from automobiles as it's closed to all but service vehicles.
Historic landmarks include the remains of Roman walls, Barcelona Cathedral (1339), and City Hall.
Walk La Rambla
La Rambla is a street and pedestrian walkway that runs from Plaça de Catalunya at the north end of the Gothic Quarter to the port at the south end.
Line with bars, cafes, and shops, it's a must for people-watching.
Just be sure to keep your wallet or purse tucked closely, as Barcelona is known for pickpockets that take advantage of distracted tourists.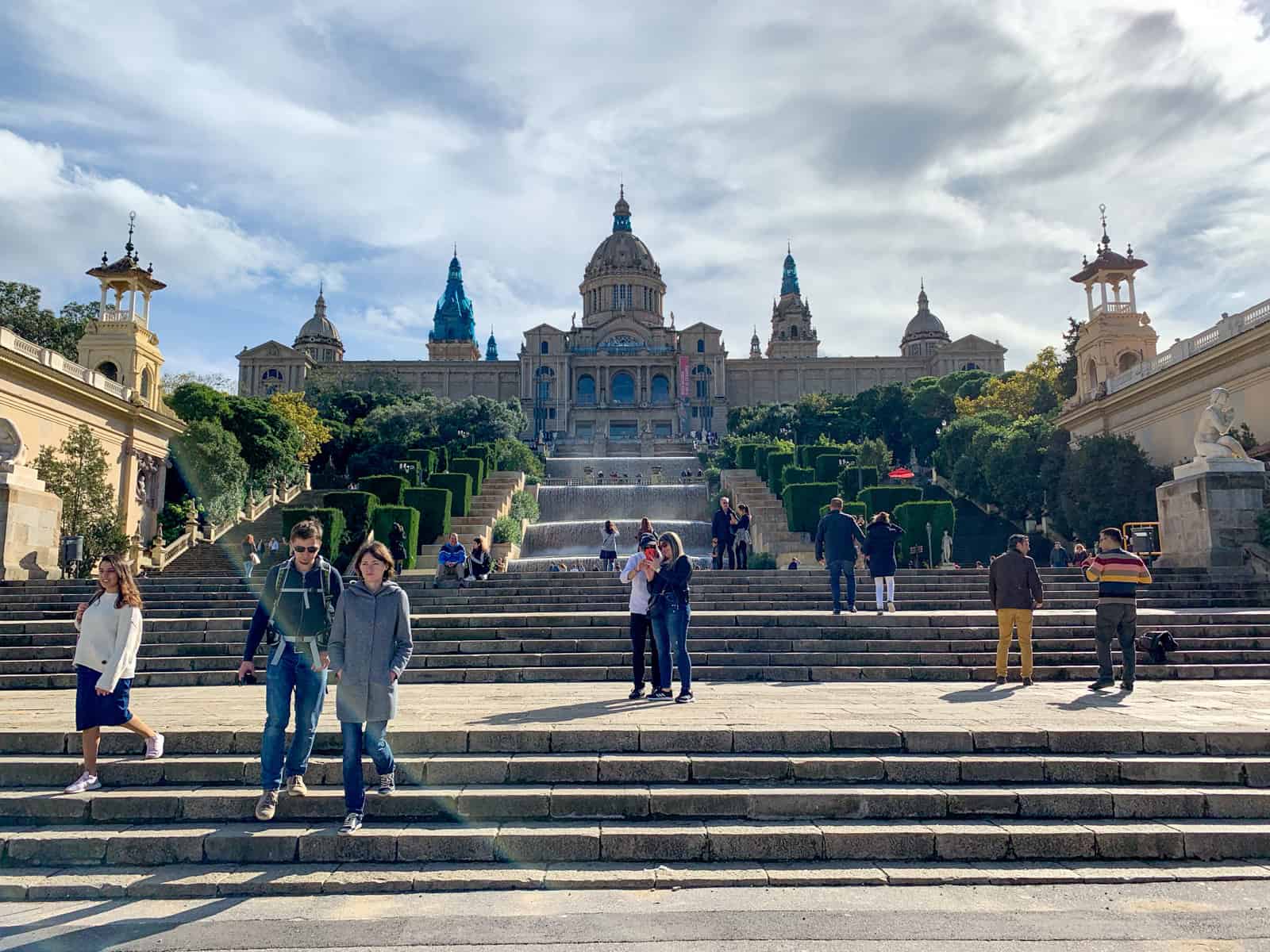 Museums
Museum lovers will be in paradise. Barcelona is full of them!
The Picasso Museum in the Born neighborhood is home to over 4,000 works of art by the Spanish artist. If you only visit one museum, make it this one.
The Museu Nacional d'Art de Catalunya is built upon a hilltop, offering panoramic views of the city.
On the last day of my 2018 trip to Barcelona, I only had a few hours to spare, so I walked up to the rooftop, even though I didn't have time to see the museum's Catalan art collection.
Modern art fans will want to check out the Barcelona Museum of Contemporary Art near La Rambla and the Fundació Joan Miró dedicated to the works of Spanish artist Joan Miró.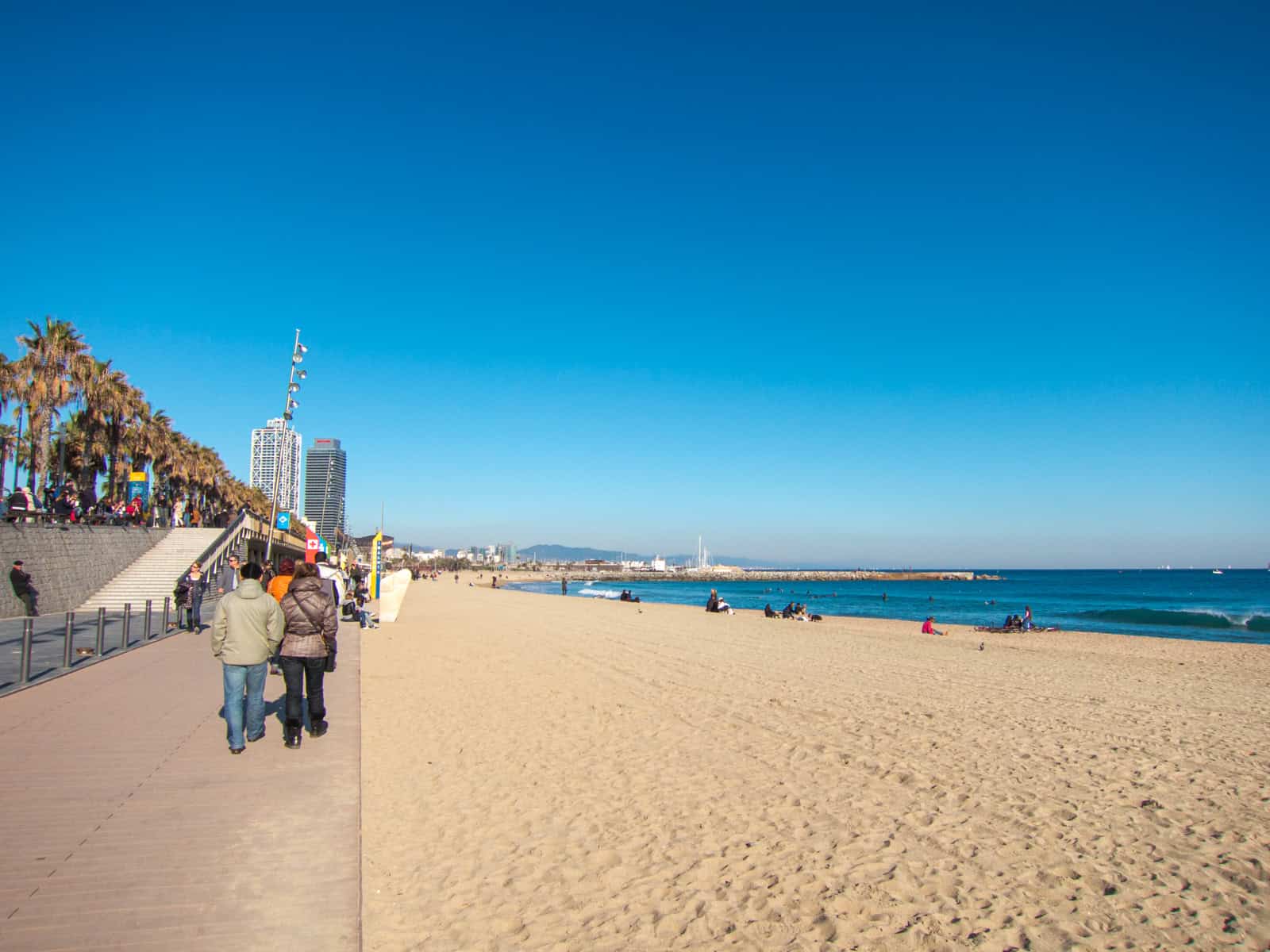 Barceloneta Beach
Barceloneta Beach is easily accessible on foot from Barceloneta, Born, and the Gothic Quarter.
There's a restaurant-lined boardwalk to stroll, which is perfect for people-watching, especially in summer.
Soccer Match at Camp Nou
Soccer is Spain's national sport, and Barcelona is home to one of the world's best clubs, FC Barcelona.
Getting a ticket to see FC Barcelona and Lionel Messi play Atlético Madrid at Camp Nou stadium was a highlight of my first trip to the city.
See also: Off the Beaten Track in Barcelona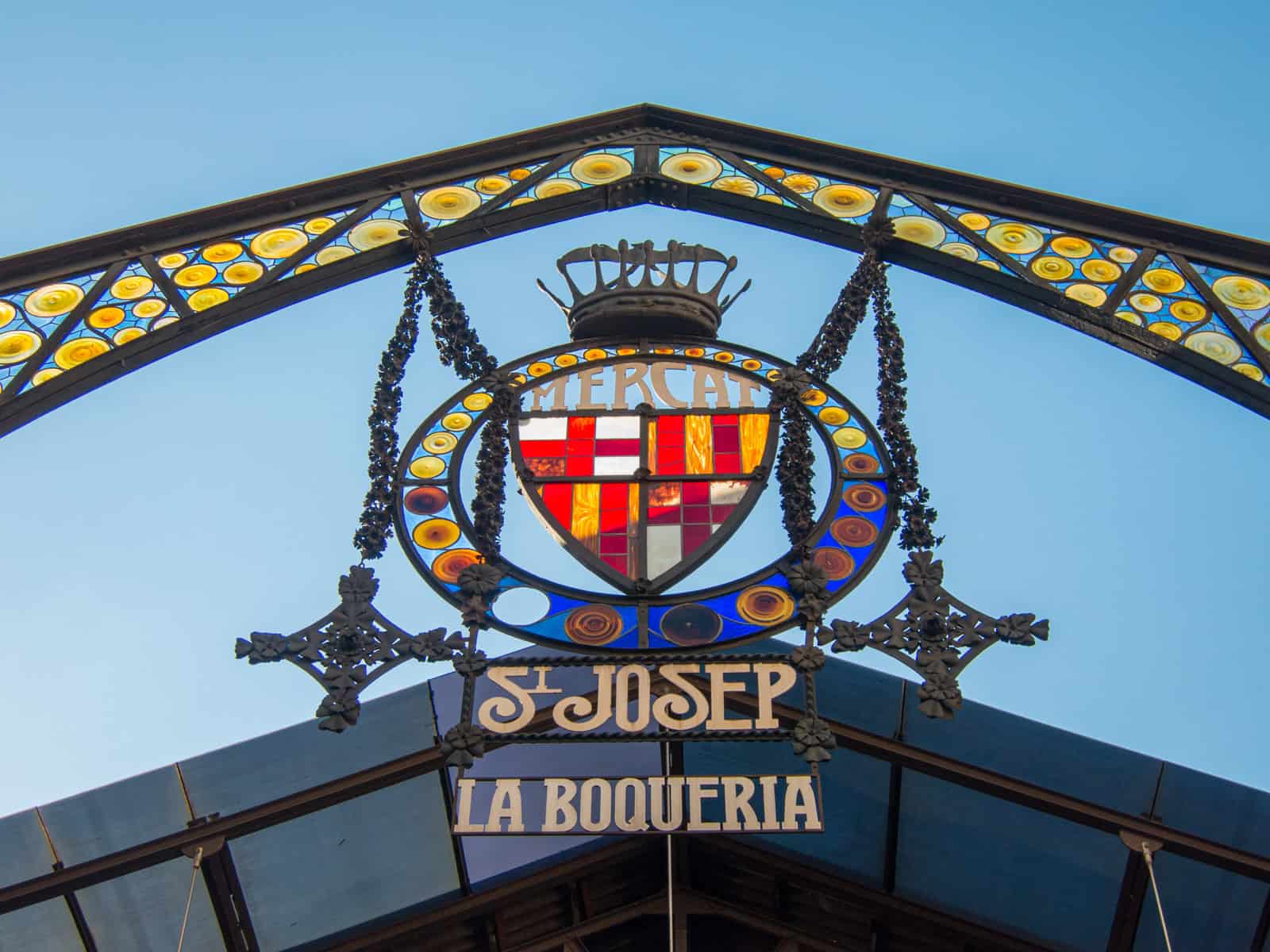 Where to Eat and Drink
Spanish food fills the streets of Barcelona. Whether you're traveling to Barcelona on a budget or have some money to spare, you'll eat well.
Boqueria Market
For starters, when walking down La Rambla, be sure and stop at the historic Boqueria Market, which dates back to 1836.
Markets like these are sprinkled throughout the city, but Boqueria is the most famous. You can make a meal out of sampling what's on offer.
Food Tour
Another fun way to explore Barcelona's culinary scene is through a food tour.
During my second visit in 2012, I took a food tour, which began with the chef walking us through Boqueria and showing us how to make sangria and paella. Yum!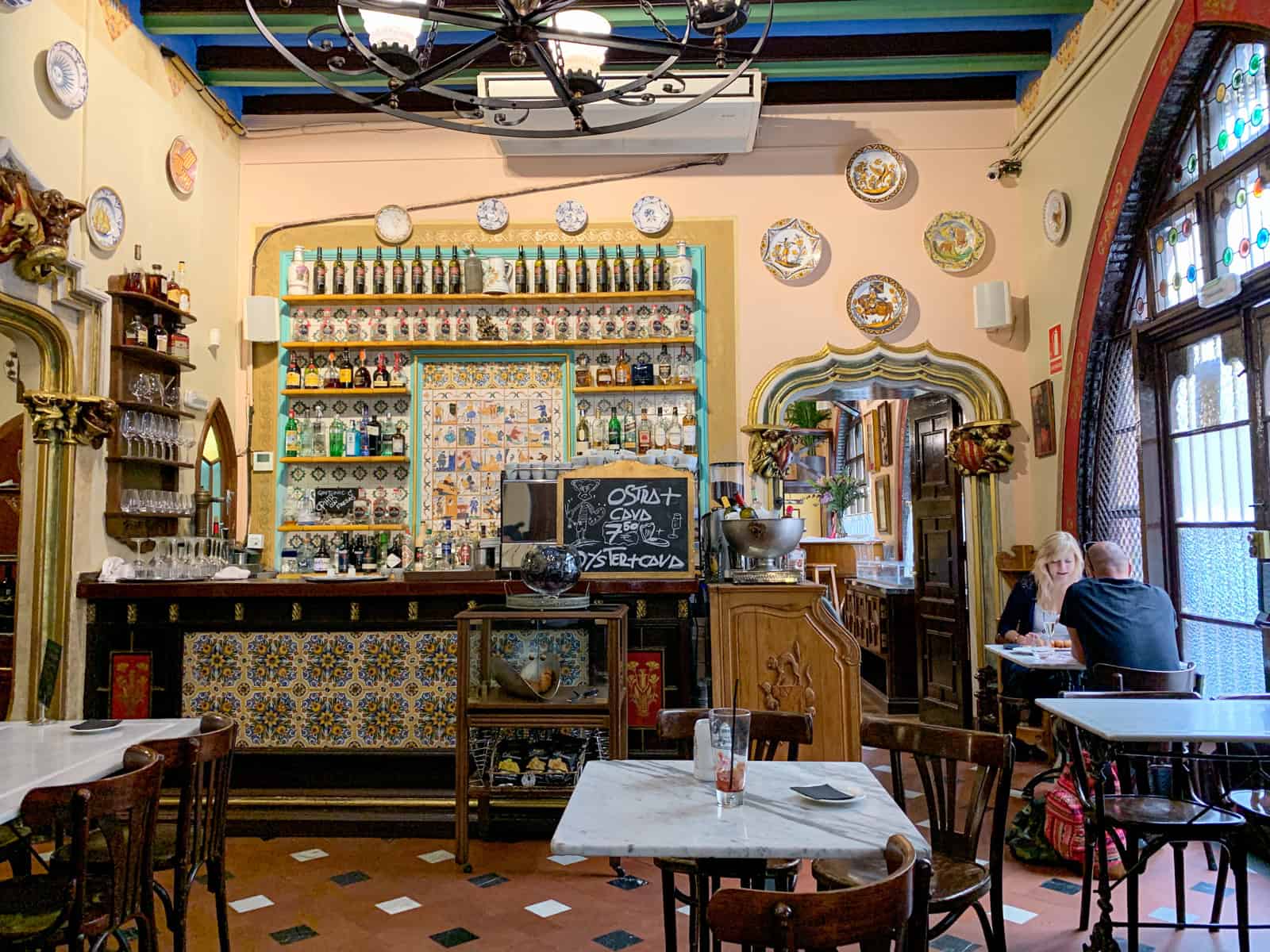 Els 4Gats
Located in the Gothic Quarter, Els 4Gats (The 4 Cats) is a cafe that dates back to June 12, 1897.
It served as a meeting point for famous artists like Pablo Picasso during the modernist movement.
In 1989, it was fully restored and is now popular with tourists searching for coffee, drinks, and tapas.
Quimet & Quimet
In 2009, I stayed at a hostel next door to Quimet & Quimet, a tapas bar. Naturally, I got dinner there one night.
Months later, I saw the same tapas bar featured on No Reservations with Anthony Bourdain!
It was and remains one of the best tapas bars in the city. Don't miss it!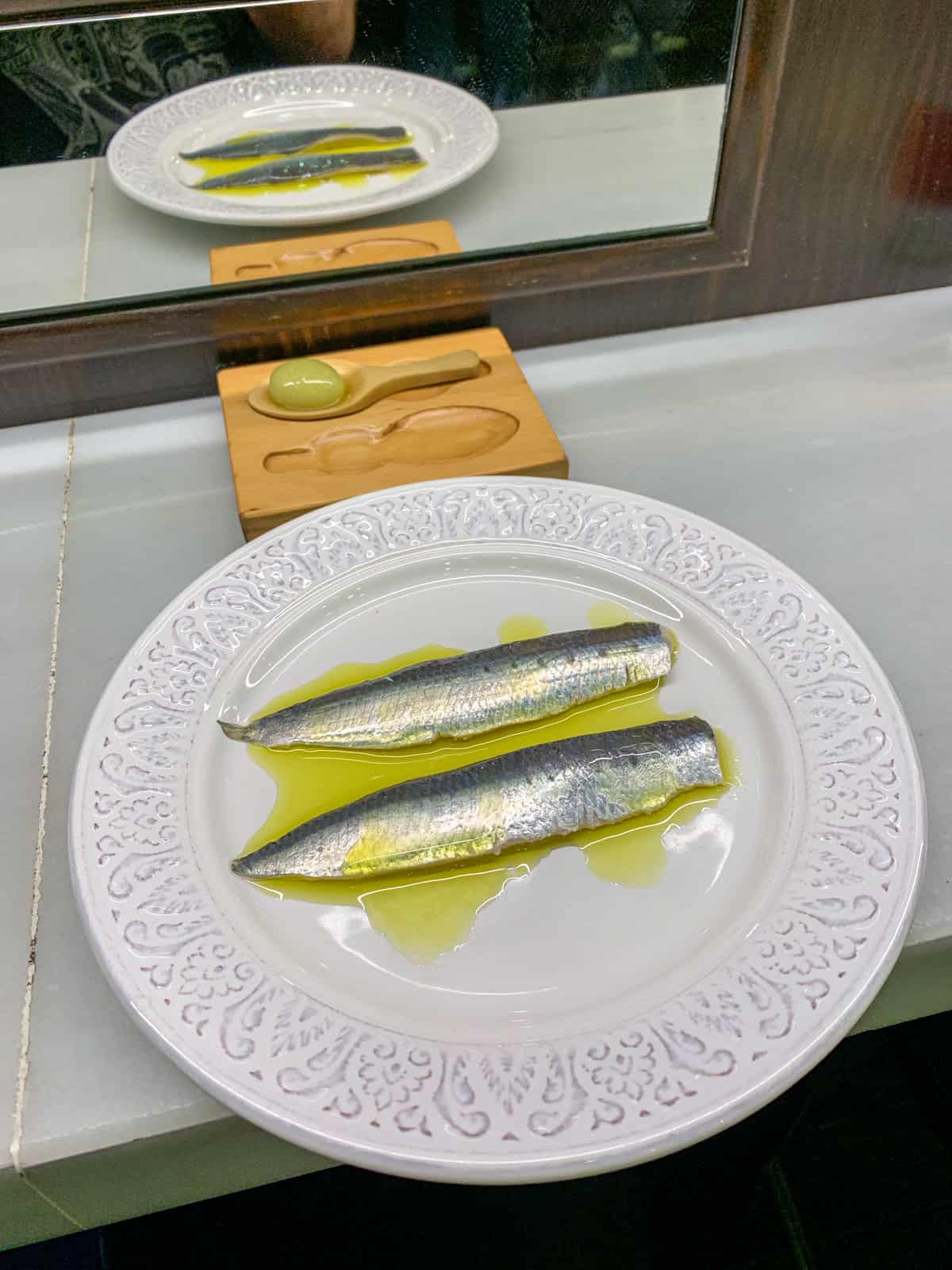 Bodega 1900
Speaking of the best tapas bars in the city, I also want to shout out to Bodega 1900 by Albert Adria, brother to chef Ferran Adria.
Previously, the Adria brothers ran the world's #1 restaurant, El Bulli, in Costa Brava, Spain.
Albert now has many restaurants in Barcelona, and I managed to snag a counter seat for lunch at Bodega 1900 on my last visit to Barcelona.
The nice thing about tapas is you can control how much you spend. While you can find free tapas at bars, I recommend treating yourself to at least one high-quality experience.
Paradiso Bar
Last but not least, I want to end with a speakeasy. Paradiso Bar is hidden behind a secret door in a pastrami shop. Inside, they serve some of the most creative cocktails in Barcelona.
***
I hope this Barcelona travel guide helped orient you to this incredible Spanish city. There's so much to do. It's not surprising travelers go back again and again.
______
This story is brought to you in partnership with ShBarcelona.
This post was written by a guest contributor. Please reference the author's byline in the post above for more information. If you would like to guest post on Go Backpacking, please read our submission guidelines. For information on advertising opportunities, go here.
Planning a trip? Go Backpacking recommends: