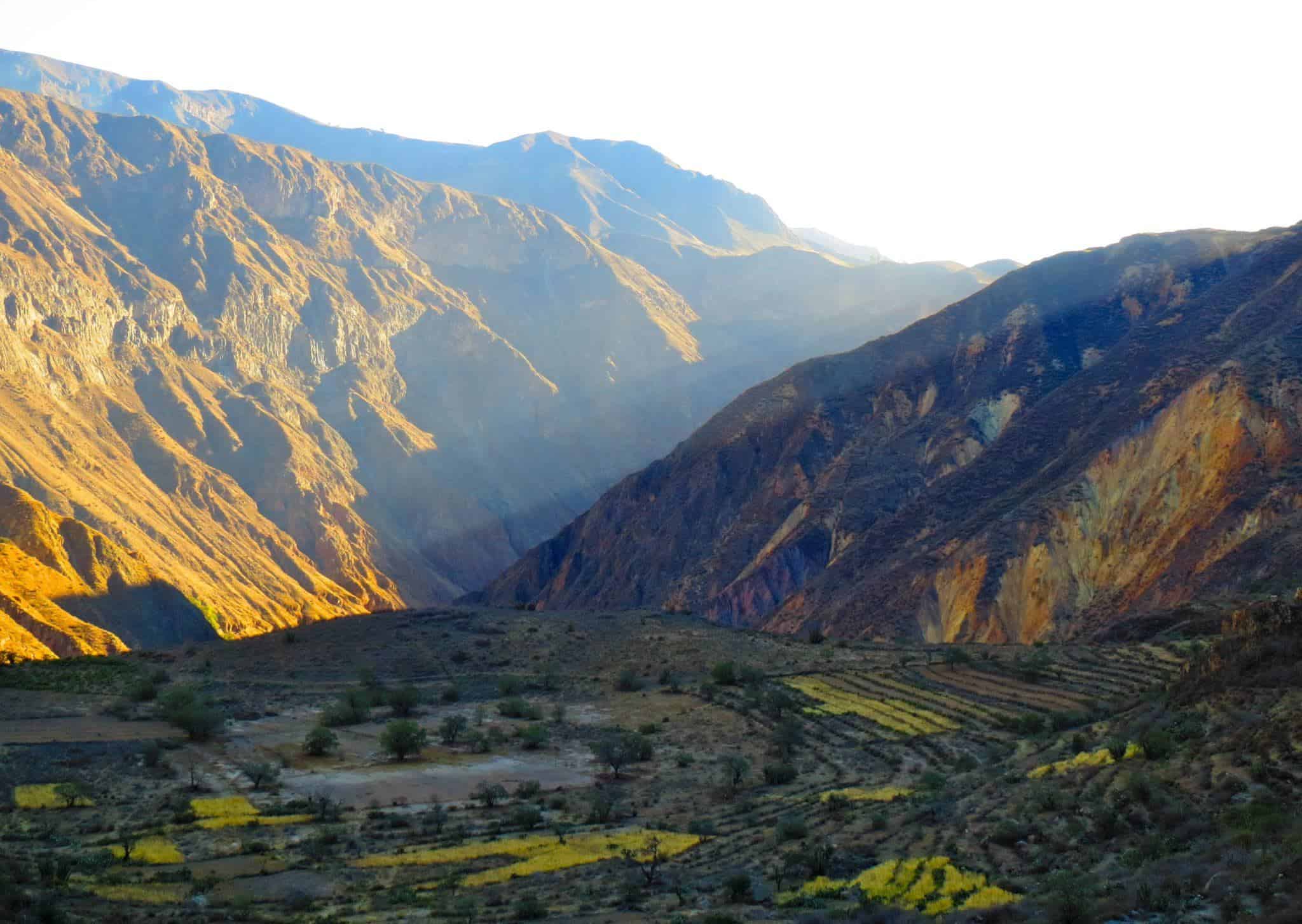 The day starts at 3 a.m., so early you begin to wonder if you're really on vacation.
If you're by yourself like I was, you get in a van with a handful of strangers, a driver, and a tour guide, then head three hours into the desert.
We went northwest of Arequipa, I found out later, but I could barely function at the time.
This trip to Peru's Colca Canyon better be worth it, I thought, then I fell back asleep.
I woke up again when we arrived at Chivay, the little town where you pay your entrance to the national park. It's 40 soles for South Americans (about $14), 75 for other foreigners (about $27).
That didn't include the 150 soles (about $27) I had already paid at my hostel for the trip, which covered the guide fee, most of my meals, my lodging, and my transportation.
The first meal was breakfast, something very basic, just bread and jam, tea and coffee, cheese and ham (or at least what I thought was ham). I was too tired to care.
I didn't really wake up until we got to Cruz del Condor, the lookout point where those big and magnificent birds soar and swirl and dive, like the fighter jets in "Top Gun."
It was hard to take a picture, but I got a few decent, if not great, ones.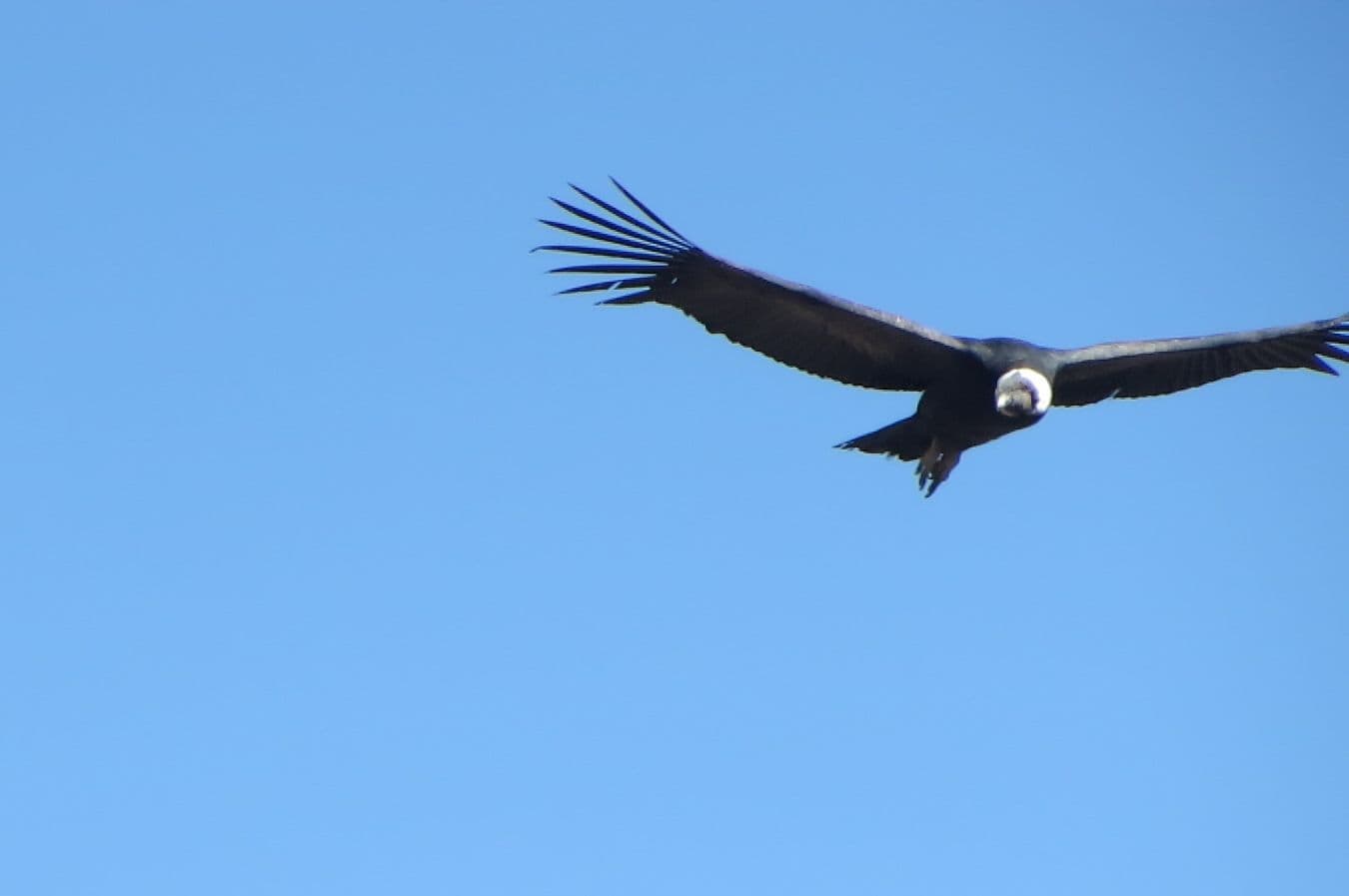 We were ready to hike down into Colca Canyon, to do six hours of trekking, starting at Cabanaconde.
It starts easy enough. You follow a dirt path that descends into the canyon, measured at 13,650 feet deep. The Grand Canyon is 6,000 feet deep.
About a half-hour into the hike, you notice an oasis in the basin of the canyon, a place the river passes with green trees, red roofs, and blue pools, the place we would spend the night.
Only five and a half more hours to go.
You're trying your best to watch your footing on the way down to make sure you don't slip on the loose dirt and rock, and a couple of times, I almost did.
But I made it to the first bridge unscathed, where we took a short break.
I'm happy we did because the hike was about to get a little tougher.
We had to walk up a steep path, not too long a path, but the 50-degree incline made it seem that way, made it seem like it was taking forever.
I was pretty short of breath when I made it to the top, a reminder that I'm in good shape, not great shape, not yet.
The path leveled out again as we headed to our next stop, lunch, something everyone could use by then after the paltry breakfast.
We had alpaca saltado, a popular dish in this region of Peru, the alpaca meat replacing the beef normally used in the recipe.
I had already tried alpaca a handful of times on my trip to the country, which began on June 13, my first time trying it coming in Cusco at a restaurant called Uchu.
See also: Salkantay Trek to Machu Picchu
Oops, wrong photo…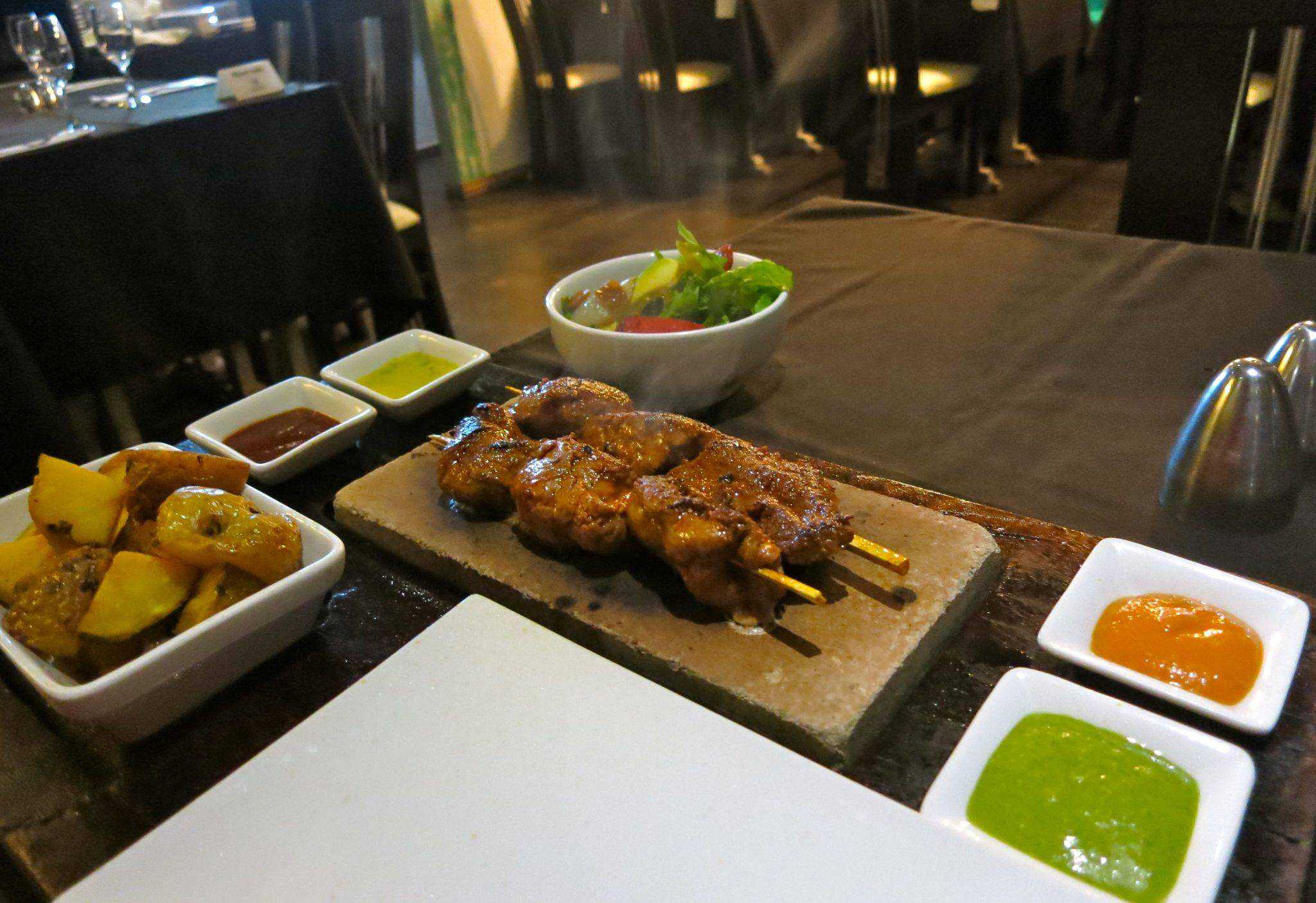 There we go. As my friend Brent says, "It's so dang good!"
Happy it was part of my lunch, I was ready for the next part of the trek, the last time we would have to walk uphill on this day.
The incline wasn't as steep, maybe 40 degrees this time, but by then, I was a little tired, so it was just as hard, so I took my time until I arrived at a tienda at the top.
I stocked up on snacks and granola bars because Markos, our guide, told us we would hike up and out of the canyon the next day before eating breakfast.
Three granola bars, a four-pack of Chips Ahoy, and a big bottle of water later, we were back on the path.
It was a dirt road that remained level until we got close to our destination: Sangalle El Oasis.
We could see the oasis from the end of the road, where another dirt path down into Colca Canyon began.
As I was watching my footing, I realized that we had hiked all the down into the canyon, then halfway up, and we were about to hike back down, a day of endurance that I would always remember.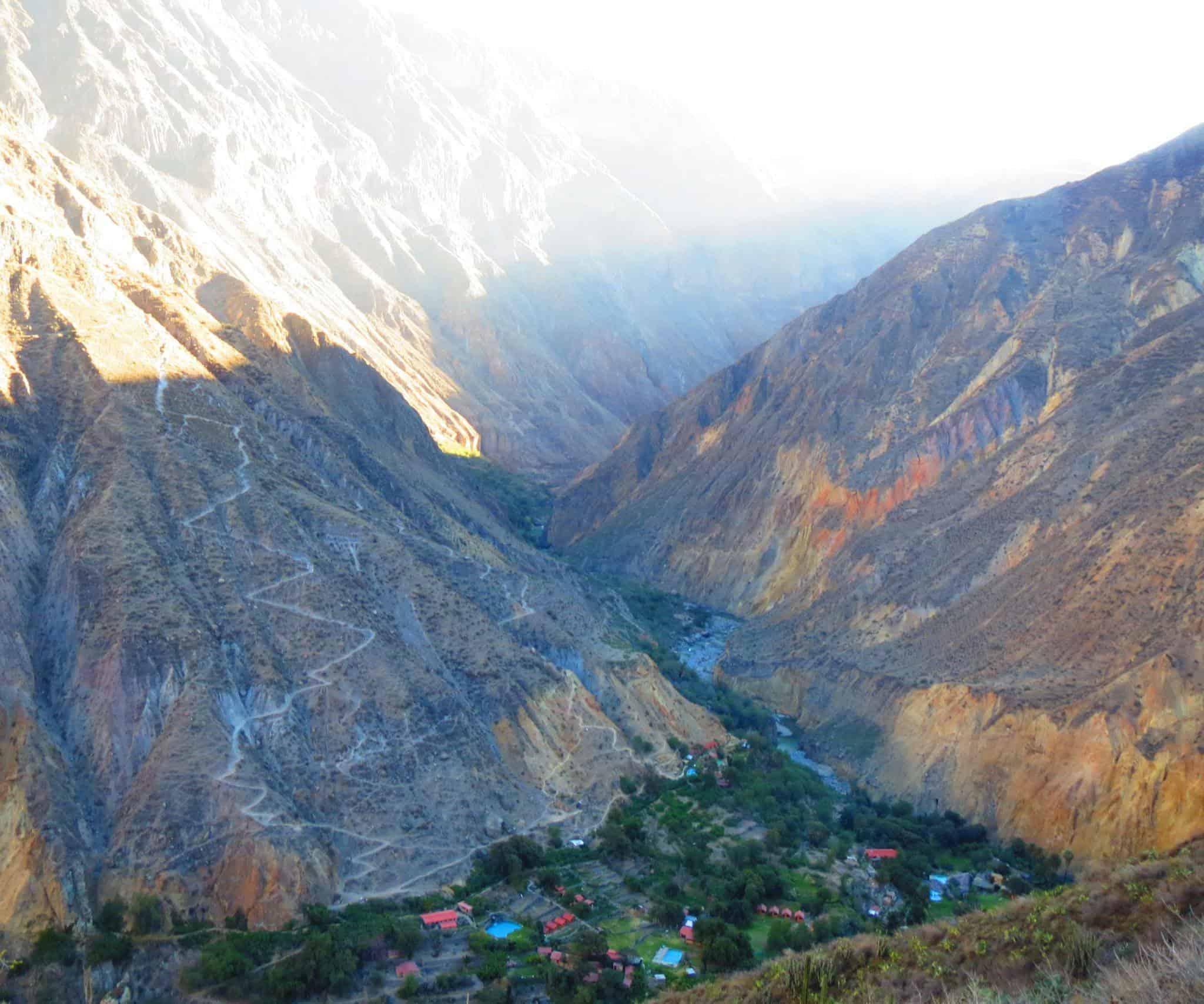 Getting there wasn't the same as getting to Ahm Shere, the fictional oasis in "The Mummy Returns," but we felt like we had accomplished something pretty special.
We had hiked up and down, braved the early morning cold and the midday heat, shifted from hungry to momentarily full to hungry yet again, and we all kept going.
We got to know each other a bit too. There was a couple from the states in my group, a girl from France, a guy from Germany, and two Israelis.
And then there was Markos, our guide, only 19 but looked 15, with enough English to explain everything to the people who didn't speak Spanish.
As we arrived at the common area of our cabana village, we noticed it was packed, everyone watching the end of the U.S.-Belgium game.
The U.S. team put up a valiant fight but fell 2-1 in overtime.
They proved, though, that they are a team to watch in the future as Coach Jürgen Klinsmann, the former German National Team coach, has his players transitioning to a more attacking style of football.
After the game, we relaxed until dinner, which started with soup, followed by an entrée of rice and some stew, then ended with a Jell-O-like desert that I was unsure of and did not care to ask about because by then I was dead tired.
It was only 8 p.m., but we had to wake up the next day well before dawn. It was time for bed.
Markos knocked on our doors at 4:30 a.m., just like he said he would, and we met in the common area 15 minutes later, ready for our faux breakfast. I had a granola bar and the Chips Ahoy I had bought the day before.
It was time, Markos announced, by saying, "Vamos!"
He lent me his light, the kind you strap to your forehead because I did not have one, and it was quite dark.
It was a huge help. Today would be nothing but up, up, and more up, and did I mention we'd be walking up? Without the light, I'm sure I would have slipped and fallen at least a few times, something clumsy people like me do.
I took several breaks along the way but kept on pushing. To entertain myself, I thought of "Talladega Nights: The Ballad of Ricky Bobby."
Specifically, I thought about the part where Ricky gives that long and silly grace before their delicious meal of KFC and Taco Bell, and how one of his boys — can't remember if it was Walker or Texas Ranger — says, "You really made that grace your bitch, dad."
I wanted to do the same with Colca Canyon, so I kept trudging along, finally making it to the top three and a half hours later. We all took pics at the top, me doing the gangster pose, to be silly.
The rest of the day would be easy.
Highlights: breakfast — this time with eggs! — a stop at one of Colca Canyon's best lookout points and a brief visit to the pueblo of Maca, where I held a falcon.
See also: Machu Picchu Tour with G Adventures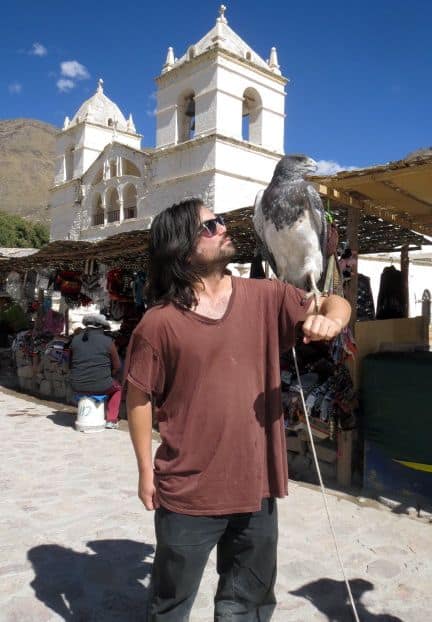 I stayed awake along the entire ride back to Arequipa, which actually included two more stops, one at the highest point along the route, which stood at 16,000 feet, and saw the volcanoes surrounding the area, one of them still active.
The other stop was at an alpaca and llama preserve.
Again, I stayed awake while others fell back asleep. I wanted to be able to sleep on the overnight bus to Lima.
It was already dark when we got to downtown Arequipa, unlike my arrival there two days earlier, when I got to see dusk decorate the Basilica Cathedral.
As I headed back to my hostel, my legs were hurting, but not too bad, not like they were when I made it to the top of the canyon, and even then, the burn didn't last long.
The pain sort of fades away when the rising sun floods the canyon with such pretty white light.
____________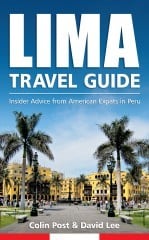 Dave's 160-page, all-original Lima Travel Guide is now available for Kindle.
Planning a trip? Go Backpacking recommends: