A few years ago, back when I was working in an office with too little natural light, I had a memorable conversation with my company's HR person.
It had to do with the way different people cultivate their personal energy. Her message was simple, and I've respected it ever since.
Extroverts gain their energy from being with other people, and likely feel something is missing during times when they're alone.
Natural introverts, such as myself, gain their energy in the absence of other people, and then proceed to expend it while attending social events or hanging out with friends/partners.
As a result of that conversation, I learned to allow myself time alone without feeling guilty about it.
It can be a slippery slope, however, as I've used this concept in the past to be anti-social at times (especially in the year running up to my RTW trip).
Upon arriving in Cartagena, I visited several hostels in search of one with the best price for a private room.
In the past, when given the choice between a sub-$10 dorm bed, and a private room, I'd choose the dorm bed 99% of the time.
I might spend my money on good restaurant meals while traveling, however, I was always willing to take a cheap bed in an effort to balance out such pleasures.
My priorities were clearly different on this trip.
I'd flown to Colombia 36 hours after a long weekend of hardcore networking and socializing at TBEX. It was immensely fun, though draining.
I was as excited to feel a sense of independence again, as I was to visit Cartagena.
In 2009, I spent the first half of the year couchsurfing in Europe, living in a party hostel in Medellin, and sharing a 3-bedroom apartment in Envigado.
Returning home to the USA, I lived with my parents for 11 months.
Trips to Los Angeles and New York City involved staying as a guest with someone, and Rwanda was a whirlwind of overnight flights and hotel rooms, albeit comfortable ones.
Cartagena became my chance to decompress not just from the socializing at TBEX, I realized, but from more than a year of being dependent on others for a roof over my head.
I'm grateful for those who've hosted me (in particular my parents!), but I've missed the feeling of having my own space, no matter how small or minimally decorated.
So after staying in two hostels with noisy common areas (in the form of open-air courtyards), I settled into room 201 at the Hotel Villa Colonial.
All of the rooms featured fans, air-conditioning, cable TV, free Wi-Fi, and private bathrooms, however it was Villa Colonial's small balcony that turned room 201 into a makeshift apartment to me.
Ironically, it's the balcony that makes the room far noisier then the ones at the other two hostels combined.
Every morning, I awake to the sounds of men walking along the street below, shouting "pescado, pescado" (fish) or a variety of fresh fruits, "mango, papaya!"
I brush the sleep from my eyes, turn the fan up a notch, and unlock the balcony doors.
Swinging them open, my corner room is flooded with fresh air, sunlight, and the sounds of life in the neighborhood.
In the afternoons, vallenato music reverberates from a bar down the narrow street.
Dogs bark, residents chat, teenagers practice their skateboard tricks, and every Sunday night is an impromptu block party as people hang out in the streets, drinking beers and enjoying the remnants of their weekend before going back to school or work the next day.
The inner streets of Getsemani aren't as clean and pretty as old Cartagena; there are homeless people laying out, drug-dealing prostitutes on one corner in the evenings, and some scrawny looking dogs and cats, however I've yet to feel threatened.
There is a police presence once the sun goes down, and the density of hostels in such a small radius means the locals are used to foreigners, and vice versa.
In my prior travels, I would always look for hostels with social common areas in order to meet other travelers.
After two weeks in my private room, I'm hooked on the ability to casually observe local life via the sounds of the street below, while writing, tweeting, watching World Cup matches from bed, and generally enjoying my own thoughts and company.
At times, I've felt self-indulgent or lazy. Shouldn't I be out exploring?
Going to the beautiful Playa Blanca (beach) via boat, or slathering myself in mud at a nearby volcano?
I'm not a guidebook writer, nor am I "on assignment" for someone else, so the answer I've come up with is a resounding "no."
And to me, therein lies the beauty and freedom afforded to travel bloggers.
____________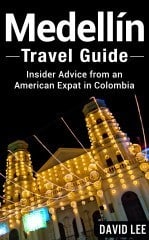 My 138-page, all-original Medellín Travel Guide is now available for Kindle and PDF.
.
Dave is the Founder and Editor in Chief of Go Backpacking and Feastio. He's been to 66 countries and lived in Colombia and Peru. Read the full story of how he became a travel blogger.
Planning a trip? Go Backpacking recommends: