Telemedicine has gone mainstream in the last few years, making it easier to consult with doctors and mental health professionals. One company that may be especially appealing to outdoor enthusiasts and international travelers in the United States and Canada is Jase Medical, which offers emergency antibiotics.
Imagine preparing for a dream trip to the Amazon rainforest in South America, mountain gorilla trekking in Rwanda, or volunteering in Nepal—maybe all three if you're planning a trip around the world.
What kinds of emergency medicine should you pack in your travel first-aid kit?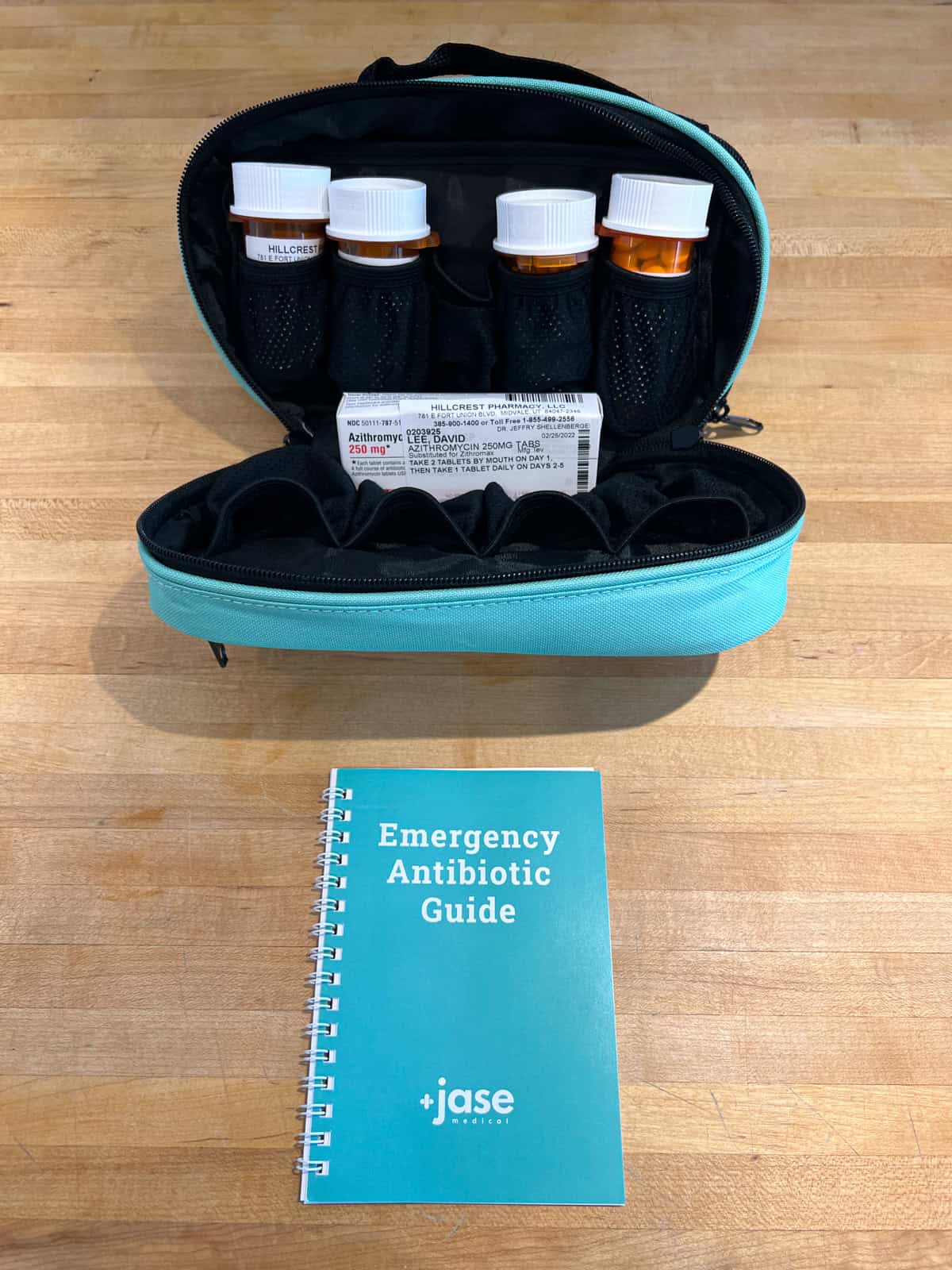 It's worth asking before you leave the U.S., while you can still be confident in the quality of prescription drugs you're receiving.
Traveling and living abroad for years at a time, I know how awful it feels to get sick in a foreign country.
From an infection of unknown origins in Thailand to extreme traveler's diarrhea after a trip to La Guajira in northern Colombia, falling ill abroad not only sucks, it can be downright scary.
Introducing Jase Medical
Jase Medical offers U.S. and Canadian residents the opportunity to consult with a doctor online and obtain emergency antibiotics in advance of travel and backcountry adventures.
Shawn Rowland, M.D., a board-certified family physician, founded the Utah-based company.
According to Dr. Rowland's bio, "he experienced firsthand the difficulty of obtaining life-saving medications during a natural disaster as well as due to supply and manufacturing issues."
He began Jase Medical after seeing the need arise during the Covid-19 pandemic.
The company's medical experts include:
Lisa Baird, M.D., Director of Neurosurgical Oncology at Boston Children's Hospital.
Andrew Thomas, M.D. is board-certified by the American Board of Obstetrics and Gynecology and has provided medical care in Nicaragua and Jamaica.
Brandon Webb, M.D., an infectious disease expert in Salt Lake City, Utah.
As part of my review of their service, I had the opportunity to go through the ordering process and obtain a Jase Case. The process to get this medical kit is super simple.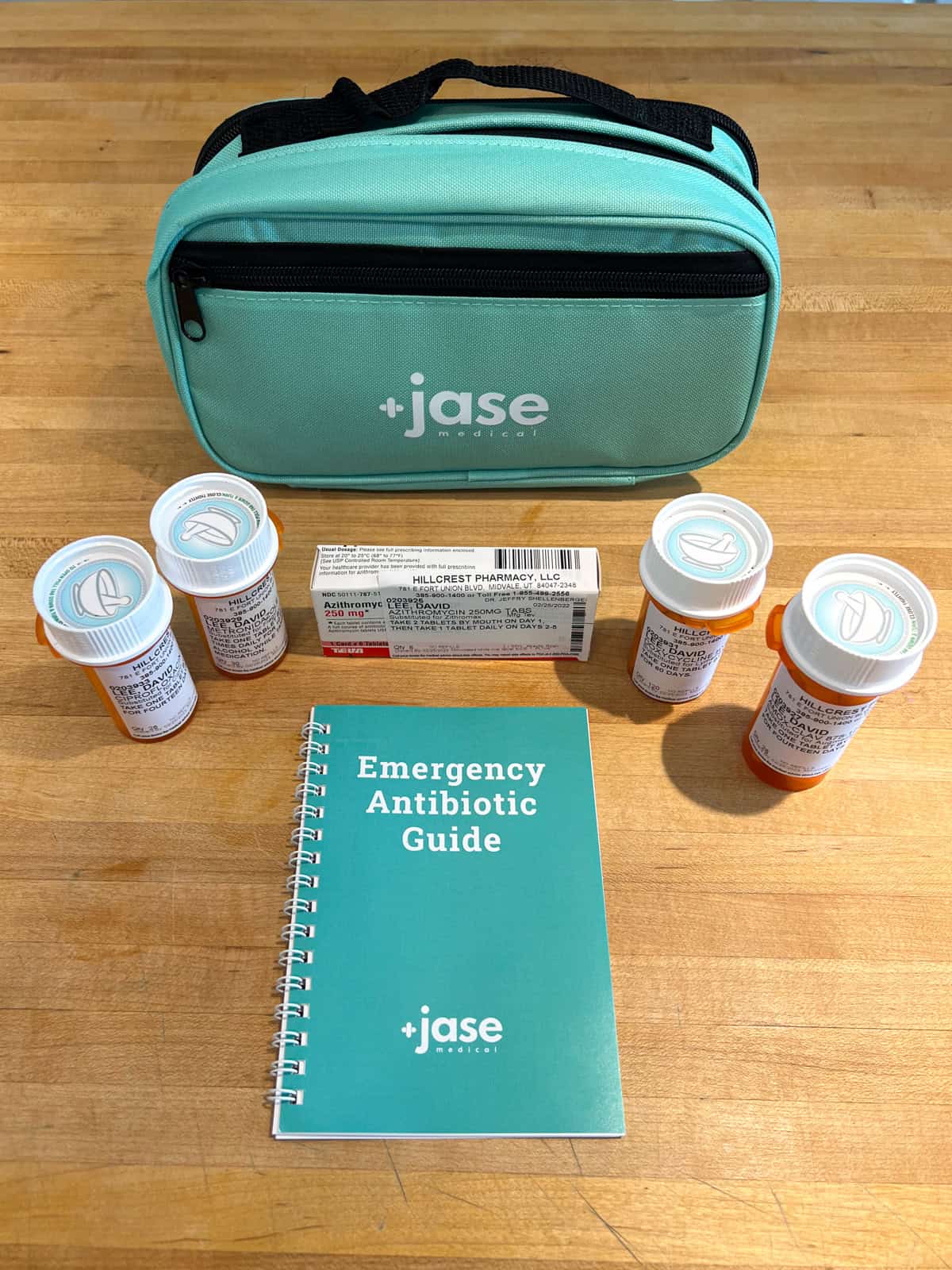 Steps to Obtain Emergency Antibiotics
First, you visit the order form on the Jase Medical website and choose whether you're a U.S. or Canadian patient.
Next, you'll fill out a brief survey including your name, date of birth, phone number, email address, and any prescription drugs you currently take.
In accord with telemedicine laws, you'll also need to provide an active, government-issued photo ID, such as a driver's license or passport.
Once submitted, a board-certified physician reviews your information.
If the doctor has no concerns, they'll submit the prescription for fulfillment by one of the pharmacies partnered with Jase Medical and send you an email confirmation.
Should the doctor have questions, such as concerns about how any of the prescribed antibiotics might react with a current drug you take, they will reach out to you for further discussion.
In my case, there were no concerns, so the order was submitted and fulfilled by a pharmacy in Salt Lake City. It took about one week for me to receive my shipment in Texas.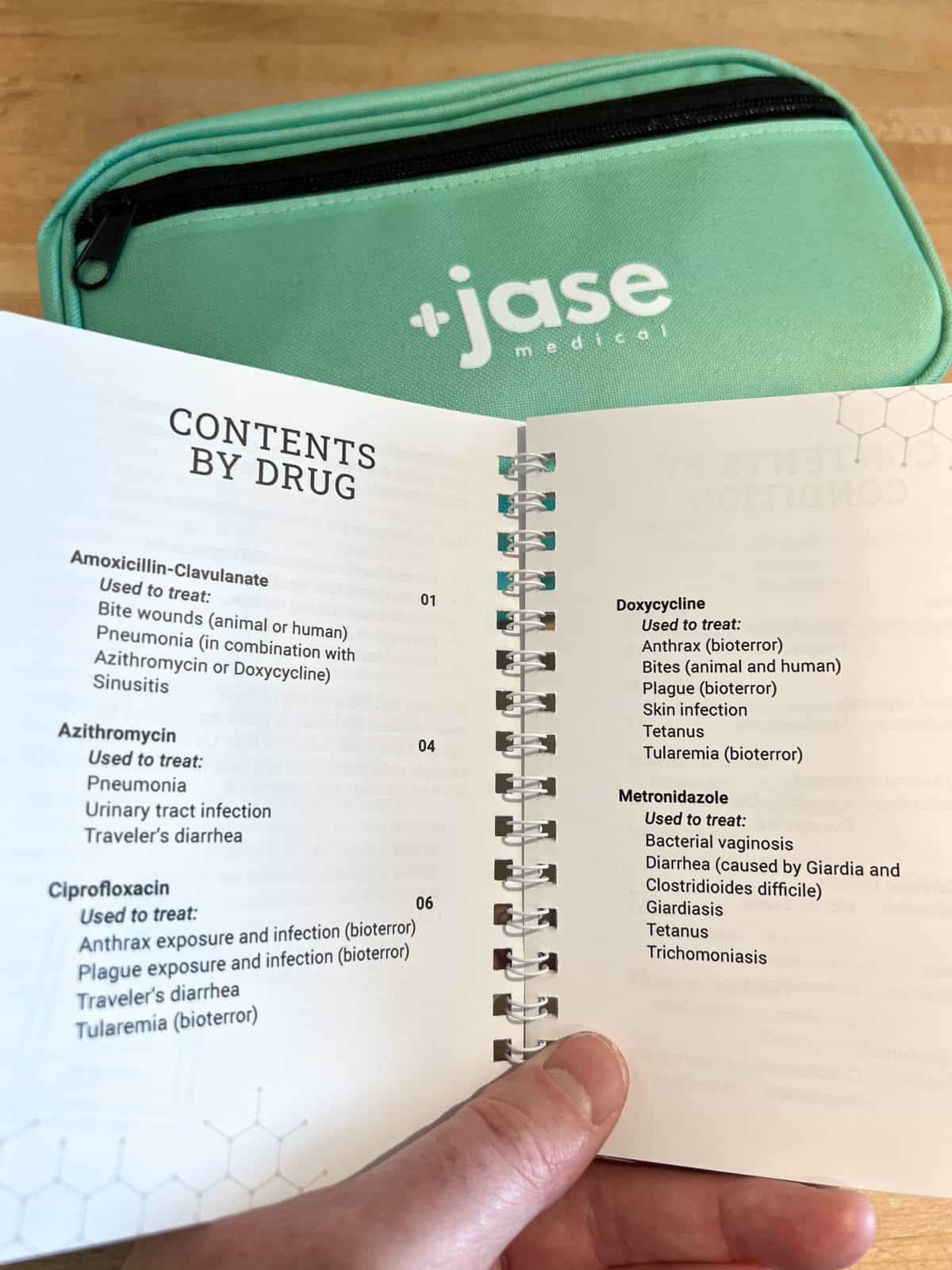 What You Receive
The standard supply of Jase Medical emergency antibiotics includes the following types of medications:
Amoxicillin-Clavulanate, 875 mg (28 tablets), treats bite wounds, pneumonia, and sinusitis.
Azithromycin, 250 mg (6 tablets), for treatment of pneumonia, urinary tract infections, and traveler's diarrhea.
Ciprofloxacin, 500 mg (28 tablets) for treatment of anthrax exposure, plague exposure, traveler's diarrhea, and tularemia.
Doxycycline, 100 mg (120 capsules) for treatment of anthrax, bites (animal or human), plague, skin infections, tetanus, and tularemia.
Metronidazole, 500 mg (30 tablets) for treatment of bacterial vaginosis, diarrhea (caused by giardia and clostridioides difficile), giardiasis, tetanus, and trichomoniasis.
Plus, each Jase Case comes with an Emergency Antibiotic Guide that details how to take each drug for the specific situations where it can help and risk factors (such as allergies, breastfeeding, and dangerous interactions like alcohol).
The medications and booklet are shipped in a soft, attractive carrying case. There are little elastic pockets on the interior, which can snuggly hold up to ten prescription medicine containers.
The price for all of the above is 259.95 USD for U.S. patients and 435.95 CAD for Canadian patients. The cost includes the online consultation, antibiotics, carrying case, and shipping.
Use Cases
Based on my personal travel experiences in 66 countries, I can think of numerous occasions when having this emergency supply of antibiotics would've given me peace of mind.
Trekking in Nepal
Nepal is a gorgeous country, and unfortunately, it's also relatively poor. Spending six weeks trekking and traveling there was a wonderful experience. Thankfully, I didn't get ill; however, I met others who did.
I was surprised to find it was standard for pharmacies in Pokhara, the second-largest city, to examine stool samples, as gut problems were common among visitors.
One concern I've had in developing countries is the quality of prescription and emergency medications.
How do you know if you're getting the real thing or a counterfeit? You probably don't, so why gamble?
Camping in the Okavango Delta
Another remote place I visited on my trip around the world was the Okavango Delta in Botswana, where I camped for two nights as part of a week-long overland trip from Johannesburg, South Africa.
It truly felt like we were in the middle of nowhere, with nothing but our South African tour guide, a local (unarmed) Botswanan guide, and the hippos and lions of the Delta.
Getting a severe case of traveler's diarrhea, a cut that becomes infected, or being bitten by a wild animal on such a camping trip could be life-threatening.
Desert Adventure in Colombia
My three-day, two-night overland adventure to Cabo de la Vela in the desert of northern Colombia was an experience to remember.
Exploring this barren region of the country and outdoors in handknit hammocks by the indigenous Wayuu people was an adventure.
Whether it was the water quality I had access to or the fresh lobster I ate for lunch before the drive back to the city of Santa Marta, I'll never know.
What I do know is I had a miserable ride back to my hostel, where I spent several days trying to stay hydrated while diarrhea and vomiting wreaked havoc on my body.
Having a supply of Azithromycin and Cipro on hand may have saved me a lot of discomfort and uncertainty about when I'd be well enough to fly back to Medellin (where I lived at the time).
Conclusion
Whether you're planning to travel for fun, volunteer, study abroad, or work, consider your potential medical needs and whether an emergency supply of antibiotics is worth taking.
Jase Medical's telemedicine service makes it easy to buy five antibiotics that would cover you for many of the most common problems travelers experience.
To learn more, and order your emergency antibiotics kit, visit Jase Medical.
_____
This story is brought to you in partnership with Jase Medical and does not constitute professional medical advice. All opinions are my own.
Dave is the Founder and Editor in Chief of Go Backpacking and Feastio. He's been to 66 countries and lived in Colombia and Peru. Read the full story of how he became a travel blogger.
Planning a trip? Go Backpacking recommends: