Before I stepped onto my first bus in Ecuador, I'd already heard a handful of stories about people being robbed, backpacks being slashed, and valuables being stolen.
I could play defense in the capital city of Quito by limiting my time there and not going out at night.
If I wanted to visit the rest of Ecuador on a budget, it would mean exposing myself to potential thieves on the main bus routes.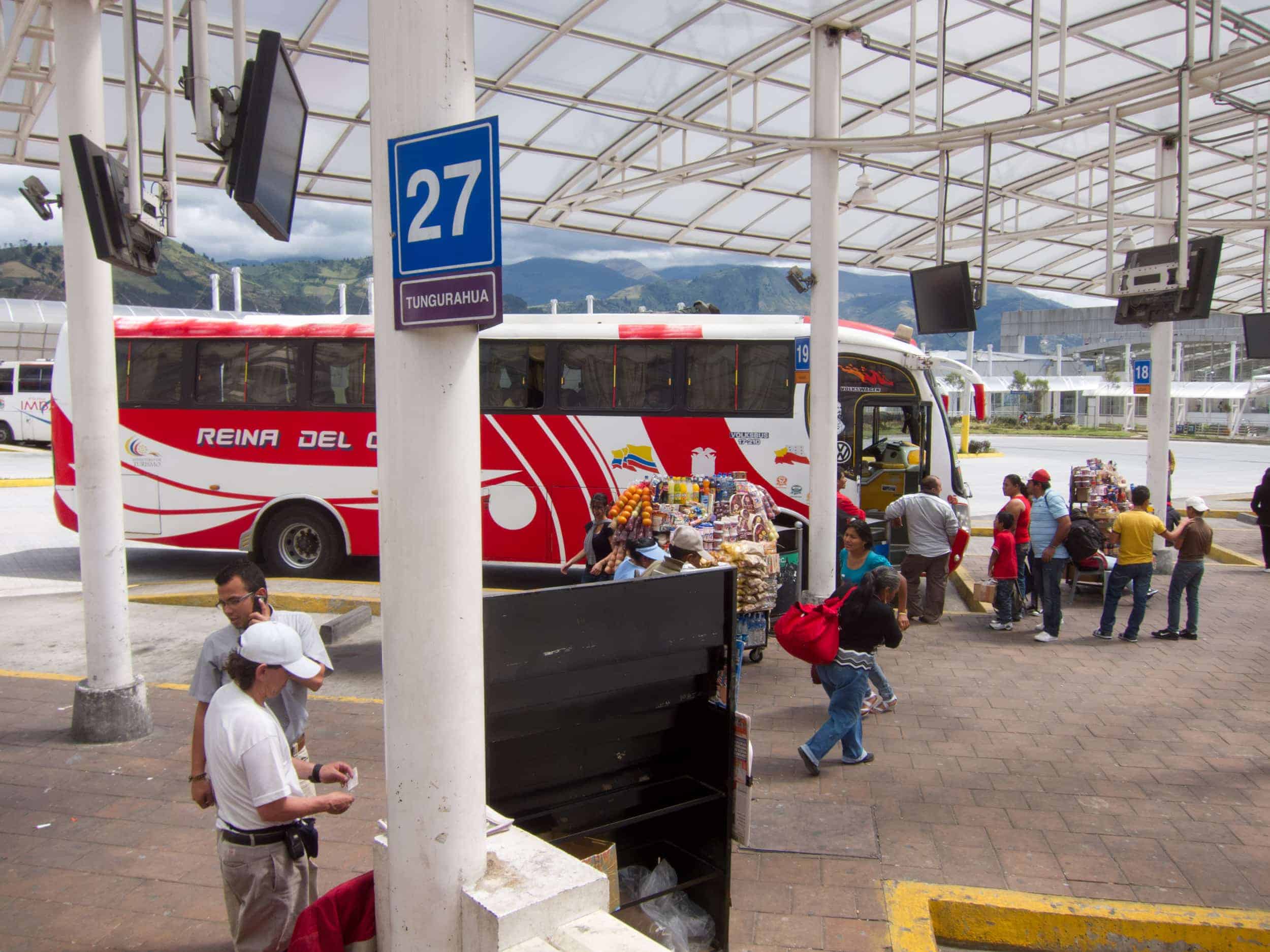 In preparation for the three-hour trip from Quito to Banos, I did some Googling and found no shortage of other anecdotes.
They revealed the typical tactics of thieves and safety tips for riding the buses in Ecuador (learned the hard way).
During my time in Ecuador, I've applied them all and am convinced they helped protect me against at least one potential thief.
Staying Safe on the Buses in Ecuador
1. Travel During the Day
Thanks to the socialist policies of the current President, the main highways throughout Ecuador are in excellent condition.
However, visibility will always be better during the day than at night, and landslides can occur without warning.
Plus, you'll be less likely to fall asleep during the day, thereby ensuring you're more alert to your surroundings.
You'll also be able to see more of the country.
2. Pay Extra for Direct Buses
Whenever possible, pay the extra few dollars to take direct (express) buses between cities.
They don't stop as often (if at all), thereby lessening the chances that a thief will get on or your main bag will disappear from underneath the bus.
CLP operates direct buses between Guayaquil and Montanita for $6 per ride, and another company operates direct buses between Guayaquil and Cuenca for $8.25.
3. Turn Down All Offers for Assistance
One common scam involves thieves boarding buses with regular passengers at the departure points and acting as if they work for the company.
They'll ask for your ticket to help show you to your seat, and then they'll offer to help place your daypack in the rack above your seat.
Once separated from your bag, they'll be in a good position to steal it and walk off the bus just as it begins to depart.
Aside from the driver or conductor helping to place your large backpack under the bus, if someone offers to handle your baggage, respond with a firm, polite "no gracias."
This is precisely what I said to the young guy who wanted first to show me to my seat and then help me with my daypack on the bus from Montanita to Guayaquil.
4. Sit in the First Row
I'm convinced the safest place on the bus is seat #1, in the first row, against the left window, right behind the driver's seat.
In this seat, you have nobody in front of you or to your left. You only need to be concerned about the person sitting to your right and those immediately behind you.
Aisle seats are a terrible idea because buses can fill up as they travel from one destination to the next, to the point where it's standing room only in the aisle.
If you're not paying attention to all the people coming and going, one of them can quickly grab your bag or surgically slash it open and remove your valuables.
To get seat #1, or any seat in the first row, ask for it when you're buying your ticket.
In Spanish, say "asiento en frente del bus, por favor," which translates as "seat in front of the bus, please."
If your Spanish fails you, or you forget, do your best to mime it, and they'll get the picture.
Related: How to Choose the Best Seat on the Bus
5. Keep Valuables In Your Lap
If there is one tip in this list you cannot ignore, keep your valuables/daypack/purse in your lap.
Do not think that keeping it securely between your legs is sufficient, let alone placing it above you in an overhead rack.
Most bus theft stories online, such as this one on a bus from Quito to Cuenca, are due to travelers having their bags slashed while they rest between their legs.
For this reason, it's also a good idea to wear a money belt (if you have one) when in transit — there's no safer place for your passport, credit cards, and cash.
6. Assess Your Surroundings
While there's no one-size-fits-all stereotype for thieves, a mother holding a baby in the seat next to you is much less of a threat than a male teenager.
Unfortunately, little kids are not always as innocent as we'd like to believe.
Their small size makes them uniquely capable of squeezing under your seat to slash your bag (if it's placed on the floor, not in your lap where it belongs).
Along the same lines, save your Spanish practice with the locals for another time. Treat any overly friendly conversation with a dose of skepticism.
Thieves rely on distracting their victims, and one way to do that is to build some rapport and comfort, so the victims drop their guards.
It's also common for thieves to work in teams. One person may distract you with a conversation while the other is busy sliding a razor through your backpack and emptying its contents.
On my three-hour bus from Quito to Banos, I had a half dozen different people, from young school kids to older adults, sit next to me. I didn't speak a word.
7. Stay Alert
Speaking of distraction, don't let yourself get too engrossed in that Steven Segal action flick playing on the TV, the book you're reading, or music you might be listening to on your smartphone.
Be extra alert whenever the bus stops and someone new gets on board, whether a passenger or a vendor selling food.
If you follow all of these safety tips for riding the buses in Ecuador, you'll make yourself a more challenging target.
And thieves, especially the ones not looking for a confrontation, prefer easy targets.
Dave is the Founder and Editor in Chief of Go Backpacking and Feastio. He's been to 66 countries and lived in Colombia and Peru. Read the full story of how he became a travel blogger.
Planning a trip? Go Backpacking recommends: