In many ways, Nagoya is a city too often overlooked when it comes to travel in Japan – people just aren't thinking about things to do in Nagoya, or what to see in Nagoya or the concept of "Nagoya sightseeing" at large.
Internationally (and domestically), Nagoya doesn't quite have the clout. Take my case, for example.
I had been to Japan twice (to see Tokyo and Kyoto) without ever thinking about the Chubu Region, or visiting the city of Nagoya.
Yet, in late October of this year, I explored the Chubu Region with fervor and began to discover its beauty and charm.
In the Chubu Region, often called the "Heart of Japan," there's plenty of natural wonders to go around.
While Nagoya isn't necessarily a place that is known for its nature, I felt it was worth recognizing, and in particular, Nagoya Castle.
In its heyday, Nagoya Castle was revered across the land, and as famous as any castle in Japan.
When you're thinking about what to do in Nagoya, the first thing to come to mind has to be Nagoya Castle.
What You Need to Know About Nagoya Castle
Japan doesn't have to be expensive. That's something to think about when you're considering what to do in Nagoya.
Nagoya Castle is no exception to that rule either, as a full adult ticket will only cost you 500 yen (which is less than $5).
Free tours are also offered every day at 1 pm by the Aichi Goodwill Guides Network (AGGN). You can meet them at the East Gate of Nagoya Castle.
The regular hours are 9:00 am – 4:30 pm, and it's open each day, except December 29th to January 1st.
You'll most likely be heading from Nagoya Station. From there, take the Higashiyama Subway Line towards Sakae Station, then finally change to the Meijo Subway Line.
Your last destination will be Shiyakusho Station, and it shouldn't cost you more than around $2 (240 yen) to get there from Nagoya Station.
Nagoya Castle is just a three-minute walk from Shiyakusho Station.
The History of Nagoya Castle
Japan has an illustrious history, from the food to the established cultural traditions and dramatic, intense wars and battles.
From the extensive documentation, it's easy to see that the castle town, known as Nagoya-juku, played a prominent role in Japan's history, especially in the Edo Period.
This castle town was important because of where it was situated on the established trade routes of the country, especially the Tokaido route, which linked Kyoto and Tokyo.
The first edition of the castle comes to fruition in the early 16th century, but it was abandoned shortly after that.
In the 17th century, it decided that Nagoya Castle ought to be rebuilt in such a way that Nagoya Castle (and, by proxy, the castle town) can become the new capital of the Owari Province.
It's important to note here that the castle isn't going to be one main fortified building, but more like a community of strong, aesthetically pleasing buildings within fortified stone walls.
In some ways, beauty was as important as strength. Stunning palaces needed to be built to entice important people passing by on trade routes to stop for a visit, and they needed to impress.
The 19th century was not kind to Nagoya Castle. The castle was defeated and pillaged in the latter part of the century, and to cap it all off, an earthquake struck before the turn of the century, causing significant damage.
In the 1930s, ownership transferred over to the government, and it became a respected public space, but, of course, World War II ended all that. Sadly, almost everything was destroyed in air raids.
What we see today is not original but a marvelous reconstruction, yet it's impressive by any standard.
Nagoya Castle's Hommaru Palace
The Hommaru Palace, on the castle grounds, was widely considered to be the most impressive example of castle architecture in modern Japan.
Currently, it is in the process of being rebuilt to give an accurate portrayal of its former glory, but its nearing completion.
The large building that we think of as being the "castle" itself is known as the "donjon," but that wouldn't necessarily be fitting to host dignitaries, so having a palace of this stature was crucial.
It was considered to be the palace to end all palaces for many reasons. What it is perhaps most famous for is the gold walls all over the palace, which have been brilliantly recreated.
The gold walls were removed and stashed away for safekeeping during World War II if the castle was destroyed, which sadly did occur in 1945.
The walls are adorned with paintings from the Kano school, which is the most respected and influential Japanese painting school, lasting some 300 years.
It is lavish, glorious, and a must-see if you're visiting Nagoya Castle, or thinking about what to do in Nagoya.
Though, I think it's worth noting that, for me, the exterior offers the wow factor, especially from a photography perspective.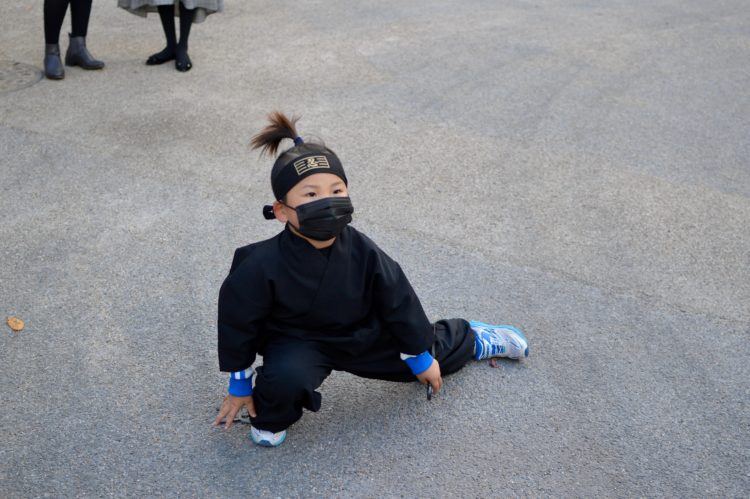 Nagoya Castle Today
Today, Nagoya Castle is very much a "place to be" in the city, whether you're looking for history, or to walk off the sake from the previous night's wild karaoke affairs.
In truth, it can be what you want it to be, even if that means wearing your most elegant ninja attire.
In all seriousness, Nagoya Castle is a place to spend a few hours and get a feel for what a prominent Japanese castle is all about.
The idea of the "castle" was profoundly engrained throughout Japanese history, so it's the ideal opportunity to dive into the culture.
---
My trip was hosted in partnership with Go Backpacking and the local government of Japan. All opinions are my own.
I'm Christopher Mitchell, a Canadian freelance writer, travel blogger, photographer and podcaster. I've had the pleasure of visiting over 75 countries, and sharing my tips and experiences with readers is what I'm all about. You can find more of his writing at travelingmitch
Planning a trip? Go Backpacking recommends: