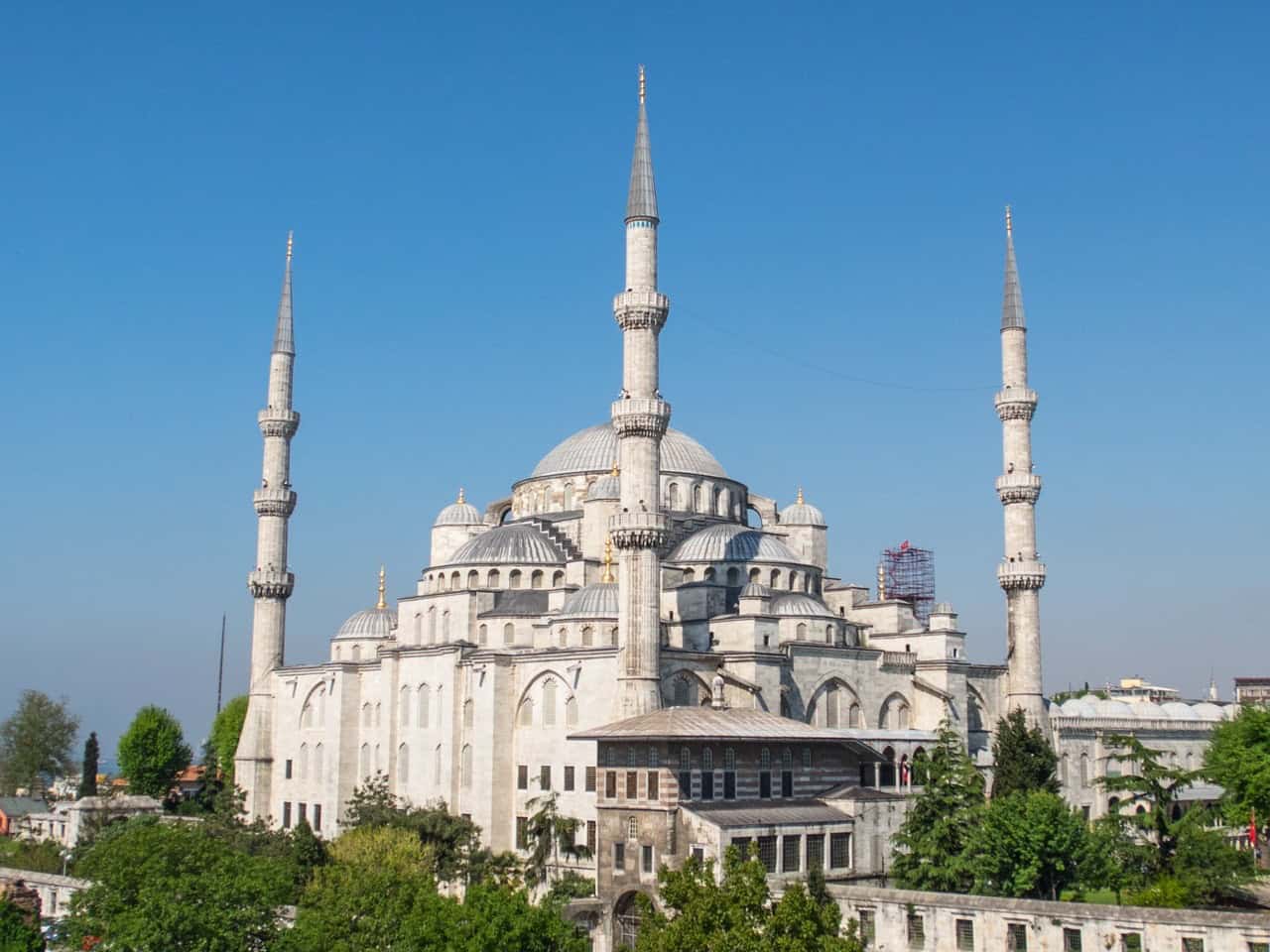 Fresh from my first experience flying Turkish Airlines and a good night's rest, my trip's focus turned to discovering Istanbul (not Constantinople).
The city where East meets West along the Bosphorus Straits was more extensive than I realized.
My first few days were spent with fellow bloggers. However, I would later return to continue exploring on my own.
Most of the sites on my list of top ten things to do in Istanbul can be found in Sultanahmet, the Old City.
The Old City is a UNESCO World Heritage Site where you'll spend time sightseeing, but I recommend basing yourself in the more modern Galata area instead. I chose Rapunzel Hostel.
Istanbul Attractions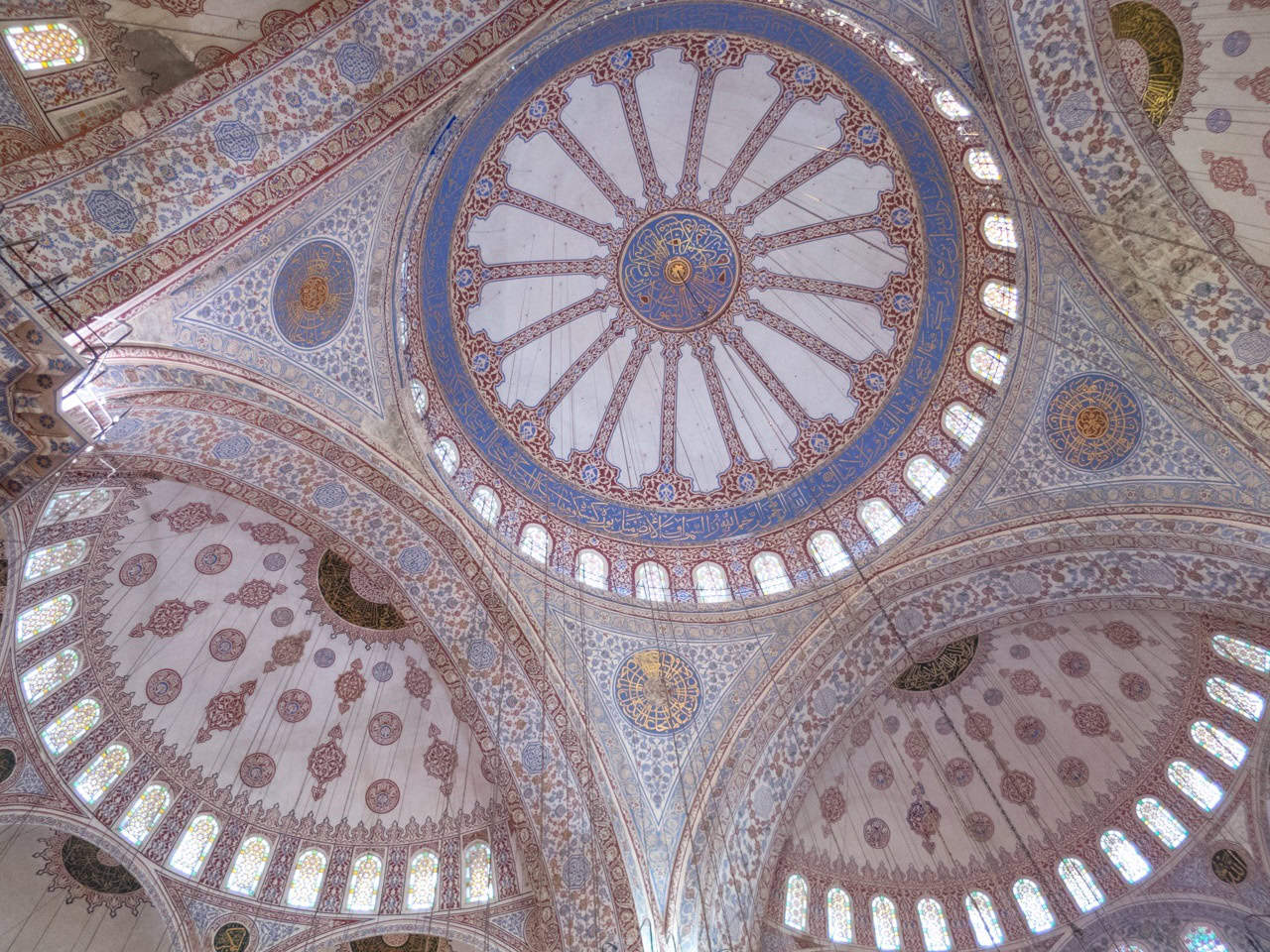 1. The Blue Mosque
An icon of Istanbul, the Sultan Ahmed Mosque, is better known as the Blue Mosque after its beautiful blue mosaics.
Built over only eight years, between 1609 and 1616, the mosque has a capacity of 10,000 worshippers. The ceiling is truly stunning, so step inside. It's free.
This is a working mosque, meaning it's closed to tourists five times a day during the Muslim call to prayer.
Check prayer times in real-time here and plan your visit accordingly.
Proper etiquette dictates shoes must be removed before entering this or any mosque.
Complimentary plastic bags are provided, and there are wooden cubby holes inside if you don't want to carry them around.
Women must wear a head covering, which is also available for free at the entrance.
Once inside, be respectful of those who are there to pray as you crane your neck up toward the intricate, 400-year old tile work and stained glass above.
Photo Tip: To get a clear, balanced exterior photo of the Blue Mosque, head for the nearby Blue House Hotel (Dalbasti Sokak No:14, Sultanahmet, Istanbul) mid-morning. The staff allowed me up to the rooftop restaurant even though it didn't open until noon.
Related: The Grand Mosque and Green Tomb, Icons of Bursa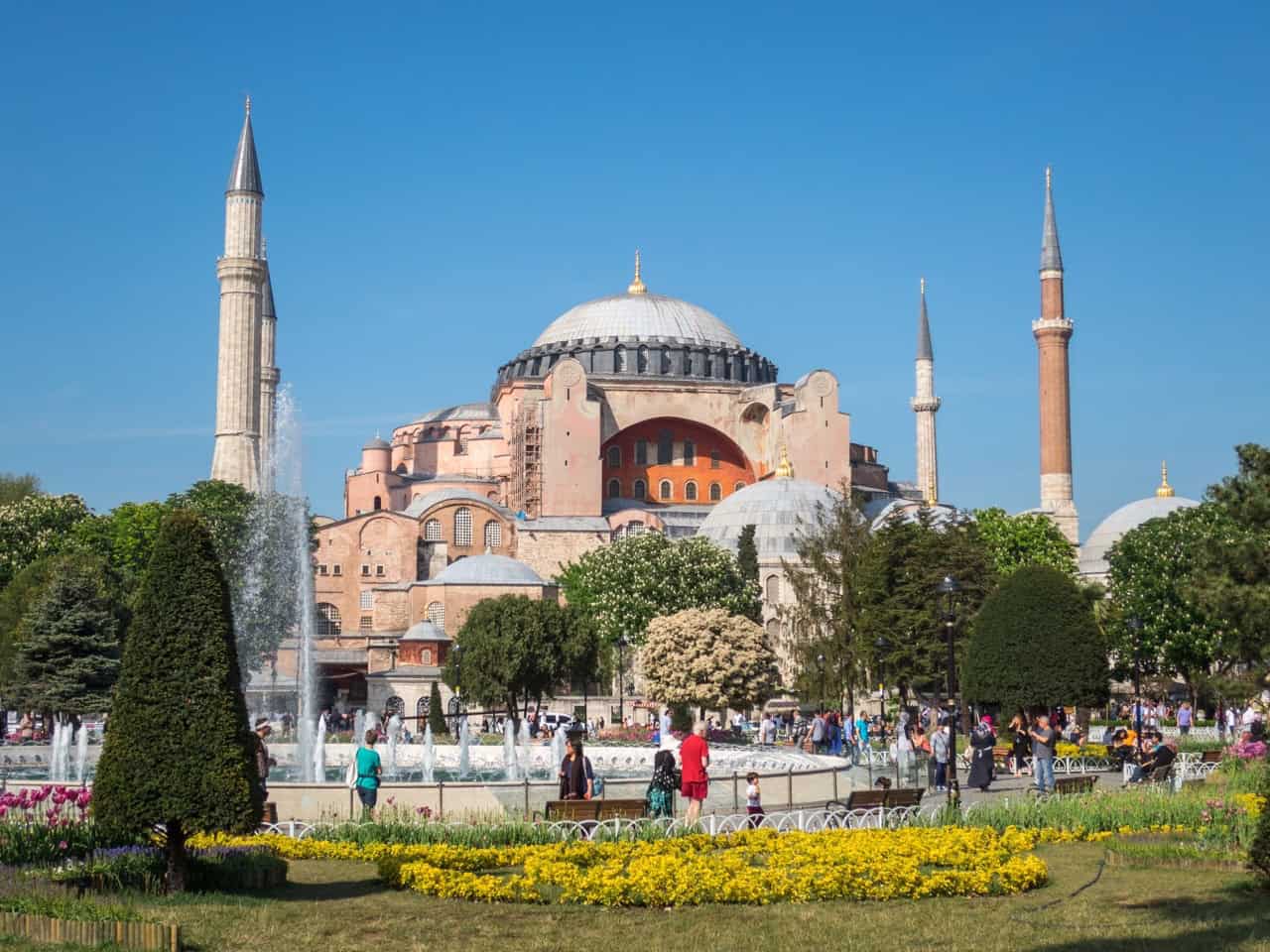 2. Hagia Sophia
Built in just six years during the 6th century A.D., Hagia Sophia ("holy wisdom") was established as an Orthodox Christian cathedral.
In 1453, the Ottomans took control of Constantinople and converted it into a mosque.
As Turkey became a secular country in the 1930s, the government converted Hagia Sophia into a museum.
Surrounded by attractive gardens, Hagia Sophia is only a few hundred meters from the Blue Mosque, making them both easy to visit on foot.
Glimmering gold mosaics adorn the entrances, but the continued use of gold and black as a color palette creates a rather stark interior.
Perhaps it was the extra 1,000 years in age, with the paint peeling and the scaffolding erected for restoration work, but I found the Blue Mosque more visually appealing. Admission is 30 lira ($11).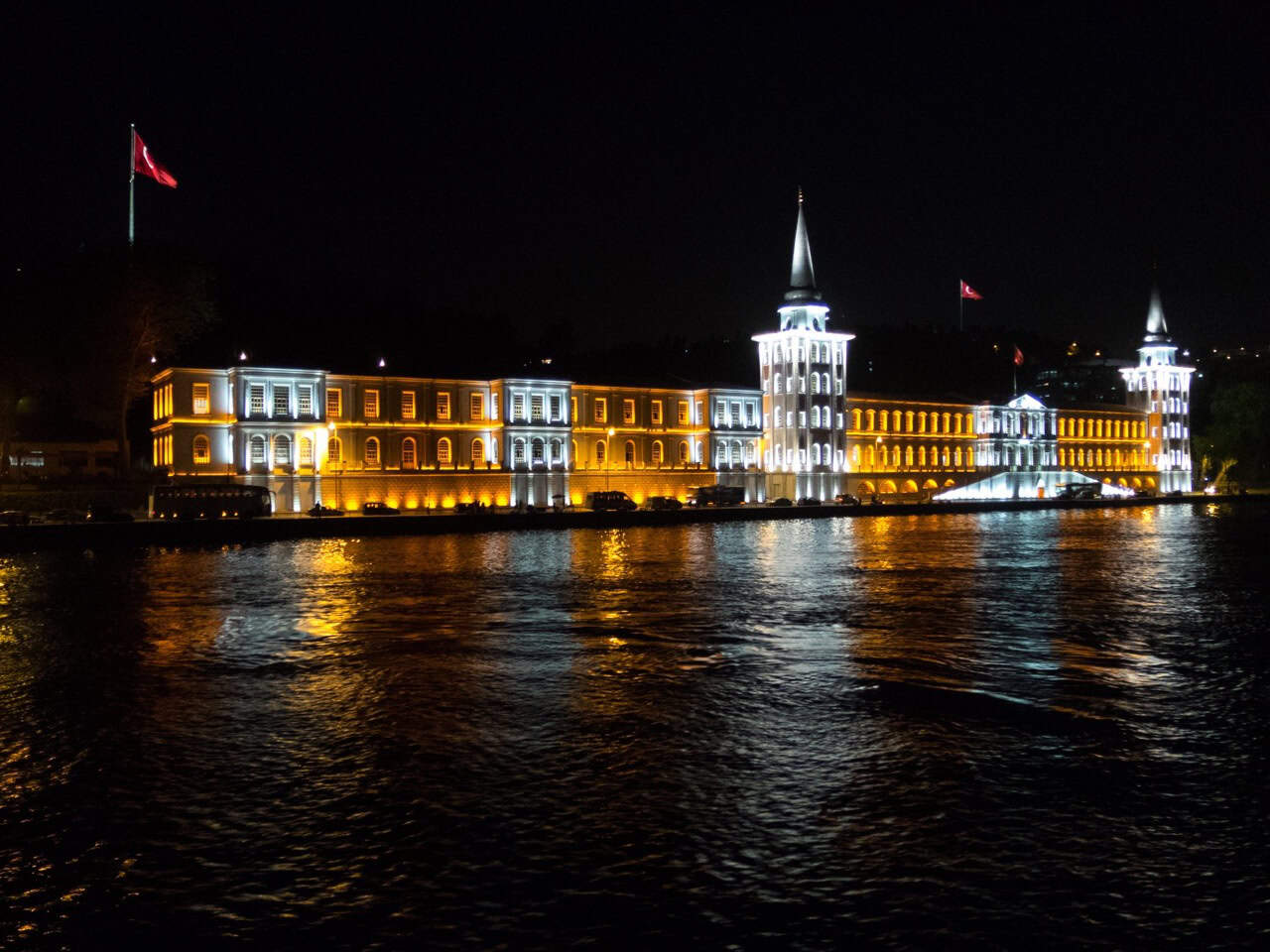 3. Cruising the Bosphorus
The Bosphorus Strait connects the Black Sea to the north with the Mediterranean Sea, creating a natural border between the European continent to the West and the Asian continent to the east.
As part of our Turkish Airlines media tour, they organized a private sunset cruise on the Bosphorus our second night.
We departed at 7:30 p.m. The journey lasted two hours, and we went as far north as the second suspension bridge before turning around.
If doing a sunset cruise, dress warmly. Once we were moving, and especially after the sun went down, the temperature dropped quickly.
The ferries provide blankets, but a jacket is still recommended, at least in May.
To save money, ride a ferry like a local instead of doing a tourist cruise for sightseeing. For routes, see Turkey Travel Planner.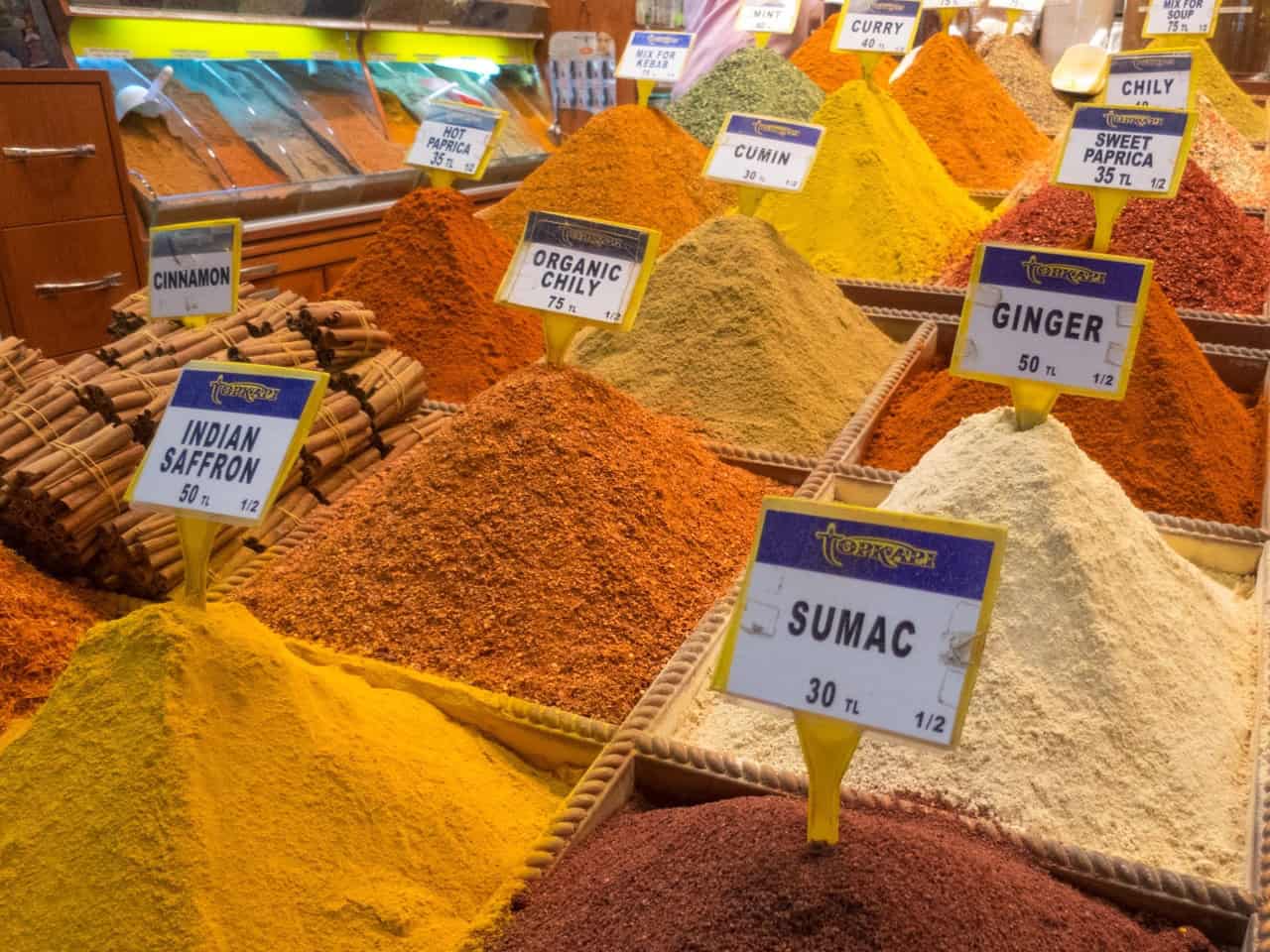 4. Shopping at the Spice Market
The Egyptian Market, aka the Spice Bazaar or Spice Market, is in the Old City near the bridge to Galata.
A long hall with spice and food stalls on either side, it feels more like a tourist trap these days than the vital trading post it was for hundreds of years.
If you're not interested in shopping, it only takes a few minutes to walk the length of the bazaar.
Related: 13 Best Places to Visit in Turkey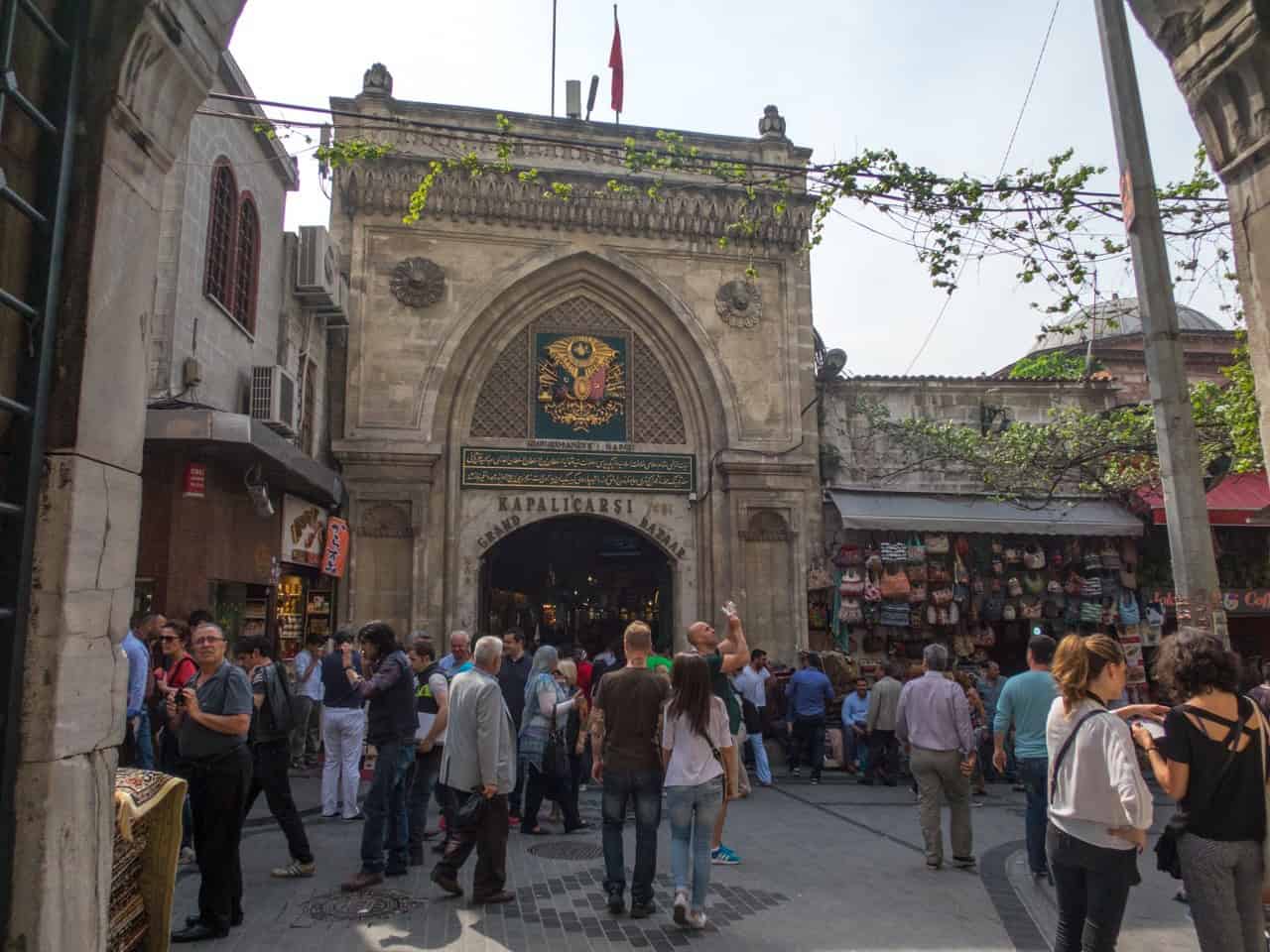 5. Getting Lost in the Grand Bazaar
"The Grand Bazaar in Istanbul is one of the largest covered markets in the world with 60 streets and 5,000 shops, and attracts between 250,000 and 400,000 visitors daily."

– Official website
Whether or not you typically explore markets when traveling abroad, spend a few hours getting lost in the 15th century Grand Bazaar.
If you grow tired, stop for Turkish tea or coffee. It's the quintessential Istanbul experience.
Inexperienced hagglers should avoid buying anything, especially high-priced items like carpets, as the Grand Bazaar is primarily for tourists now.
The vendors are likely much more skilled than you when it comes to negotiating for their goods.
In 2014, Travel and Leisure listed the Grand Bazaar as the world's #1 tourist destination with 91 million visitors!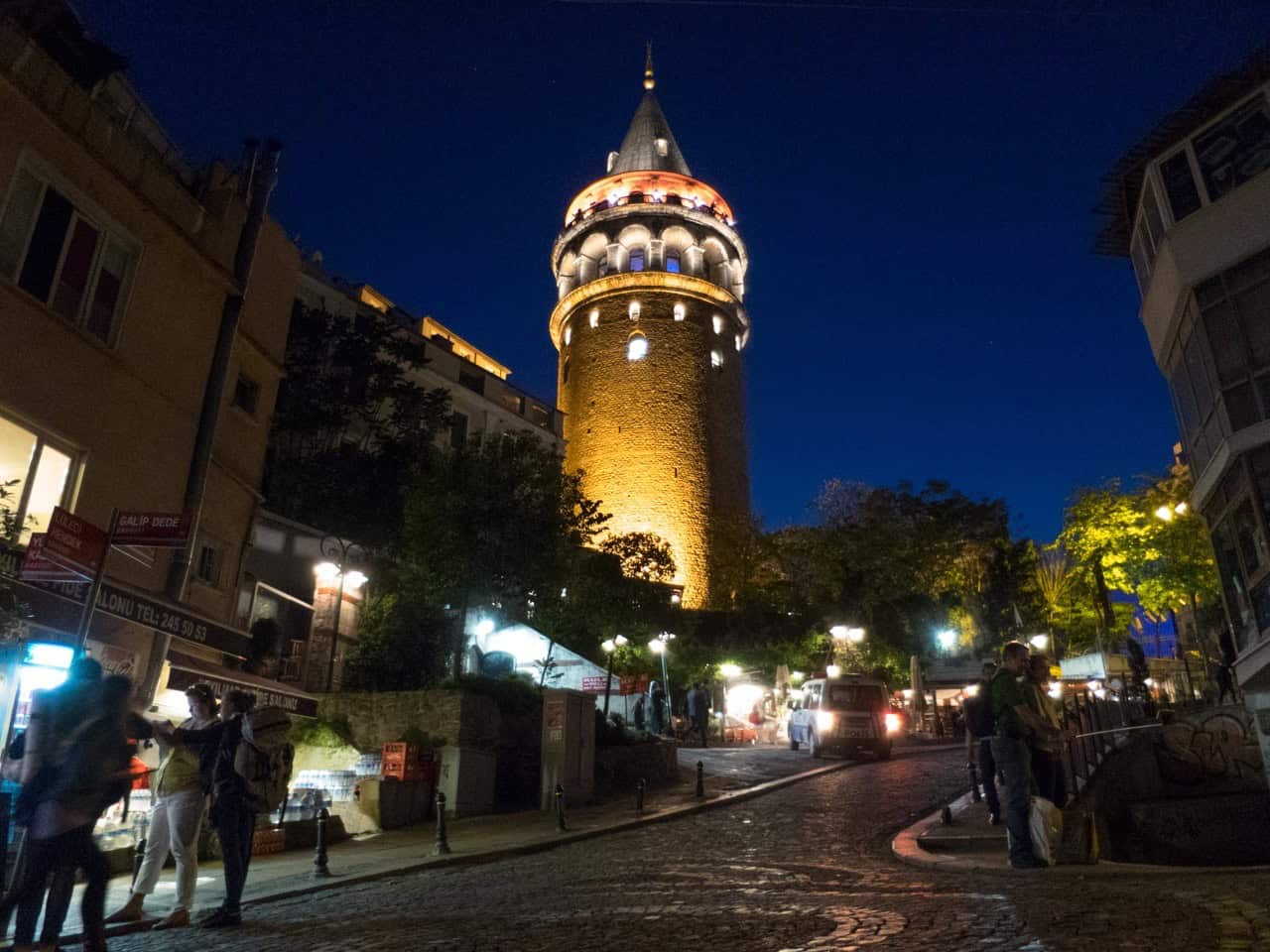 6. Scenic Views from Galata Tower
When completed in 1348 A.D., the 220-foot (67-meter) tall Galata Tower was Istanbul's tallest building.
Perched on a hill in the Galata district, it still offers excellent 360-degree views of the city. For 25 lira ($9), an elevator will whisk you skyward.
You'll exit on a floor with a reasonably priced restaurant for the views, and from there, it's a short set of stairs to a cheaper café and the outdoor observation deck. You can visit day or night.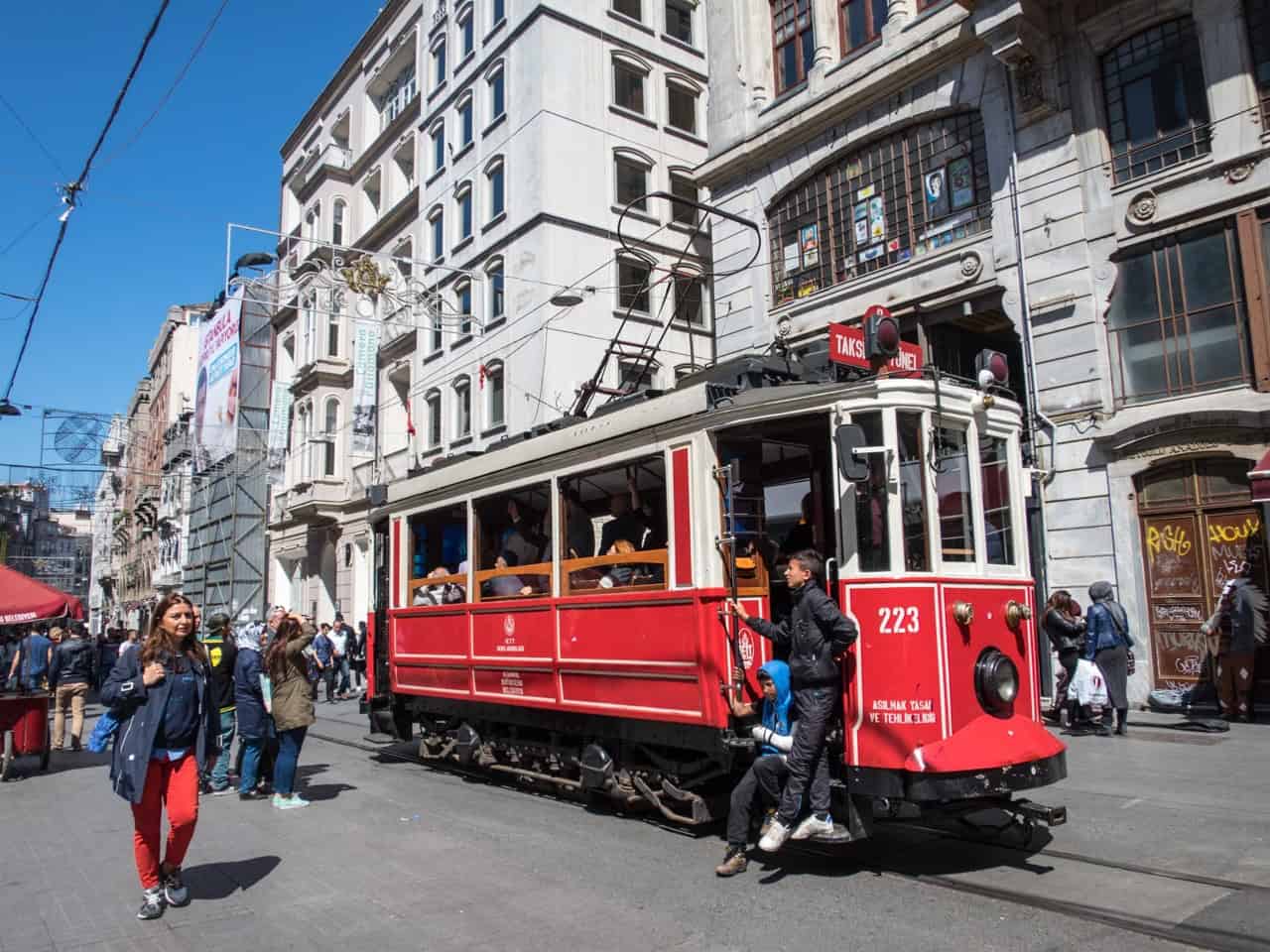 7. Walk Istiklal Avenue to Taksim Square
A few blocks uphill from Galata Tower is Istiklal Avenue, a pedestrian-only street with an old trolley running its length, terminating in Taksim Square.
Skip the trolley and instead take your time walking the street.
It offers plenty of people-watching opportunities, shopping, dining, and a bit of Americana, courtesy of a Starbucks and Shake Shack.
As one of Istanbul's most popular nightlife areas, you'll also find lots of locals hanging out in the hookah bars that line the smaller streets and alleys off Istiklal Ave.
The unassuming Taksim Square is at the center of modern Istanbul and is the preferred gathering place for mass demonstrations.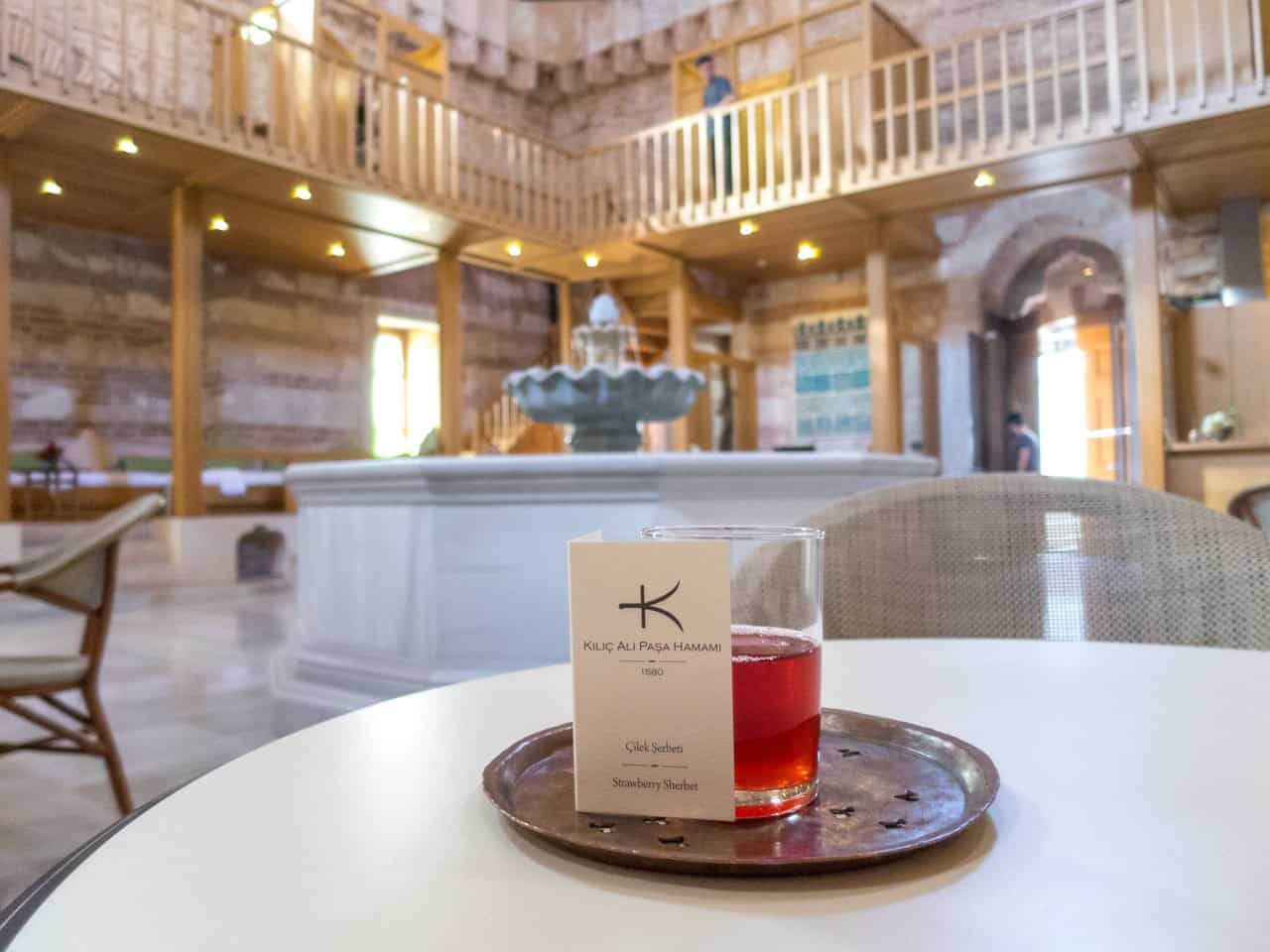 8. Traditional Turkish Bath
Visiting a traditional Turkish bath was atop my Istanbul bucket list, and I checked it off with a visit to the gorgeous 425-year old Kili Cali Pasa Hamami.
At the cost of 120 lire ($45) plus tip, it wasn't the cheapest option, but if I were only to visit one Turkish bath in my life, I wanted it to be an experience worth remembering.
It all begins when you enter the peaceful hammam and leave the city's stress and noise at the door.
Lying on hot marble, an exfoliation and bubble bath soon follow. I'll be writing more in a future story.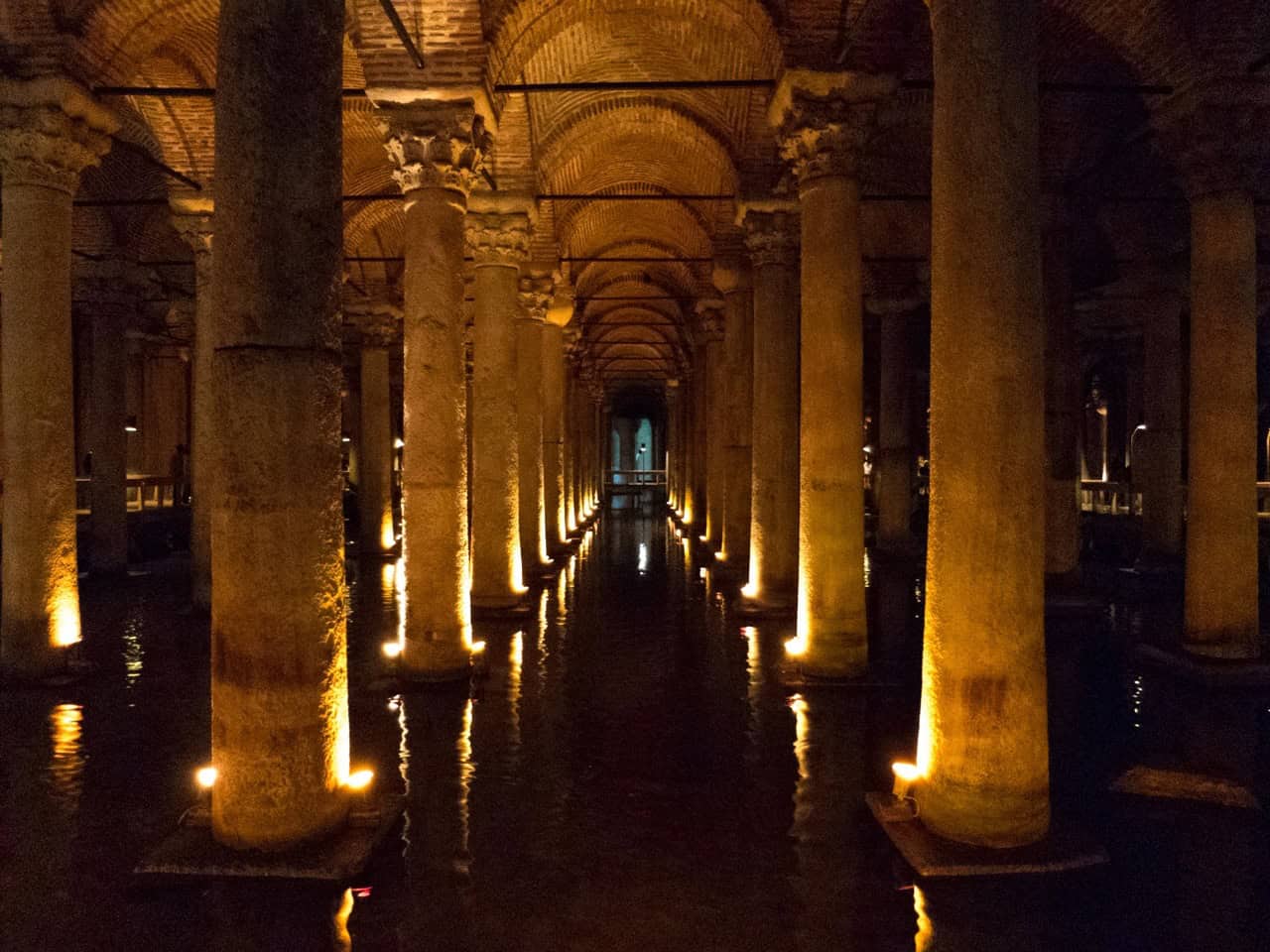 9. The Eery Basilica Cistern
Located underground near Hagia Sophia, the Basilica Cistern also dates back to the 6th century A.D., though it was initially constructed as a cathedral even earlier, in the 3rd and 4th centuries.
The largest of hundreds of underground cisterns under Istanbul was used to provide water filtration for nearby palaces.
According to Wikipedia, it could hold 2.8 million cubic feet (80,000 cubic meters) of water and was suspended by 336 marble columns. Admission is 20 lire ($7.30).
You can see schools of fish in the shallow waters, and two particular columns of interest feature the head of Medusa at their base.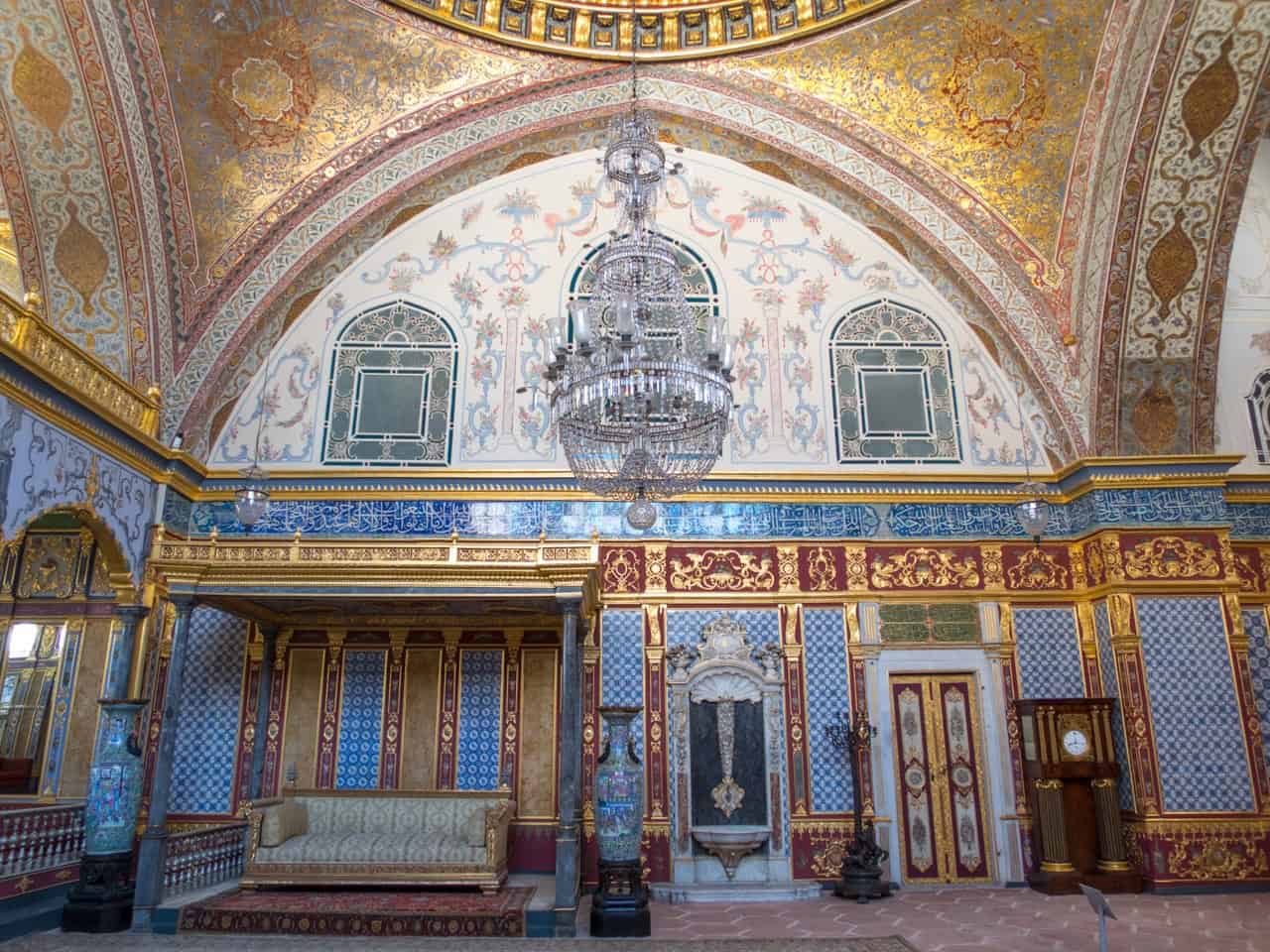 10. The Topkapi Palace and Harem
The last major site I visited in Istanbul was the sprawling Topkapi Palace.
Highlights included the Treasury, where you can see enormous jewels and what I imagine must be priceless jewelry though long lines await each room, and no photography is allowed.
Access to the Harem Apartments, the lavish private quarters of the Ottoman Sultans, is well worth the extra cost of 15 lira ($5.50 ) in addition to the palace entrance of 30 lira ($11).
I wouldn't have enjoyed my visit to the palace nearly as much had I not seen the harem too.
Lunch is available via self-service or in a restaurant; both have tables with a Bosphorus view.
I recognize this list is merely the "must-see" attractions in a city too big to fully appreciate in a few days or even weeks.
Still, I think most visitors to Istanbul will find it a good starting point to begin their explorations. I know I did.
A word about taxis
Avoid taxis if possible, as two of the three I took on my own were blatantly trying to rip me off (and not by a small amount).
One claimed his meter was broken after I realized it wasn't running once the ride was underway, and the other had his meter running, but it must've been set to "tourist rates" as he tried to charge me triple the cost of the same ride I'd taken with another taxi before.
It's not hard to get around on foot, but it can be tiring if you try to do too much at once.
To give your feet a break, use the inexpensive mass transit system, including a modern light rail, a few underground metro lines, and buses.
_______
The Historic Areas of Istanbul became a World Heritage Site in 1985. Click here for the complete list of UNESCO sites I've visited during my travels.
The first half of this list was experienced in partnership with Turkish Airlines.
Dave is the Founder and Editor in Chief of Go Backpacking and Feastio. He's been to 66 countries and lived in Colombia and Peru. Read the full story of how he became a travel blogger.
Planning a trip? Go Backpacking recommends: