There are hundreds of fun things to do in Las Vegas for entertainment, making it a city where you're unlikely to feel bored.
Sin City has excellent casinos, hotels, nightclubs, and attractions. But it's not all about gambling and partying. There are also many nearby places to hike, camp, and enjoy the views.
We've selected the ten most incredible things to do in Las Vegas this year to help you make the most of your trip.
Top Las Vegas Attractions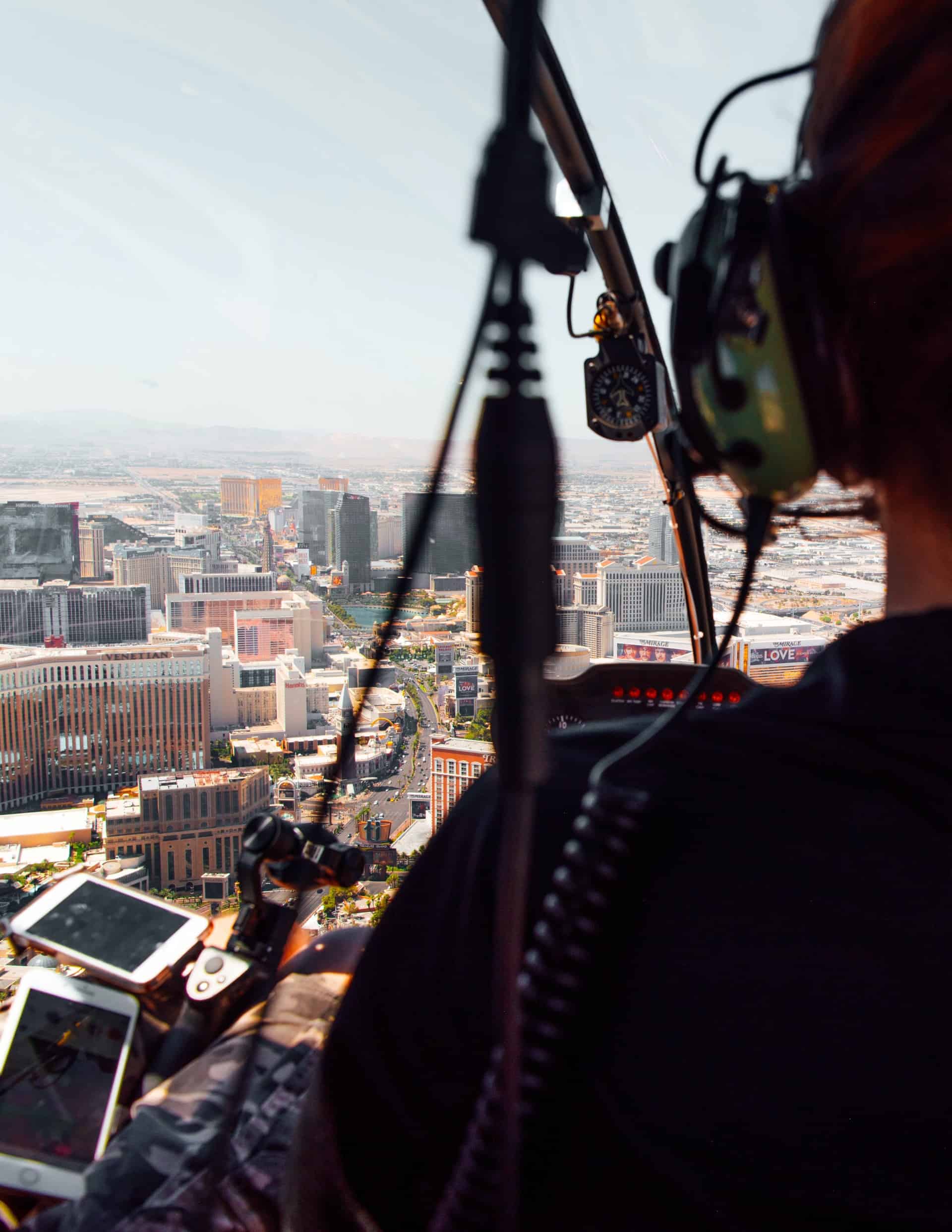 1. A Helicopter Ride Over Las Vegas
If you want to see the magic of Las Vegas in all its splendor, sign up for a helicopter tour. It's not as expensive as you think, and you'll have several options to fit your budget.
Flying in a helicopter over Las Vegas is one of those activities you have to see at least once in your life. You'll have an unforgettable experience.
Whether you want to take a quick ride over The Strip or visit the Grand Canyon, doing it by helicopter is the most exciting option.
Here are a few itineraries to help you find the helicopter ride that suits you best.
Strip Highlights
If you're thinking of taking a helicopter ride, this is the best option as it's one of the shortest, with a duration of 15 to 20 minutes.
The Strip Highlights tour takes place at night, visiting famous buildings like the New York-New York Hotel & Casino, Caesars Palace, and the LINQ Promenade, not to mention the entire Strip. It costs approximately $80, an excellent investment.
Downtown Delights & City Sights
This is the perfect tour if you like to taste delicious dishes and if one of your desires is to know the best restaurants in Las Vegas.
The tour starts downtown, where a limousine picks you up and takes you to the helicopter, where you will then ride along The Strip.
The cost can range from $180 to $200 and last for six hours, from when you go for a walk through the restaurants until you finish the helicopter ride. It's an excellent option to learn about the history, culture, and gastronomy of Las Vegas.
Helicopter Wedding
We know that Las Vegas weddings are iconic. But a helicopter wedding will undoubtedly be the best way to make your happiest moment with the one you love unforgettable.
This ride includes a limousine transfer, roses, wedding cake, champagne, ceremony, private flight over the Grand Canyon, and the Valley of Fire to finish The Las Vegas Strip. The price starts at $800, and the duration is a minimum of five hours.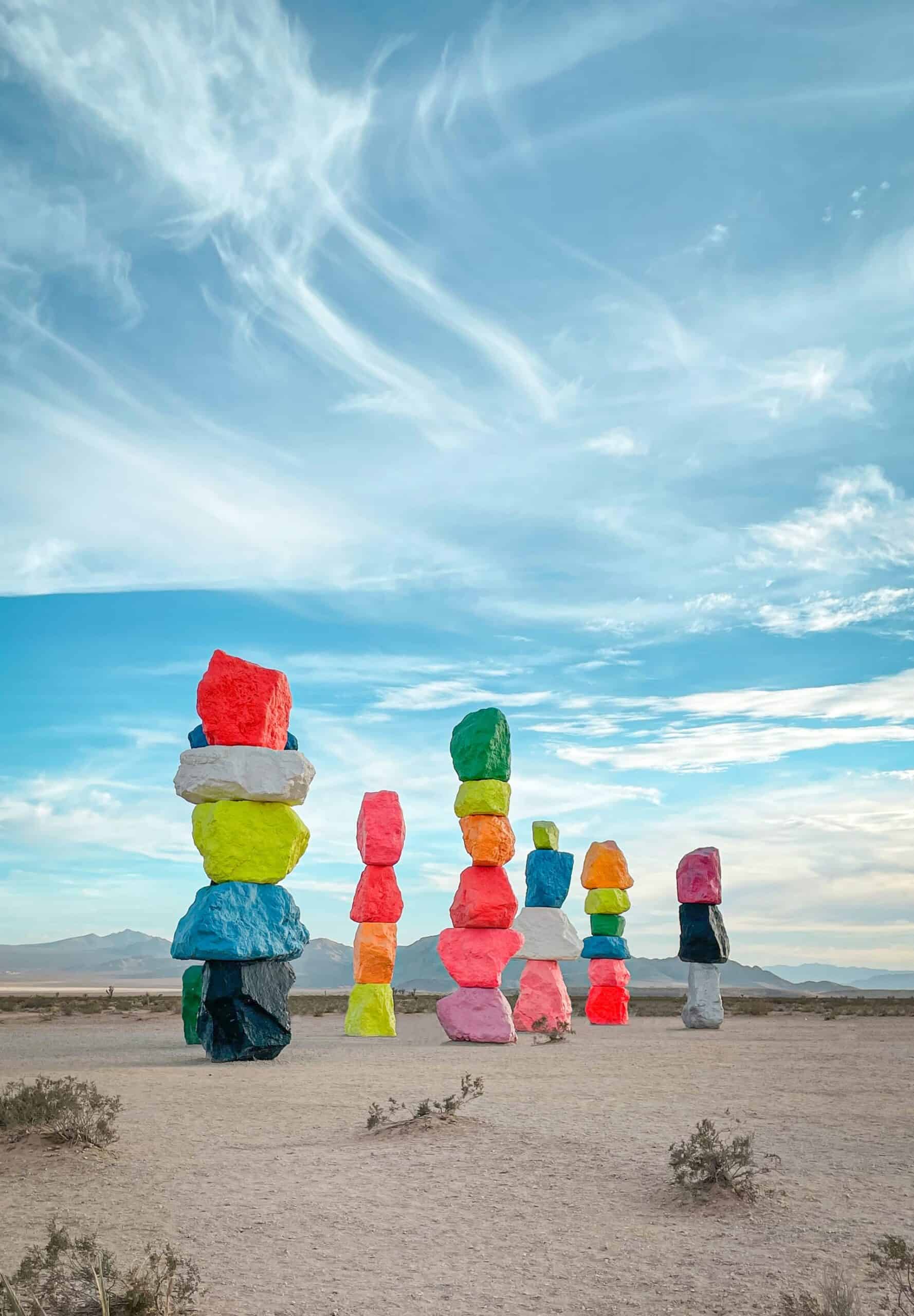 2. Seven Magic Mountains
Since 2016, the Las Vegas desert has been filled with color thanks to the work of Swiss artist Ugo Rondinone.
The art installation consists of seven colorful mountains formed by 33 rocks located at a strategic and balanced point of the city: between the artificial and the natural.
It's an excellent destination full of color, perfect for finding peace, connecting with nature, and taking amazing pictures.
Admission to this play is free, so you don't have to worry about reservations or paying for tickets.
However, there is no public transportation to take you to the site. Therefore, although you won't spend any money when you visit, you will have to pay for transportation, unless you have rented a car.
The cost of an Uber from The Strip to Seven Magic Mountains can range from $25 to $45, and if you count round trip, multiply that by two.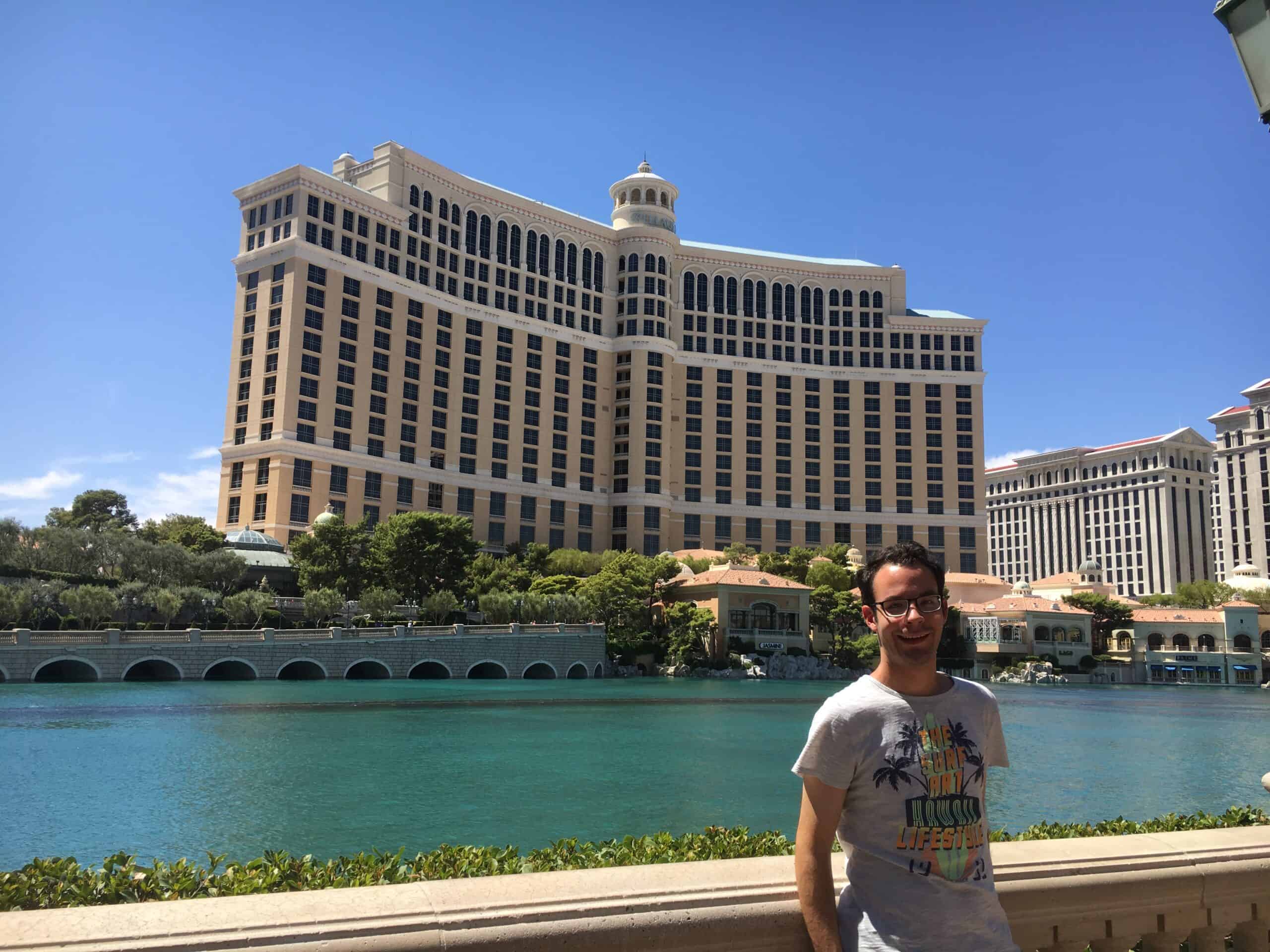 3. Bellagio Hotel
The Bellagio is one of the most elegant and exclusive hotels and casinos in Las Vegas. It receives millions of visitors, including guests, tourists, gamblers, spectators of its shows and events, and more.
On its own, the resort is a worthy destination, offering restaurants, bars, natural spaces, art exhibits, and iconic fountains.
The Bellagio's world-famous fountains offer daily shows that are entirely free and change every half hour.
The fountain has more than 200 speakers playing music choreographed to the water jets show. The fountain's best moment is at dusk when its lights are turned on and contrast with the night sky.
At the Bellagio, you can also see the most impressive horticultural floral show at the Bellagio Conservatory and Botanical Garden, which changes every season and even features displays at Chinese New Year. This attraction is also completely free.
The resort includes the Bellagio Gallery Fine Art, one of the best places to see art in Las Vegas.
This place has a partnership with the Museum of Fine Arts in Boston to present rotating collections of art and private collections; some of the artists usually exhibited are Picasso and Andy Warhol.
Ideally, you should visit the hotel for its tourist attractions and stay at a less expensive place. A night at the Bellagio can vary from the day of the week and the suite type.
You can pay from $110 on a Monday to over $500 per night on the weekend. So if you're on a budget, you can invest that amount in other activities.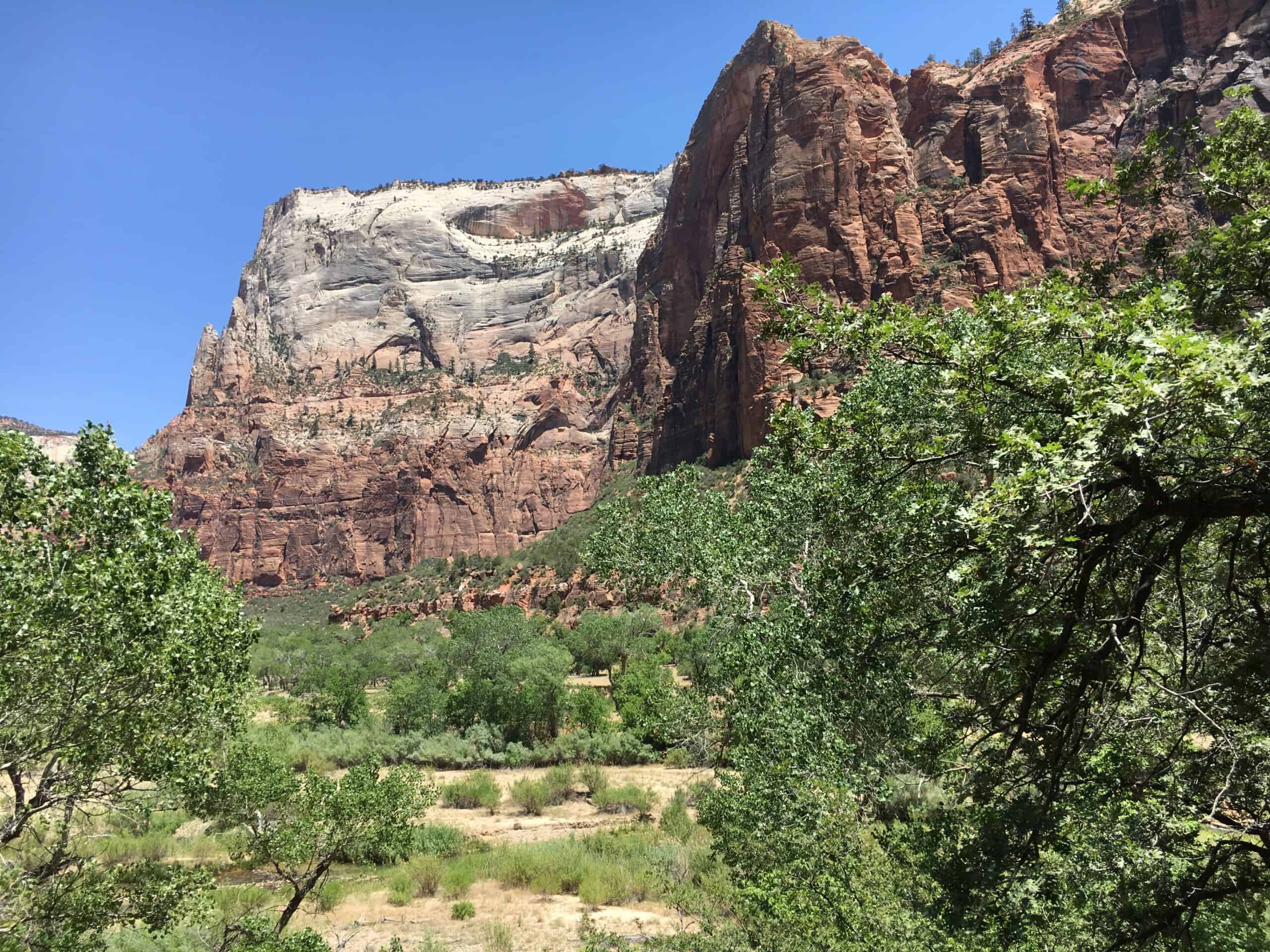 4. Excursion to Zion National Park
Zion National Park is one of the most spectacular places you can visit. The reddish stone of its canyons contrasts with the blue of the waterfalls.
The National Park Service notes that Zion has 232 square miles of plateaus, a maze of canyons, and the Virgin River and its tributaries.
Its pine and juniper-clad slopes, accompanied by its beautiful waterfalls, form breathtaking scenery that you surely won't want to miss.
Zion National Park has three authorized camping areas, so you'll enjoy this option if nature is your thing. Ideally, if you're going camping, you'll want to be prepared and include a generator with your gear so you don't run out of batteries unexpectedly.
Prices to visit Zion National Park in 2022 are as follows:
Per person: $20
Motorcycle: $30
Automobile: $35
Annual pass: $70
Remember to go with a guide or an expert to accompany you during your visit, especially if you do not know the park.
5. Bus Tour
Las Vegas is also famous for its bus tours, which give you the perfect opportunity to tour the city, take pictures of great sites and at the same time, learn a bit about each place you visit.
If you want to explore a little more of the Freemont Street Experience when you visit downtown Las Vegas, there is a free bus route called the Downtown Loop, which takes you around the area's main points, including the Arts District.
Although there are also paid options whose prices are not so high, they can go from $45 and up.
Since it is a bus without a roof, it is best to wear sunscreen before going on your tour.
If you want to save time and money, you should book in advance and take into account that the price may vary according to the number of stops and the area you are going to visit.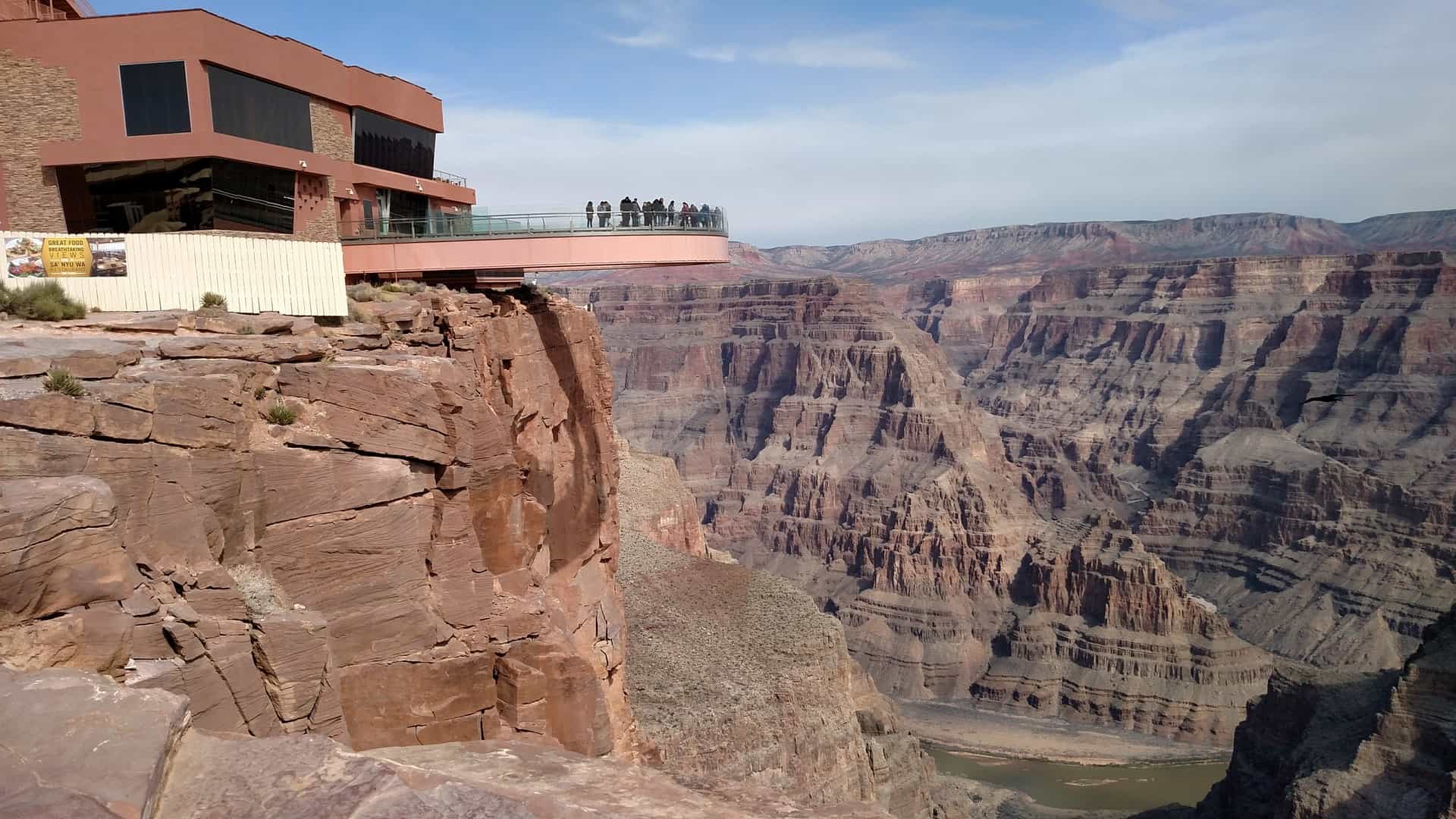 6. Grand Canyon Skywalk
From Las Vegas, you can visit hundreds of attractions in the Grand Canyon, but you can't miss the Skywalk viewpoint. From there, you get a panoramic view of almost the entire canyon.
It's a visitor center to learn facts about the history and nature of the Grand Canyon. Also, depending on the season, you can admire the stars.
This viewpoint rises to 4,770 feet (1,454 meters), and its horseshoe-shaped glass floor will get your body pumping with adrenaline.
If heights aren't your thing, skip this attraction because, to enjoy it, you must leave your fear of heights aside.
Access to the reserve costs about $45, and the combined ticket, including the Skywalk, costs around $80. You can include it in the helicopter tour packages, and even with your accommodation; it all depends on the place you choose.
7. Cirque du Soleil
Cirque du Soleil offers us surreal shows, minutes that can entirely take you away from reality and immerse you in a fantasy. These shows are presented in the most famous hotels in Las Vegas.
The company returned to action in the summer of 2021.
Some of the shows include:
"O:" A mix of surrealism, romance, acrobatics, and synchronized swimming acts, this show has been considered the best in Las Vegas in several votes. It can be seen at the Bellagio Hotel.
"Ka:" One of the most dynamic shows, it combines an incredible mix of martial arts, romance, acrobatics, and gravity-defying acts. It's playing at the MGM Grand Hotel.
"Love" is a musical production based on the creation of The Beatles, supported by visual effects, tales of passion, and overcoming, sure to leave audiences clapping and singing along. It's available at the Mirage Hotel.
In Las Vegas, the show line-up is highly varied, as are the prices, ranging from $69 and up.
8. Death Valley
The best time to visit Death Valley is during spring, fall, and winter due to the more comfortable weather. Activities include hiking, rock climbing, scenic drives, camping, and a tour of the history of the Wild West.
It is one of the hottest, driest, and furthest below sea level places in North America, so visiting in summer is not recommended.
The permanent drought and temperature records are extreme in this desert that offers incredibly colorful scenery despite its intimidating name.
This valley is located two hours from Las Vegas.
Prices in 2022 are as follows:
Per person: $15
Motorcycle: $25
Automobile: $30
Annual pass: $55
Related: Visiting Macao, the Las Vegas of the Far East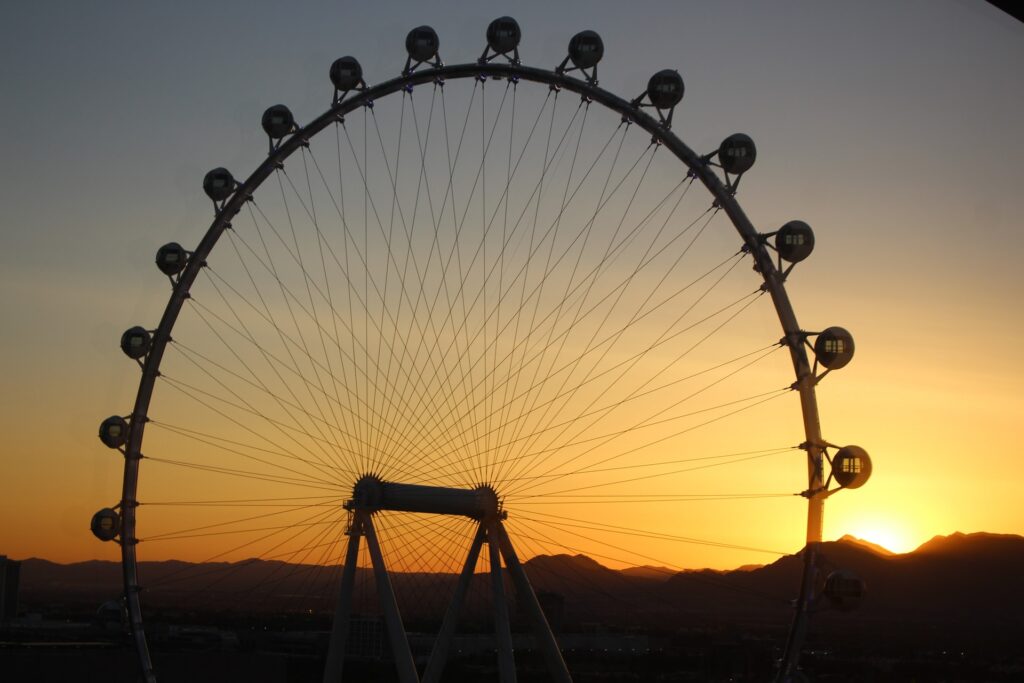 9. Las Vegas High Roller
There are many attractions in Las Vegas, but few offer the opportunity to have fun in a tiny capsule while enjoying panoramic views of the city. The 548-foot (167 meter) High Roller is considered the highest Ferris wheel in the world.
The duration of a ride is 30 minutes, an incredible time to allow you to take good pictures and enjoy the view.
The price of the tickets may vary according to the time you decide to visit the attraction. If you choose to visit during the day, each ticket costs $23.50 for adults and $8.50 for children from 4 to 12 years old (children under three years old are free).
After 4 p.m., general admission is $34.75 for adults and $17.50 for children 4 to 12 years old.
10. Nightclubs
Partying in Las Vegas is an opportunity you can't pass up, and it doesn't have to be expensive. The leading clubs in the city offer the option to sign up on guest lists to get free admission and even drinks.
All you need to do is visit the club's website you are interested in and see if they have the free service available.
Another option is to stop by the place during the day and find one of the promoters who will give you free tickets and, in some cases, coupons for drinks.
See also: Dig This – Best Oddball Attraction in Vegas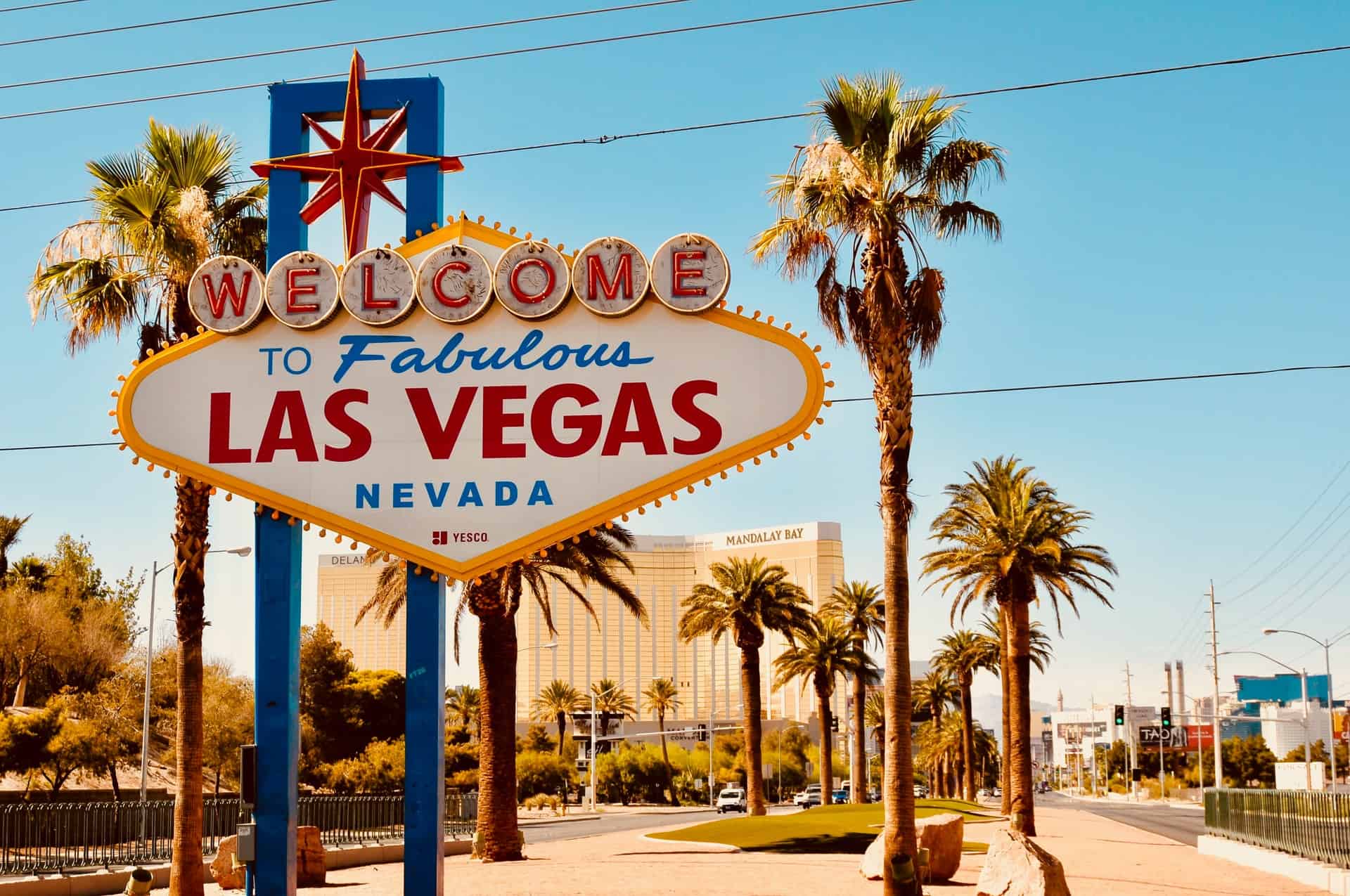 Tips for Saving Money in Las Vegas
Take advantage of the shows and the different free attractions in the city. Freemont Street Experience, the downtown bus, and some shows in the casinos.
Check the buffet schedules in the hotels where you are staying, the cost changes depending on the time. You can save more than $20 if you have breakfast at 10:55 a.m. instead of 8 a.m.
Another way to save is to take public transportation. You can find out about routes and schedules. This way you will also get to know the city.
Don't wait in line at the hotels when checking in. You will save more than an hour if you manage it from the hotel app.
You can also enjoy some free activities on The Strip:
Volcano at the Mirage
Hershey's Chocolate World
Palazzo Waterfall Atrium
The Park
Hershey's Chocolate World
In the city of sin, everything is allowed, from enjoying your favorite artist's concert to marrying the love of your life by an Elvis impersonator.
What's not allowed is to leave without taking a picture at the famous Las Vegas sign.
You need to go south of The Strip, a little before the Mandalay Bay hotel, and that's it because if you don't have a picture there, can you say you've been to Las Vegas?
And remember, what happens in Vegas, stays in Vegas.
Res Marty is an expert advisor in camping and hiking. From his cabin-crew days till now, he's been on uncountable hiking sprees. He loves to share his experience with the world through his blog.
Planning a trip? Go Backpacking recommends: