Backpacking in Israel is very popular; there are many hostels, often centrally located; street food is delicious and not that expensive; plenty of free outdoor attractions; an extensive bus system; hitchhiking is legal; and the people are friendly.
Without a doubt, Tel Aviv and Israel, in general, are great places for backpackers, although they may not be the cheapest travel destination you visit.
Here are a few tips to help you plan your spending while in the Holy Land.
Arriving
1. From Ben Gurion to Tel Aviv
You will probably arrive at Ben Gurion Airport; the cheapest way to reach Tel Aviv (New Central Bus Station) is by the Egged Company public bus.
It would be best if you changed buses starting with the 5 bus from the terminal and changing at the El Al Junction to the 268 bus.
The total journey takes about an hour and costs about 14.7NIS. You will need a "Continuing Trip Ticket," which allows you to change buses without paying again.
Traveling from Ben Gurion to Tel Aviv by train is more convenient and faster.
Ben Gurion to Tel Aviv by train costs about 16NIS, but it will only bring you to one of the city's four stations.
The most central of these stations are "Tel Aviv Merkaz" (Arlozorov), "HaShalom" (near a shopping mall), or "Tel Aviv HaHagana" (close to the New Central Bus Station).
Once you arrive at one of the Tel Aviv train stations, you will have to continue to your hostel or hotel by bus or taxi.
Another alternative is to catch a "sherut" (more about that under "getting around Israel), a shared taxi.
Where to Stay
2. Alternatives to hotels
As in other major capitals, you can find friendly locals willing to let you sleep on their couches on the website Couchsurfing.
Israeli homes also open their doors and spare rooms on Airbnb and at homestays through Gomfy and HomestayFinder.
Look for hotels, inns, B&Bs, and hostels further away from the city center to save money on accommodation.
3. Top Israeli hostels
Some Israeli hostels have become iconic because they are housed in unique historic buildings or have unbeatable personal service.
The Fauzi Azar Inn in Nazareth is housed in a 200-year-old mansion in the city center and has won many awards.
Tour guides run the Green Backpackers Hostel in Mitzpe Ramon with a passion for the surrounding nature. It has several special activities, tours, events, and a welcoming atmosphere.
In Tel Aviv, the HaYarkon 48 Hostel is in the heart of the nightlife scene and just a few meters from the beaches. There are even sea views from the rooftop hangout.
The Little Tel Aviv Hostel is ranked as one of the best in the city, with private rooms and bathrooms.
4. Sleeping under the stars
If the weather is good (which it usually is) and you are near the Sea of Galilee, don't think twice but roll out your sleeping bag and stay at one of the many campsites on the edge of the sea.
The sites have toilets, showers, BBQ stands, and electrical outlets.
You don't have to book in advance, and in the morning you can walk straight from your tent or sleeping bag a few meters and stand in the sea.
This is an excellent accommodation option except during national holidays when you should stay clear of the Kinneret campsites, which get overcrowded with Israeli tourists and very noisy with several karaoke machines and loud speakers blasting simultaneously.
Prices at Sea of Galilee campgrounds are about 60NIS per person for 24 hours to 150NIS for a car.
In Eilat, you can also sleep under the stars on the edge of the Red Sea. If you are traveling to Eilat at the height of summer, it may be too hot for you, but the rest of the year is an excellent idea and free.
Other places in Israel where camping is a good budget option are on a Dead Sea beach (for free).
Stay at the Israel Nature and Parks Authority campgrounds in forests or on beaches for about 60NIS each camper or 450NIS for a hut that sleeps four people.
What to Eat
5. Markets and supermarkets
You'll find the Tel Aviv HaCarmel Market in the heart of the city selling cheap vegetables, fruit, snacks, meat, and cheese – enough to make a delicious meal.
There are similar markets throughout the country, like the famous Mechane Yehuda Market in Jerusalem.
6. Local is cheaper
Look for worker's eateries in industrial areas or the tiny hole-in-the-wall take-out restaurants where you see long lines of hungry locals. Get used to falafel, shawarma (gyro), and hummus to enjoy budget Israeli street food.
Other well-priced local foods include the Iraqi sabich sandwich and Yemenite food like chicken soup or ziva.
Like all countries, stay away from tourist areas when looking for food and drink.
Recommended Tel Aviv cheap eats include the Beer Bazaar, The House of Hummus, and Itzik HaGadol.
Many take-out shawarma and falafel places and grill restaurants have a free salad bar when you order a meal.
Watch out for the restaurants where it is not free, and your table is loaded with lots of little plates that you will be paying for individually!
Israeli water is potable, so you can refill your water bottle instead of buying bottled water.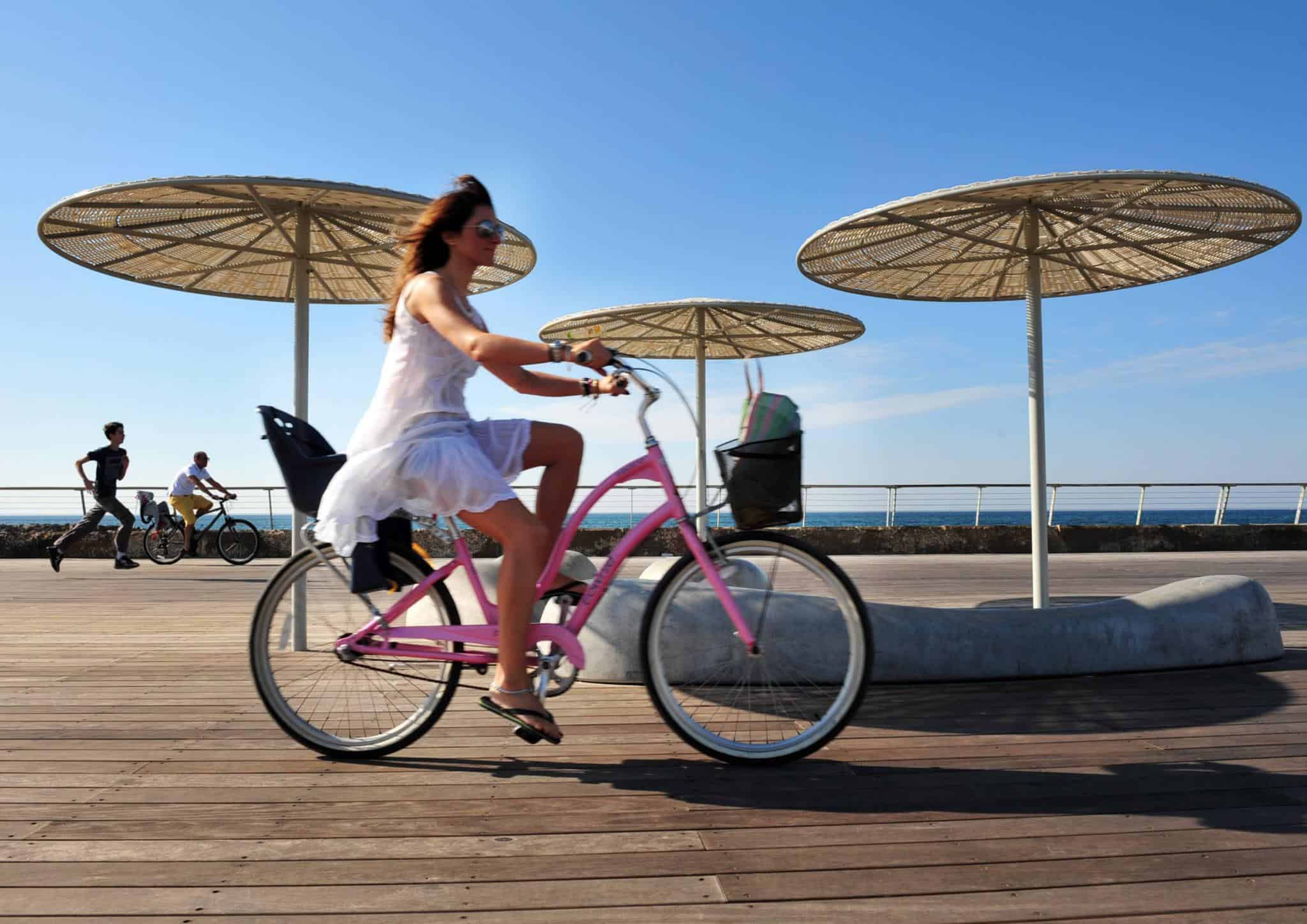 How to Get Around
7. Public buses – the Anonymous Rav-Kav Card Daily Pass
A regular paper ticket for an Israeli inner-city bus costs 6.9NIS within 1 zone (Tel Aviv/Gush Dan, for example) and 10.9NIS between zones; the ticket can be used for 90 minutes.
Israel has a Smart transportation card called a Rav-Kav (similar to the Oyster Card in London).
There are two kinds of Rav-Kav – one is personal and used only by Israeli citizens, and the other is anonymous and can be utilized by tourists.
The Anonymous Rav-Kav Card is not insured, so you have lost your money if it is stolen, damaged, or lost.
These cards can be purchased at select central bus stations or on the bus. The card gains you about 20% discount on public transport.
You can use the same card to simultaneously pay for more than one traveler.
Using a Rav-Kav, you can "load" a Kartisiya – 52.8NIS for ten rides within the city or 40.6NIS for five rides between zones.
Or you can "load" your card as an e-wallet where you simply "top" up the amount of money on the card and use it to pay for tickets (at a discount) until the amount is used up.
The most economical use of the Rav-Kav for tourists is the daily pass (hofshi-yomi) on your Rav-Kav for 14.5NIS, valid for travel from 9 a.m. until the end of the day's bus service within 1 zone. After two bus rides, you will have covered your costs.
8. Sorry, students, no discounts here
Students studying in an Israeli institute can get a 50% discount on many forms of transport in Israel, including intercity buses and trains, on the presentation of their student card.
However, discounts for international students are less prevalent, and you must show your international student card.
Some museums will offer you a 10-50% discount on the presentation of your international student card. Student discounts for buses and Rav-Kav Cards are only available to Israeli citizens.
9. Shared bike system – tel-o-fun
Tel Aviv's public bike-sharing scheme provides bike stands throughout the city where you can use your credit card (not possible by cash) to rent a bike for next to nothing.
The bikes are available 24/7 and charged according to an access fee plus usage rate.
Up to 30 minutes is free, up to 60 minutes is 6NIS, 90 minutes is 12NIS, 150 minutes 32NIS, and 210 minutes costs 72NIS.
The daily access fee is 17NIS (23Nis on Saturdays and public holidays), and the weekly access fee is 70NIS.
So, for example, two and a half hours bike rental in Tel Aviv would cost you the access fee of 17NIS plus 32NIS.
Read the website of tel-o-fun carefully to find out about penalties when returning a bike late or damaged.
10. Israeli trains
Israel's train system is sound in terms of service, efficiency, and cleanliness, but it is constrained and cannot get you to many places.
If you haven't rented a car, you might consider using the train system to get you from Tel Aviv to Acre or Nahariyya (the most northerly point on the train line) and then continue exploring the north of Israel by bus.
The same goes for the south; take the train to its most southerly station – Be'er Sheva- and continue by bus to the Dead Sea or Eilat. This will save you time and money.
The train system is also a good option if you are going to Haifa for the day.
11. Shared taxis – Monyot Sherut
Sherut buses are minivans that act as shared taxis running on regular bus routes in the city and between the main cities from the central bus stations.
The advantages of a sherut bus are that they drop you off wherever you want along the route; they are about 10% cheaper than buses (about 6NIS); sherut buses can be hailed on the street or found at fixed places like the airport arrivals terminal and sherut buses run 24/7 (including Saturdays).
On Saturdays and Friday nights when the buses don't operate, sherut buses are more expensive.
The downside is stopping at all the other people's destinations along the way, but the bonus of being dropped off at your destination (along the route, not off the route) is an advantage.
The driver waits for the bus to fill up, tells you the price for your destination, and off you go.
12. Other ways of getting around
For more remote destinations like Masada or Bethlehem (where independent travelers cannot visit alone), taking an organized tour with a company like Bein Harim Tours can be cheaper and more convenient.
The short solution for transportation on a Friday or Saturday in Israel is to avoid it and reserve Saturdays for the beach.
Hitchhiking is a good option unless you are in the West Bank. You'll find Israelis friendly and willing to give you a lift.
What to See
13. Israeli museums
Unfortunately, almost all Israeli museums not only charge an entrance fee but also don't have a "free day" like many European or U.S. museums.
An excellent site to check out for Israeli museums (in English) is ilmuseums.
Traveling during Passover, you can enter over 40 Israeli museums for free.
International Museum Day (18 May) also sees about 75 museums open to the public for free.
YadVaShem Holocaust Museum is one of the few free museums, which is also a must-see for any visitor to Israel.
Many museums are free for kids under 18 years old.
Of course, most of Israel is one big open-air museum, so walking the streets and the old cities can give you enough history and archeology.
If you want to choose one museum to invest your meager funds in, then I recommend the Israel Museum in Jerusalem.
14. Free Walking Tours and other free attractions
Sandeman offers free two-hour walking tours in Jaffa and Jerusalem daily at 11 a.m. and 2 p.m.
At Serona Tel Aviv, free walking tours on Fridays at 11 a.m. leave from 34 Eliezer Kaplan Street.
These tours take you through the Templar colony, which has been converted into a chic, trendy shopping precinct.
The Bauhaus Center offers free walking tours of the White City every Saturday at 11 a.m. from 46 Rothschild Blvd. This tour focuses on the Bauhaus architecture of the city.
Although museums may not be free, there is an extensive list of free things to see and do in Israel, including:
Walking the old city of Jerusalem
Church of the Holy Sepulchre
Western Wall
Yad VaShem Holocaust Museum
Markets
Beaches
Jaffa port
Parks
Shopping malls
Where to Party
15. Pick the cheapest pub, nightclub, and place to party
Tel Aviv has a dynamic nightlife, including the LGBT scene.
Bars and nightclubs open late and stay open until the early hours. Club drinks are usually expensive, so invest in a bottle of something from the supermarket to keep in your room.
Cofix is an Israeli chain offering cheap, quality coffee-house fare for a fraction of the price.
Almost everything on their menu is 5NIS, and the good news for party-goers is that they also have a chain of Cofix BAR.
In a country where alcohol is notoriously expensive, Cofix BAR sells drinks for 5NIS, including wine, vodka, whiskey, Jagermeister, Tequila shots, and 250ml glasses of Goldstar beer.
Drink Point is another cheap drink chain with one branch in Tel Aviv at Ebn. Gvirol 33. Here a 250ml beer will cost you 17NIS, and a shot of vodka will cost you 13NIS.
_________
This post was brought to you in partnership with Bein Harim Tours.
This post was written by a guest contributor. Please reference the author's byline in the post above for more information. If you would like to guest post on Go Backpacking, please read our submission guidelines. For information on advertising opportunities, go here.
Planning a trip? Go Backpacking recommends: