Looking for a great California road trip to take in some hiking, history, and cool places to eat and drink?
Visit the area made famous in 1846 by the emigrants headed to California known as the Donner Party.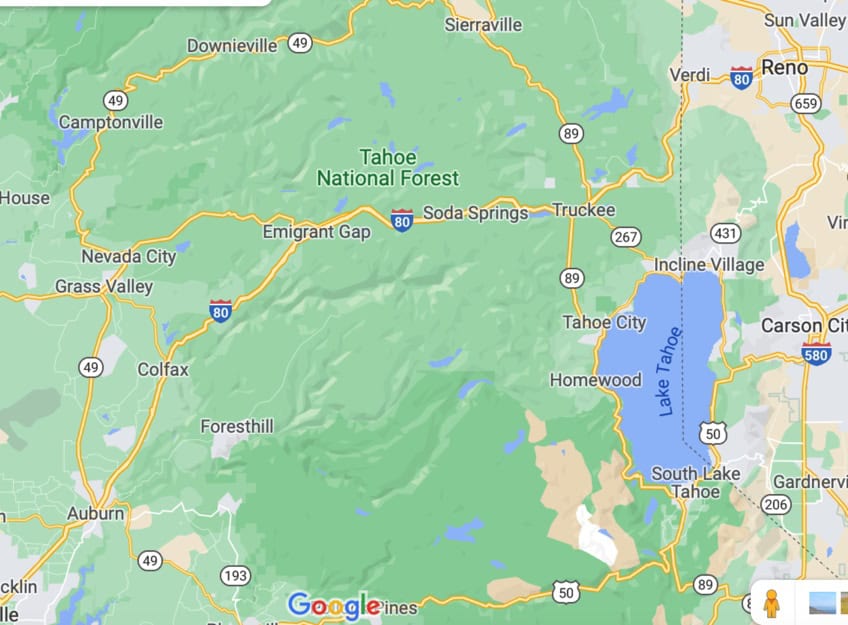 Where Are Truckee and Nevada City, California?
Truckee and Nevada City are beacons of history along the Interstate 80 corridor between Reno, Nevada, and Sacramento, California.
Truckee is just 32 miles (51 kilometers) from Reno, Nevada, and Nevada City is 60 miles (97 kilometers) from Sacramento, California. Start this road trip from either direction.
The Donner Party
In winter, this stretch of highway and canyons between Nevada City and Truckee, through mountains and deep snow, is the same path that doomed the 1846 wagon train of 90 or so pioneers known as the Donner Party.
After being convinced to take a shortcut through the "Hastings Cut-off," heavy snow began to fall, and they became trapped for months.
When the supplies ran out, they feasted on their oxen and pets—before long, they began to eat each other. In the end, only half of them made it out alive.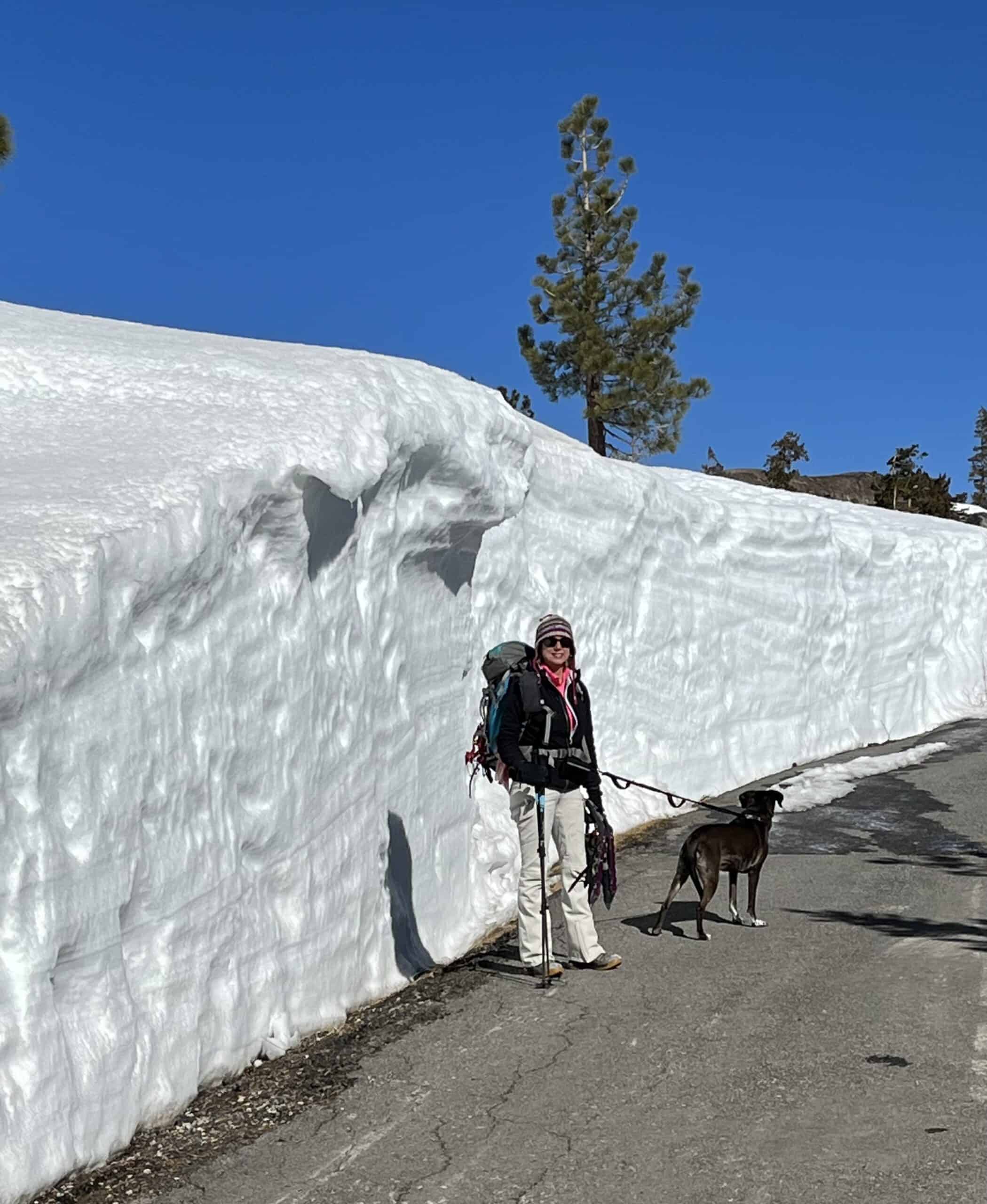 Despite the poor route choice, the infighting, the lack of proper supplies, and the cannibalism—the Donner family is honored by having everything named after them in this area.
Donner Lake, Donner Pass, and Donner Peak, among other things, all bear the name.
See also: Pinnacles National Park, California's Best-Kept Secret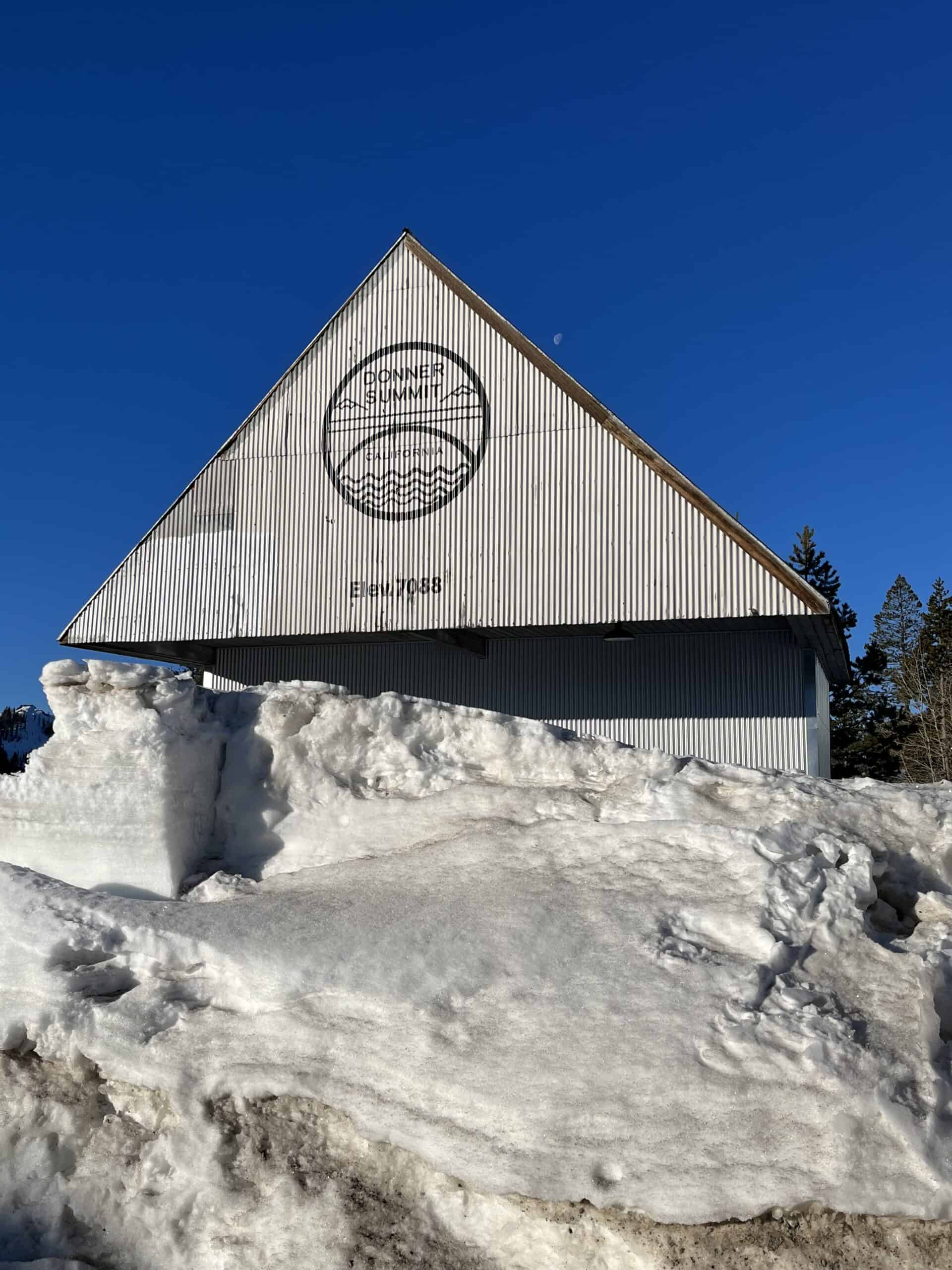 Donner Peak
We decided to start our journey by hiking to the top of Donner Peak. The trail to the top begins at the summit of Donner Pass.
Knowing there would be many feet of snow, we brought along our microspikes and snowshoes.
This time of year, the trail is completely covered in snow. However, reports from drier times of the year tell of a perfect two-mile route to the summit.
With 10 feet (3 meters) of snow on the ground, it is difficult to find your way through the forest.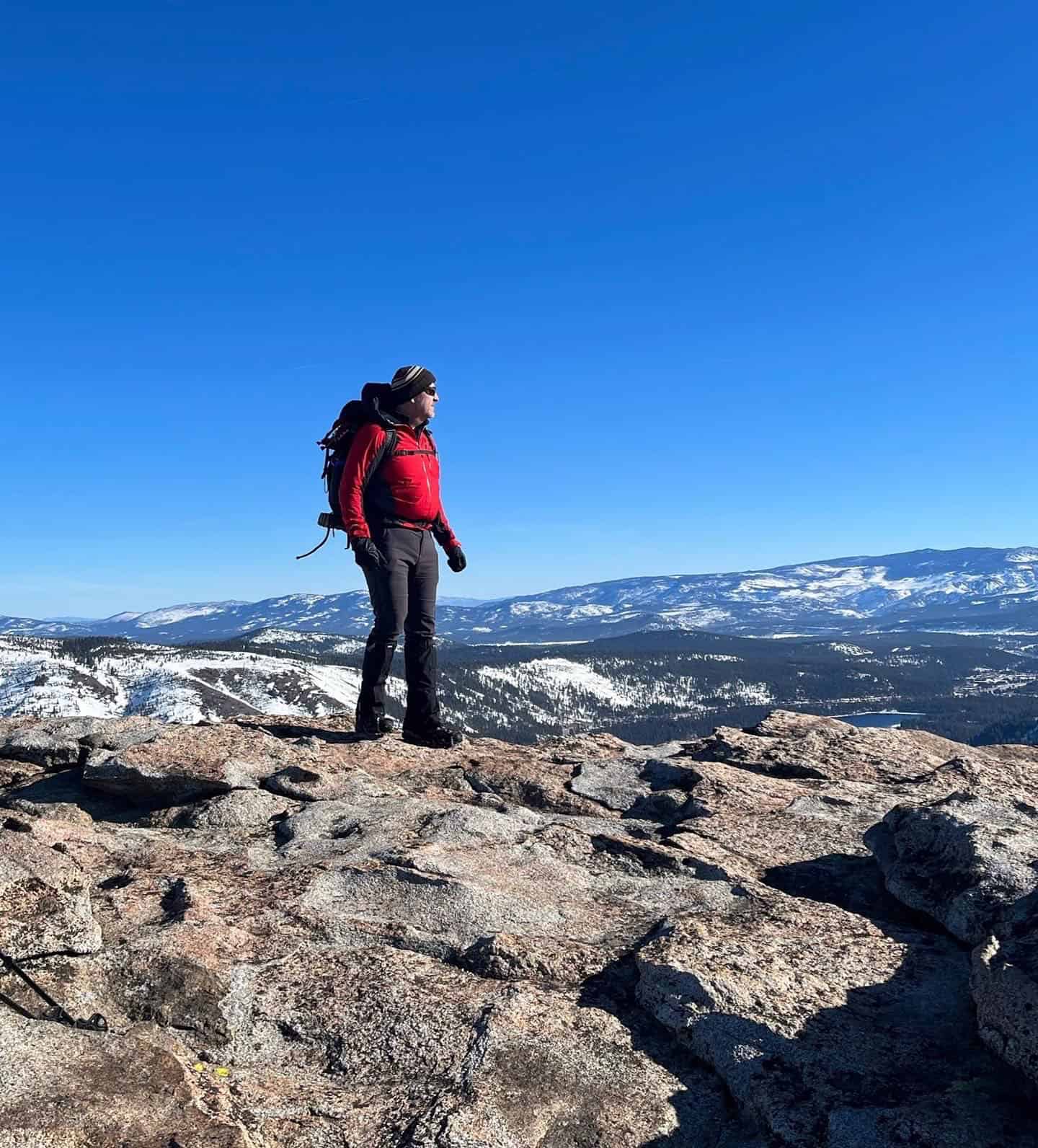 Lucky for us, it was a bluebird day. The bright skies took a bit of the chill off this windy day at more than 8,000 feet (2,580 meters) of elevation.
Jessi, the dog, did not seem to mind at all. She had a blast!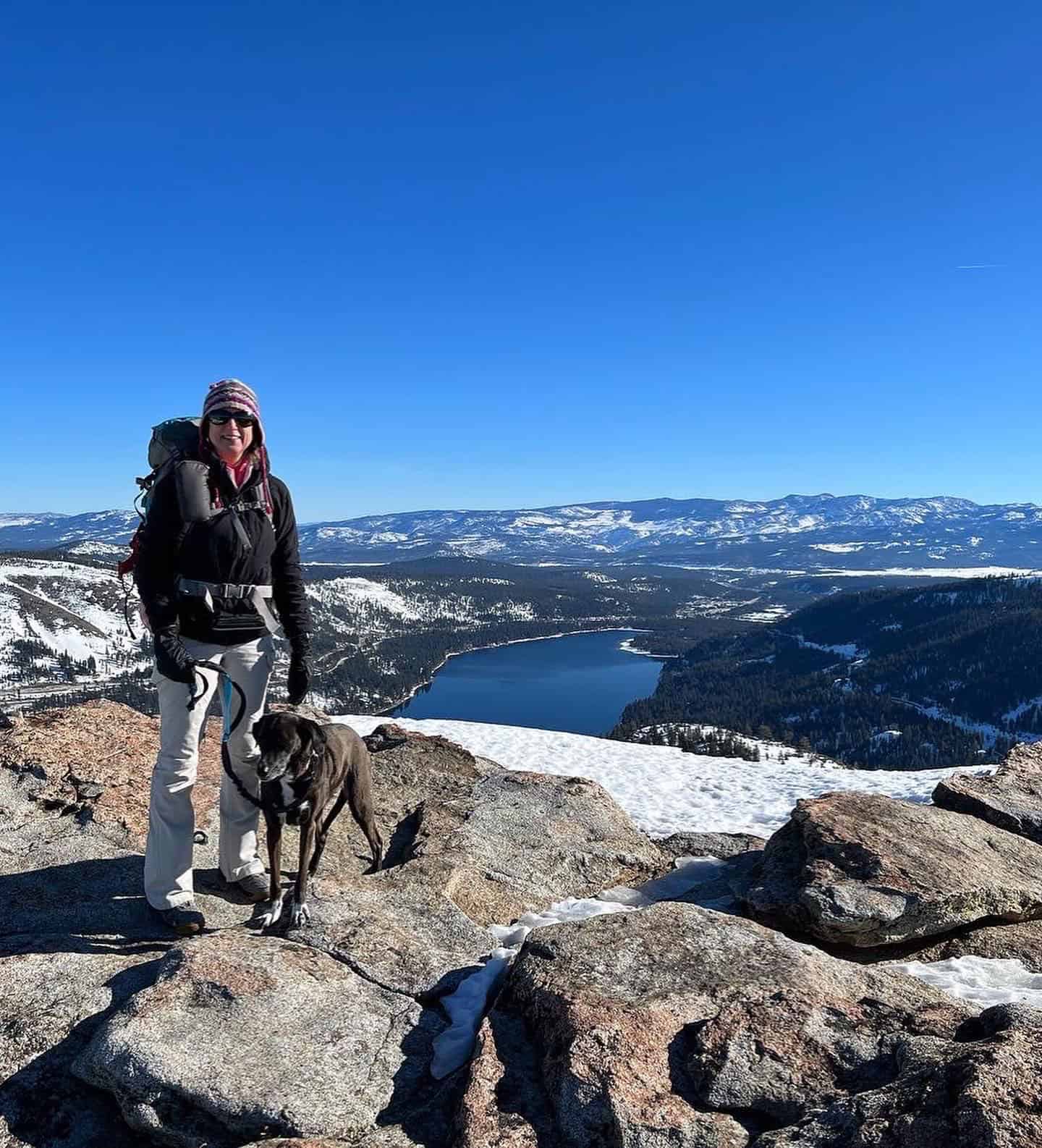 Our plans called for lunch at the top of Donner Peak. However, we scaled the mountain so fast that we settled for coffee instead.
Lunch in the town of Truckee sounded better anyway.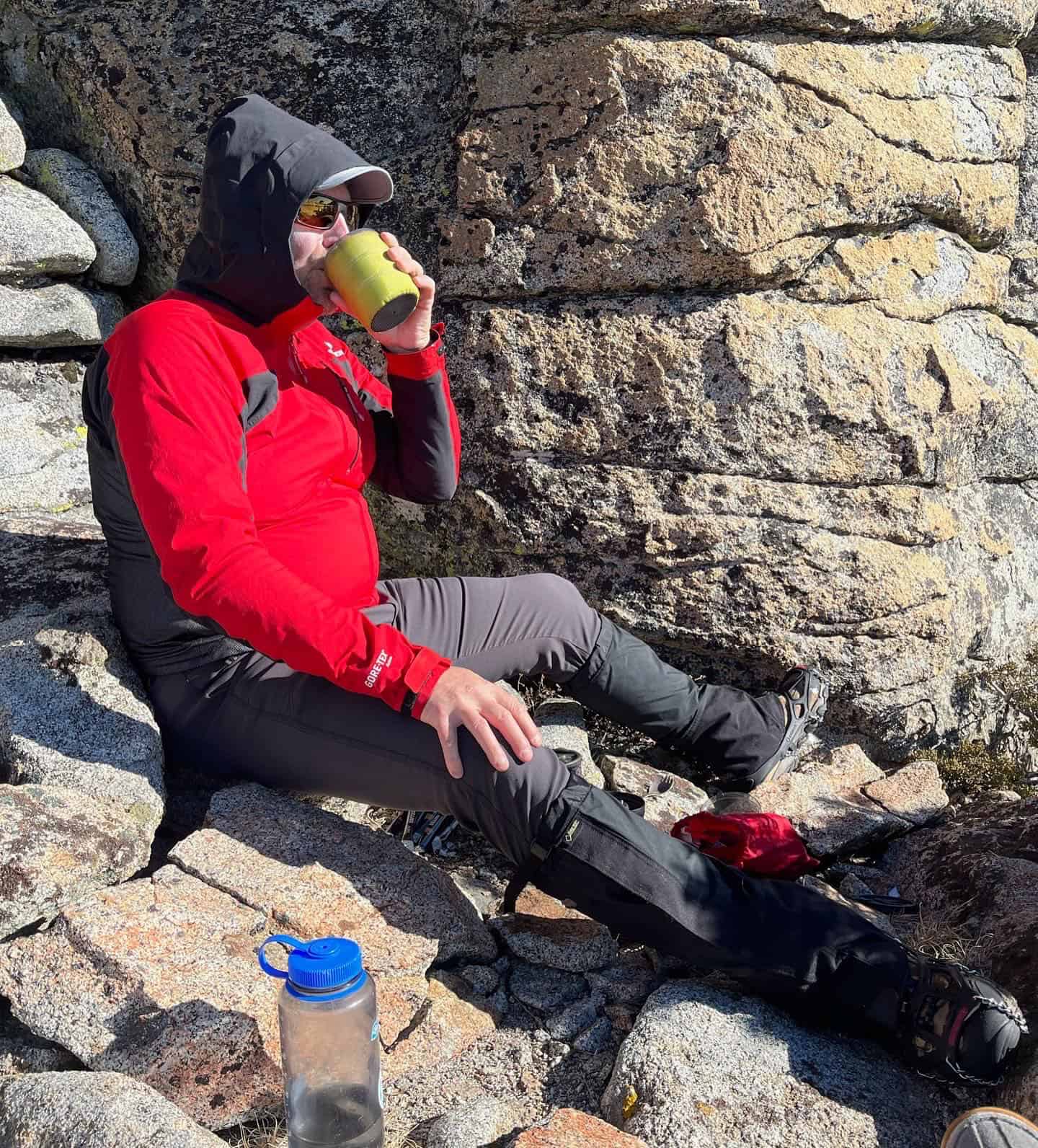 I always bring my Jetboil stove and instant coffee for a warm, refreshing treat at the peak. In winter, this can be a real psychological boost.
Related: Climbing White Mountain Peak in the Sierra Nevada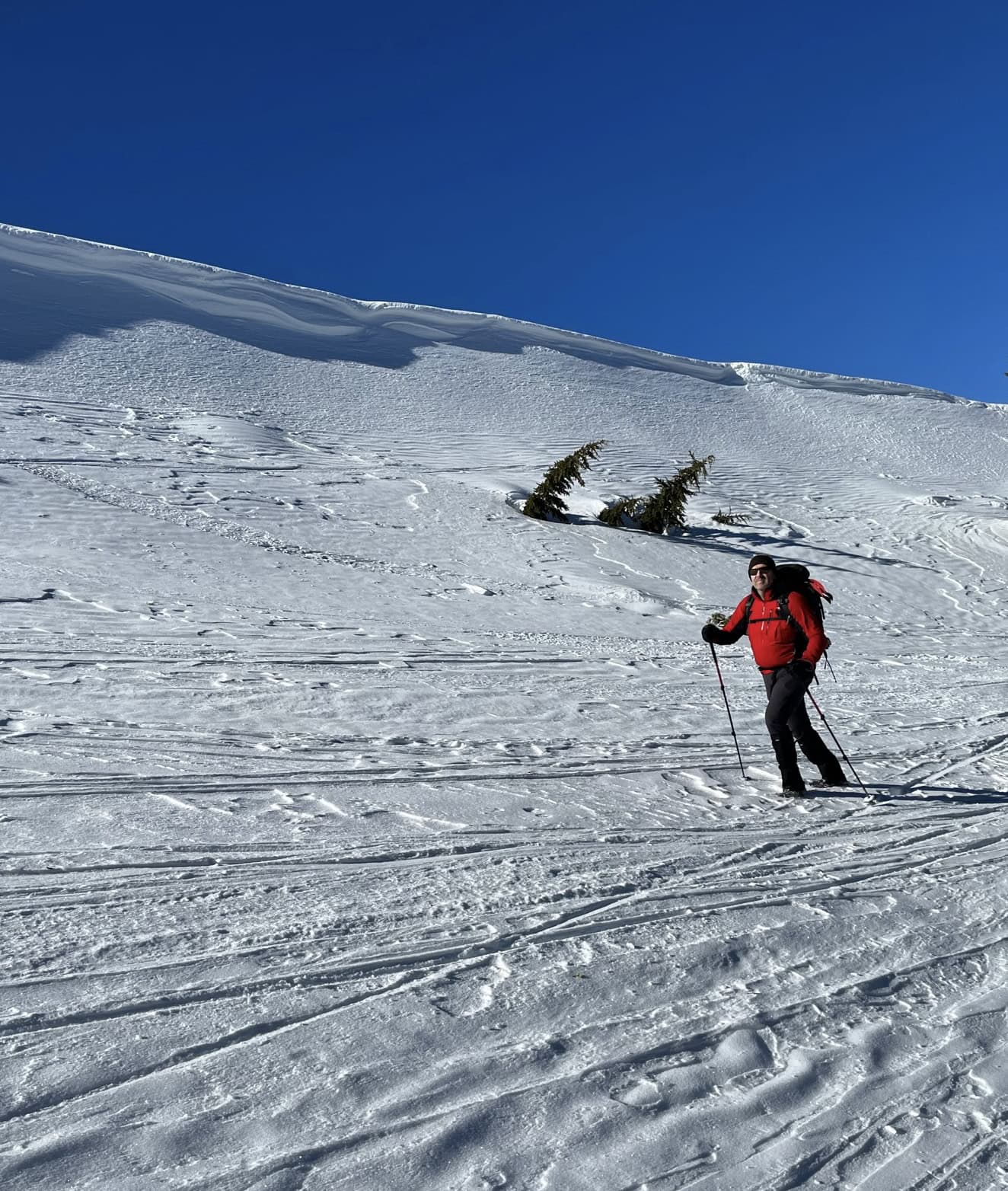 Truckee, California
We hurried down Donner Peak and continued our road trip to Truckee, California.
Although I had driven by on several occasions to and from Salt Lake City, Utah, and San Francisco, California—it was my first trip stopping to enjoy the quaint, historic town of Truckee.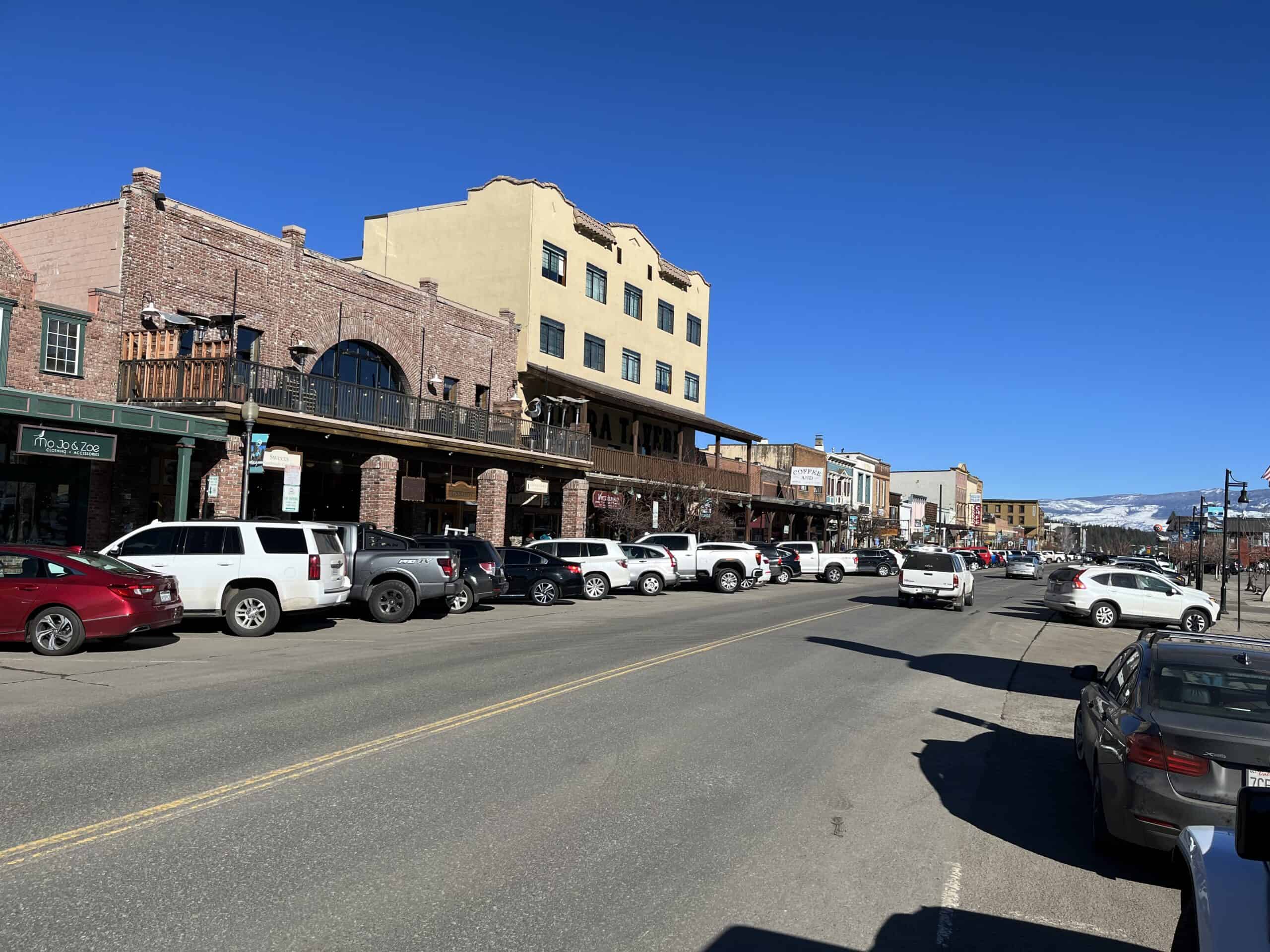 Truckee is nestled in the Tahoe Sierra, 8 miles (13 kilometers) south of Donner Lake and 12 miles (19 kilometers) north of world-famous Lake Tahoe.
Truckee is also surrounded by six ski resorts, including Palisade Resort (formerly Squaw Valley), where most of the 1960 Winter Olympics events took place.
The proximity to so many resorts makes Truckee a top-notch lodging and dining town.
Hotels include everything from the Ritz-Carlton to the Hampton Inn. However, we were on a single-day road trip, so we were just looking for lunch.
After a good walk through town, we settle on Old Town Tap, a busy brewpub in a 19th-century building where the red bricks are crumbling into dusk and falling onto the sidewalk out front.
The food and service did not disappoint us.
A solid review of all the places we could have gone showed us that we could have eaten at many very nice places, with talented chefs.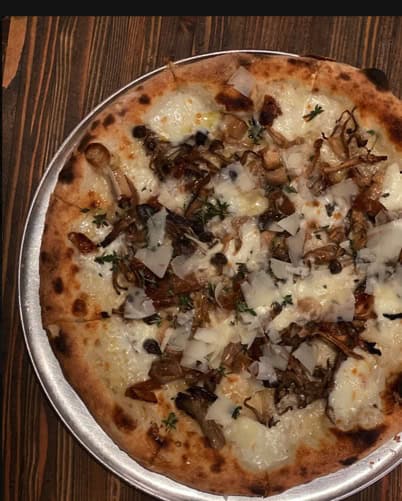 We ordered potato leek soup and a mushroom pizza. Both were excellent.
The pizza included shimeji, oyster, and chanterelle mushrooms. I even ate all the crust—it was so good.
We had more snowshoeing and driving to do, so we passed on the craft beer. Maybe another time as the selection looked tasty.
Truckee is still a railroad town and has the trappings of an old mining community. While walking the streets, I was reminded of the old part of downtown Park City, Utah.
The legend goes that Truckee got its name from the Paiute tribe of Native-Americans, whose word for "everything's OK" is trokay—which evolved among the White settlers to become Truckee.
Besides skiing and snowboarding, Truckee is a California road trip destination in warmer months for hiking, trail running, river rafting, cycling, fishing, and golfing.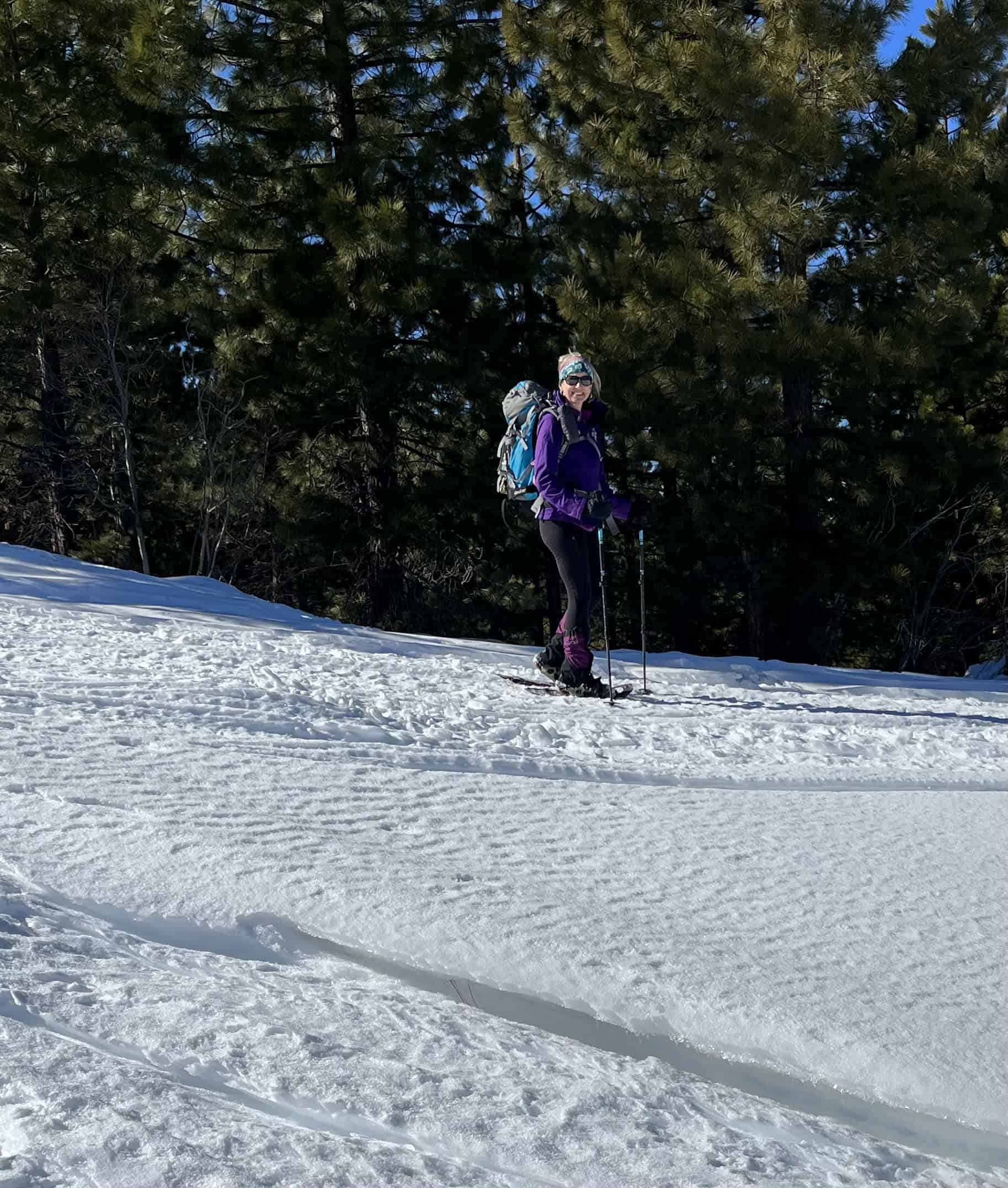 Prosser Hill
After lunch, we headed a few miles north of Truckee on Highway 89 to climb Prosser Hill.
It was a good workout, and of course, I had pizza to burn off.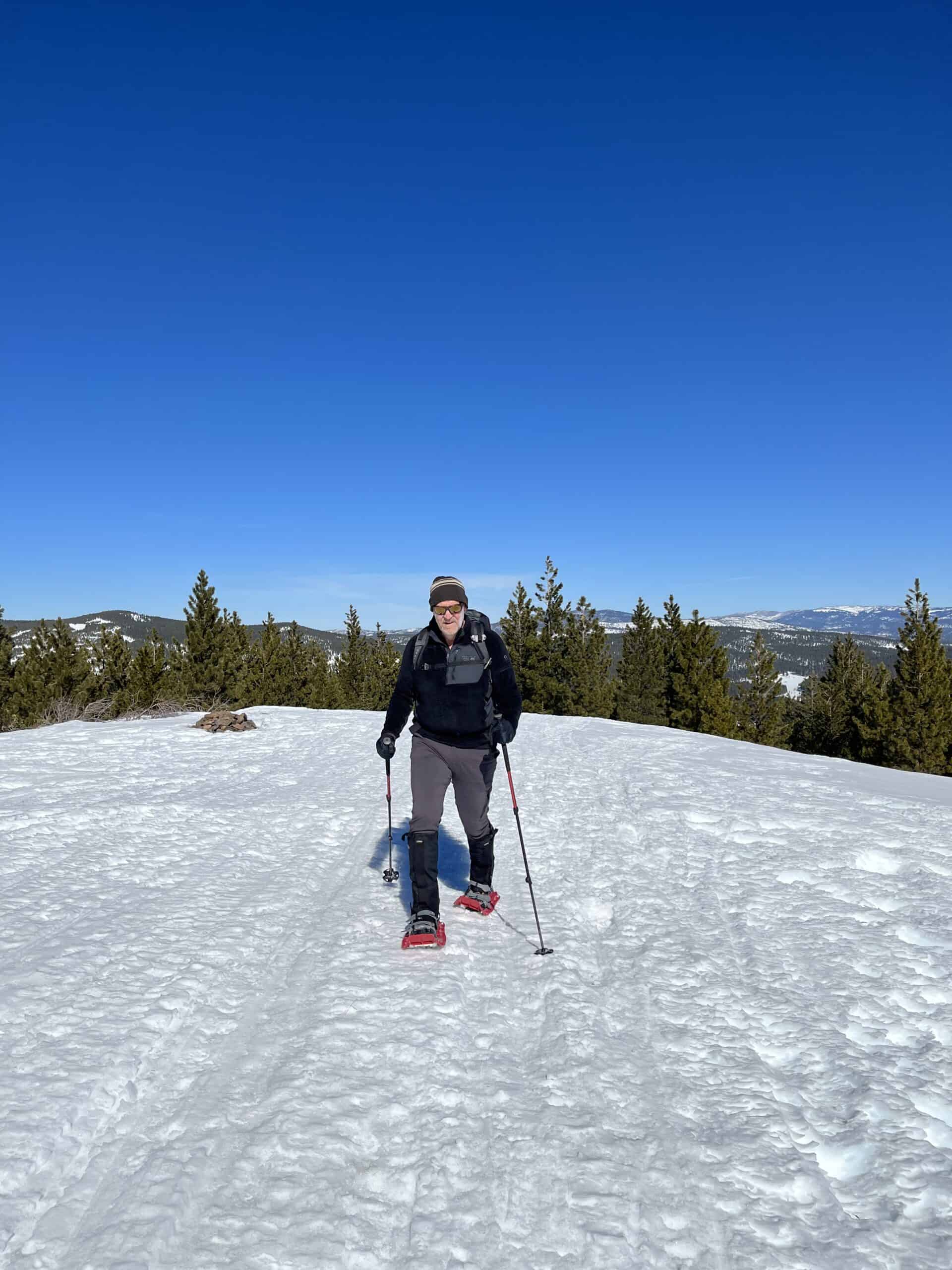 Highway 20
After our second hike of the day, we got back in the truck to warm up and make the trip up through Donner Pass, again heading west toward Nevada City.
Once over Donner Pass, Interstate Highway 80 begins to go downhill for a few miles, and an exit can be taken to travel on Highway 20.
The narrow mountain road is scenic and shaded and sprinkled with little cabins and side streets that conjure up mountain imagination and intrigue.
We continue on our California road trip for 15 minutes with very little traffic and come to a sign which tells us a scenic overlook is around the next bend.
CT and I debated about whether an additional stop was worth it, but we pulled off and trudged through the snowy path to what is called the Omega Diggings Overlook.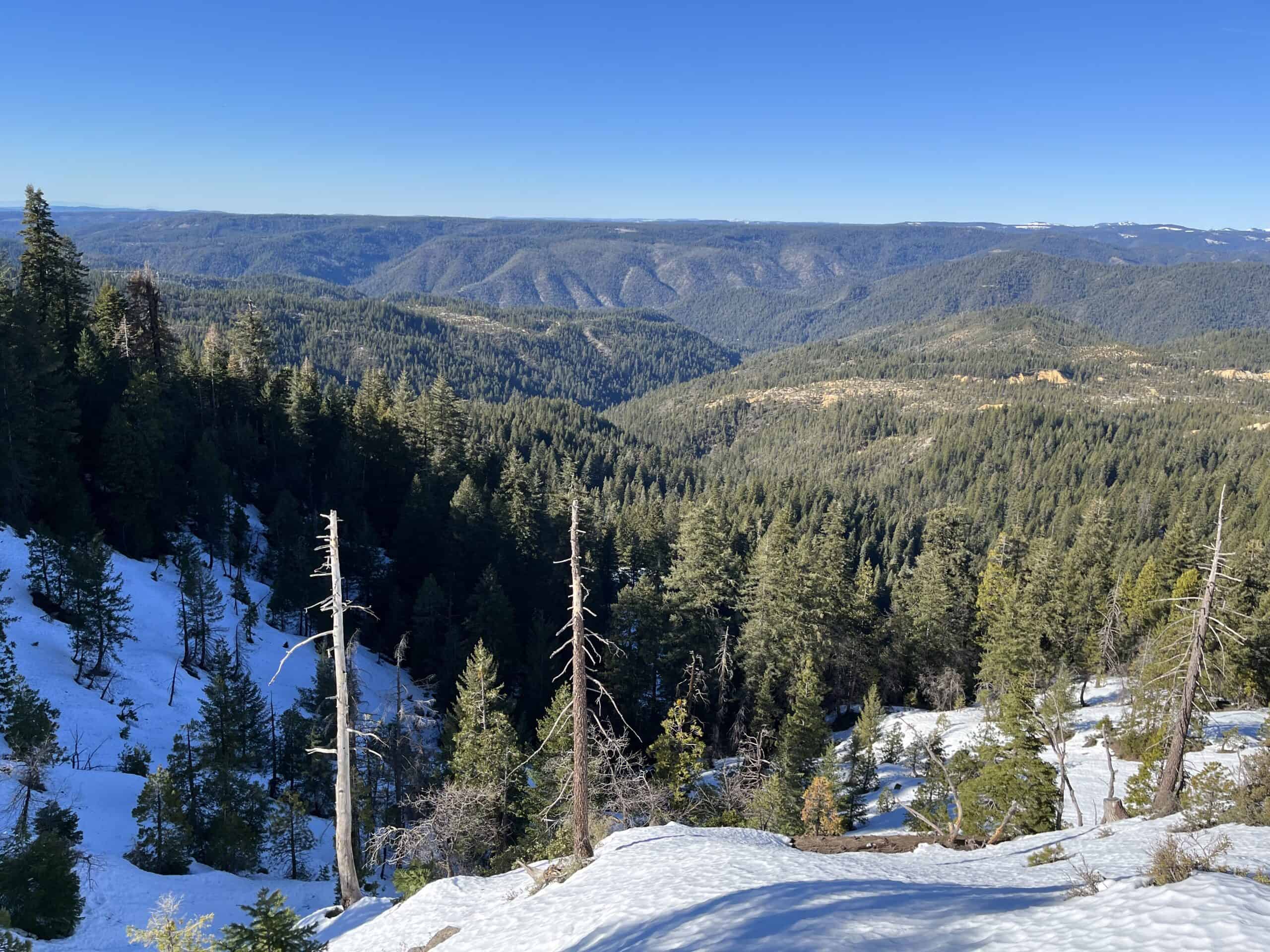 We were treated to a 180-degree view of so much empty, wild space and as much history as the South Yuba Canyon and its river can divulge.
We could see the expanse of the canyon and the distant Sutter Buttes (the world's smallest mountain range), the scars of old logging on the mountainsides, and the still visible wounds in the canyon made by hydraulic mining companies in the 1800s.
We read the interpretive signs, take in the view, and learn about the area's past and present.
We are reflective and pensive, happy and sad.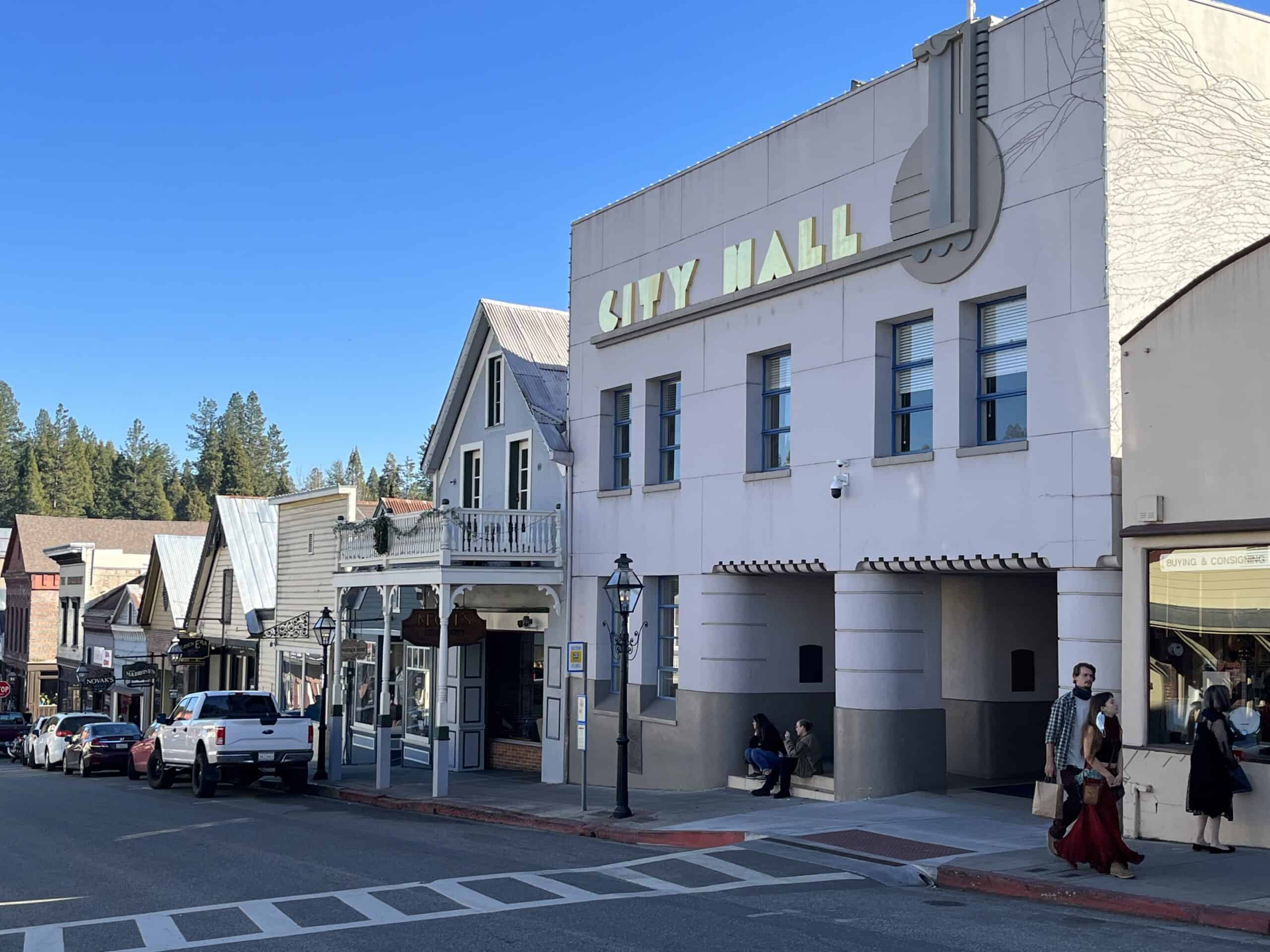 Nevada City, California
Nevada City, California, is a special place.
We were getting hungry again, and running out of daylight, so we parked the truck and quickly walked the streets, looking in shops and scanning menus.
The sidewalks were filled with smiling people doing the same.
Scattered around the parking stalls are several Sprinter-style custom vans with their van life owners taking in a stop during their long road trips.
The outdoor seating at each restaurant is stuffed with mountain bikes and their tired, dirty, and sometimes bloody cyclists, who nurse pints of beer and a wound or two from the nearby trails.
We are in heaven. It is totally our scene, and we delight in the late afternoon's cooling air as we duck in and out of the tiny, quirky shops and bars.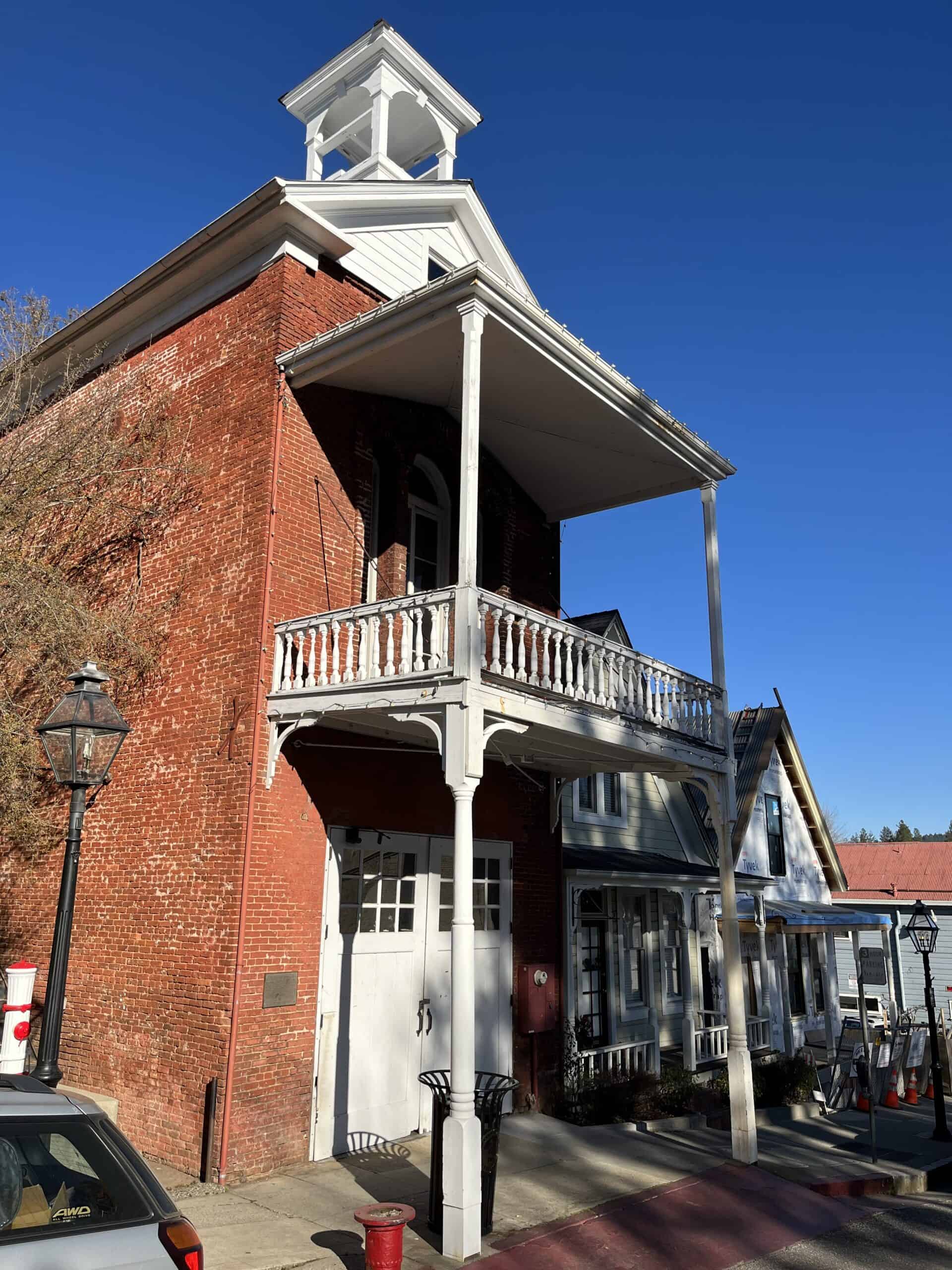 We spend time in JJ Jackson's boutique looking for a birthday card for my son Evan.
The store is entertaining and perfect for the day, and we purchase a few items.
The two or three employees are so nice and friendly that we feel like family.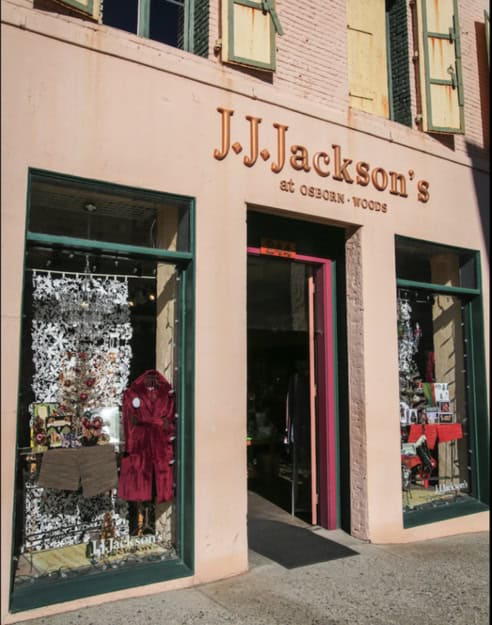 We head for home, knowing we will visit both of these fun little towns again and again.
As far as hiking goes, we will find new peaks to climb and trails to backpack on all around Truckee and Nevada City.
***
Hiking, biking, and exploring Donner Pass and Donner Peak, the Truckee area, and Nevada City is a great way to make a one-day stop when passing through on I-80 or as a separate California road trip to explore the history and indulge in some good times.
Traveler, Adventurer, Writer, Photographer
Planning a trip? Go Backpacking recommends: