Fifteen years ago, on a family road trip during a long weekend, we stumbled upon a road sign that read "Pinnacles National Monument next exit."
We were on our way home after driving from Orange Country up the California Coast on Highway 1 to Monterey and Carmel and other coastal communities.
By this time, we were tired and ready to get a few hours of travel in before sleeping in a cheap little motel.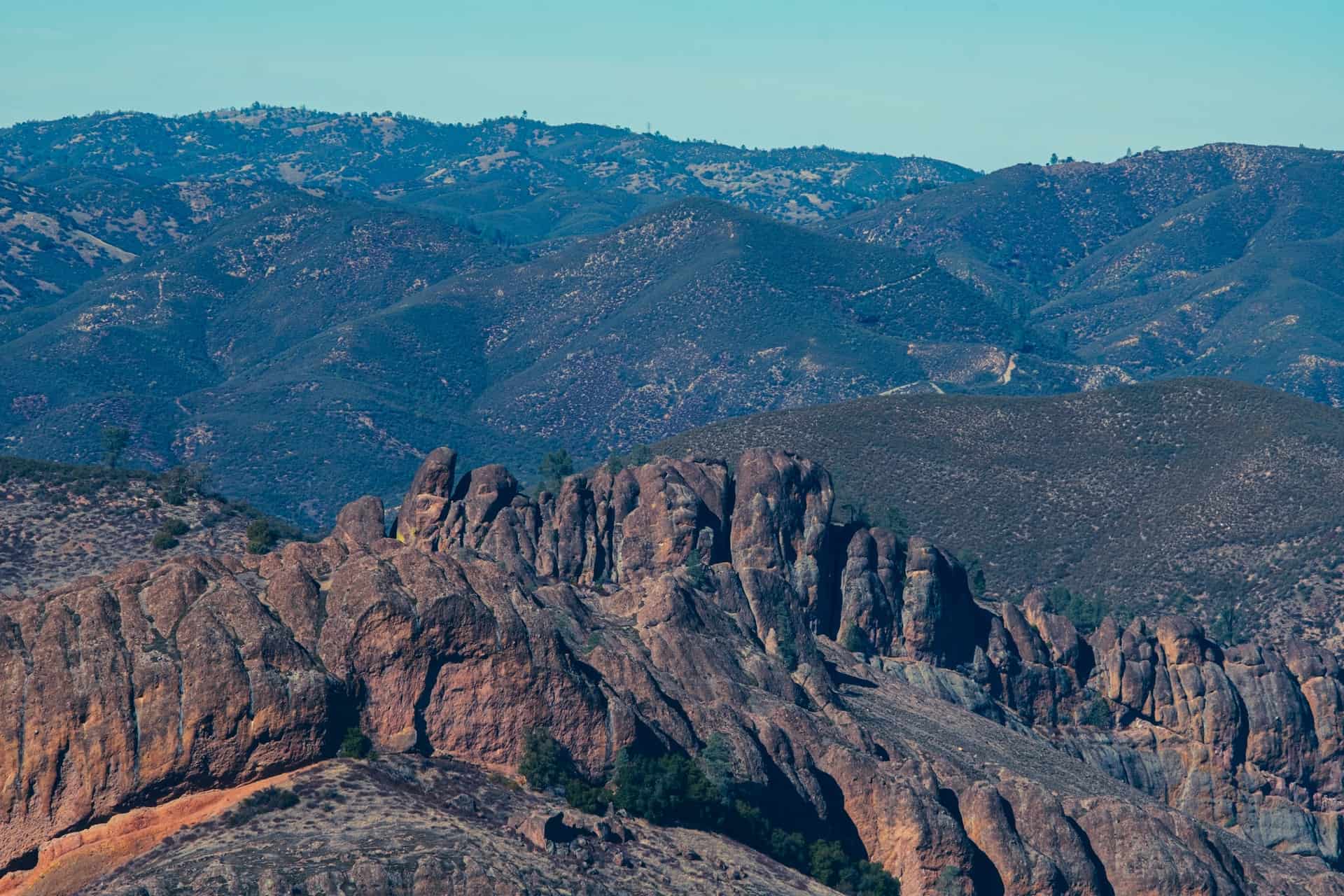 However, the sign we saw announcing a place we had never heard of before caught our attention.
Being the explorer in the family, I insisted that we check it out. My then-wife and two teenage sons resisted a bit but agreed to go along.
Over the next couple of hours, we drove the long and lonely road 10 miles (16 kilometers) from the city of Soledad to the west entrance of Pinnacles.
There, we took the time to stop in the visitor's center trailer and take a hike in and around the west side's granite cliffs and pinnacles.
In 2013, President Barack Obama signed the bill which took Pinnacles from national monument status to a national park.
The unusual rock formations formed during multiple volcanic eruptions 23 million years ago.
The park is filled with towering cliffs and mounds of granite, creating a hiking and exploring wonderland of canyons, streams, caves, lookouts, native trees, and flowers.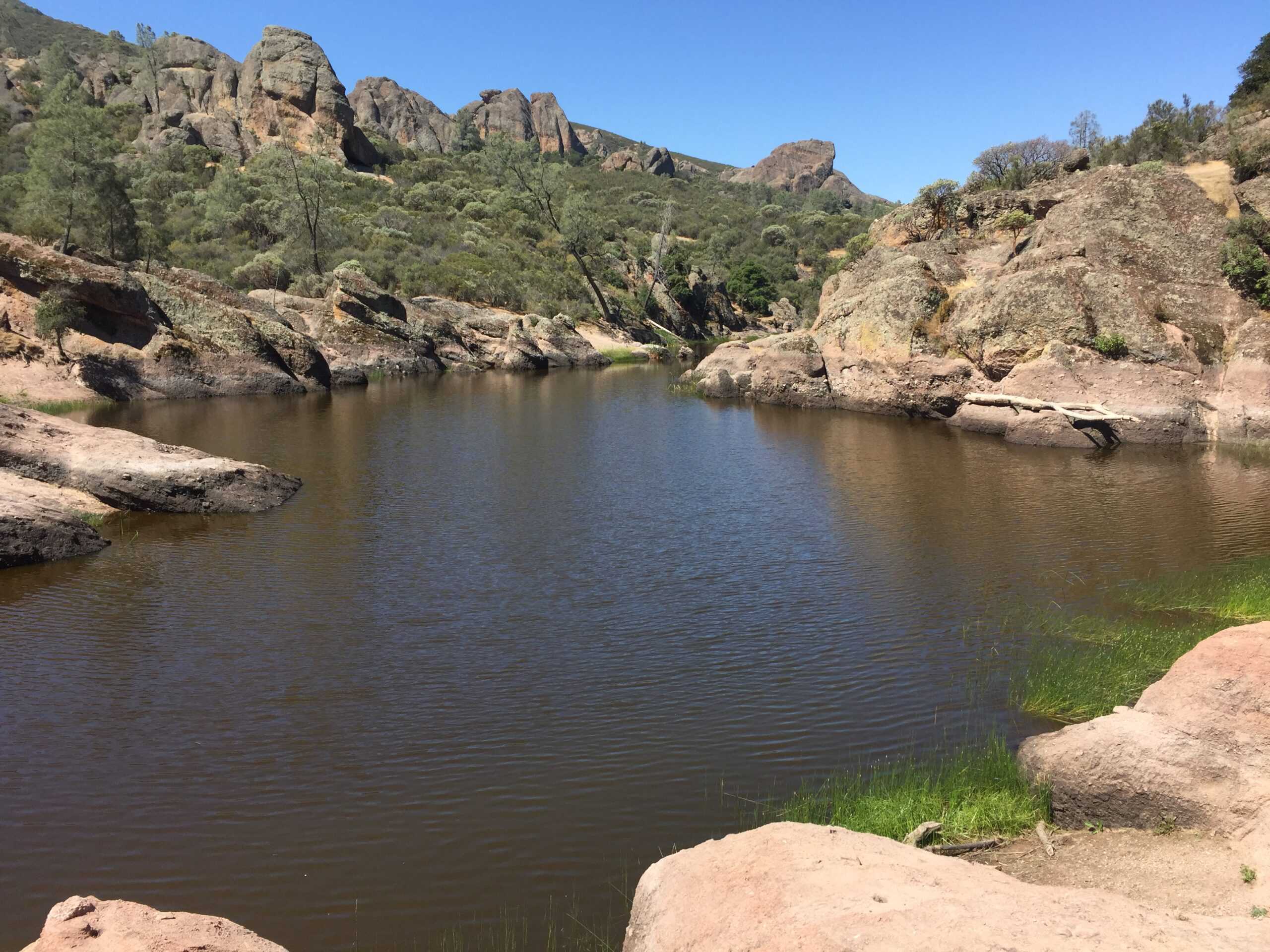 Pinnacles History
During the Anglo-American era of settlement in the area during the first half of the 19th century, the Pinnacles area, then known as Palisades, was considered useless land and went undeveloped.
By the late 1800s, tourism interests and business people proposed building a resort hotel.
The hotel was never built, but several entrepreneurs led tours in the area and bought up much of the surrounding "worthless land."
Pinnacles was first set aside as a forest reserve in 1906, and over the following decades, more and more land was pulled into the federal government's protection.
Today, the park is California's ninth national park and, for many, its best-kept secret.
Where is Pinnacles National Park?
One of the reasons Pinnacles National Park is California's best-kept secret is that it is relatively remote.
Pinnacles is in Central California, far from any major cities or other attractions.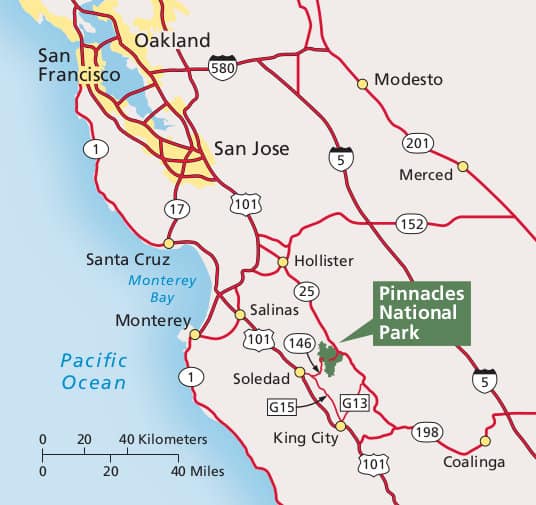 Located between two major north-south routes (State Highway 101 and Interstate 5), Pinnacles National Park is a great place to stop and visit when you are on your way to other destinations.
Whether visiting California or just passing from one end of the state to the other, Pinnacles National Park is a perfect place to take a break and spend the day in a beautiful natural environment.
Pinnacles is about a five-hour drive north of Los Angeles and 2.5 hours south of San Francisco and other Bay area cities.
Activities in Pinnacles National Park
A solid and well-planned "to-do list" at Pinnacles can vary greatly, depending on the time of the year.
Most people visit the park to hike the extraordinary trails, view the endangered and dinosaur-like California condors soaring above the pinnacles, gush in the beauty of seasonal wildflowers, or just camp and relax in the peaceful splendor of a national park.
Hiking Trails
As you might expect, CT and I are always looking for good opportunities to backpack or day hike in exotic and beautiful places.
On our way back to Southern California, from a backpacking trip to California's Lost Coast Trail, we stopped at Pinnacles National Park to spend a day exploring.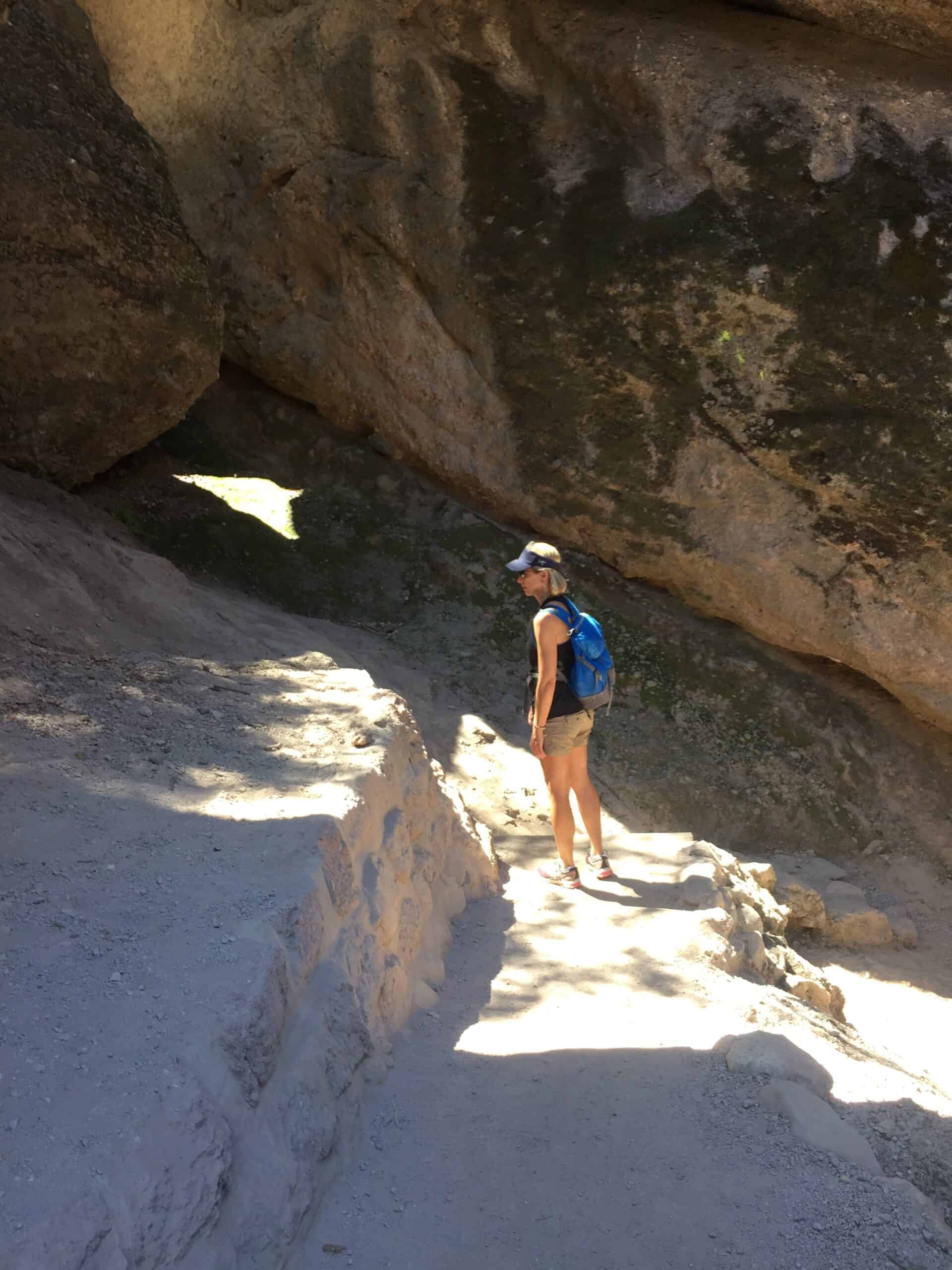 Pinnacles National Park is a small but wonderful place to hike where we could see most of the park in a single, long day hike.
We visited in late June, and the weather for hiking was clear and sunny in the morning. However, by the end of our four-hour journey, it was very, very hot.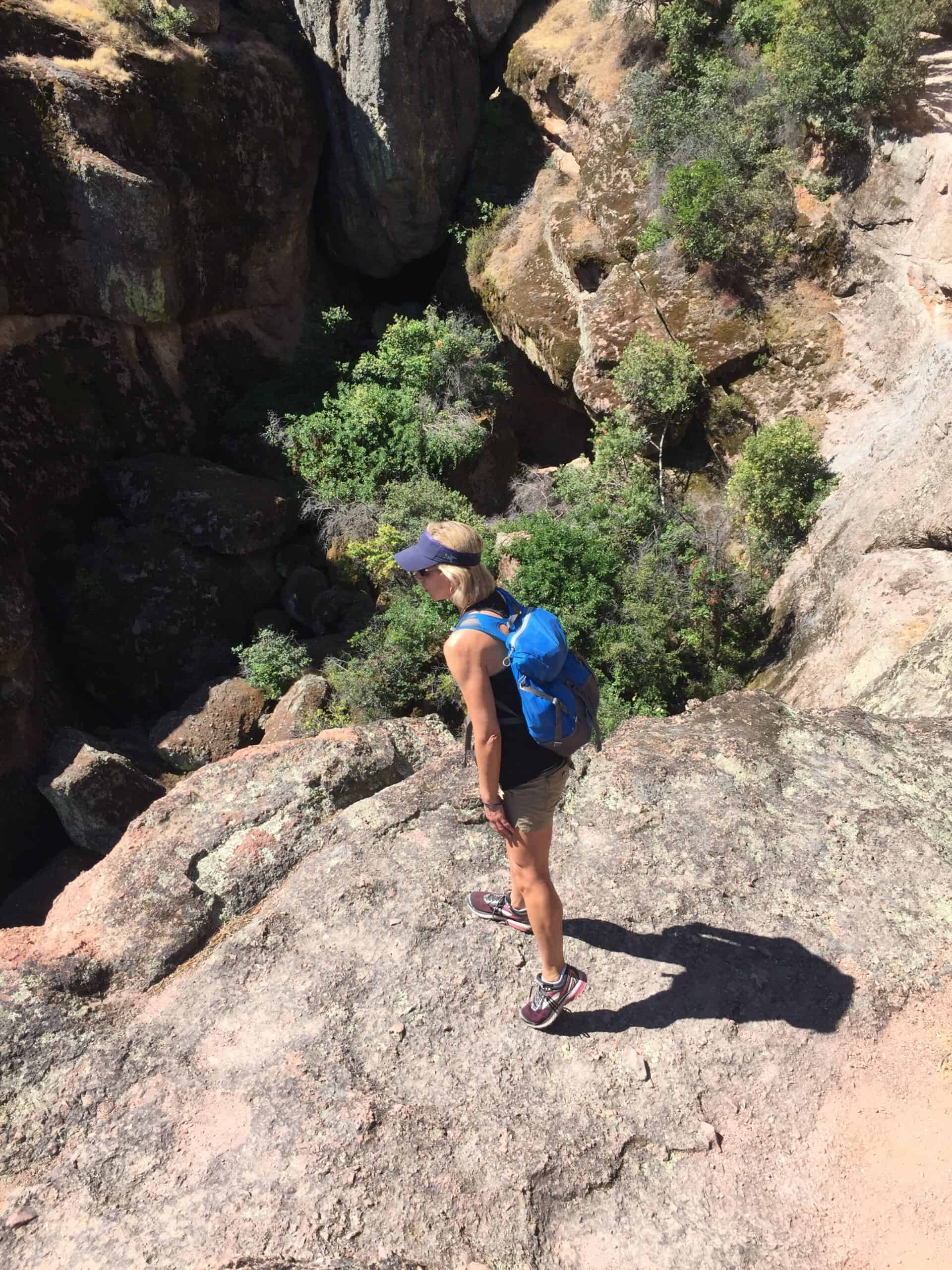 Our day started at the east side visitor's center, where we picked up maps and got some advice from a ranger.
We took lunch, and plenty of water left the car and made a circular route on connected series of trails called Sycamore, Moses Spring, Bear Gulch Cave, Rim, High Peaks, and Condor Gulch.
Related: 3 Days in Death Valley National Park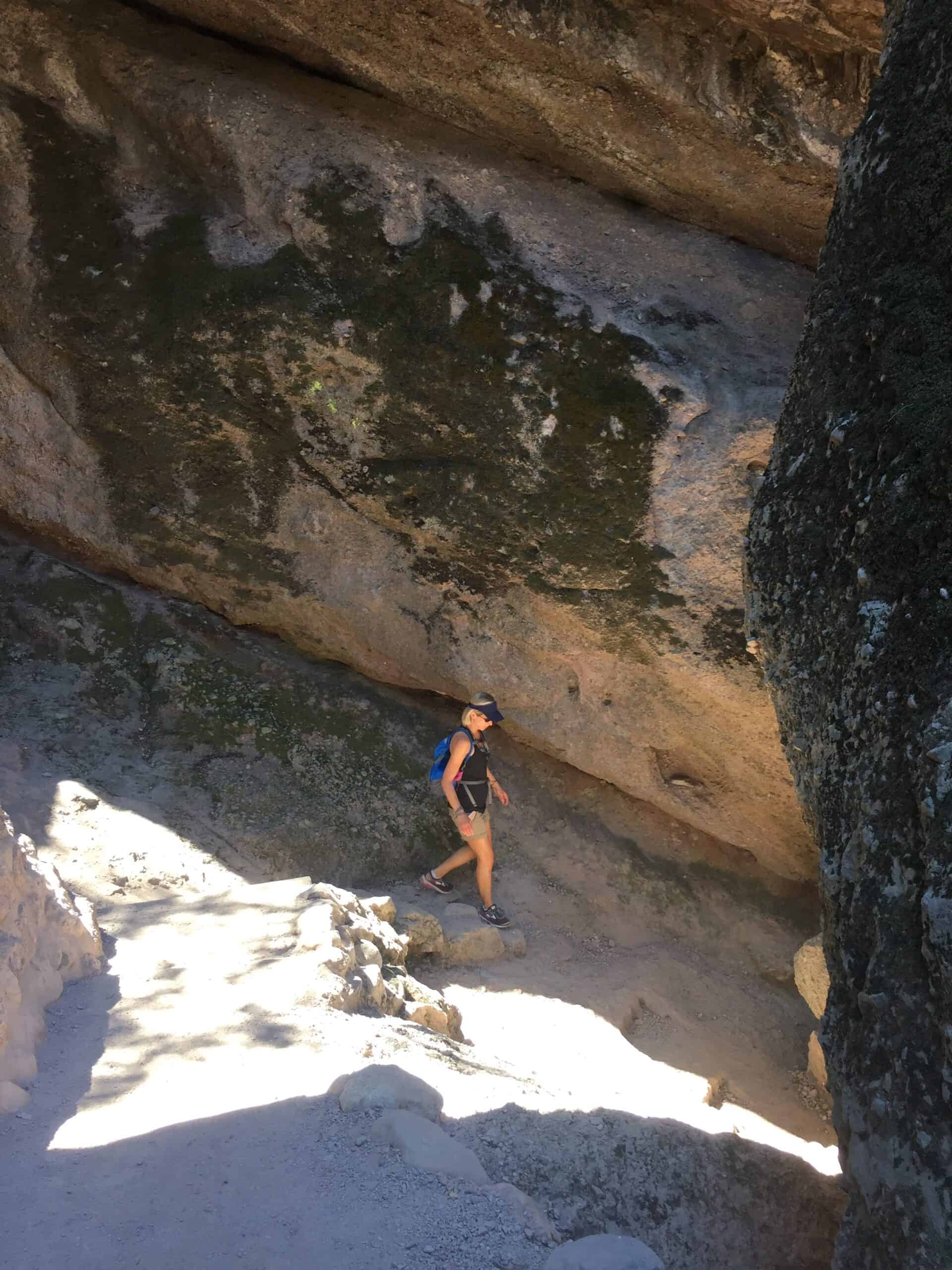 The distant and gorgeous views, the exploration of caves, and many sightings of California condor's soaring overhead made this hike one of our most memorable ever.
The California Condor
By the time we arrived at the highest point in the park on the High Peaks Trail, we were using stairs cut in the rock and handrails for safety.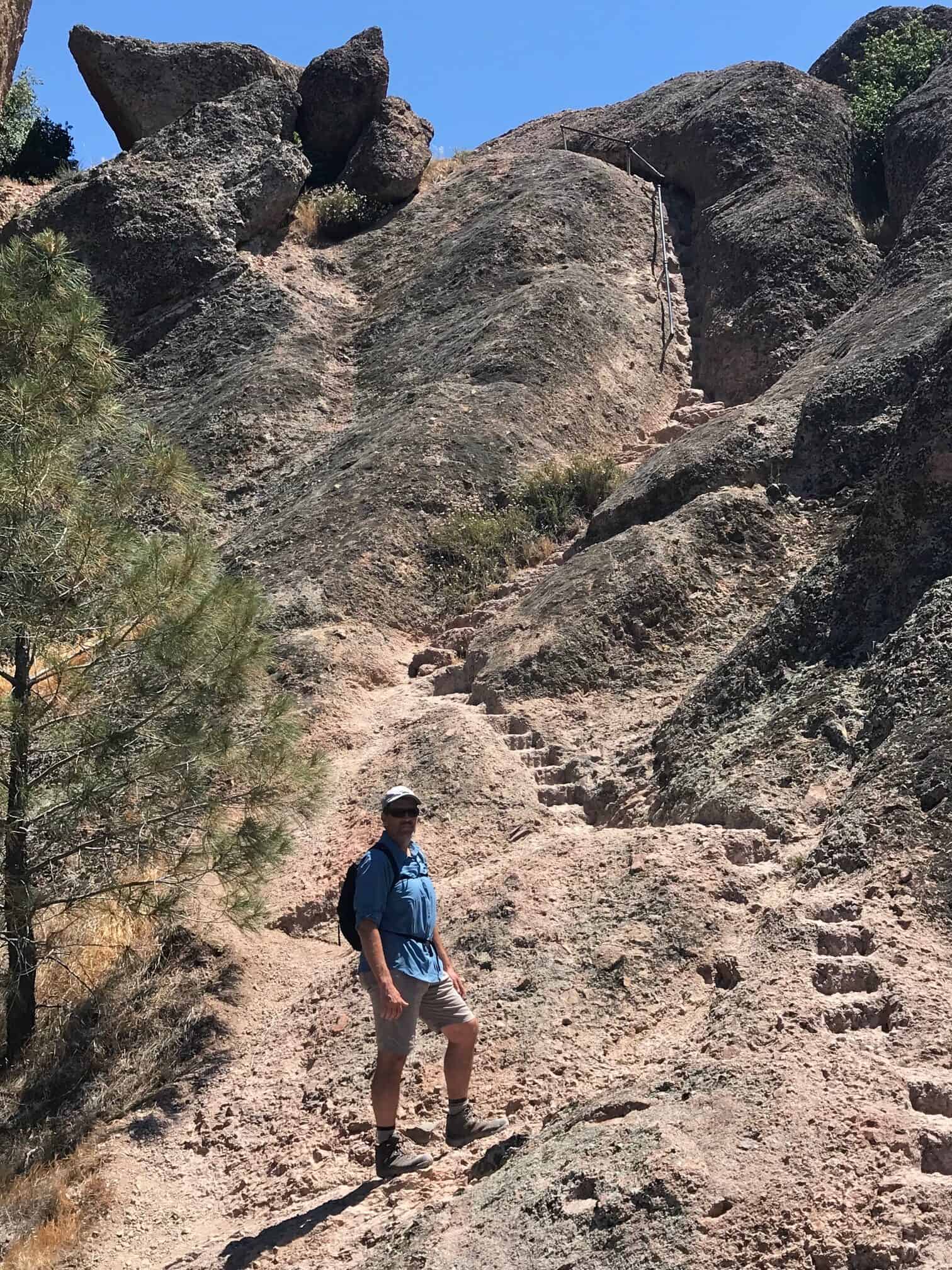 The highest point on our hike is a steep and somewhat dangerous climb to the viewpoint.
This is where the condors soar together and catch thermal updrafts.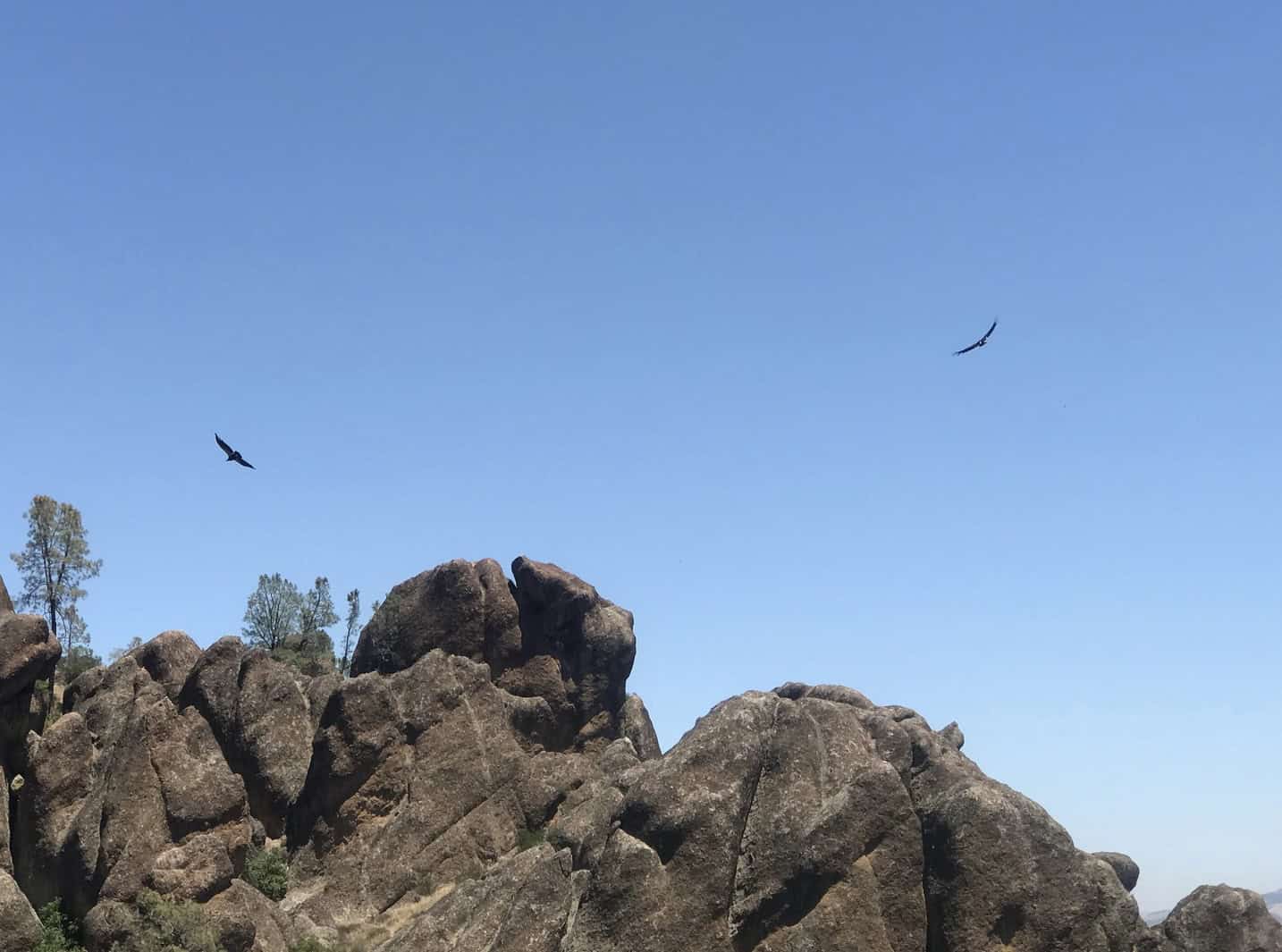 Even from a distance, these birds and their 9.5 foot (3 meter) wingspan look huge from our vantage point. A couple of decades ago, the California condor was extinct in the wild.
However, a carefully executed and well-funded captive breeding program brought the California condor back to a number where they could be re-introduced to the wild.
Today you can find them scattered in places around the Southwestern United States and parts of Mexico.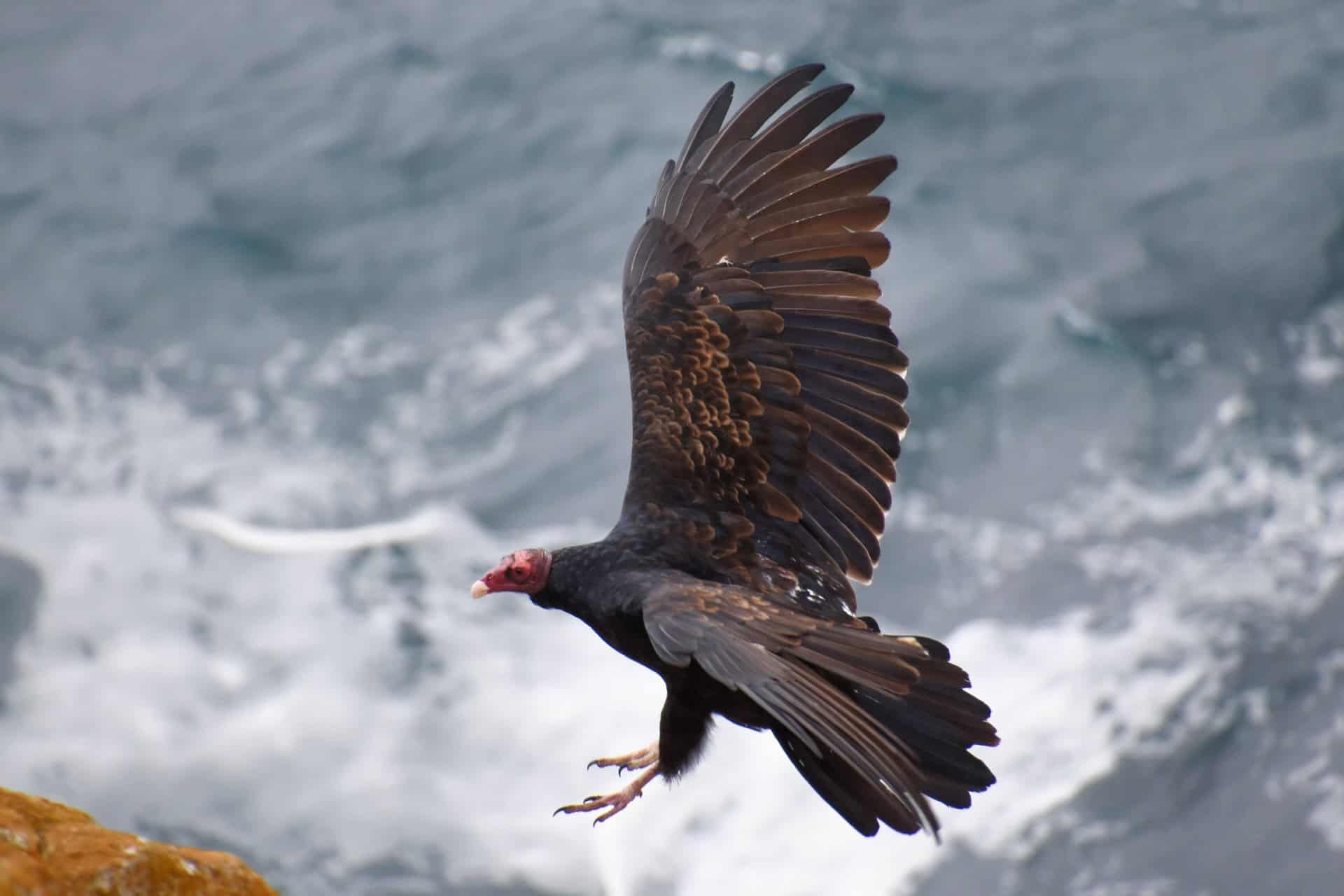 Your best chance to see them is in Pinnacles National Park and Zion National Park in Utah.
Check the park websites before you go, as some of the hiking trails near the birds are closed during nesting times.
Wildflowers
March, April, and May are the most prolific months to see wildflowers in the park. Dozens of varieties bloom along the trails in Pinnacles National Park.
According to park officials, 80 percent of the plants bloom during these spring months. By mid-June, the time we made our visit, the wildflowers were gone.
Camping
Pinnacles has a nice campground near the visitor's center at the park's east entrance.
There are 134 available spots for recreational vehicles or tent camping, and reservations can be made at Recreation.gov or by calling 1-831-200-1722.
All lodging facilities are located outside the park in the small surrounding communities. We could not get camping reservations, so we stayed at a motel about 30 minutes away.
Also, remember this is a small national park, and there are no restaurants or grocery stores.
Related: Climb Telescope Peak, Death Valley's Highest Mountain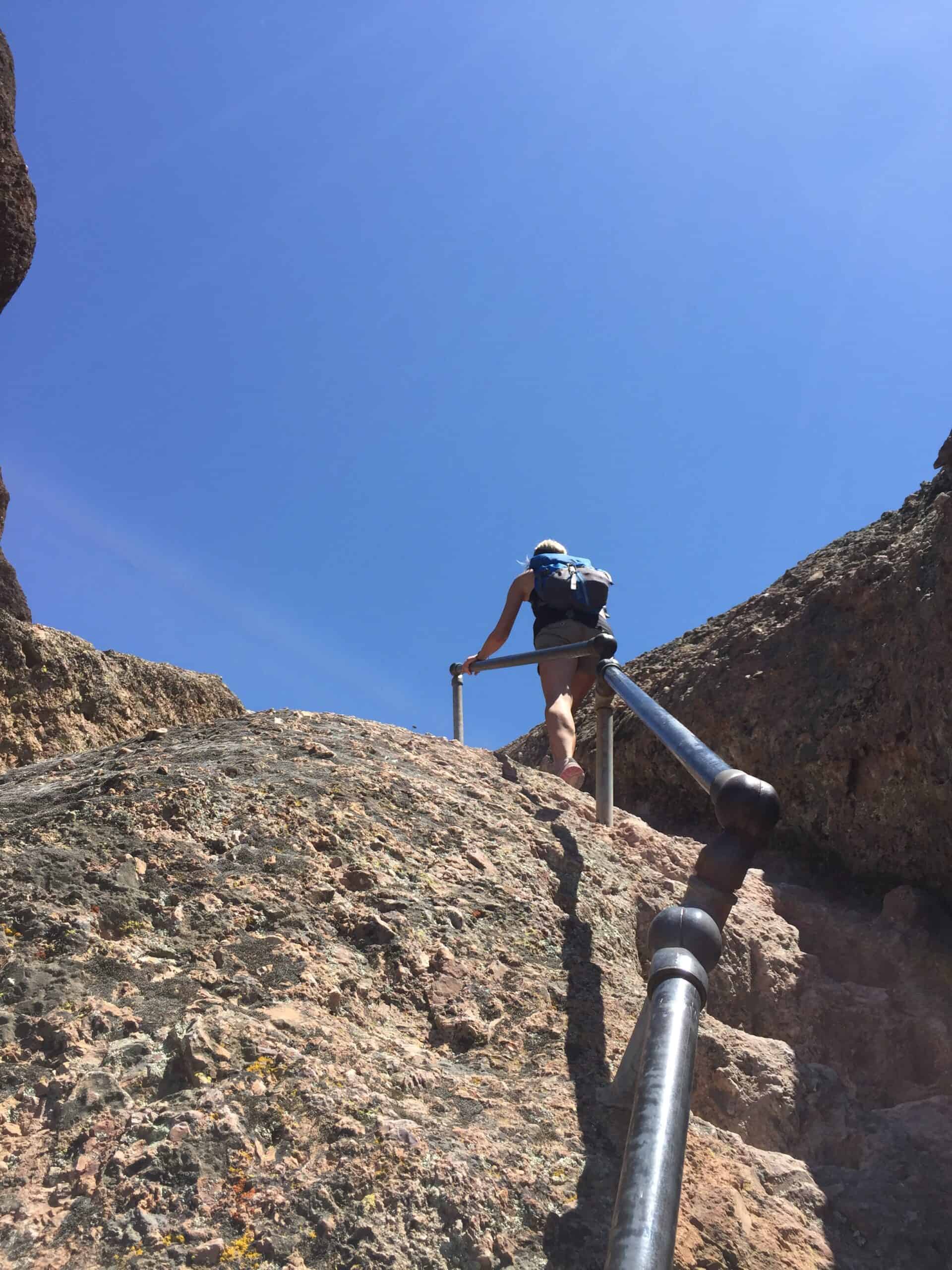 When to Visit
As mentioned before, when you visit may affect the experience you have. We went in June, and if I returned, I would likely go at the same time.
Seeing the California condors up close was (and still is) a priority for us. At Pinnacles, summer is sweltering at mid-day, so we would be miserable hiking in that weather.
However, if cool weather camping and a less crowded park are important to you, a winter, spring, or fall visit may be just the ticket.
If you visit Pinnacles National Park, you will find out why I think it is one of California's best-kept secrets.
Traveler, Adventurer, Writer, Photographer
Planning a trip? Go Backpacking recommends: