Staniel Cay, surrounded by sparkling blue waters so vibrant they're visible from space, may be the best little island in The Bahamas.
It's easily accessible from southern Florida, yet you'll feel like you're in another world.
Time slows down; days are filled with small boat excursions, swimming with pigs and sharks, and exploring this aquatic wonderland.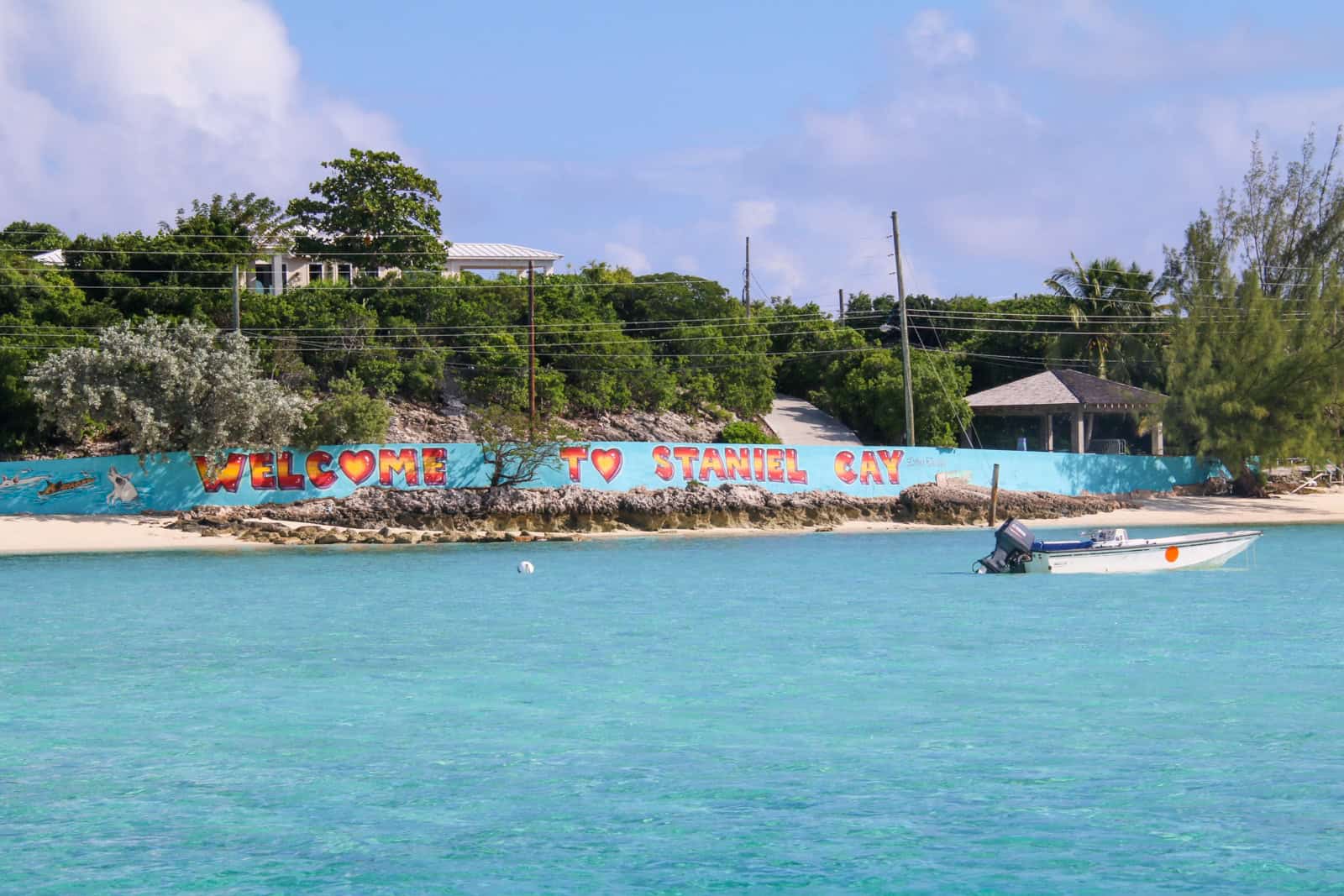 My recent visit to Staniel Cay came at the invitation of EMBRACE Resort and 3N's Exuma Vacations.
Kelly Lemons (who also goes by Kel) joined me to help take photos, and it was the island adventure I'd been daydreaming about the last few years while grounded in Central Texas.
In my Staniel Cay Travel Guide, you'll learn all about a small Caribbean paradise that you can walk around in an hour yet is frequented by world-famous celebrities like Beyonce and Taylor Swift.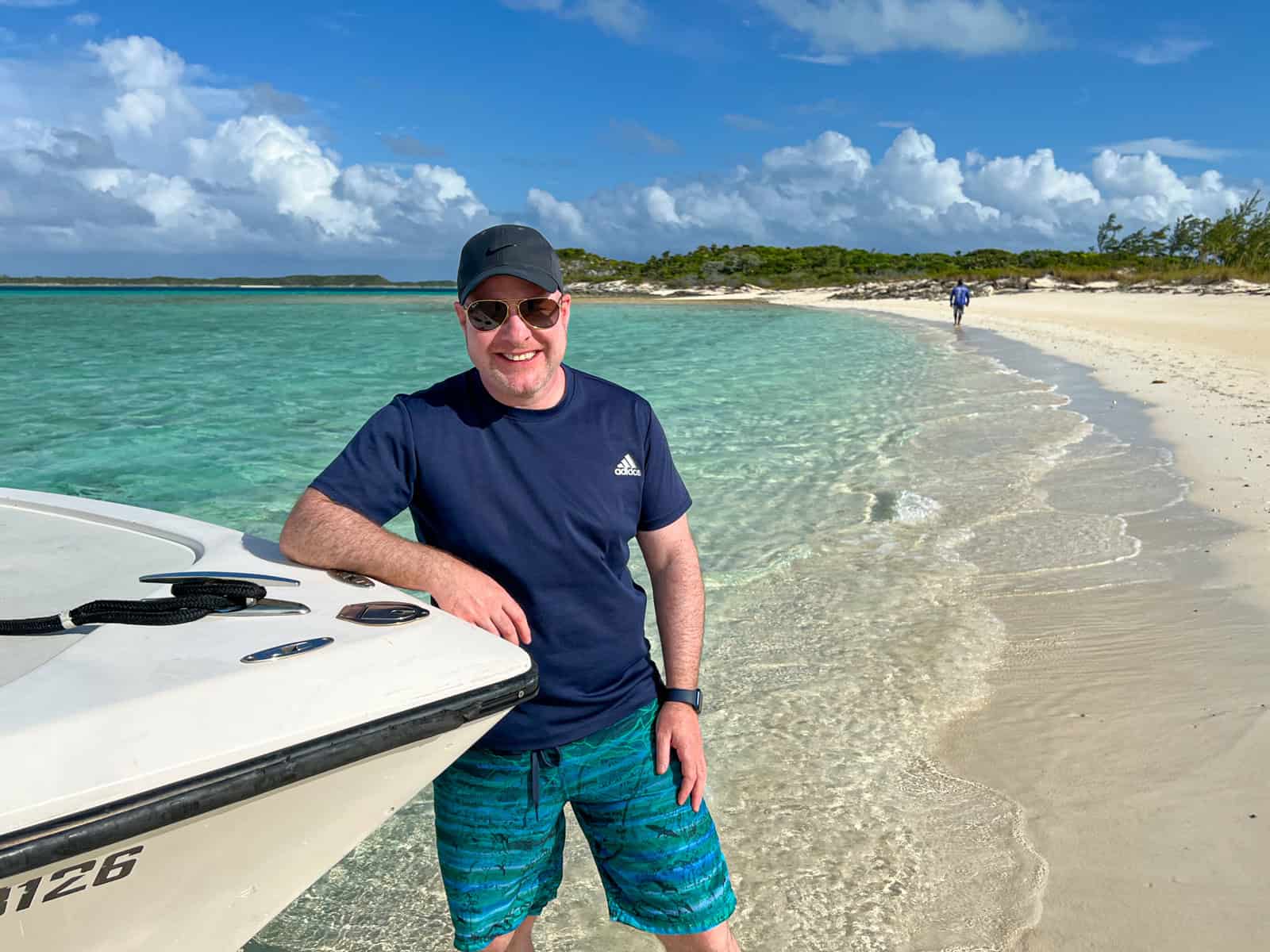 FAQ: Staniel Cay, The Bahamas
First, I'd like to address frequently asked questions, including some of my own, before I made the trip. Then, we'll move on to over a dozen fun things to do on and around Staniel Cay.
What is a Cay?
You might be wondering, "What is a cay?"
According to Wikipedia, "a cay also spelled caye or key, is a small, low-elevation, sandy island on the surface of a coral reef." They form as currents carry loose sediment over reefs.
The main difference between a cay and an island is that a cay is built on coral reefs, whereas an island consists of land.
Due to their lower elevations and softer foundations, cays are more sensitive to erosion, storms, and rising seas.
Cays come in all shapes and sizes, with many growing slowly over thousands of years. Great Exuma in The Bahamas is 37 miles long!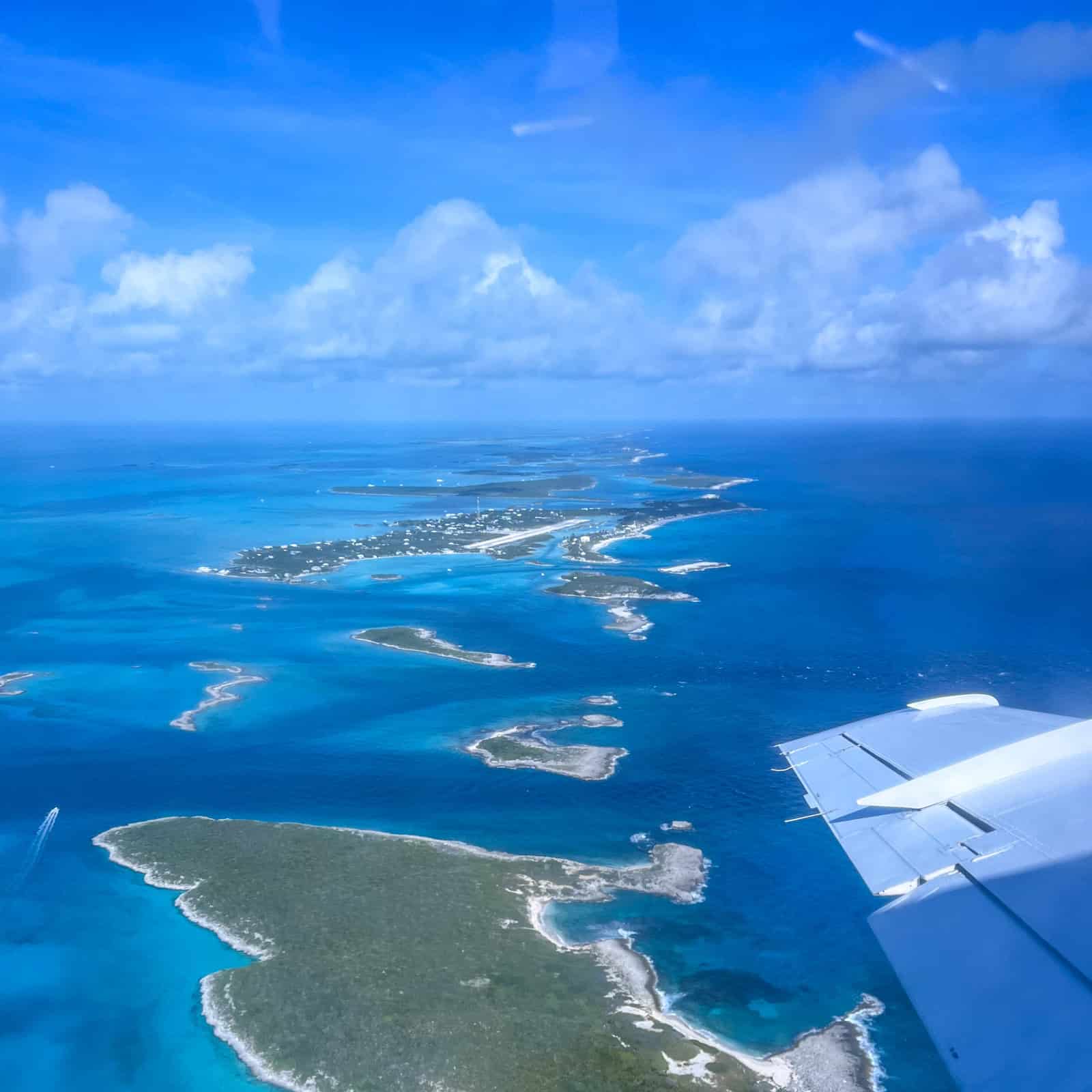 Where is Staniel Cay?
Staniel Cay is a part of The Exumas, a string of 365 islands in The Bahamas.
It's 75 miles southeast of Nassau, home to the Lynden Pindling International Airport, a popular entry point into the Caribbean nation.
From Nassau, it's a quick 20-minute flight on a prop plane to Staniel Cay.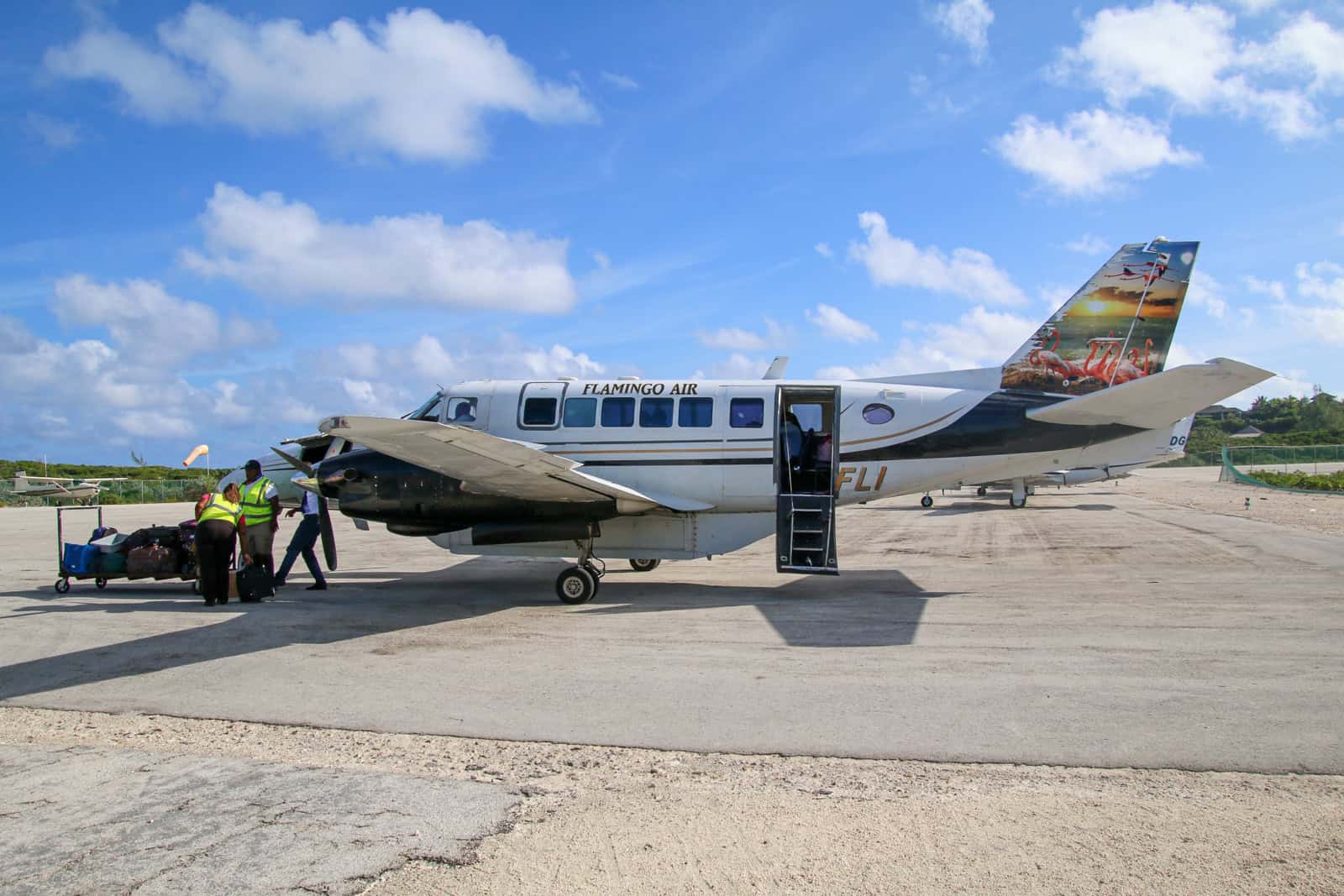 How do you get to Staniel Cay?
Nassau is accessible via nonstop flights from many cities in the United States. Quite a few discount airlines fly there, too, and taking one is the best way to keep costs down.
I used credit card points to fly for free on American Airlines nonstop from Austin, TX, to Nassau.
Other carriers that fly from the U.S. to Nassau include:
Bahamasair
Delta
Frontier
JetBlue
Silver Airways
Southwest
United
Tropic Ocean Airways (charter flights from Ft. Lauderdale, FL)
Once in Nassau, daily flights to Staniel Cay are available from Flamingo Air (which we used) and Titan Air. Each airline flies to Staniel Cay twice daily (in the morning and late afternoon).
If you prefer to fly directly from the U.S. to Staniel Cay and don't mind the added time in a small plane, that's also an option.
In that case, you'd depart from Fort Lauderdale Executive Airport for Staniel Cay with either Staniel Air or Makers Air. These carriers also fly to Staniel Cay twice a day.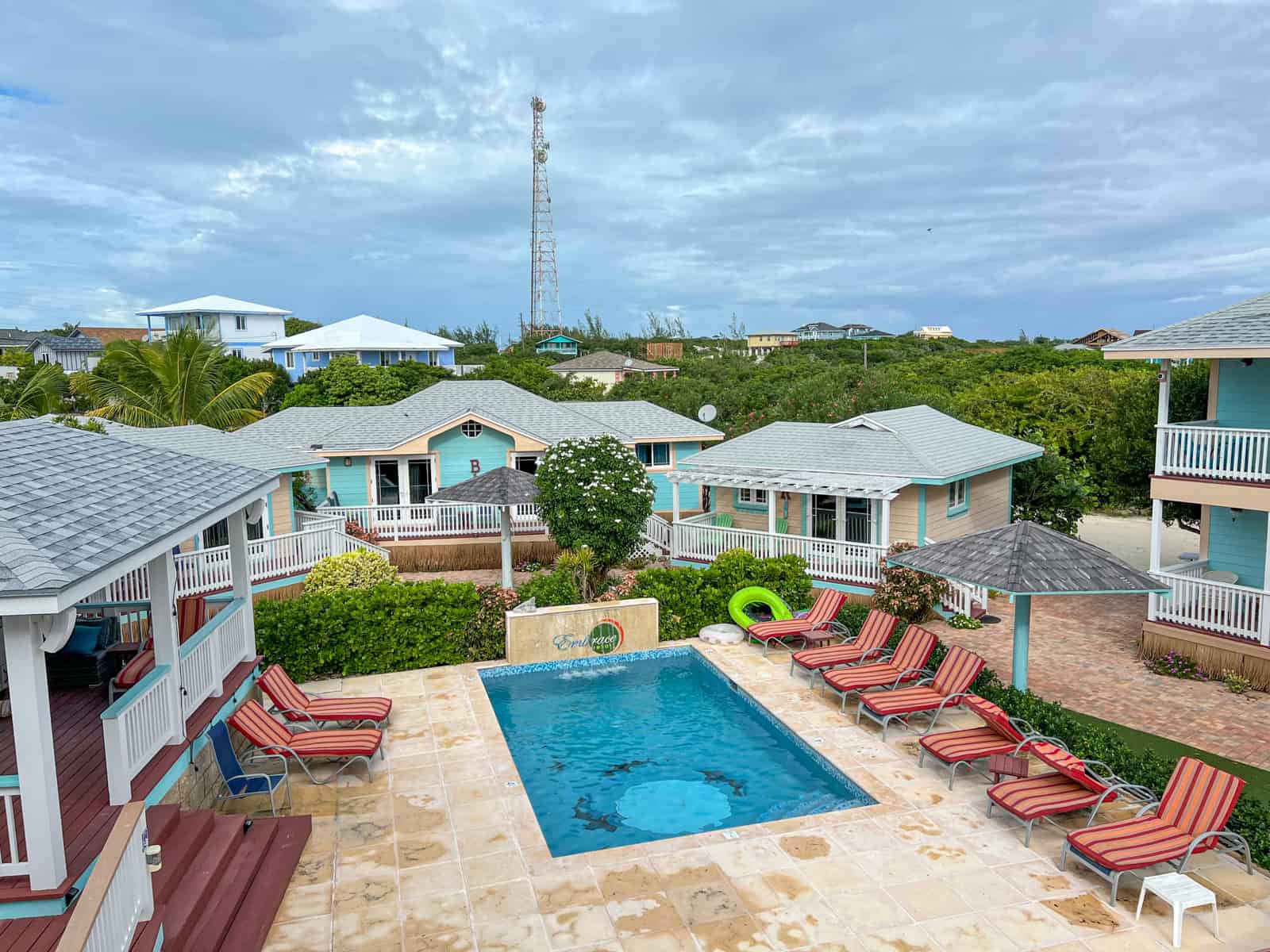 When's the best time to visit?
You can visit Staniel Cay any time of year; however, keep the following climate info in mind when planning your trip.
The air temperature averages 86 F (30 C) in the summer months (June to August) and 77 F (25 C) in the winter (December to February).
The water temperature averages 85 F (29 C) in summer and 76 F (24 C) in winter; it's suitable for swimming and snorkeling year-round.
Hurricane season runs from June 1 to November 30. If you plan a trip during this time, ensure you have travel insurance and flexibility. I visited Staniel Cay from Nov. 17-21.
The wettest month is typically October. However, I heard it had rained a lot the week before I arrived. Global warming, unfortunately, means increasingly unpredictable weather wherever we go, The Bahamas included.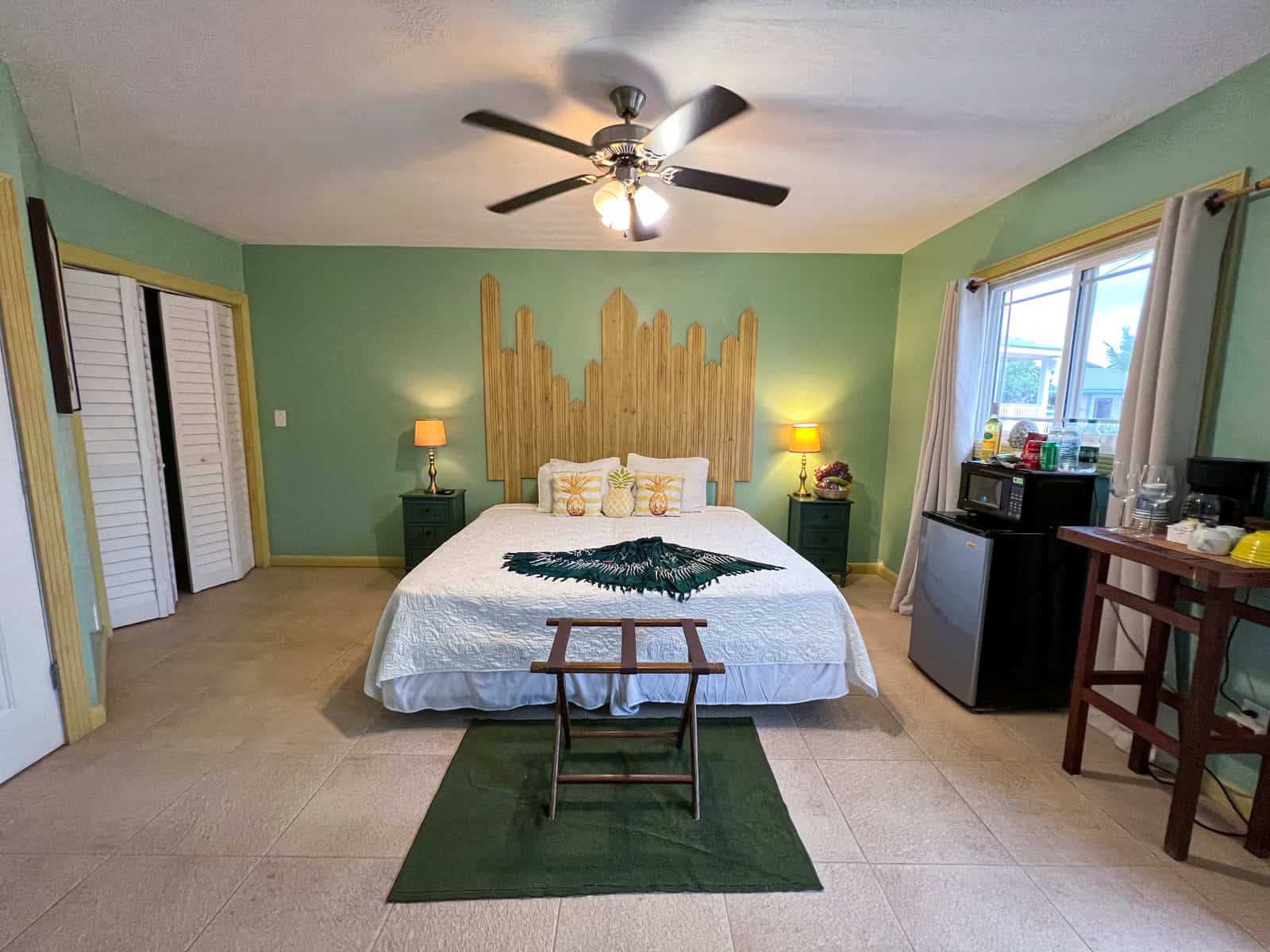 Where should you stay?
Due to its size, Staniel Cay resort options are limited. While the rich and famous often visit Staniel Cay, it's usually by yacht; the rest of us need to plan.
Rooms during the high season, including late November around Thanksgiving and December through New Year's Eve, get booked months in advance.
EMBRACE Resort
Kel and I stayed in the one-bedroom Eleuthera villa at EMBRACE Resort, a Bahamian family-owned resort near the island's airport. (All guests receive free airport transfers via golf cart.)
EMBRACE is an acronym for the seven villas at the resort, each named after an island in The Bahamas. As we learned from the theme of our room, Eleuthera is known for pineapple plantations.
They also have two and three-bedroom villas, some with full kitchens. The villas are around a pool, perfect for taking a dip after a long day of boating or island-hopping.
The women owners of EMBRACE are constantly improving their resort. They opened a cafe in 2022 and hope to offer a gift shop, gym, and conference center.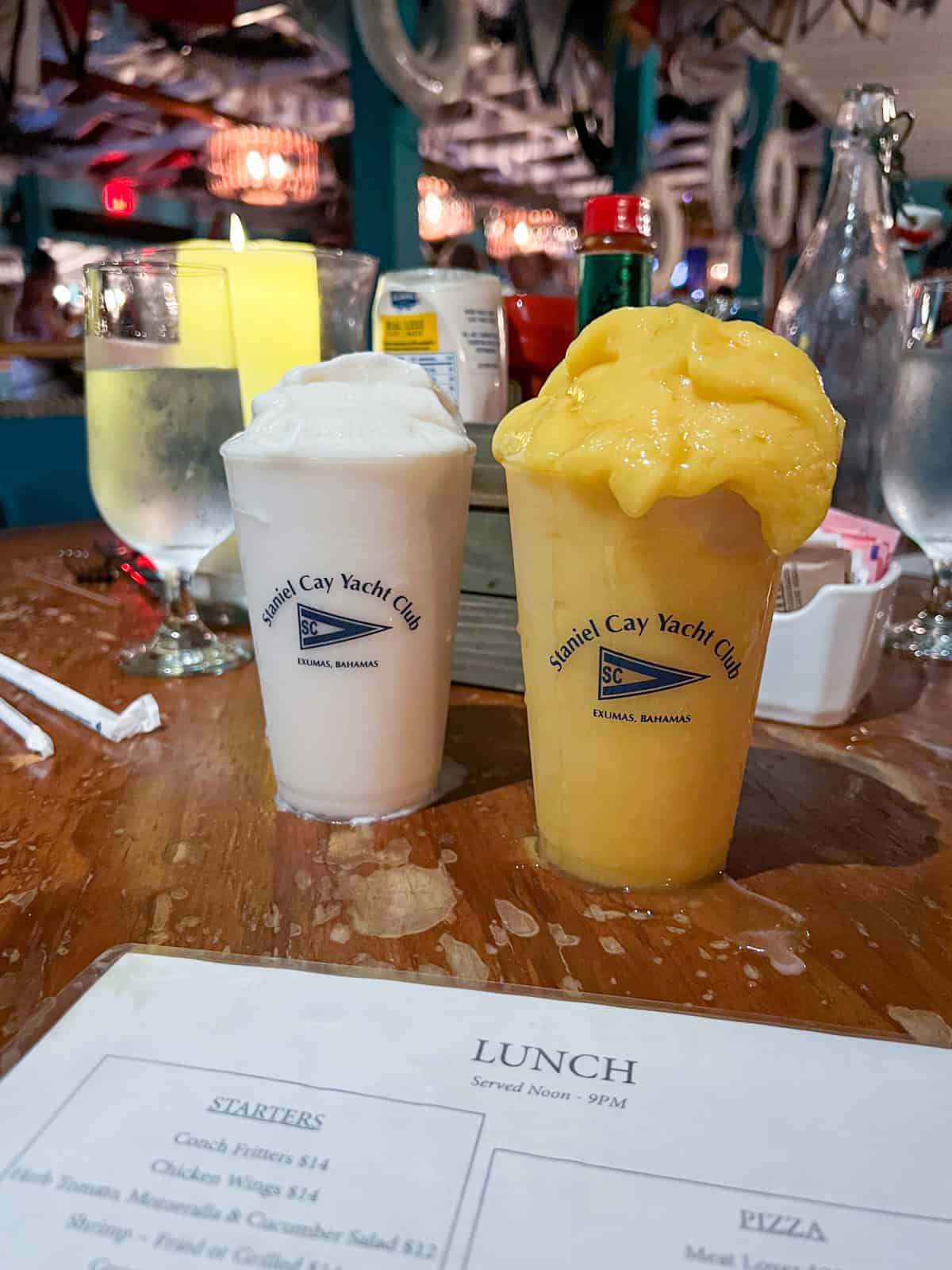 Where to eat and drink?
Staniel Cay Yacht Club
The principal place to eat and drink on the island is The Staniel Cay Yacht Club. It has a lively bar, a casual restaurant, and a fine dining space.
You can also eat outdoors on a small deck overlooking the marina.
The bar is open daily from 10 a.m. to midnight and offers delicious classic and signature Caribbean cocktails.
The pina colada was my favorite, followed by the Miami Vice, a mashup of a pina colada and strawberry daiquiri.
We went to the Yacht Club for dinner every night; it's the island's social center.
Locals, daytrippers, yachties, and overnight visitors on Staniel Cay mix and mingle at the Yacht Club's bar. It's a super casual, unpretentious place, so celebrities stop by.
Miami-based reggaeton singer Pitbull has been a fan for years and featured Staniel Cay and The Exumas in his "Timber" music video.
Watch the video above for cameos by the Yacht Club, swimming pigs, and local sharks.
The casual restaurant is open for breakfast and lunch from noon to 9 p.m. (essentially dinner).
During our stay, Kel and I sampled much of the menu, including conch fritters (a local favorite), lobster and crab cake salads, cheeseburgers, club sandwiches, and fish tacos.
There are limited vegetarian and gluten-free options, including salads and plant-based burgers.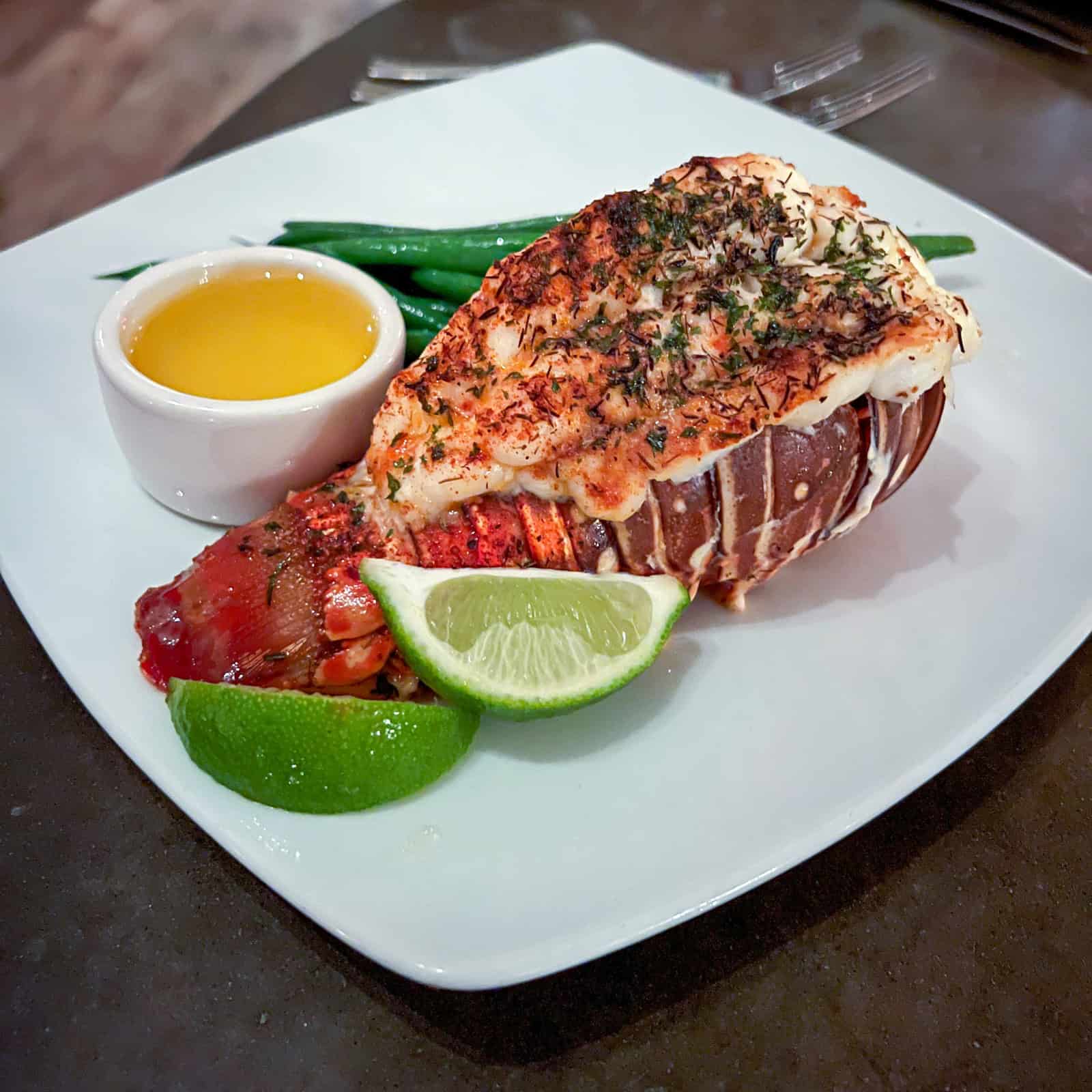 The Sea Level dining room is the most upscale option for dining on Staniel Cay.
You can eat breakfast and lunch without a reservation; dinner in Sea Level requires a same-day reservation.
There are two nightly seatings at 6 p.m. and 8 p.m. for a four-course prix fixe menu. You'll have a choice of entree.
When Kel and I dined there on our last night, she ordered the stuffed lobster while I devoured baby back ribs.
A word of warning. The Staniel Cay Yacht Club isn't cheap eats; the $10-$14 cocktails and $12-$28 dishes can quickly add up to a $100 dinner tab for two.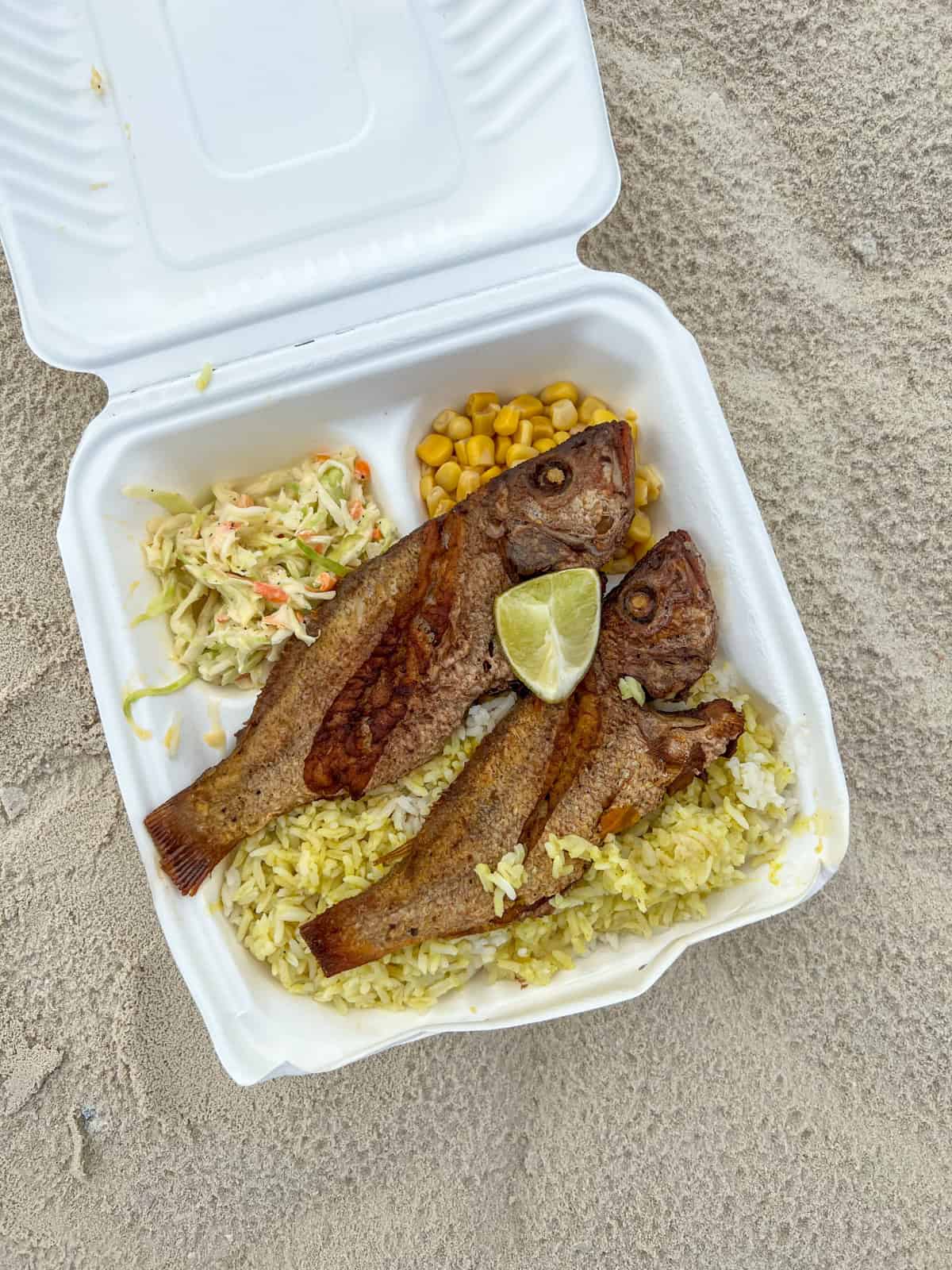 Big Dog
Big Dog is the only other restaurant on Staniel Cay, and it caters mainly to locals. I had a takeout lunch from Big Dog twice during my stay.
The first lunch was fried fish with rice, coleslaw, and corn, which I ate on a sand bar during a boat tour. The second meal was oxtail with flavorful rice and beans.
Grocery Stores
There are a few small grocery stores on Staniel Cay where you can pick up fresh fruits, vegetables, and cooking essentials.
They're helpful if you stay in accommodation with a kitchen and can self-cater some of your meals.
EMBRACE Resort (in the Future)
Thankfully, the owners of EMBRACE Resort saw the need for additional food spots. They opened a cafe in 2022 and intend to open a full-service restaurant.
On an island as small as Staniel Cay, this is more challenging than you can imagine, as there are limited workers and places for those workers to live.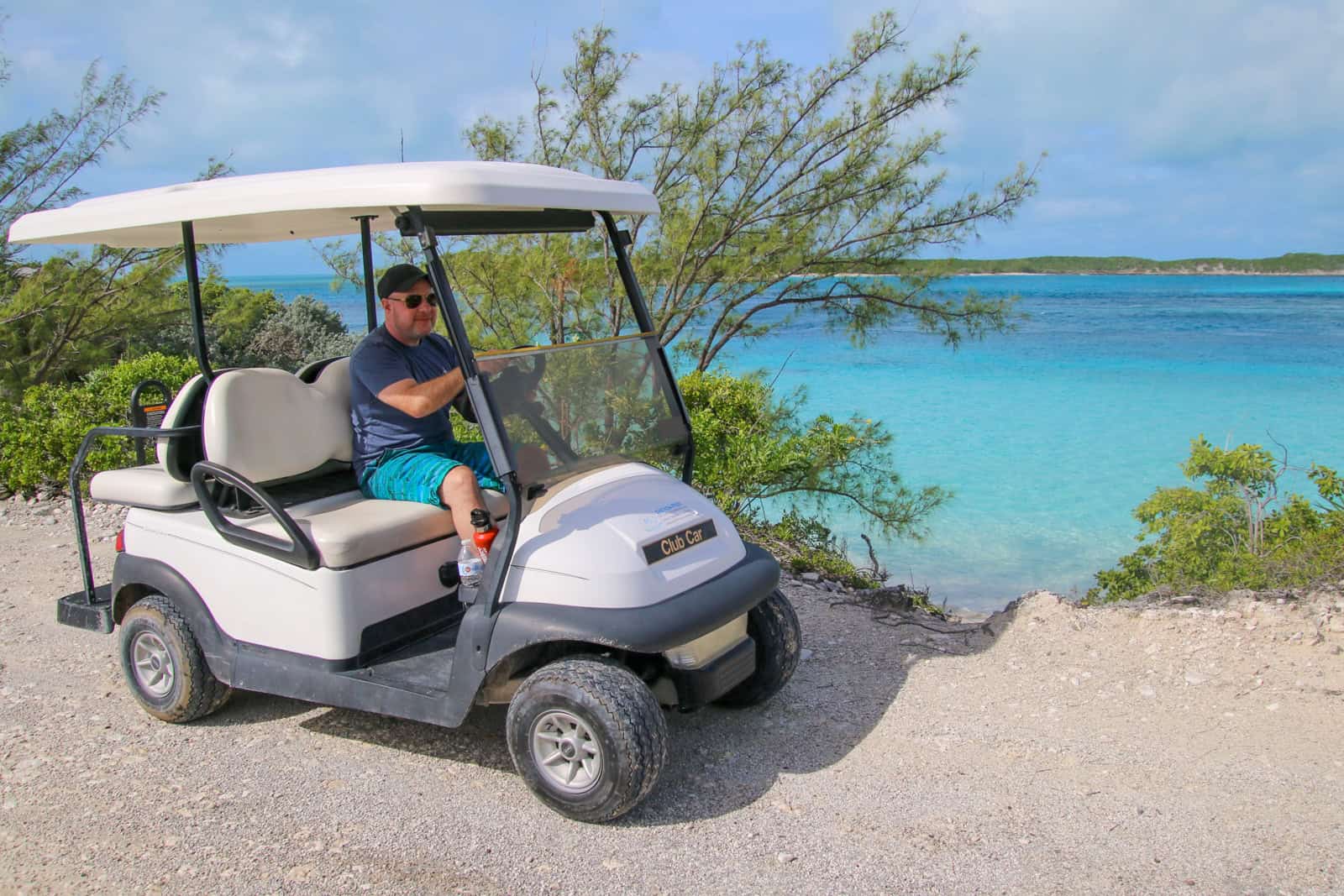 How do you get around the island?
I have a fascination with driving electric golf carts on small Caribbean islands.
I first encountered this mode of transport on Caye Caulker in Belize, though it wasn't until I visited the Colombian islands of San Andres and Providencia that I gave it a go myself.
My stay at EMBRACE Resort included a golf cart rental so Kel and I could explore the island.
Our first two days were spent on boats, so we mainly used them to drive back and forth to dinner at the Yacht Club.
We drove to Pirate Beach on the island's north end on our fourth day. On our fifth and final day, we took a quick tour of south Staniel Cay, primarily home to full-time residents and rental properties.
13 Things To Do in Staniel Cay
Okay, so we've covered some logistics for getting to Staniel Cay. Now, it's time to dive into the crystal-clear waters and see what we find.
Staniel Cay is an excellent base for exploring the nearby islands of The Exumas. I spent two days on a boat, seeing as much as possible.
Yet, one of the most popular things to do in The Bahamas and the Caribbean is a five-minute boat ride away.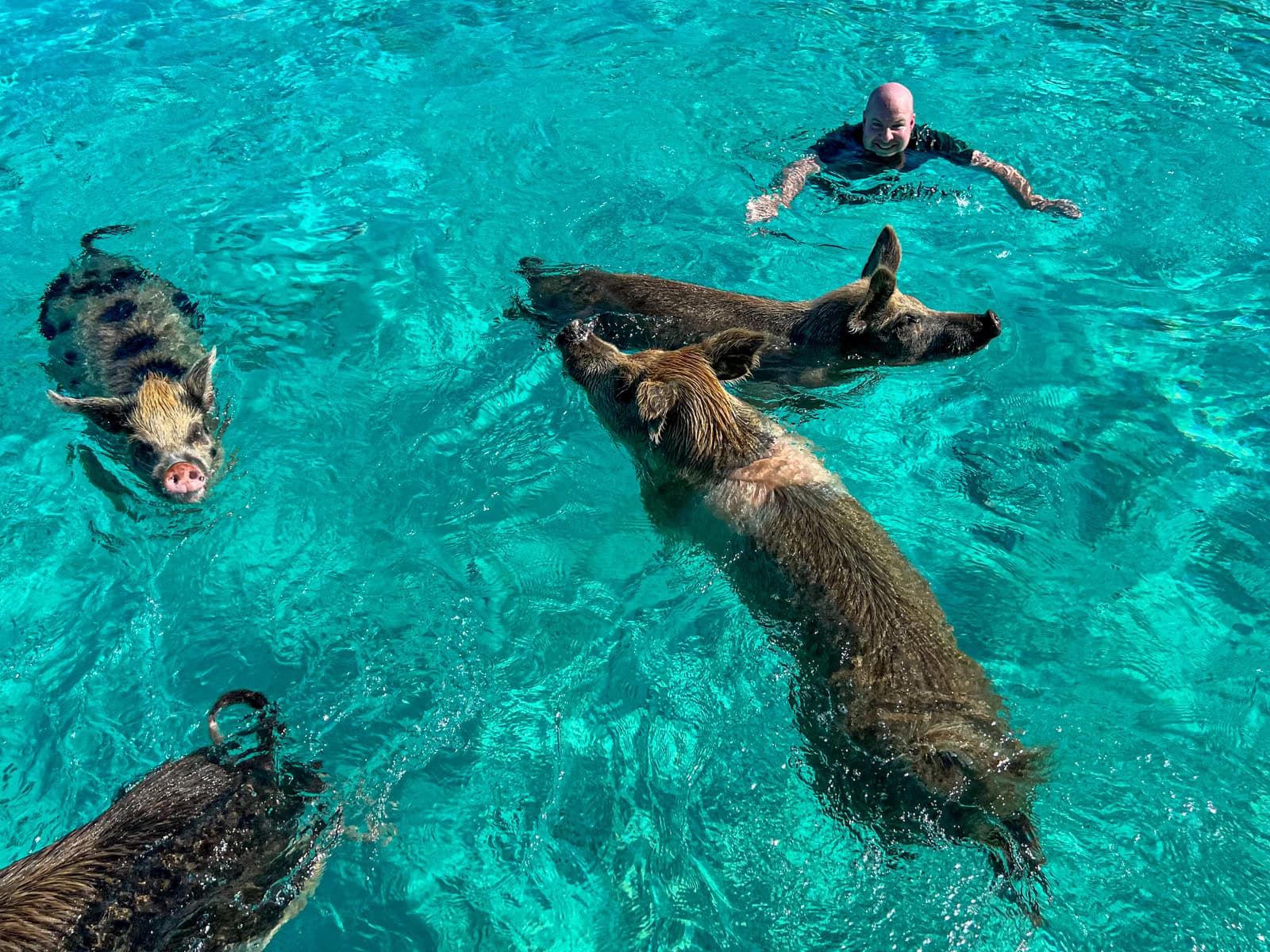 Swimming with Pigs Tour
I'm talking about swimming with pigs, an experience I'd seen on Instagram over the years but never looked into deeply.
Well, I'm back from The Bahamas to say swimming with pigs is as silly as it sounds and surprisingly fun!
It's fascinating to watch pigs run off the beach on Big Major Cay, an uninhabited island, and swim to your boat. Of course, they've learned they're fed for their effort – white bread, specifically.
As they sniffle and snort with their snouts pointed up out of the water, you'll be in awe at the ability of these hefty farm animals to stay afloat.
You can pet some smaller ones on land, including baby piglets that must be bottle-fed.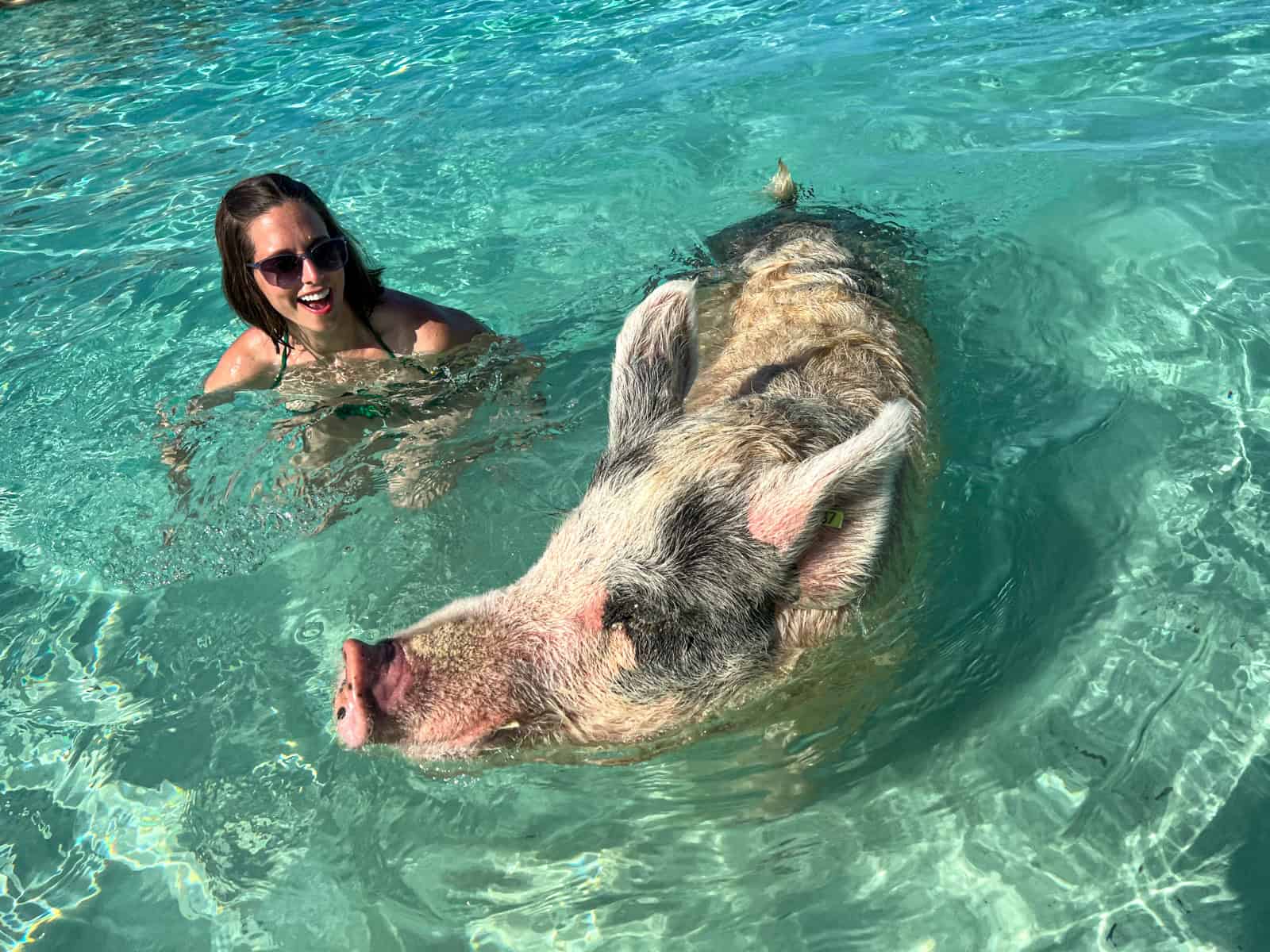 Before accepting the invitation by 3N's Exuma Vacations to go on their swimming with pigs tour, I made sure to ask my contact, Natajia (Operations Manager), many questions.
Her answers set my mind at ease, and once I was there on tour, I felt even more comfortable with it.
I'm more sensitive to animal encounters in my travels than I used to be and wanted to ensure the pigs were well-cared for and ethically treated before I wrote about them.
A percentage of tour revenue is invested in caring for the pigs, including monthly visits by a veterinarian, locals keeping an eye on tourists while they visit, and ensuring the pigs have plenty of food and fresh water.
The pigs are also covered in coconut oil to prevent sunburn during the day.
I had the opportunity to swim with the pigs twice. The first visit was at sunset, and we had the beach to ourselves. This was ideal since it was just me, Kel, Dani, and our boat captain.
I also appreciated our visit the following morning, when the sun shone bright and the water was translucent.
The downside of visiting in the morning or early afternoon is that the additional boats and people on Pig Beach compete for the pigs' attention.
Hint: The pigs have no loyalty and will go to whoever throws the bread in the water!
You can't feed the pigs on the beach because ingesting the sand is dangerous and potentially fatal.
Visiting the pigs is just one stop of many on a swimming with pigs tour. Keep reading to see what else we did.
Book a Tour

Swimming Pigs Tour from Nassau – Perfect for travelers based in Nassau who are only interested in visiting as a day trip.

Swimming Pigs Tour from Staniel Cay – The same as the tour from Nassau, minus the flights. Choose this option if you're staying on Staniel Cay or nearby.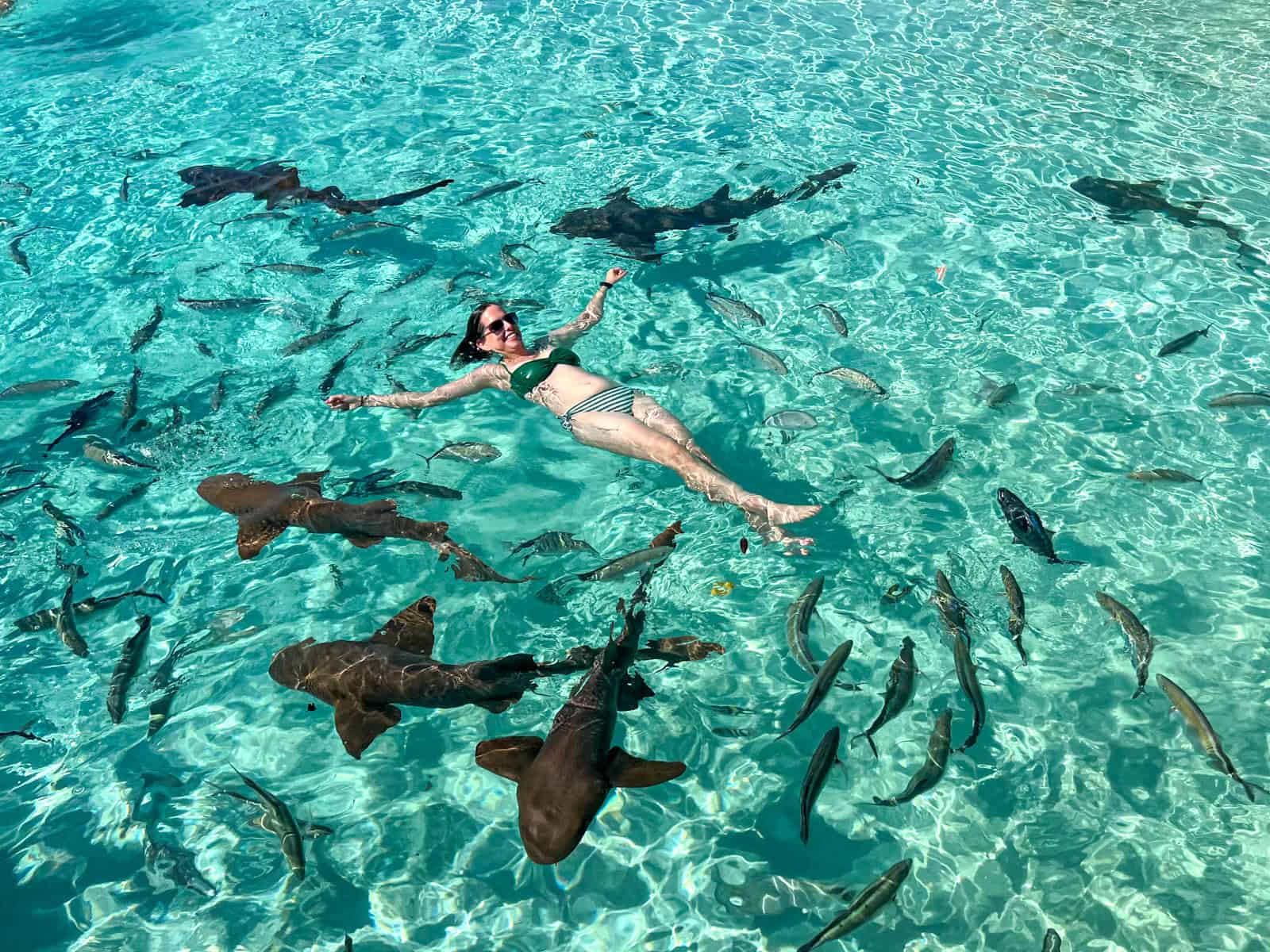 Swim with Nurse Sharks at Compass Cay
Our boat tour's second most exciting stop was the Compass Cay marina, north of Staniel Cay. This is one of the best places in The Bahamas to stand or swim with nurse sharks in shallow waters.
Swimming with sharks sounds scary, I know. However, nurse sharks are docile bottom feeders.
As evidenced by parents with their babies and young children in these waters, they're not dangerous.
My first experience swimming with nurse sharks was in Belize. Once I was observing them in the water, I saw nothing to fear.
However, I can't say the same for cage diving with great white sharks in South Africa, as that was truly scary.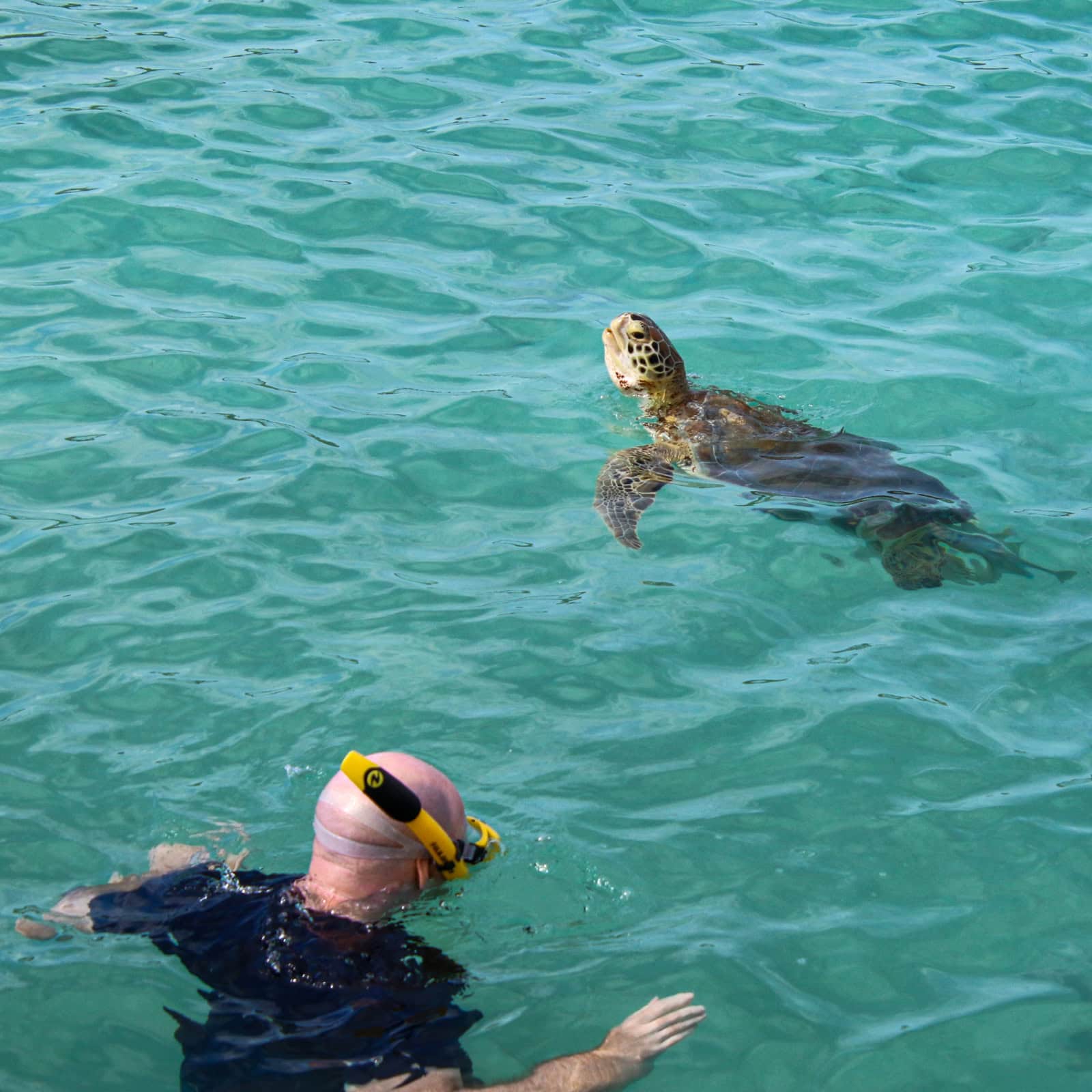 Swim with Green Turtles
An hour south of beautiful Staniel Cay by boat is Little Farmer's Cay, where fishers clean conch.
The process and debris attract green sea turtles, which you can snorkel within the protected waters of the small marina.
Despite their slow speed and peaceful nature, I tried to keep my distance from the ones we saw.
They're far more graceful to watch in the water than I felt flopping around in my snorkel and fins.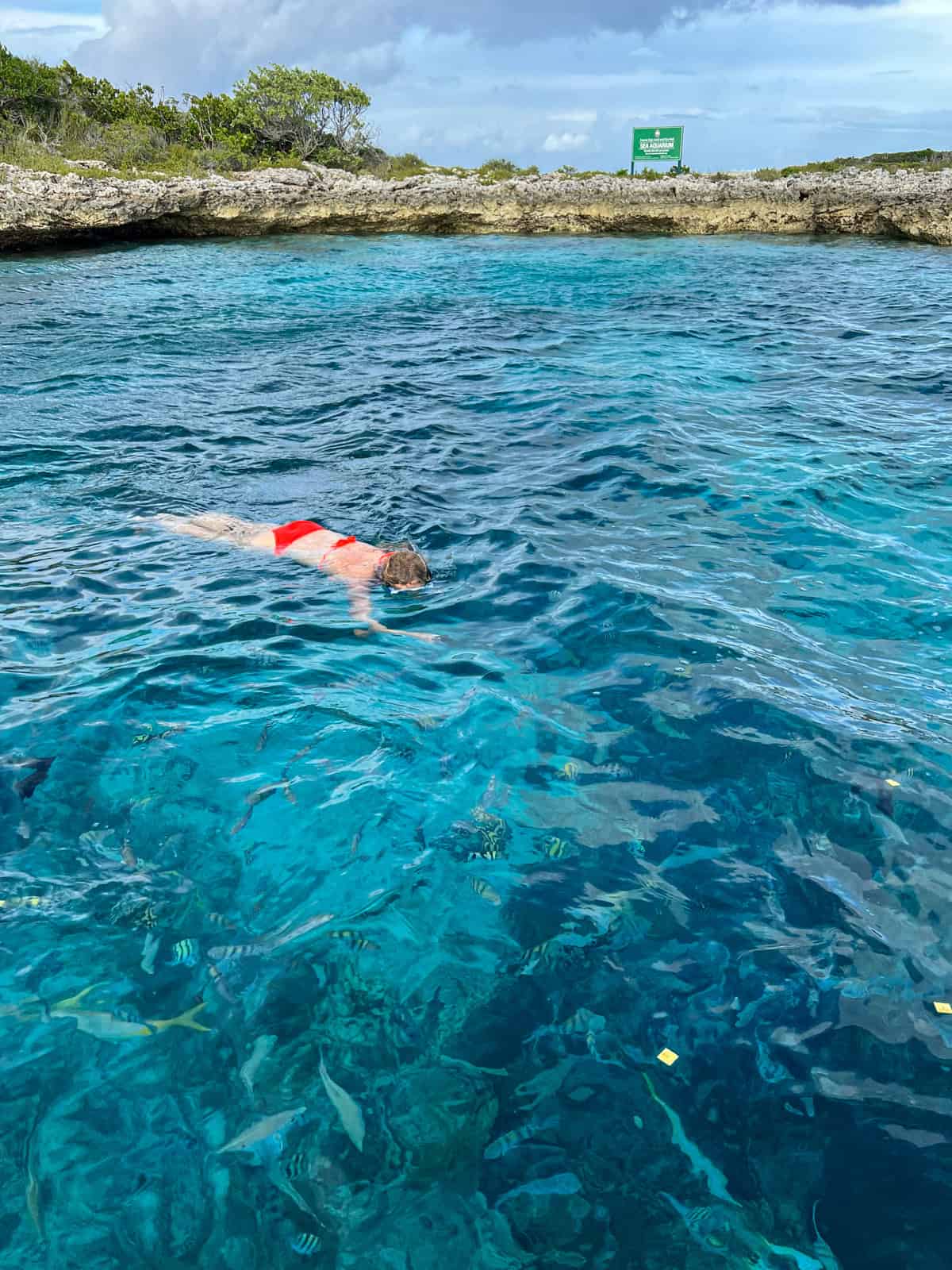 Snorkeling at the Sea Aquarium
Speaking of snorkeling, I had one of my best experiences in years at the Sea Aquarium, a small part of the much larger marine reserve managed by the Exuma Cays Land and Sea Park.
The Exuma Cays Land and Sea Park was established in 1958 and covers 176 square miles from the north of Shroud Cays to Bells Cay. It was the world's first land and sea park.
You can jump off your boat in a designated spot and snorkel in a natural aquarium with living coral and colorful tropical fish.
Your boat captain may throw some crackers into the water to help attract the fish into one area, though it's probably unnecessary.
Scuba diving is also available in the park.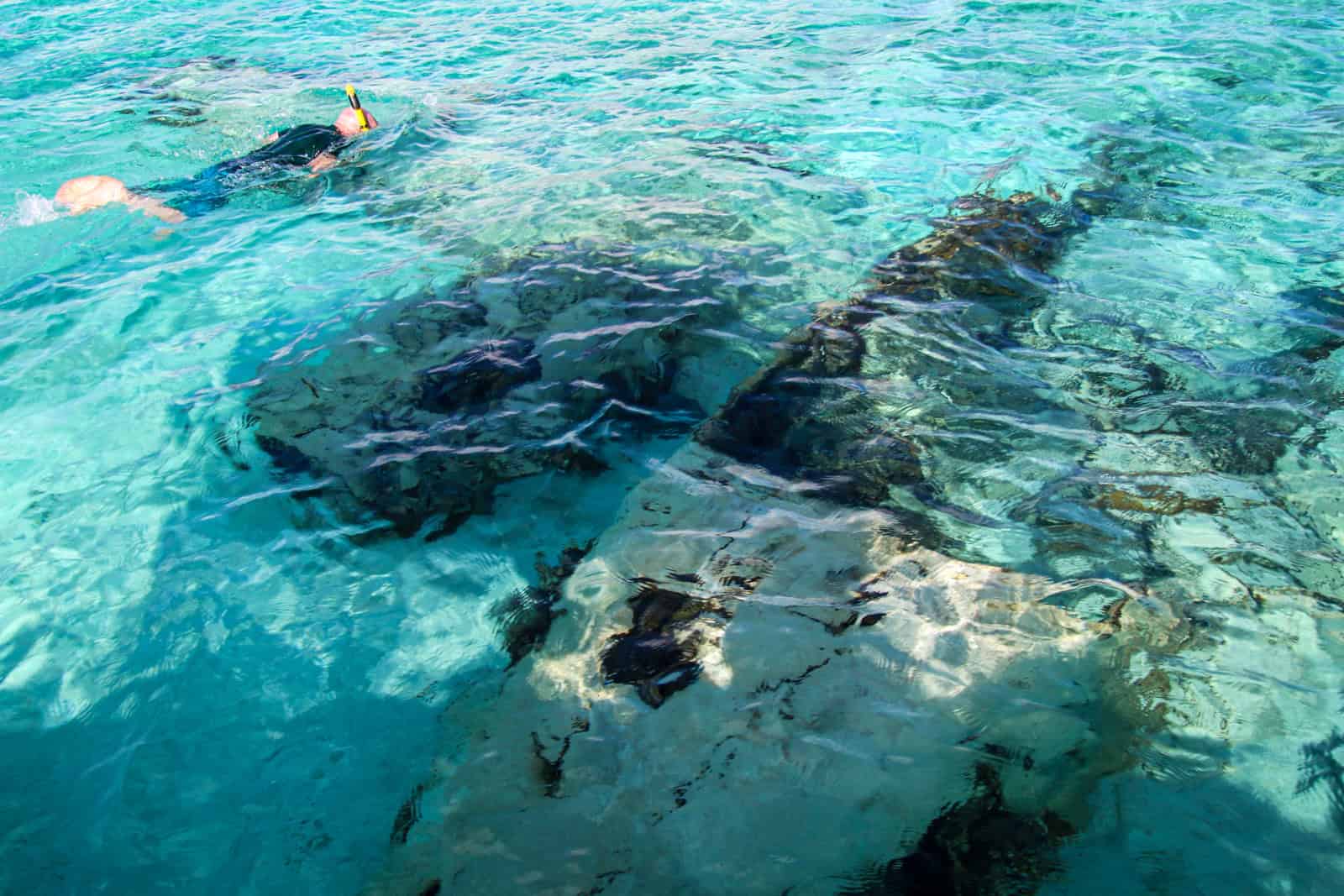 Snorkel at the Sunken Plane
Another neat snorkeling experience came just off Staniel Cay. Rumors abound on social media that the plane belonged to Pablo Escobar, the notorious Colombian narcotrafficker; however, the real story is less scandalous.
It was simply a private plane that crashed; the pilot survived. It only takes a few minutes to snorkel around the entire wreck, which you can get a feel for even from your boat.
When I went swimming, I saw some small fish hiding in the hollowed-out fuselage. Also interesting was how marine life had begun to reclaim the wreck, slowly turning it into an artificial reef.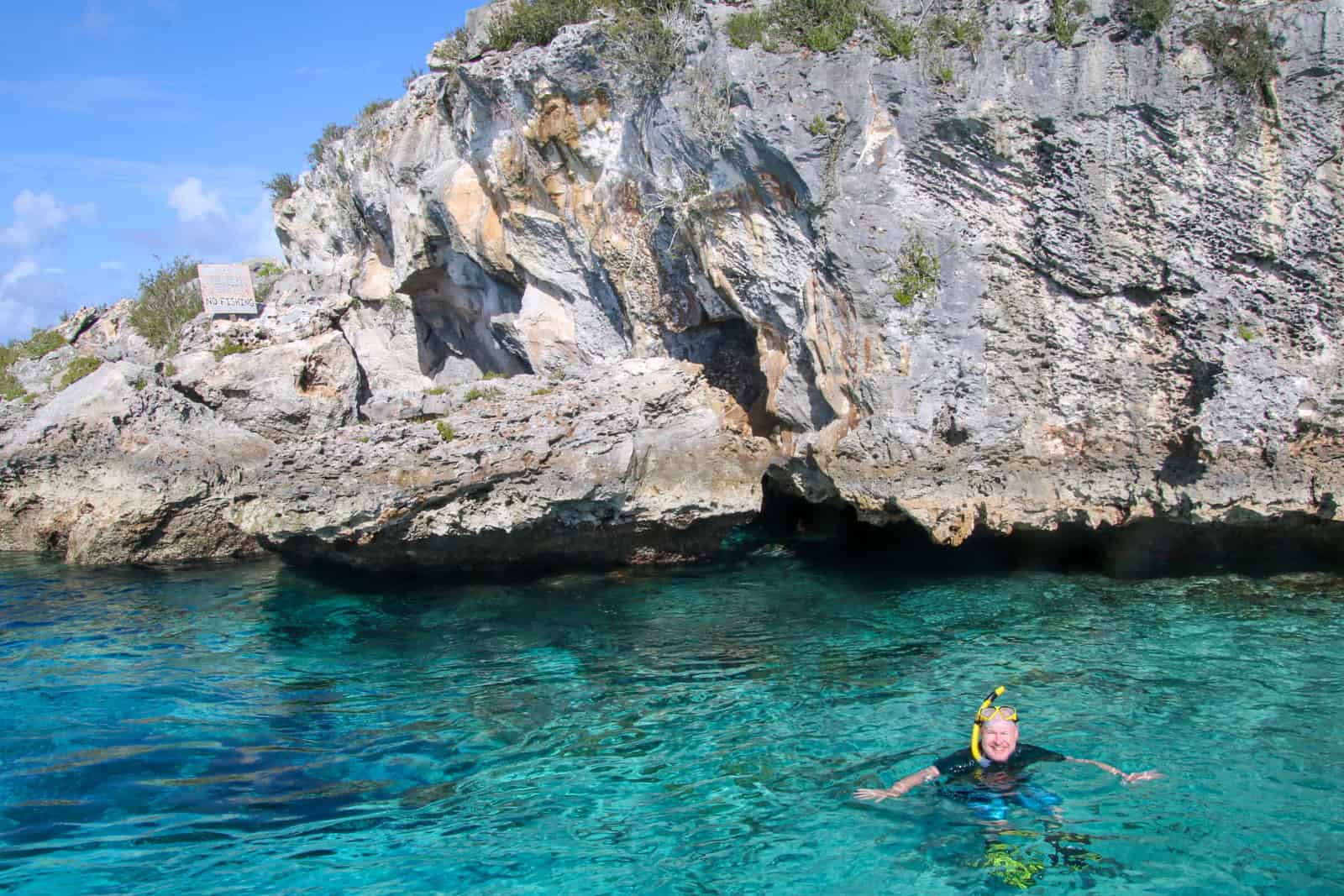 Thunderball Grotto
A few minutes west of Staniel Cay by boat is an underwater cave called Thunderball Grotto.
The cave was used to film two James Bond movies with Sean Connery as 007: "Thunderball" in 1965 and "Never Say Never" in 1983.
Other movies shot here include "Splash" with Tom Hanks (which I loved as a kid) and "Into the Blue" with Paul Walker.
It looks like an impenetrable rock; however, there are a few hidden entrances.
Your boat captain will time your visit with low tide, as the current passing through the cavern isn't as strong, making it easier to swim inside.
A snorkel and fins are used for safety, making it much easier to move around.
If you have a waterproof camera case or Go Pro, this is an excellent time to use them. I didn't have either, so I left my iPhone on the boat.
You can snorkel around and look at the fish and coral inside the cave. It's essential to pay attention to where you are at all times.
As I was swimming toward the exit, I was more focused on the fish than where I was relative to the low-hanging rock walls. I almost hit my head as the current carried me out.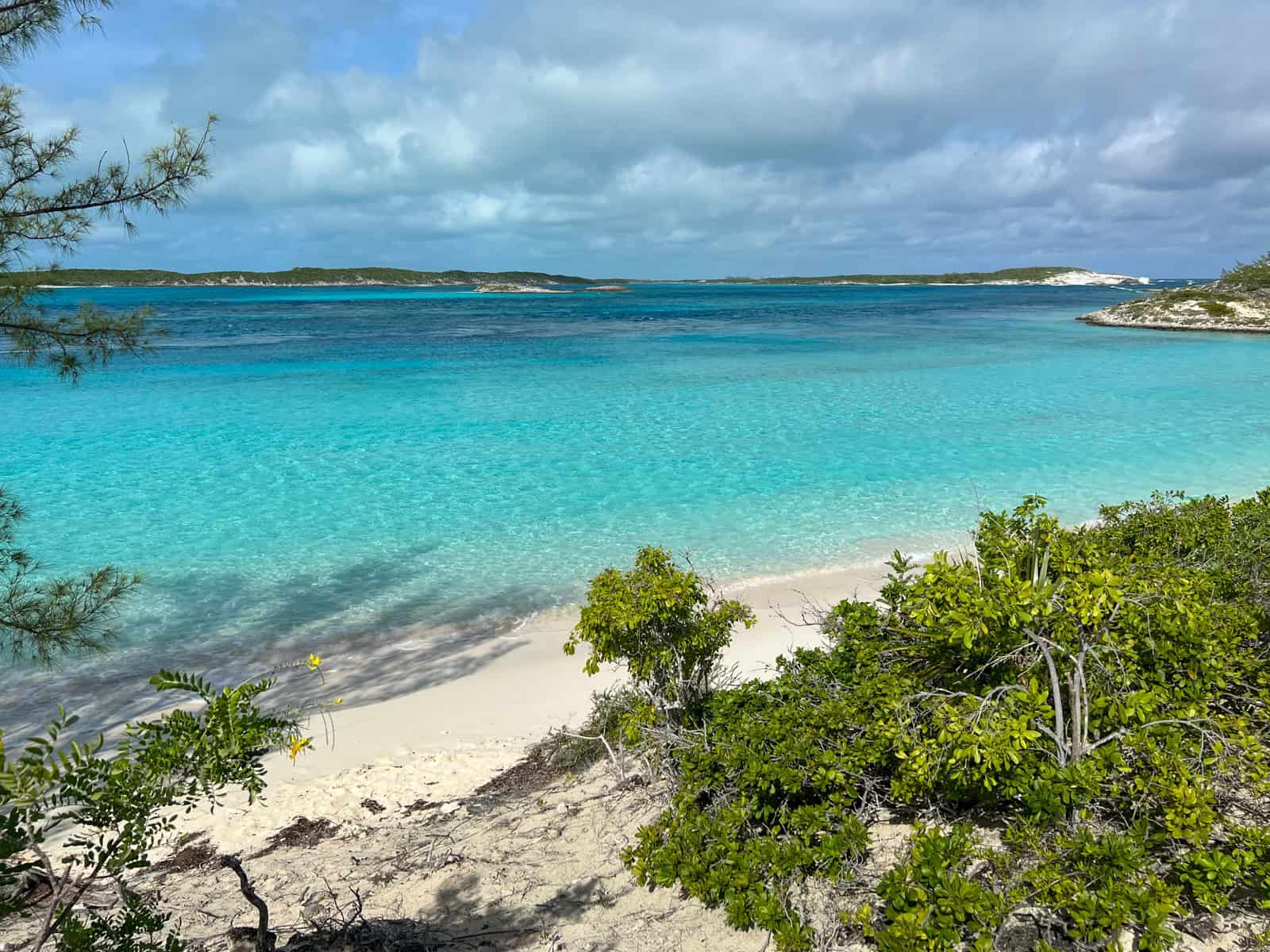 Pirate Beach
So far, I've been sharing the great places you'll see on a swimming with pigs tour; however, they've all required you to leave Staniel Cay, even if for only a few minutes.
At the northernmost tip of Staniel Cay, Pirate Beach is easily accessible and downright gorgeous; from EMBRACE Resort, it's a five-minute drive by golf cart or a 20-minute walk.
When Kel and I stopped by on our third morning, we had the beach to ourselves. It was incredible; I felt so lucky we had these pretty waters to ourselves.
We took some photos and played in the water. I saw one tour boat pass in the distance, and a yellow prop plane flew over us on approach to the Staniel Cay Airport.
Pirate Beach faces west, so I imagine it'd be an excellent spot to have a beer and watch the sunset.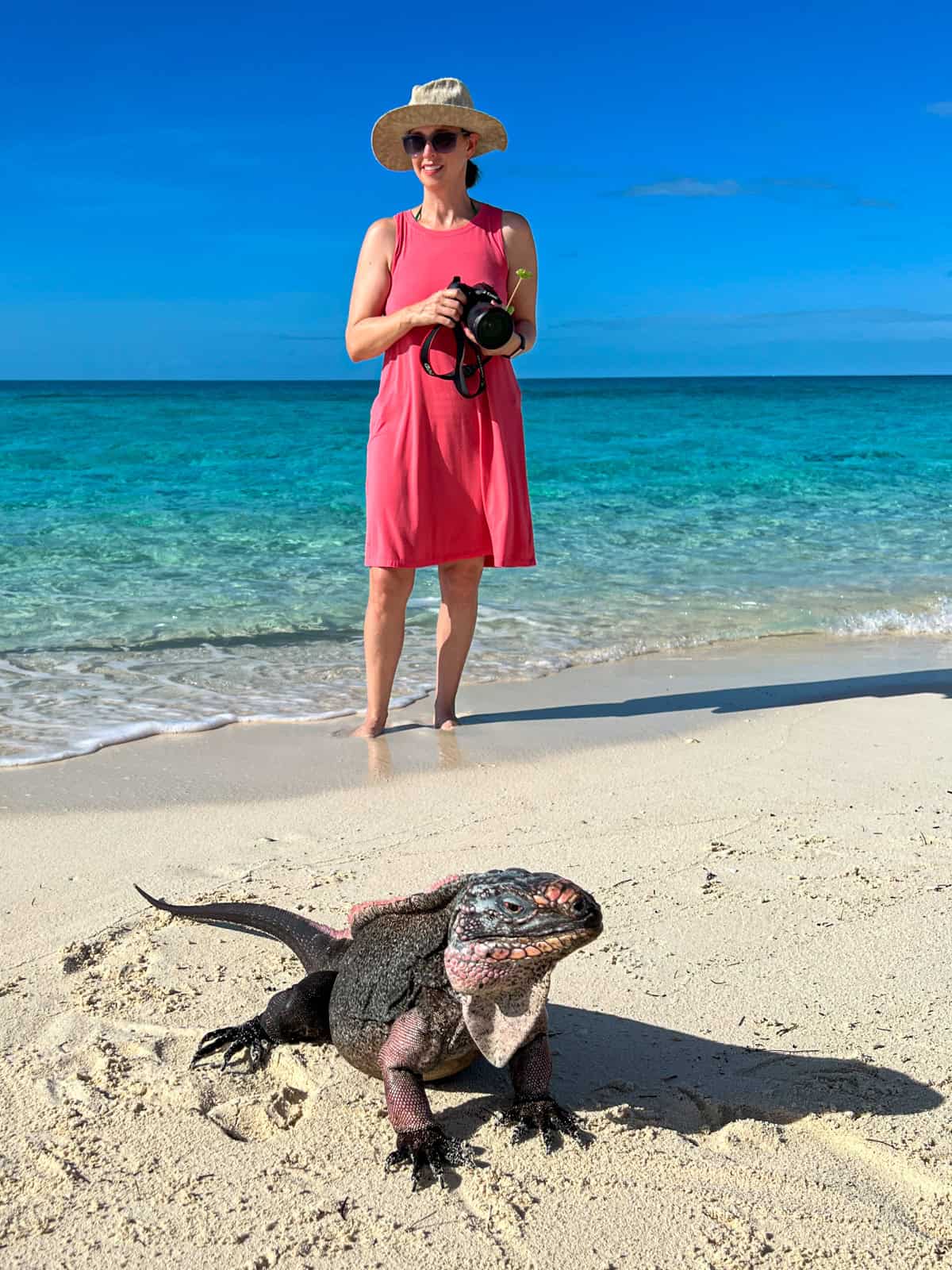 Rock Iguana Beach
Beyond the water-based wildlife encounters I've shared thus far, there's a rare and vulnerable land reptile I'd like you to meet.
The northern Bahamian rock iguana exists solely in The Exumas and Andros Islands.
They're herbivores that can live up to 40 years and grow to four feet long, though the ones we saw ranged from one to three feet long.
The number of these ancient reptiles in the wild has dwindled over the last 80 years to less than 5,000.
A 10-minute boat ride south of Staniel Cay will bring you to Rock Iguana Beach on Bitter Guana Cay, where you can walk among them.
During our visit, it was clear they were accustomed to humans. A few began walking toward us as soon as they saw (or heard) our boat approaching the shore.
And indeed, our boat captain gave us cabbage leaves to rip up and place on the tip of wooden skewers so we could let them nibble from a safe distance.
Unlike the marine iguanas I encountered in the Galapagos Islands, the Bahamian rock iguanas do not enter the water.
Whale Beach
While talking about beautiful beaches, I must mention Whale Beach, adjacent to the Exuma Cays Land and Sea Park Visitor Center on Shroud Cays.
We stopped here briefly before snorkeling at the Sea Aquarium to see the skeleton of a 52-foot sperm whale.
According to the sign, it died in 1995 from ingesting too much garbage, a sad reminder that we must do more to conserve big and small sea life.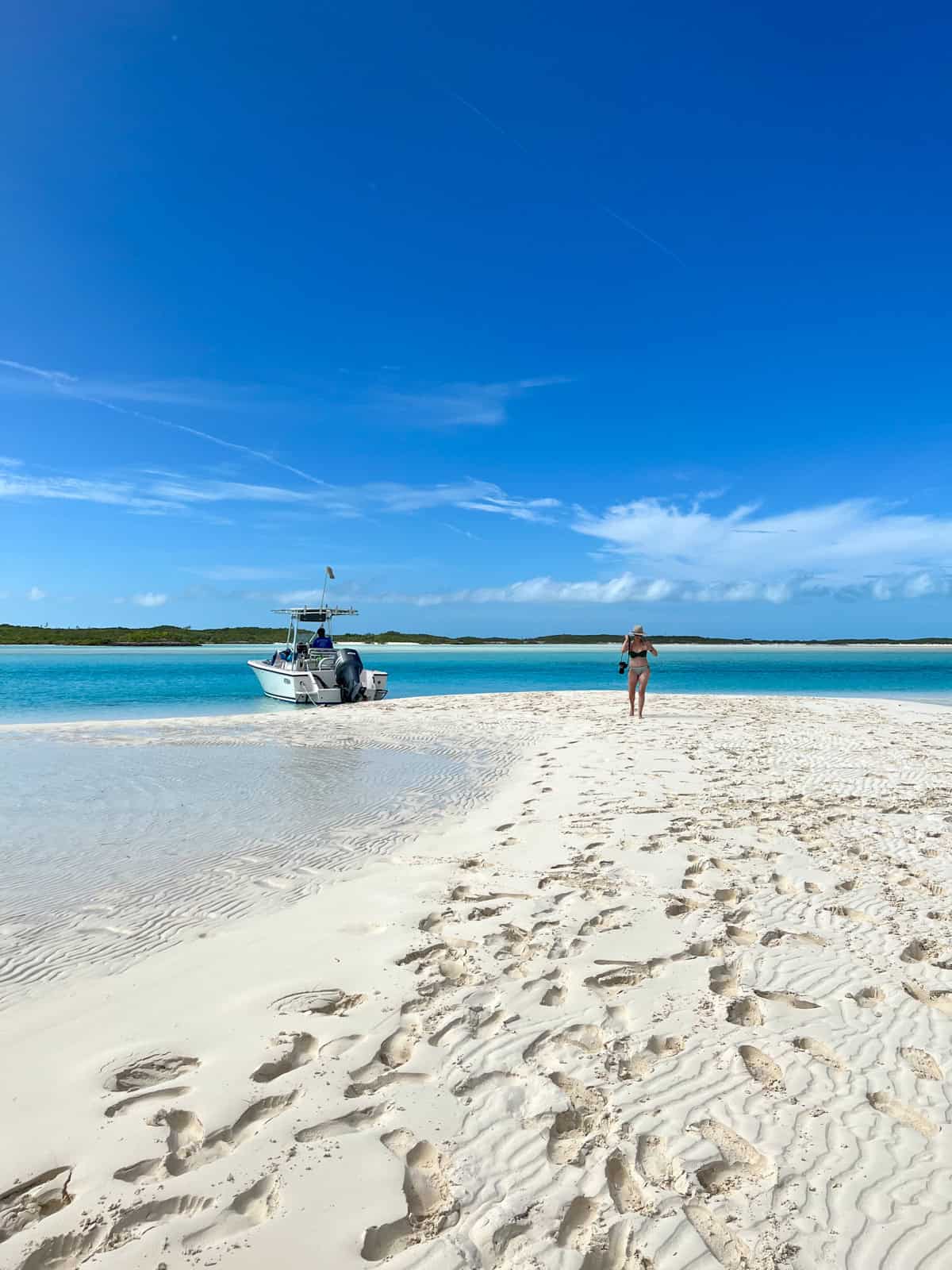 Walk on Sand Bars
Our boat tours included opportunities to get off at sand bars during low tide. These soft, squishy spits of sand offer terrific photo opportunities. If you're a Pitbull fan, turn on "Timber" and start dancing.
We ate a packed lunch from Big Dog restaurant on a sand bar on our first day.
However, I found it difficult to pick apart my fried fish while sitting on my butt, trying not to get sand in the food. I'd suggest eating on the boat, instead.
On the second day, we ate lunch at the Yacht Club on Staniel Cay and only stopped on a sand bar for photos and a short walk.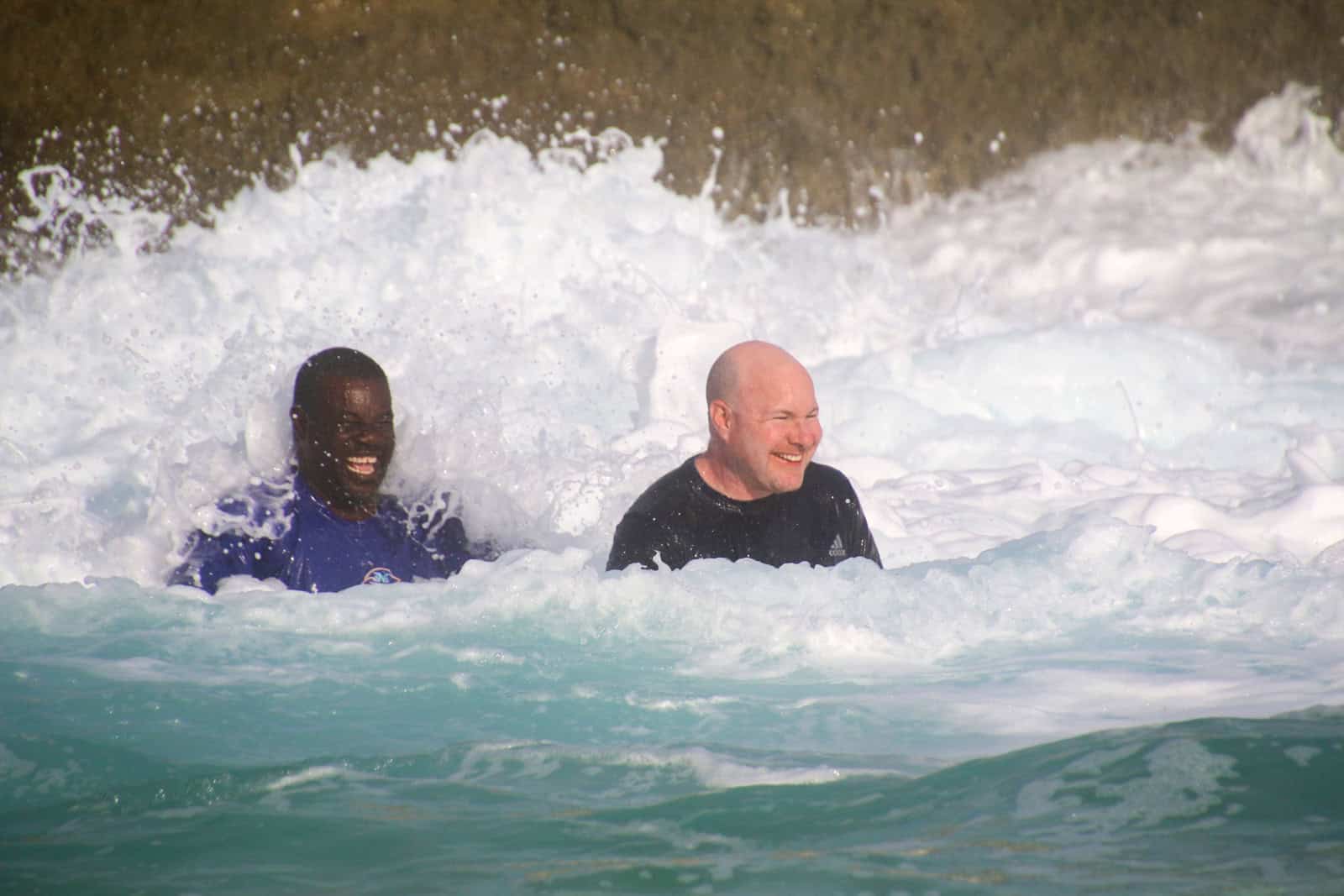 Take a Rachel Bubble Bath
The most unexpected stop on my boat tour was Rachel Bubble Bath (named after the woman who discovered it).
Located at the north end of Compass Cay, the feeling of being in a bubble bath is created as high tide comes in and splashes against a rocky ledge separating the sea from an inlet on the cay.
The result is foamy whitewater that feels like you're in either a bubble bath or a washing machine.
My boat guide led me to the spot where you can experience this in full effect, and as evidenced by the photo above, he was having a blast himself.
Despite the crashing waves flowing over the rocks, I felt safe as the water was only about chest-deep.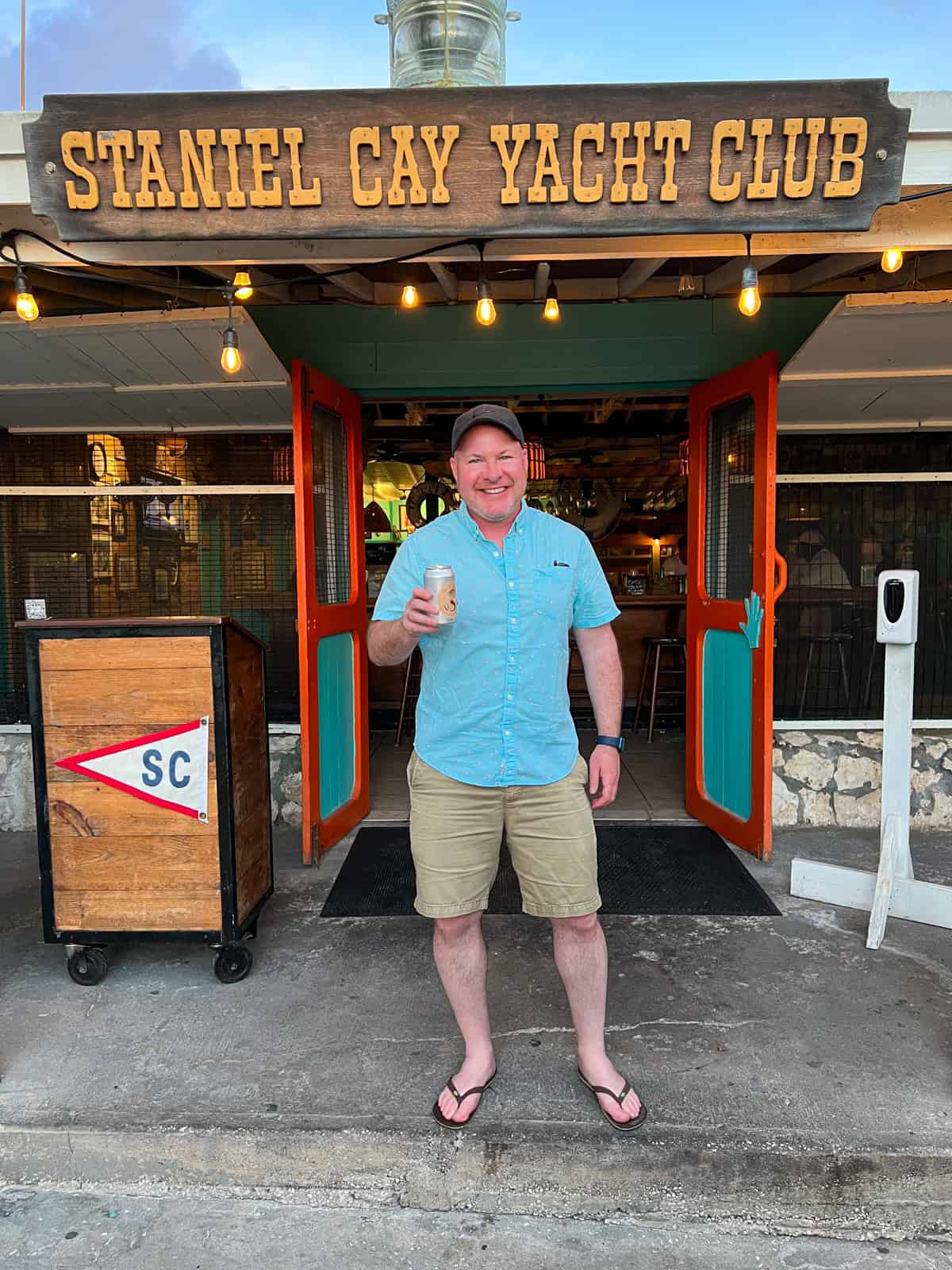 Hang Out at Staniel Cay Yacht Club
Returning to Staniel Cay after a long day on the water, you'll probably want to shower and relax.
If you're feeling social or want an ice-cold Caribbean cocktail, head for The Staniel Cay Yacht Club.
The bar fills up at the end of every day; it's a lively scene. Some patrons arrive early for a drink before their 6 p.m. or 8 p.m. dinner reservations.
The four-course meal is a rare opportunity for visitors to dress up; I saw more than a few women in pretty dresses.
The sunset from the Staniel Cay Marina is brilliant. Kel and I got drinks and walked among the huge yachts.
It reminded me a little bit of what it was like walking around the marina in Monaco.
Look down at dusk; you'll likely see some nurse sharks swimming around.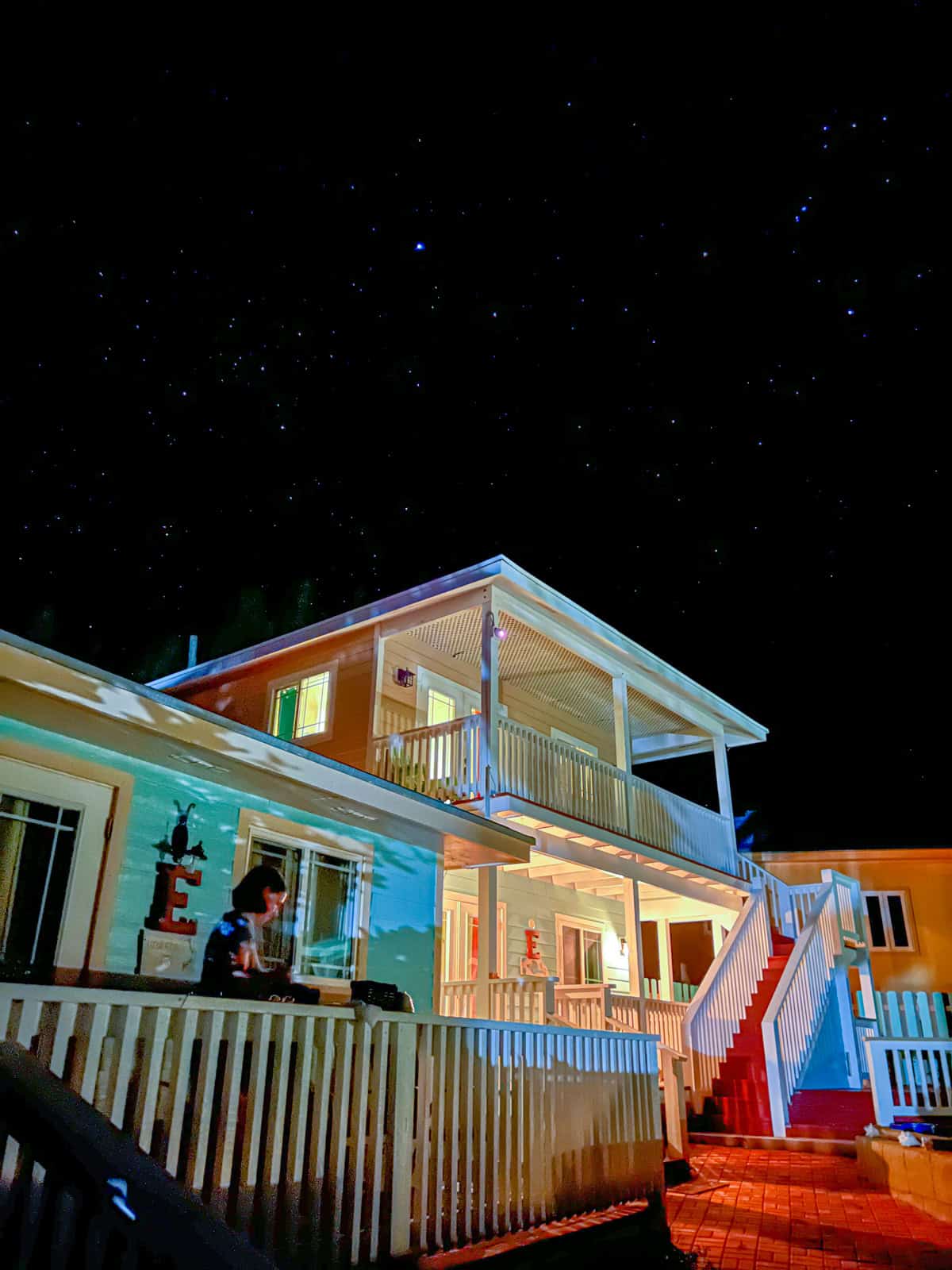 Stargazing
Kel and I share an appreciation for dark skies, which we indulged in on a road trip to Big Bend National Park in West Texas the month before visiting The Bahamas.
Luckily, we were on Staniel Cay the night of a blood moon lunar eclipse. It was the longest partial lunar eclipse in 580 years!
The only catch was the eclipse was due to peak at 4:02 a.m. EST, which meant getting up around 3:45 a.m.
I might've skipped it had Kel not wanted us to set the alarm, just in case it was visible. Given the partial cloudiness that day, I was doubtful.
When my alarm went off, and I took a peek outside our EMBRACE Resort villa, we had a perfect view of the reddish moon undergoing an eclipse!
I woke Kel up; she grabbed her DSLR camera and began to take photos from the deck.
My iPhone 13 Pro couldn't capture the incredible moon, but I hope you get a sense of the star-filled sky from the above photo.
The three stars of Orion's belt are visible in the upper right corner.
Staniel Cay offered an incredible stargazing (and moongazing) experience that night.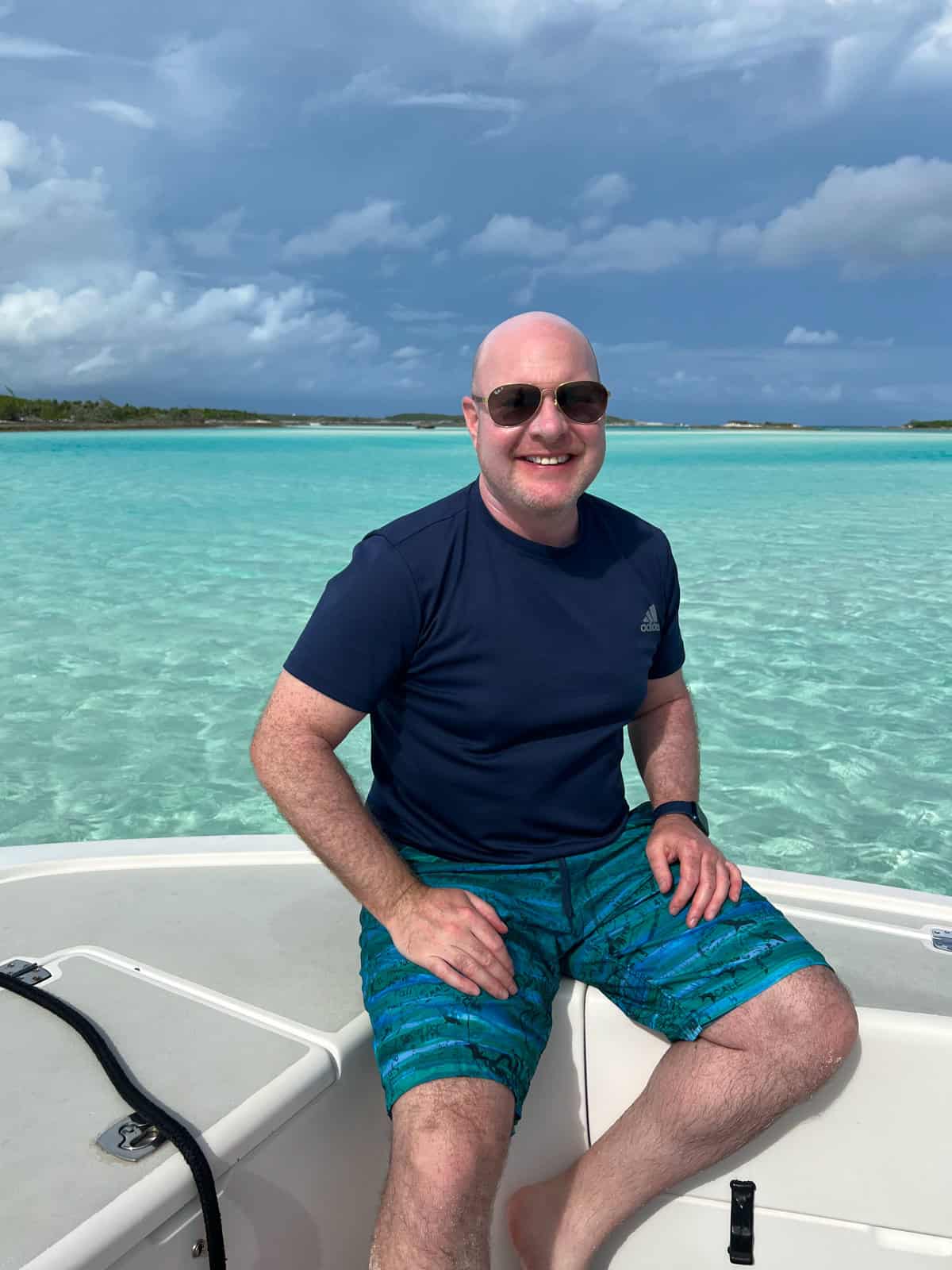 COVID Travel Info
As my Staniel Cay Travel Guide draws to a close, there's some essential COVID-related info I'd like to share.
First, check out the current testing and vaccination requirements to enter The Bahamas on their official website.
All international visitors must complete a Bahamas Travel Health Visa application and pay a small fee before entering the country.
You'll also likely need to provide this travel visa and testing or vaccination info to the airline you're using.
American Airlines, which we flew into The Bahamas, currently uses the VeriFLY app if you prefer to submit documentation electronically versus on paper at the airport before departure.
The app is supposed to save you time at the airport, but it doesn't have a user-friendly or intuitive interface. Despite my frustration, I think it saved us time overall.
If you stay in The Bahamas for five days or longer, you must get a COVID-19 rapid antigen test; it's free and available at EMBRACE Resort.
If you're returning to the U.S., you'll also need proof of a negative COVID-19 test. You can get tested at EMBRACE Resort for a small fee.
3N's Exuma Vacations has a detailed webpage outlining its COVID policies and procedures, including the availability of tests. We found this service, available at the resort, incredibly convenient.
COVID restrictions on the small island are minimal and include a mask mandate for indoor locations and the airport.
While these extra steps are undoubtedly a burden compared to pre-2020 travel, it was worth the effort once we arrived on Staniel Cay and began to enjoy our first Bahamian adventure.
_____
This story is brought to you in partnership with 3N's Exuma Vacations and EMBRACE Resort.
Dave is the Founder and Editor in Chief of Go Backpacking and Feastio. He's been to 66 countries and lived in Colombia and Peru. Read the full story of how he became a travel blogger.
Planning a trip? Go Backpacking recommends: