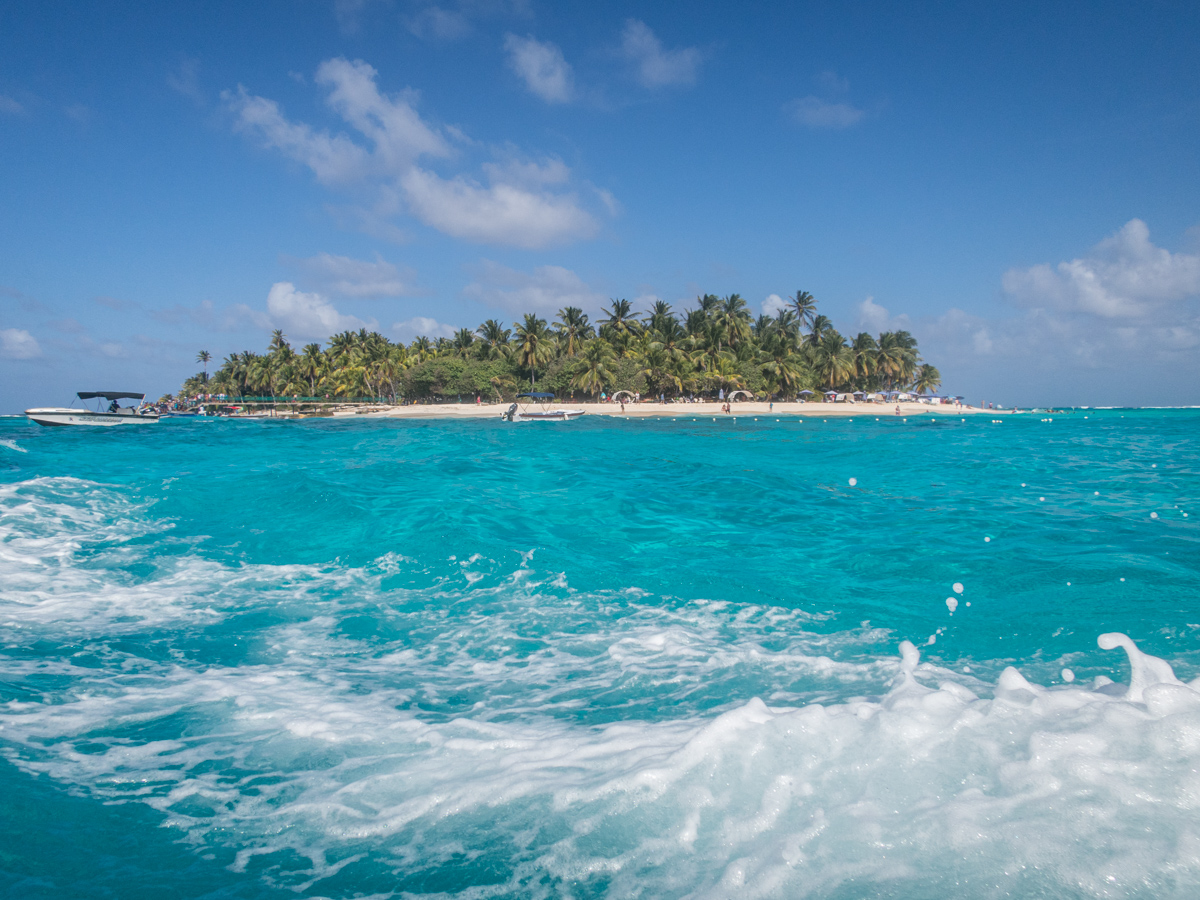 Taking stock of the new places I visit each year has become an annual tradition, even though I continue to wait until the very last minute to share!
Before we dive in, I want to thank everyone who is reading for their support.
In 2015, Go Backpacking once again surpassed 1 million visitors and 2.5 million page views!
As much as I enjoy traveling, I enjoy even more the idea that the stories and images published here inspire and inform others to save up and go abroad.
Colombia
I began 2015 in the familiar city of Medellín. In February, I took a 90-minute VivaColombia flight to the Colombian island of San Andres.
Geographically, it's closer to the coast of Nicaragua, but you can't fly between the two.
I rented a golf cart and spent a day cruising clockwise past white-sand beaches.
The next day I visited a little island 15 minutes away by boat, and by the third day, I was ready to move on.
Providencia is a smaller, quieter, less-developed island with a 20-minute flight north of San Andres.
The airport is a short spit of asphalt surrounded by lush plants and palm trees.
Accommodation is basic, and I felt due for a splurge, so I booked my two nights at Deep Blue, the island's only boutique luxury hotel.
As on San Andres, I rented a golf cart and spent a little over half a day cruising around the island, stopping to snorkel, eating fresh fish on a beach for lunch, and check out the island's only (reggae) bar.
San Andres is to Cancun as Providencia is to Tulum. I still daydream about stay in Providencia and would go back in a heartbeat.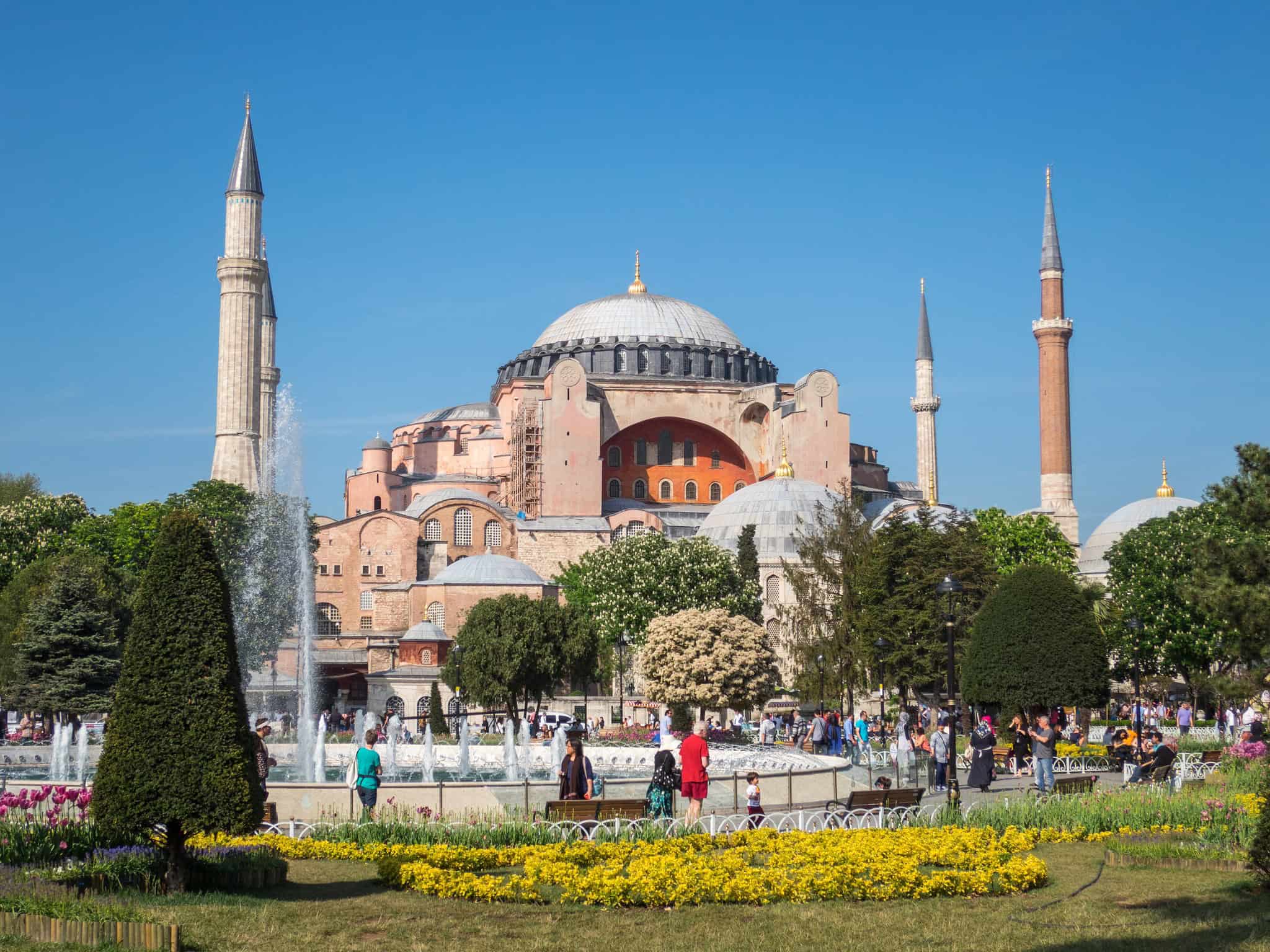 Turkey (Istanbul to Izmir)
In early May, I flew from New York City to Istanbul with Turkish Airlines.
I felt lucky to be participating in the first blog trip organized by the airline, which allowed me to see the Blue Mosque and Hagia Sophia in Istanbul, the ancient ruins of Ephesus, and the natural pools of Pamukkale.
After waving goodbye to my fellow bloggers, I stayed in the capital to continue sightseeing, visit a traditional bath, and taste the world's best baklava.
From Istanbul, I traveled south overland to Bursa, then west to Canakkale to see Troy's ruins and learn about the Battle of Gallipoli.
I wrapped up this first leg of Turkey with Pergamon's ruins and a few nights in the coastal city of Izmir.
Georgia
Curiosity led me to take a brief break from Turkey to visit the neighboring country of Georgia, a former Soviet republic.
I flew into the capital of Tbilisi just in time to see the residents celebrate their Independence Day in Freedom Square (complete with tanks and fighter plane flyovers).
I took a day trip north to see a few churches listed as UNESCO World Heritage Sites, going as far along the Georgian Military Road to reach the Russian border.
I also made a two-night side trip to eastern Georgia. It began with an out-of-the-way drive to the David Gareja Monastery on the border with Azerbaijan.
It was followed by a day of wine tasting near Signagi, a 2,000-person town offering scenic views of the Caucasus Mountains.
Armenia
From Tbilisi, it was a five-hour van ride to the Armenian capital of Yerevan.
I only spent four nights there, but it was enough to get a taste of the city, check out the super cool outdoor sculpture garden known as The Cascade, and learn about the 1915 Armenian Genocide.
I booked my return ride to Tbilisi through my hostel, which included a friendly guide/driver.
I stopped at the UNESCO-listed 10th-century Monasteries of Haghpat and Sanahin near the Georgian border.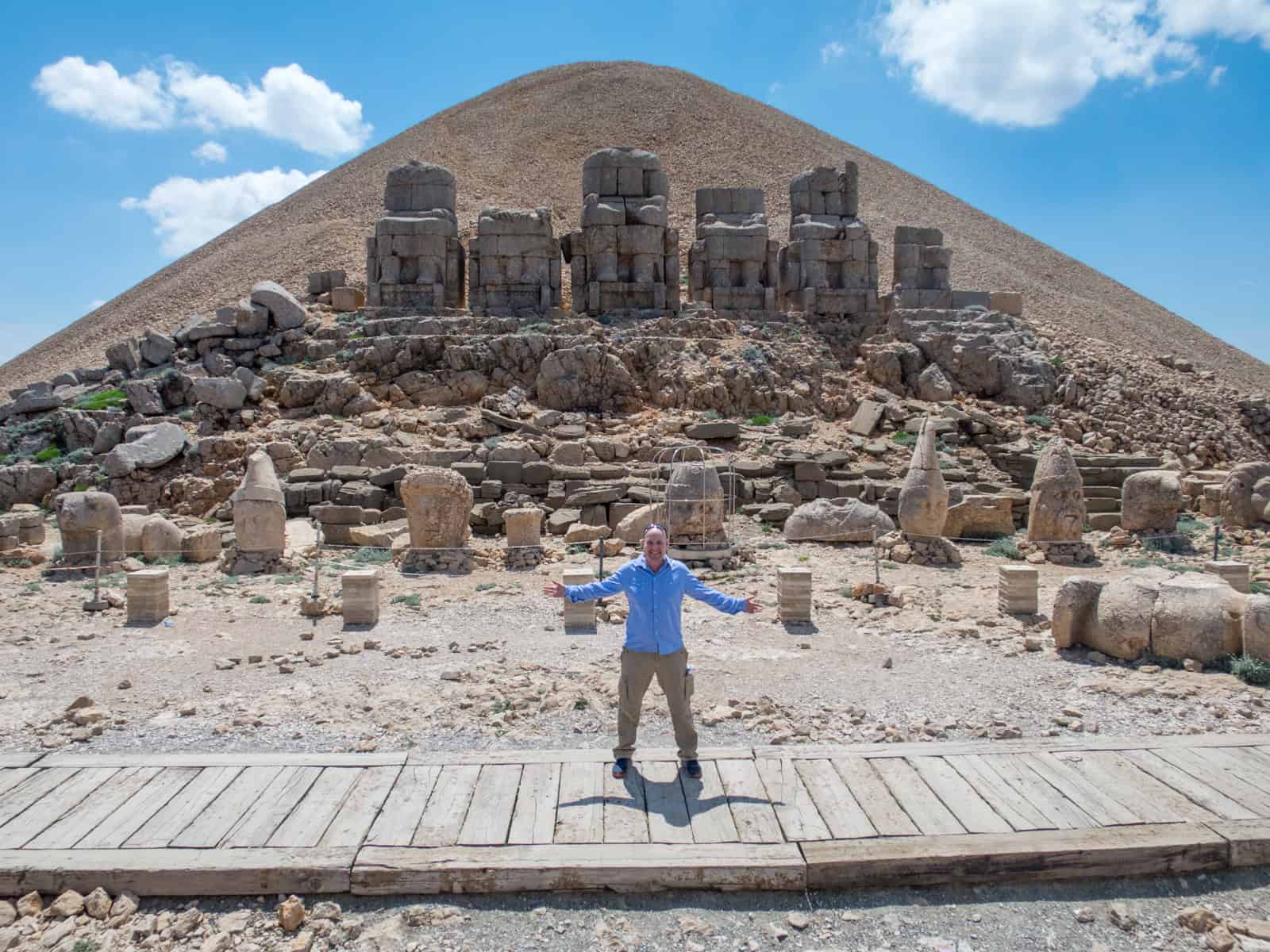 Turkey (Mt. Nemrut to Bodrum)
I flew back to Istanbul and then on to Adiyaman, from which I took a bus, then a taxi, to Kahta.
This small town serves as a base for visits to Nemrut Dagi, the mountain upon which an egomaniacal king had larger-than-life sculptures carved from stone.
I left Kahta by bus for Cappadocia, where I shacked up in a cave hotel, overcame my fear of hot air balloon rides with a 75-minute sunrise flight, and spent several days sightseeing above and below ground.
Continuing westward, I spent a few nights in Konya, where I visited the grave of Rumi, the famous Sufi poet.
I also squeezed in a half-day trip to Catalhoyuk, a 9,000-year-old Neolithic (and UNESCO) site.
My first stop along the southwestern Mediterranean coast, known as the Turkish Riviera, was the city of Antalya.
However, it was the smaller resort town of Kas that dazzled me with its relaxed vibe and turquoise waters.
Oludeniz was another beach resort town I'd never heard of before arriving in Turkey, only to be blown away by its beauty in person. It's also a world-renowned paragliding destination.
Finally, after six weeks in Turkey and eight weeks in the region, I reached Bodrum.
If I didn't have so much work necessitating an internet connection at the time, I would've booked a sailing trip to the Greek islands.
Related: 13 Best Places to Visit in Turkey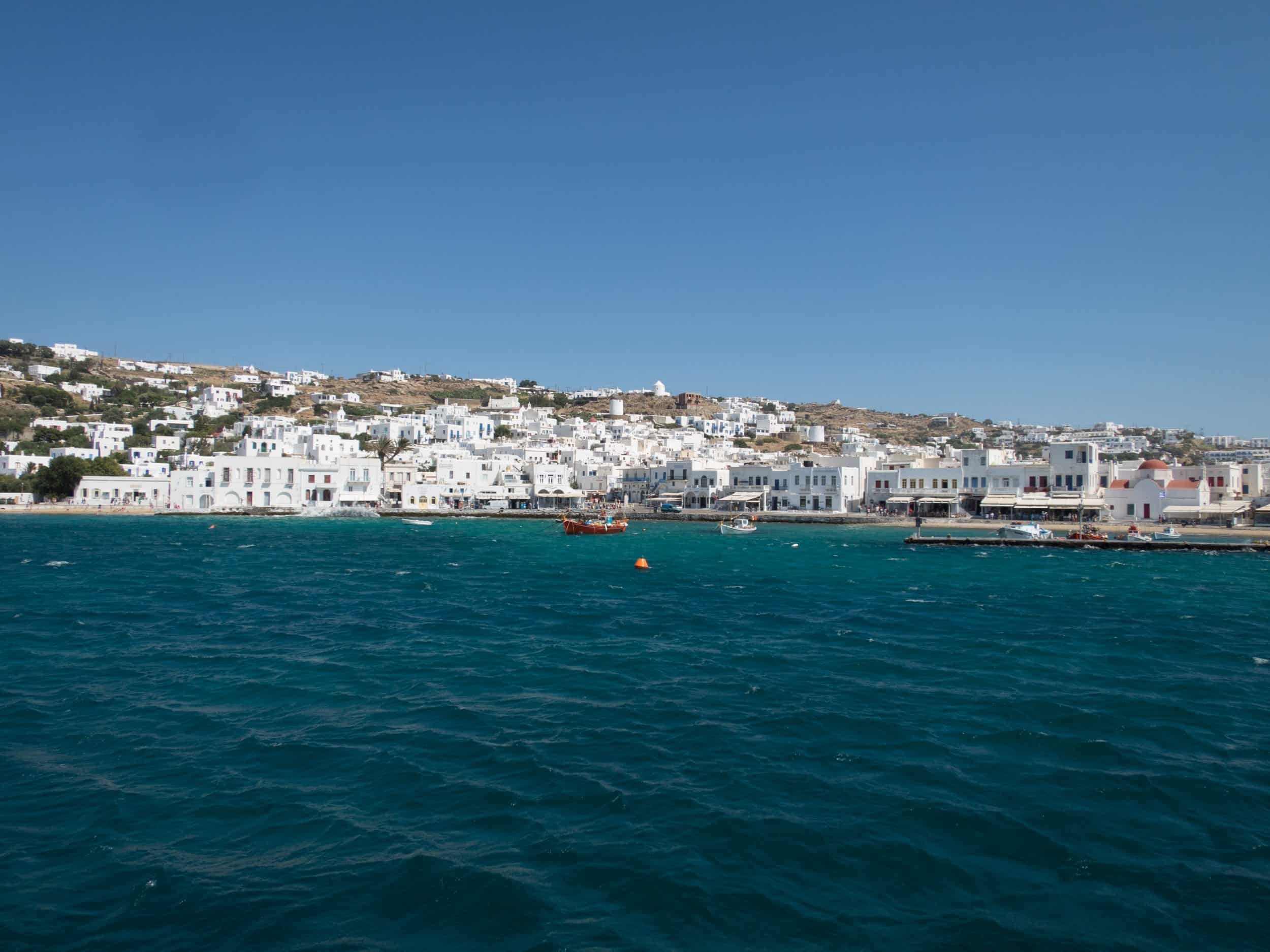 Greece
Since my first backpacking trip in '98, I've wanted to visit Greece, so it didn't matter how I got there.
Rhodes
I took a short ferry from Bodrum to Rhodes.
The highlight of a one-day self-drive tour of the island with a few women from the hostel was a beer and swam on Tsampika Beach.
Santorini
To speed things up, I flew from Rhodes to Santorini (via Athens), where I took hundreds of photos of the gorgeous views and whitewashed cliff-side churches and windmills.
Ios
Next, it was on to Ios by ferry. I didn't know it was one of the party capitals of the Mediterranean, but I managed to secure a great budget (for Ios in Summer, at least) hotel room with a balcony overlooking the pool and town.
I rented a car and spent an entire day driving around this little island, stopping at four beaches along the way.
Paros
I stopped over on the island of Paros for a few nights, but it didn't do much for me, and I was starting to feel burnt out from all the travel.
Mykonos
I knew Santorini would be expensive, but it wasn't until I started looking at hotel prices the night before I arrived in Mykonos that it was just as bad (all the hostels were fully booked).
The cheapest accommodation I could find was $110/night. Granted, it was the middle of July, but dang, that hurt.
Thankfully, like Santorini, Mykonos lived up to the hype.
I didn't go out partying; I was content to wander the back streets, dine on delicious Greek cuisine, and photograph the windmills.
Athens
My last stop in Greece was Athens, where I made the requisite morning trek up the Acropolis in the blazing heat.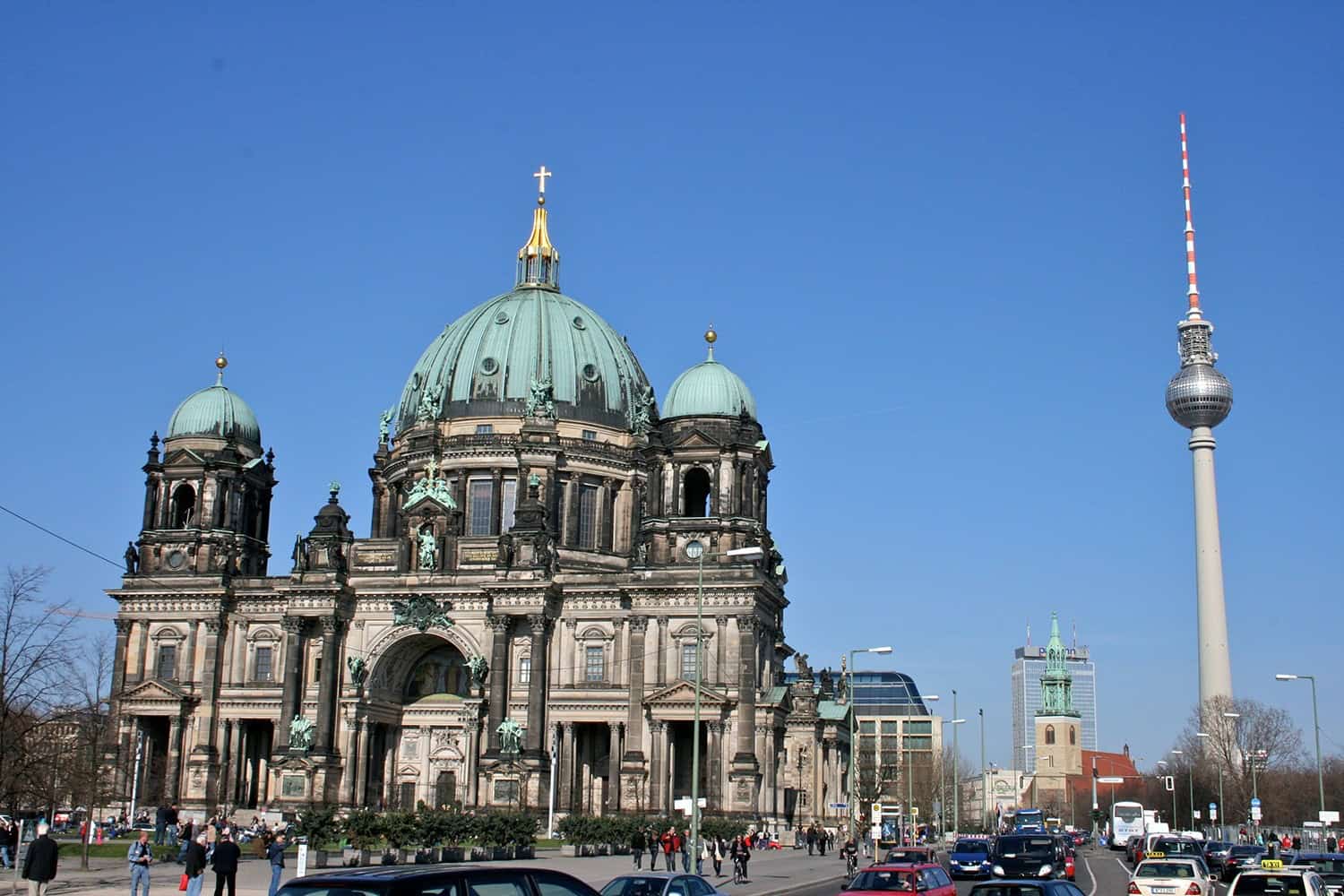 Berlin, Germany
On a whim, I flew up to Berlin to attend the Digital Nomad Conference to see several friends, including Mark Manson, speak. It was a fun conference, and I'd certainly go back.
For me, conferences like these continue to be about socializing more so than trying to learn anything.
The reality is I have all year to learn from what's on the web, but my chance to hang out with friends and peers in person is rarer than I'd like to admit.
It also gave me the chance to hang out with friends based in Berlin at the time, including Audrey and Dan from Uncornered Market, Linda and Craig Martin of Indie Travel Podcast, Jeremy of travelFREAK, and Freddy Lansky.
Romania
Feeling burnt out from the fast-paced travel, I decided to spend August in Romania, most of that time being in Bucharest.
I booked a spot in a co-working space for the first time and focused on growing Travel Blog Success.
I also squeezed in a week of sightseeing in Transylvania, with stops in Brasov, Sighisoara (where Dracula was born), and Sibiu.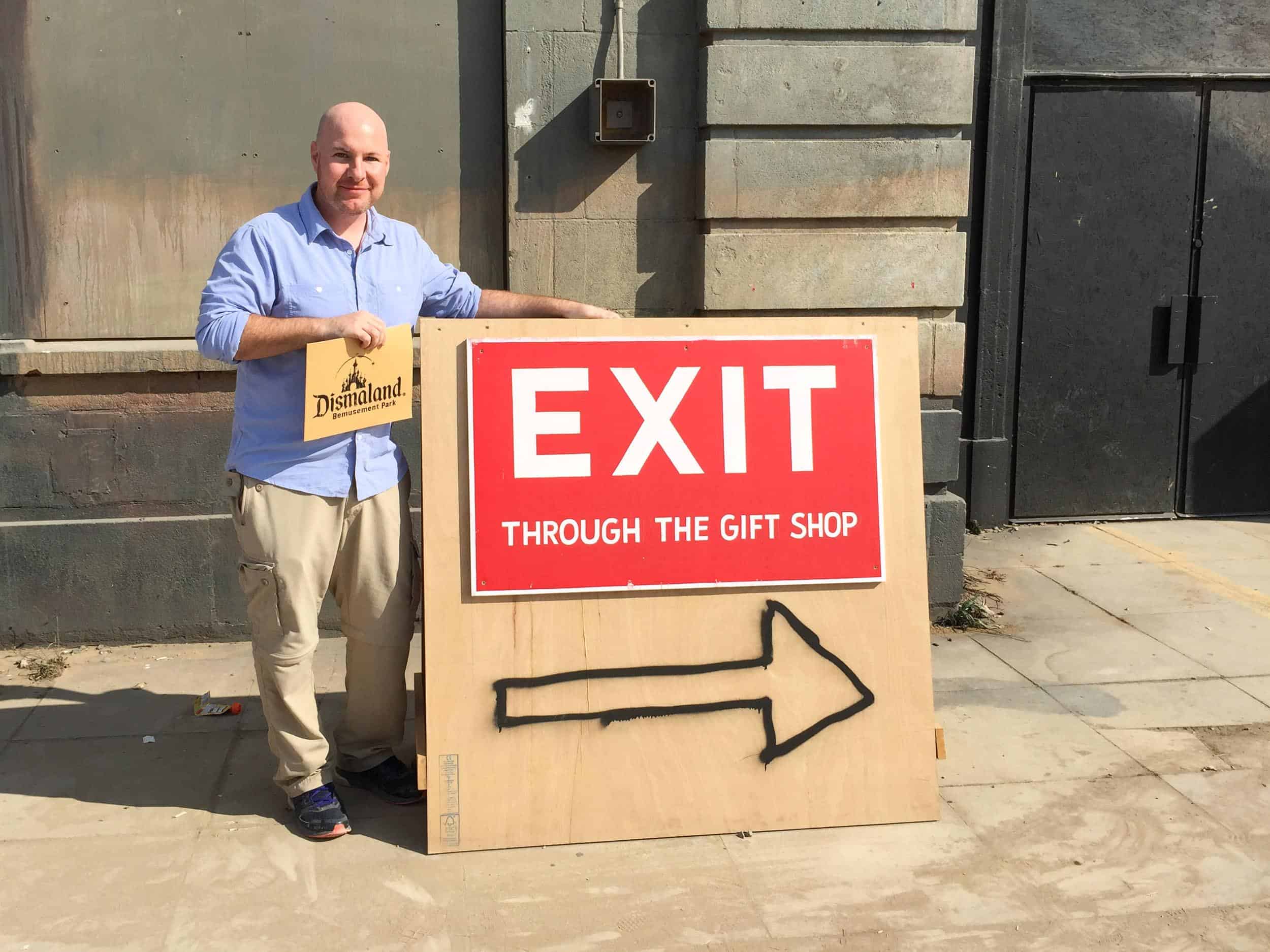 London, England
As Fall began to arrive in eastern Europe, I began to make my way back to the United States, but not before visiting a friend in London.
Together, we took a day trip to visit Dismaland, the six-week art installation by Banksy.
Ft. Lauderdale, Florida
My last trip of the year was to attend the 2015 TBEX conference in Ft. Lauderdale, where I represented Travel Blog Success and had the chance to meet dozens of our members!
Annual Reviews from Prior Years
Dave is the Founder and Editor in Chief of Go Backpacking and Feastio. He's been to 66 countries and lived in Colombia and Peru. Read the full story of how he became a travel blogger.
Planning a trip? Go Backpacking recommends: