In June, I flew to Montreal to attend the Formula 1 Canadian Grand Prix, visit my friend Jodi, and get to know the city better.
Before moving to Austin, Texas, in 2016, I wasn't familiar with F1 racing, and the idea of traveling to see a car race had never occurred to me.
I'd visited Monaco and seen the famous Fairmount hairpin turn, but only because it's where I got picked up for my Ferrari driving experience.
Austin, however, is host to the annual US Grand Prix every October, so I've been twice now with a friend who is a huge racing fan.
Experiencing a Formula 1 race in person doesn't get any cheaper than watching it in your city for the cost of a general admission ticket ($100) and an Uber ride.
The weather was beautiful for both races, and while I didn't have a favorite driver or team, it was a fun way to spend a Sunday afternoon.
What began as a curiosity in my backyard turned into a growing interest in following Formula 1.
Naturally, I began thinking about where else I could watch a race without breaking the bank. Montreal and Mexico City made the most sense.
I first visited Montreal in spring 2016, a month after moving to Austin, and loved it. I'd wanted to go back ever since.
The Canadian GP became my motivation to book a flight, and I was also excited to check out more restaurants for my food blog.
Once the decision was made to see my first Formula 1 race in another country, it was time to do research. I binge-watched "Formula 1: Drive to Survive" on Netflix.
This beautifully shot series takes you behind the scenes of F1 race seasons as you get to know the teams and drivers.
Learning backstories and drama, and politics of the sport increased my interest further.
I also watched "Senna," an incredible documentary about Brazilian driver Ayrton Senna, a three-time F1 champion, who died tragically in a race crash at 34.
Now that you have a sense of where I'm coming from let's head to Montreal for a taste of Canadian Grand Prix weekend.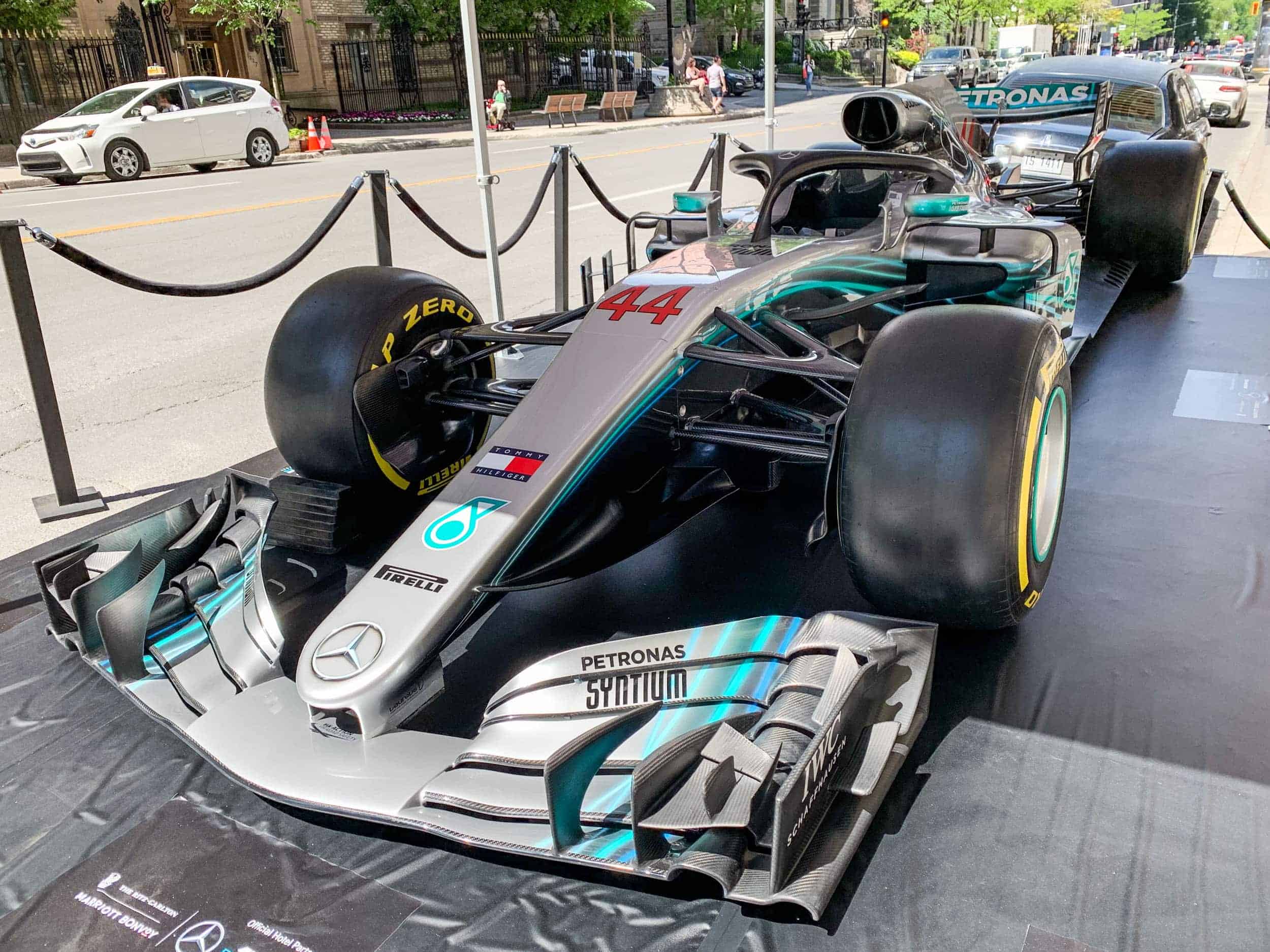 Arriving in Montreal
I used points from travel hacking to fly United Airlines from Austin to Montreal, arriving on Wednesday.
This gave me three full days to explore the city, try some restaurants, and see my friend before race weekend.
I stayed at the Hotel M Montreal in the Gay Village neighborhood. Several guys in my dorm were also in town for Formula 1.
It was more of a boutique hostel than a hotel, it was only a few minutes' walk to the metro, and from there, the racetrack was just one stop away.
I learned there was an overlap between race fans and foodies when I met another American F1 fan while eating dinner at Joe Beef, a favorite of Anthony Bourdain.
The next night, I ran into him again at Au Pied de Cochon, where I met a California woman in town for the race.
Related: Ferrari Museum in Maranello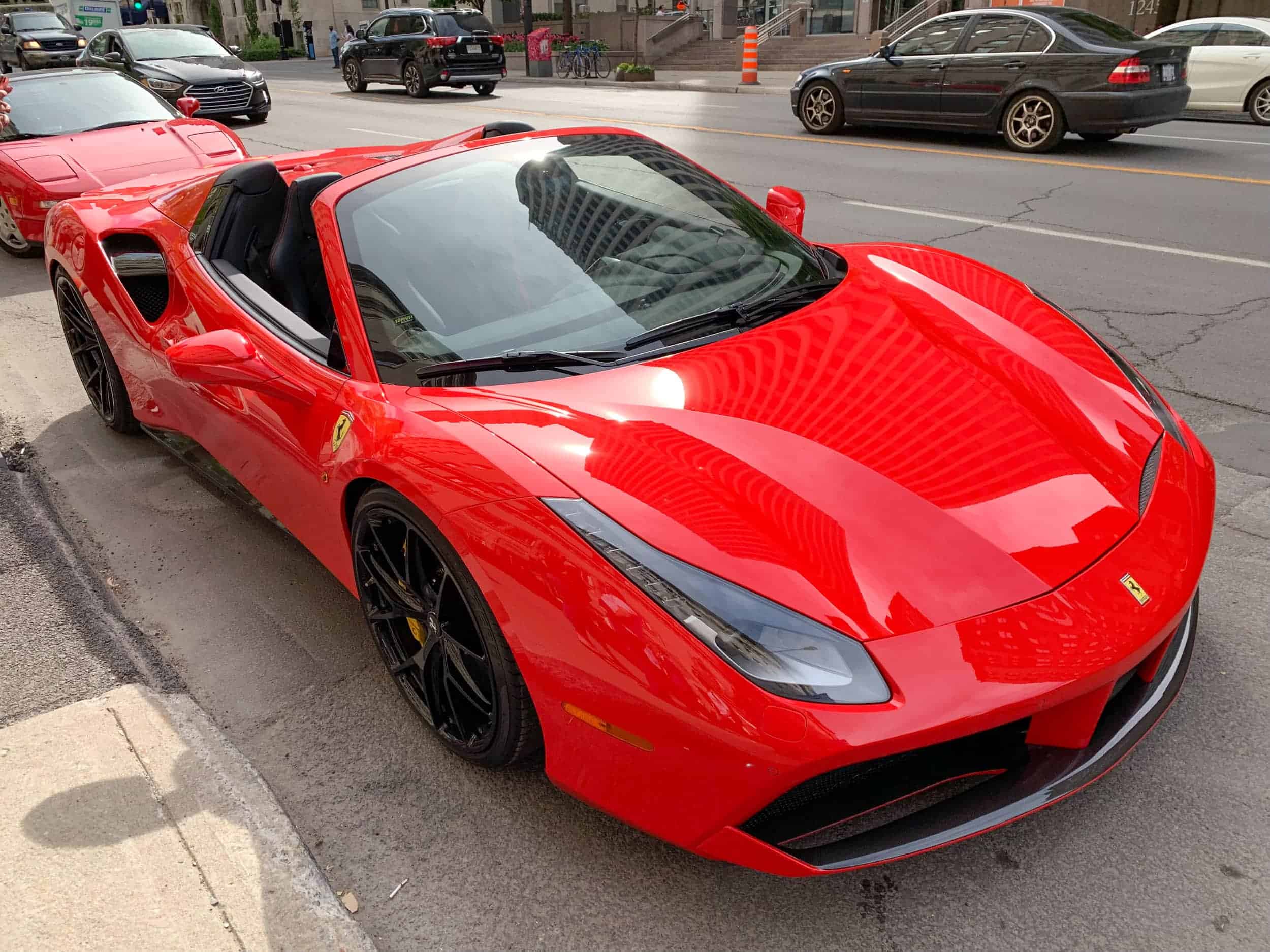 Pre-Race Events
Events related to the Canadian Grand Prix began Thursday evening, with the track opening to ticketholders on Friday.
Tickets are sold by the day, and I only bought a ticket for the final race on Sunday.
At least one of the guys in my dorm bought a 3-day race ticket entitling him to all the events at the racetrack, including:
Driver practice sessions on Friday
Qualifying sessions on Saturday
The race on Sunday
In addition to watching the drivers, there were many Porsche and Ferrari driving challenges on the track and F1 experiences for fans at the Monster Energy Compound, like a skateboard and freestyle moto demos, DJs, and live music.
I spent the day before the race visiting my friend and checking out the scene on Crescent Street in downtown Montreal.
I spotted one of Lewis Hamilton's old F1 race cars on display outside the Ritz Carlton and a pristine red Ferrari 488 Spider like the one I drove in Maranello.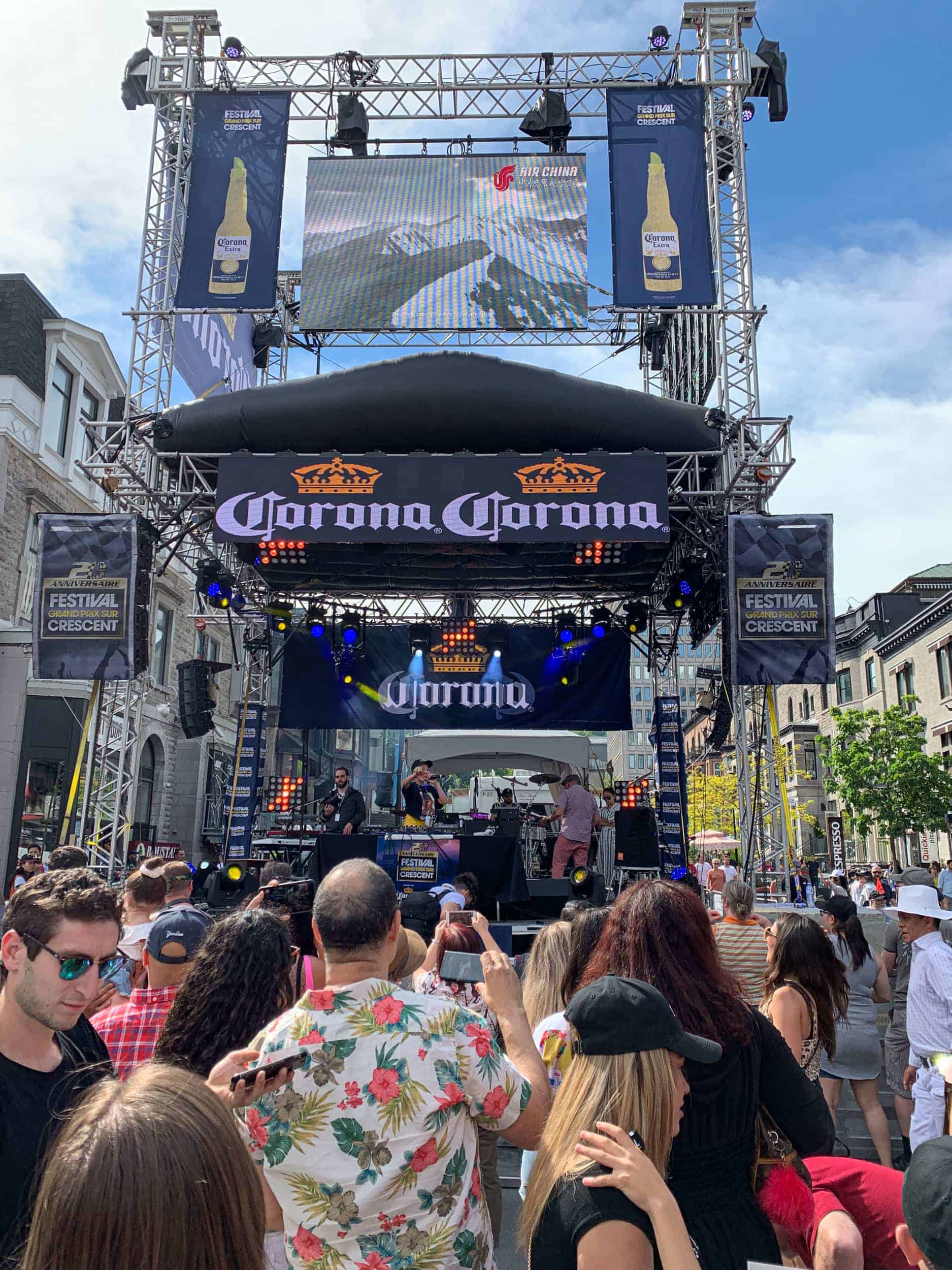 The Crescent Festival celebrating the Canadian Grand Prix was celebrating its 20th anniversary.
A DJ was performing, and the streets were full of race fans and curious locals wandering about.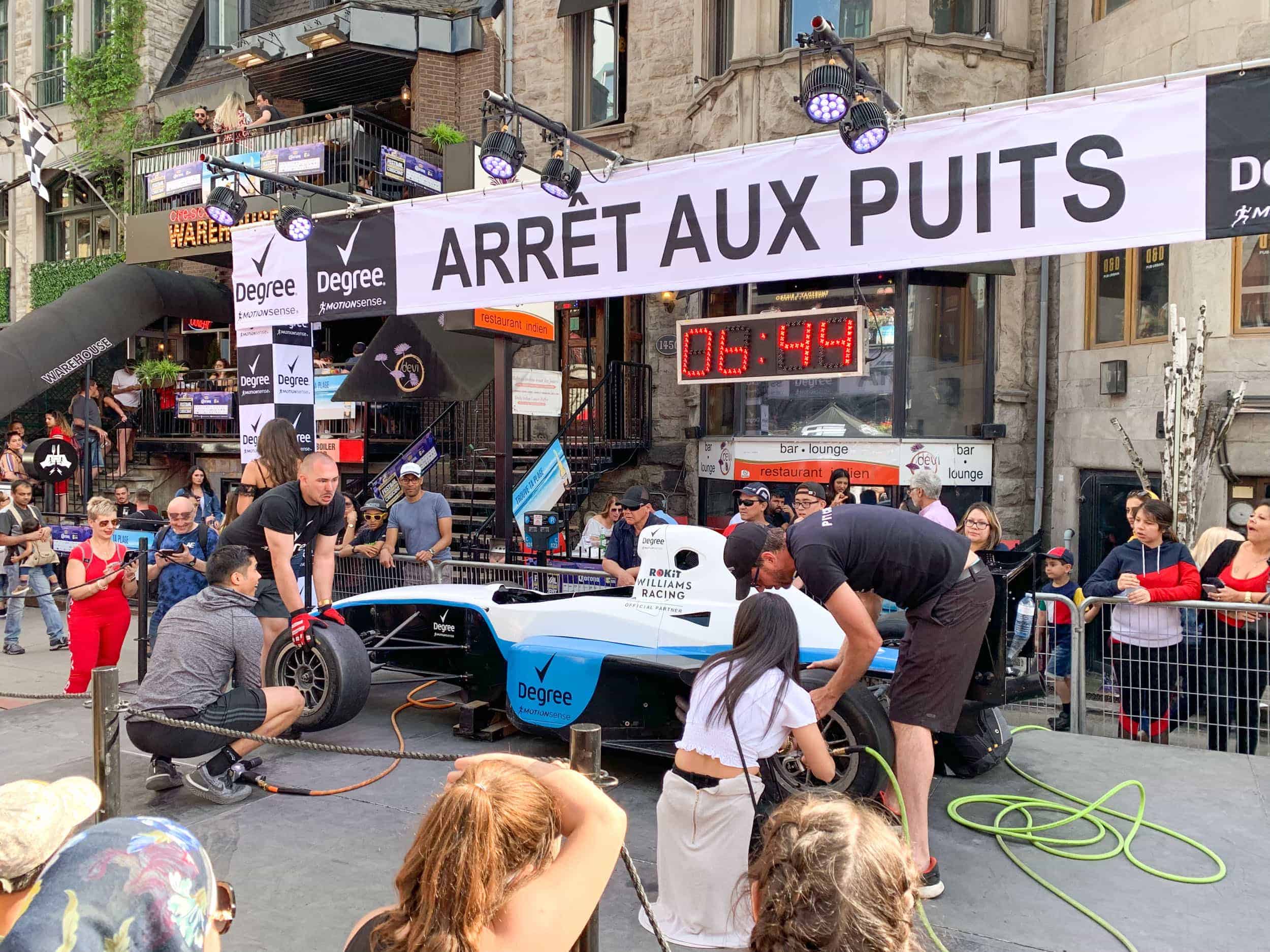 There was a pit lane challenge where you could try your hand at wielding the machines used to change F1 car tires.
And there were at least two Lamborghinis on display, one white and one purple with white rims.
The festival also featured many food stalls, and there was easy access to the neighborhood restaurants.
I knew race day would involve large crowds, so I didn't linger long at this event.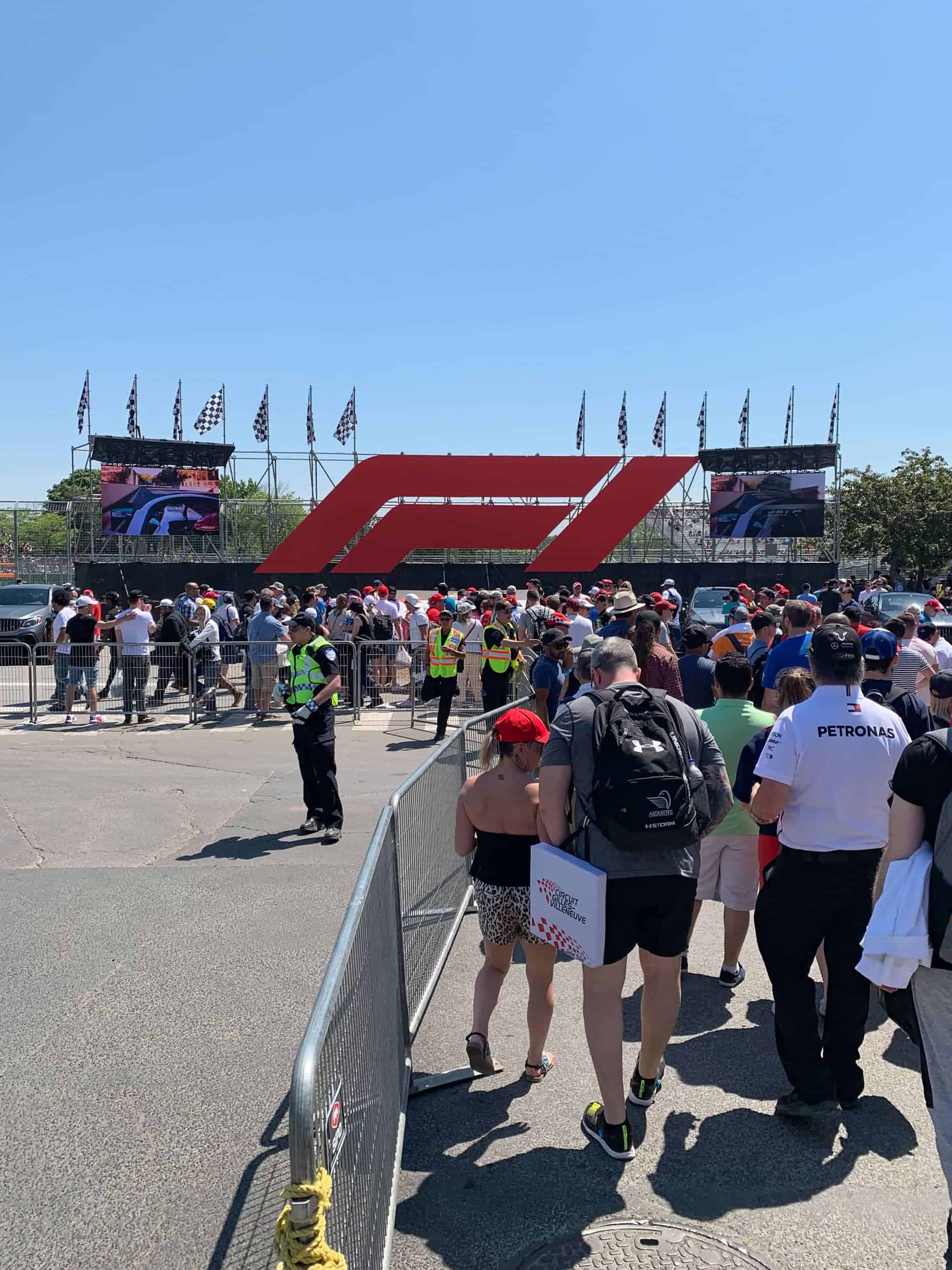 Formula 1 Canadian Grand Prix
Sunday morning was the big day, and arriving at the Circuit Gilles Villeneuve from the Hotel M Montreal couldn't have been easier.
I walked five minutes to the metro Station Berri-UQAM and took it to the Jean-Drapeau station one stop away. This metro station is on St Helen's Island in the middle of the St Lawrence River.
One of the first things you see exiting the metro is a geodesic dome built for the 1967 World Expo, and it's now part of the Biosphere Environmental Museum.
The Circuit Gilles Villeneuve is on a second island accessible by foot from the metro station.
The walk from the Jean-Drapeau metro station to the racetrack, including passing through security and crossing a bridge over the St Lawrence River, only takes 15 minutes.
I arrived two and a half hours before the race, leaving me plenty of time to walk around.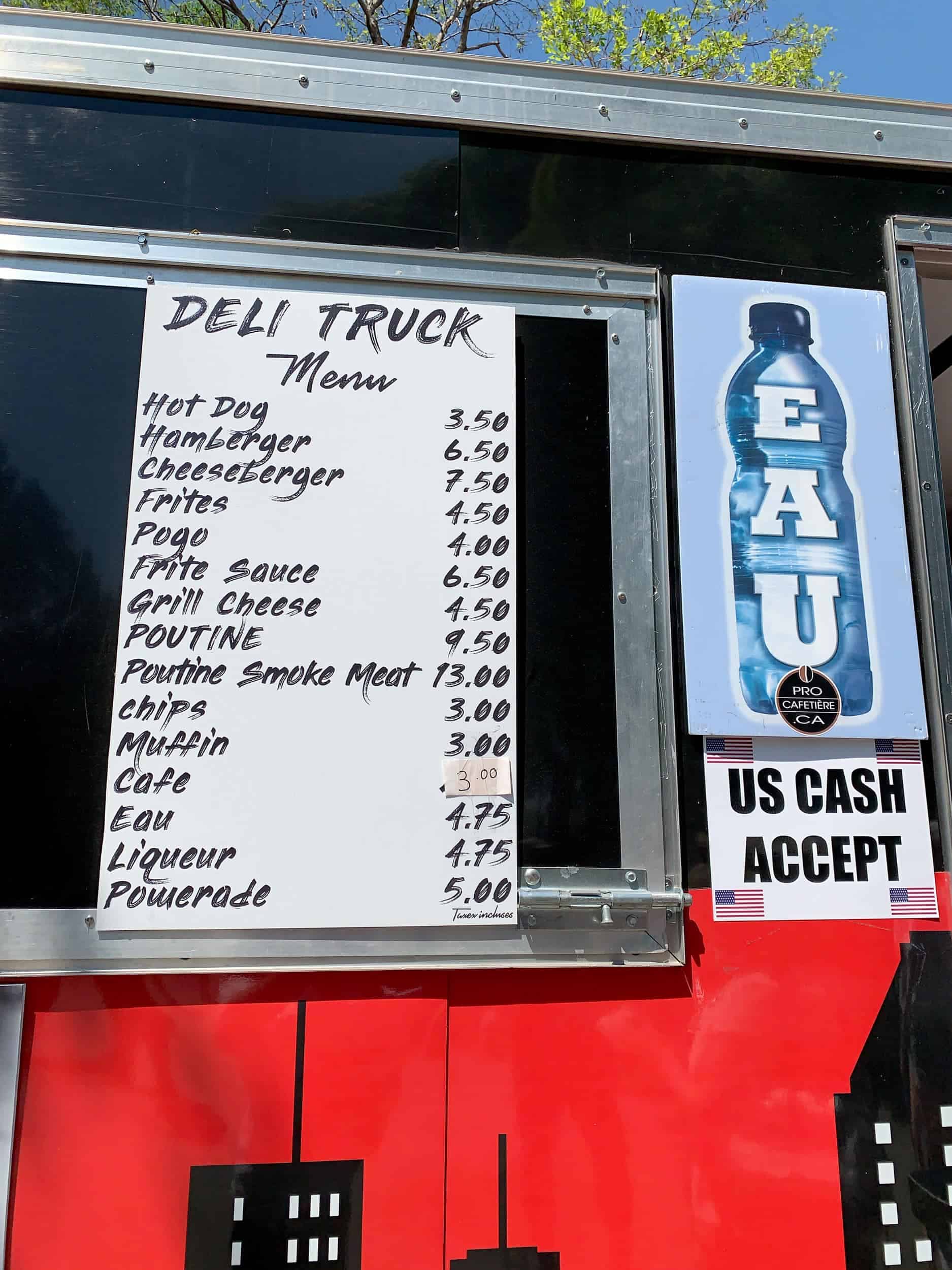 Food
I began by eating a few hot dogs (3.50 Canadian, $2.70 US) and ice cream for lunch, washing it down with bottled water. Montrealers steam their buns and refer to their hot dogs as "steamies."
It was a hot sunny day, and my seat in Grandstand 34 inside the hairpin curve offered no protection from the sun.
I'm glad I got some food in me early as the lines grew a lot longer as the start of the race drew near.
Credit to the guys I saw walking around in such heat with bowls of poutine (gravy-covered cheese curds and french fries).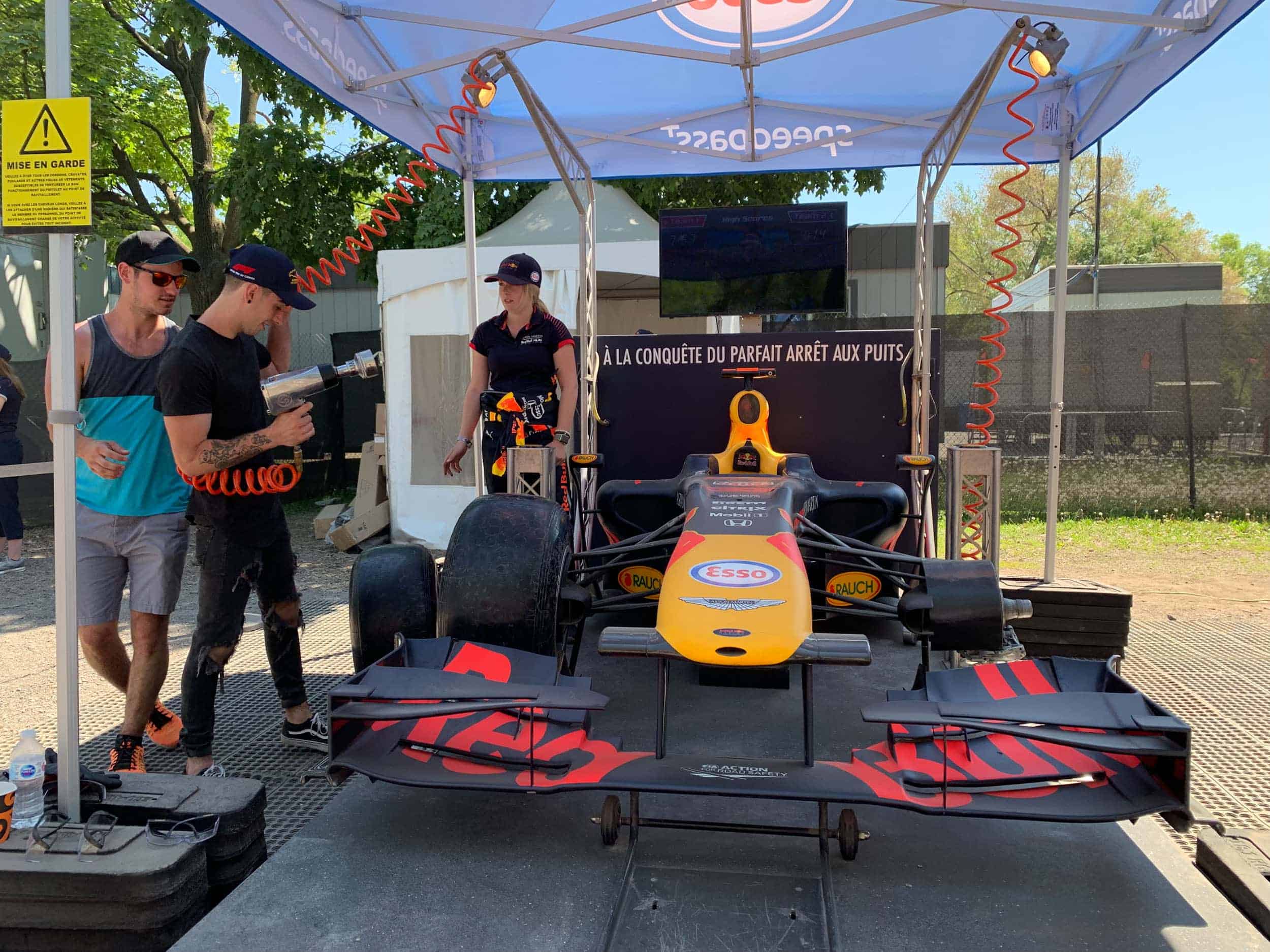 Fan Zone
Once again, the fan zone featured opportunities to try your hand at changing tires. This seemed to be a running theme!
I watched a freestyle moto demo at the Monster Energy Compound, but there was no shade, so I eventually retreated to the trees near the entrance to the hairpin turn.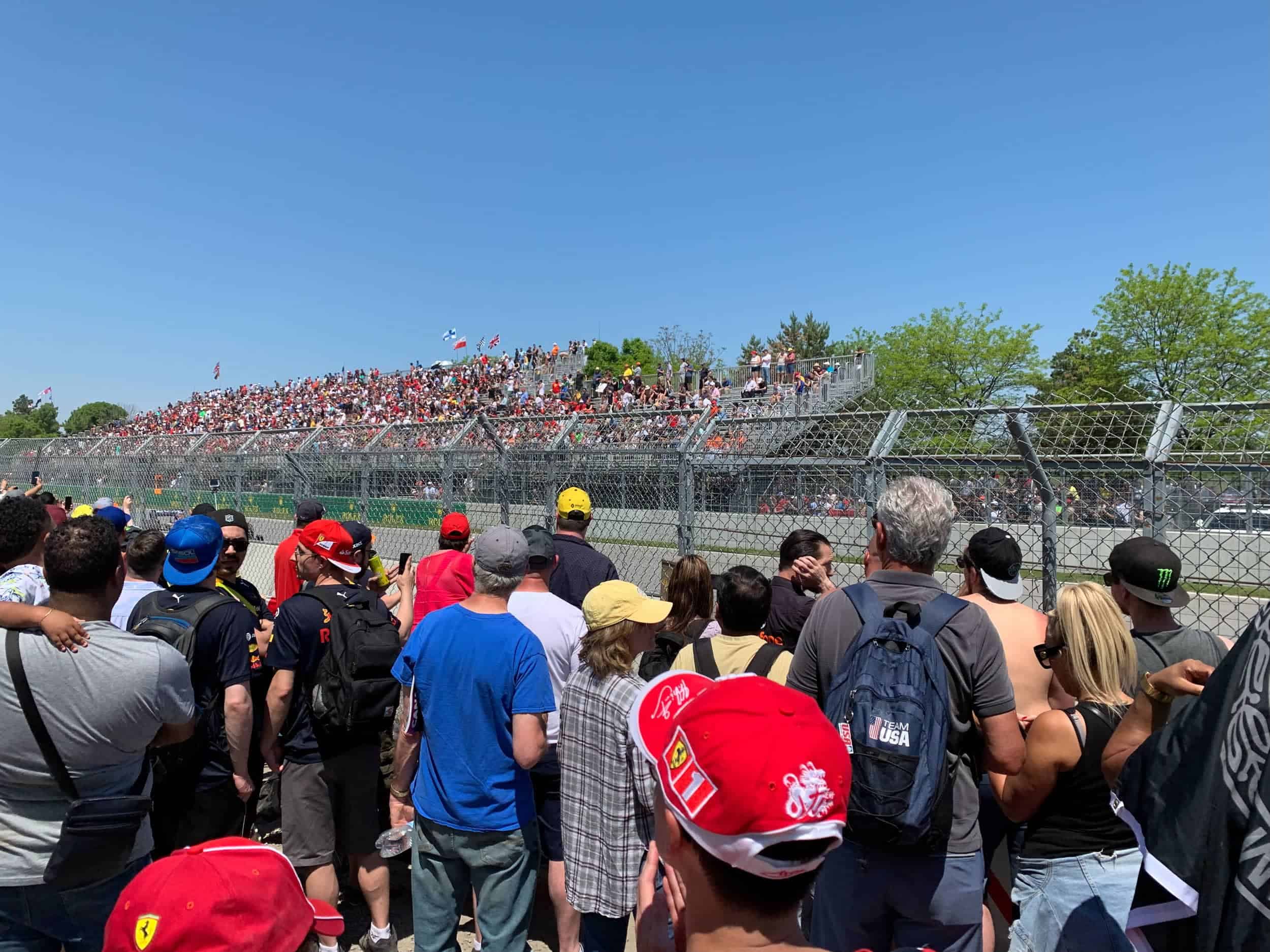 Views from General Admission
Arriving early also gave me a sense of the views you can get with general admission tickets.
The friend with whom I'd watched the US Grand Prix races had been to Montreal the year before and recommended I buy a seat as it's hard to see from the ground.
I quickly found he was right unless you know the track well enough to find a good view and get there early. Very early.
On the plus side, it's cheaper (about 100 Canadian dollars), and it's as close as you'll get to the cars.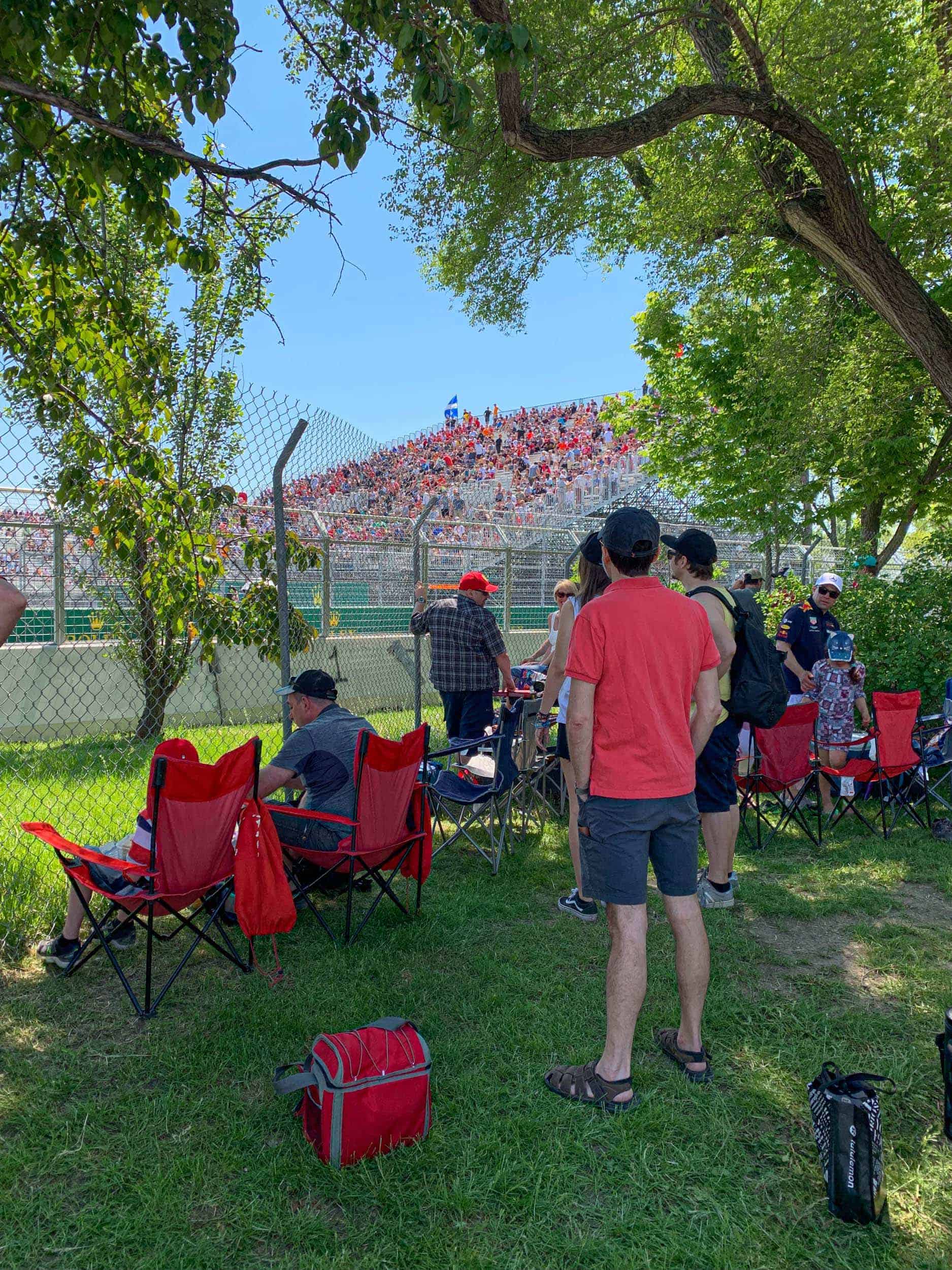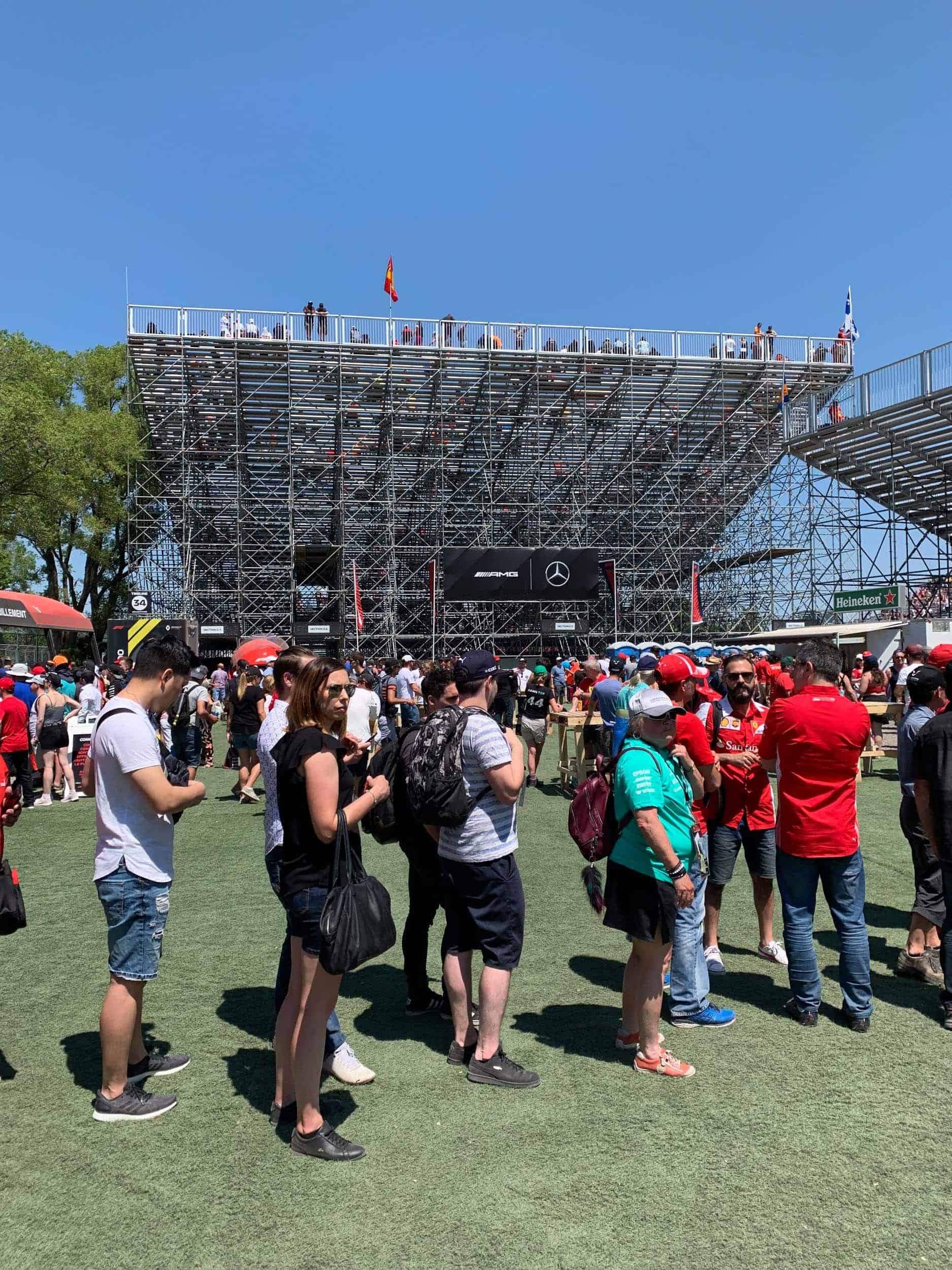 I'd researched online about the best grandstands before buying my ticket, but it wasn't until I started writing this story that I discovered The F1 Spectator.
This F1 blogger has photos and descriptions of all the seating areas around the track in Montreal.
Ultimately, I felt a seat in Grandstand 34 inside Turn 10, the hairpin curve, offered the best value.
As this was a last-minute trip, the official ticket packages had sold out, and I had to accept paying a premium on StubHub ($268 including fees).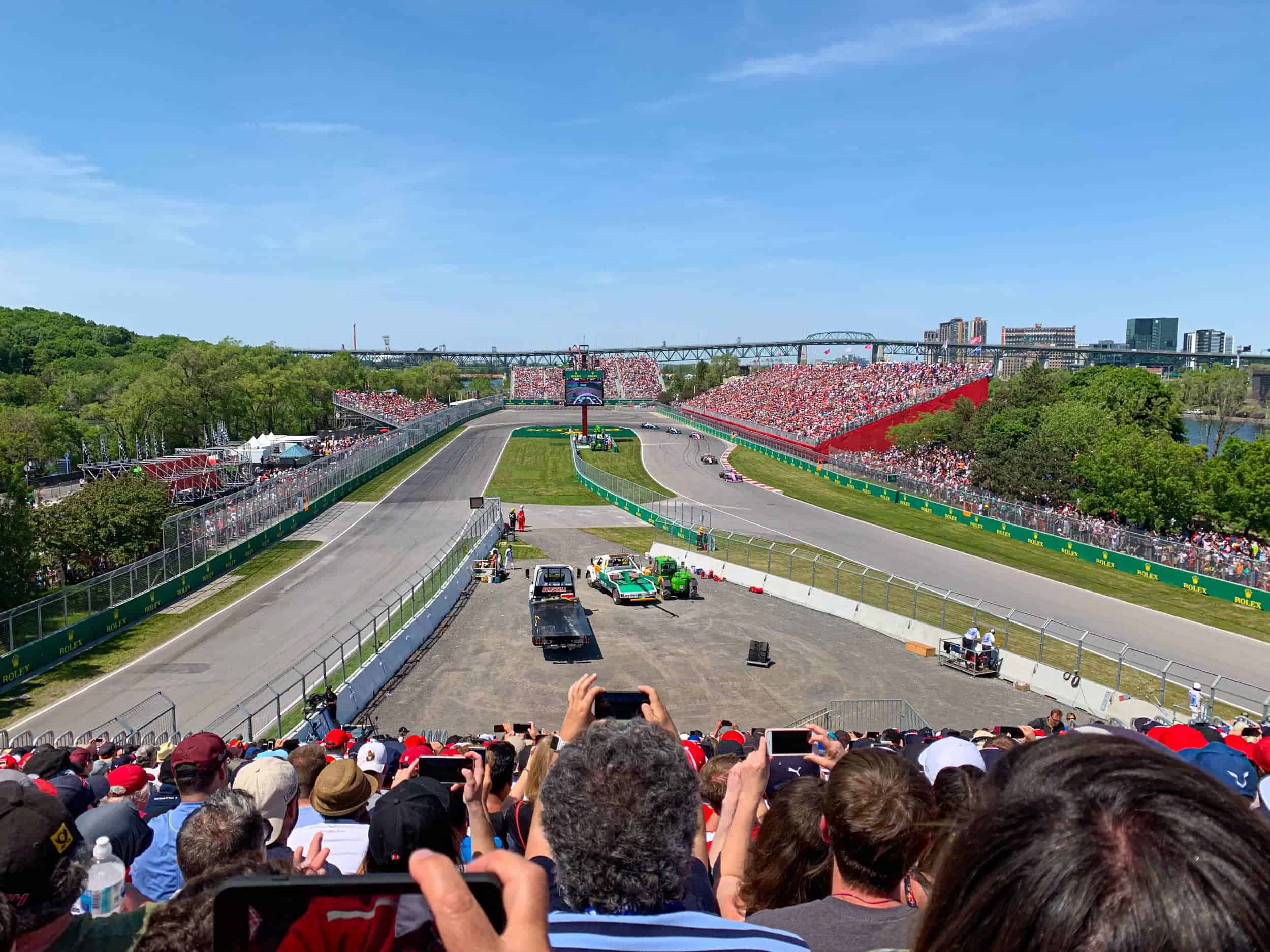 View from Grandstand 34
Once I reached my seat, though, I knew I'd made the right call to spend a little extra. The weather was perfect, if a little hot, and the view was excellent.
After the Canadian National Anthem, military jets performed a flyover, and the race began.
First, the drivers took a formation lap, a warm-up lap at low speed to heat their tires.
The second time I saw them enter Turn 10, it was as if they were braking from a top speed of 186 mph (300 kmph) to about 37 mph (60 kmph).
The sounds of these cars are intense! The video clip above doesn't do it justice.
I'd first experienced it walking around the track in Austin, so I was prepared with earplugs, but it was a different feeling being seated for the whole race.
It's worth listening to them without ear protection for a bit, but doing so for 70 laps over two hours would've been too much.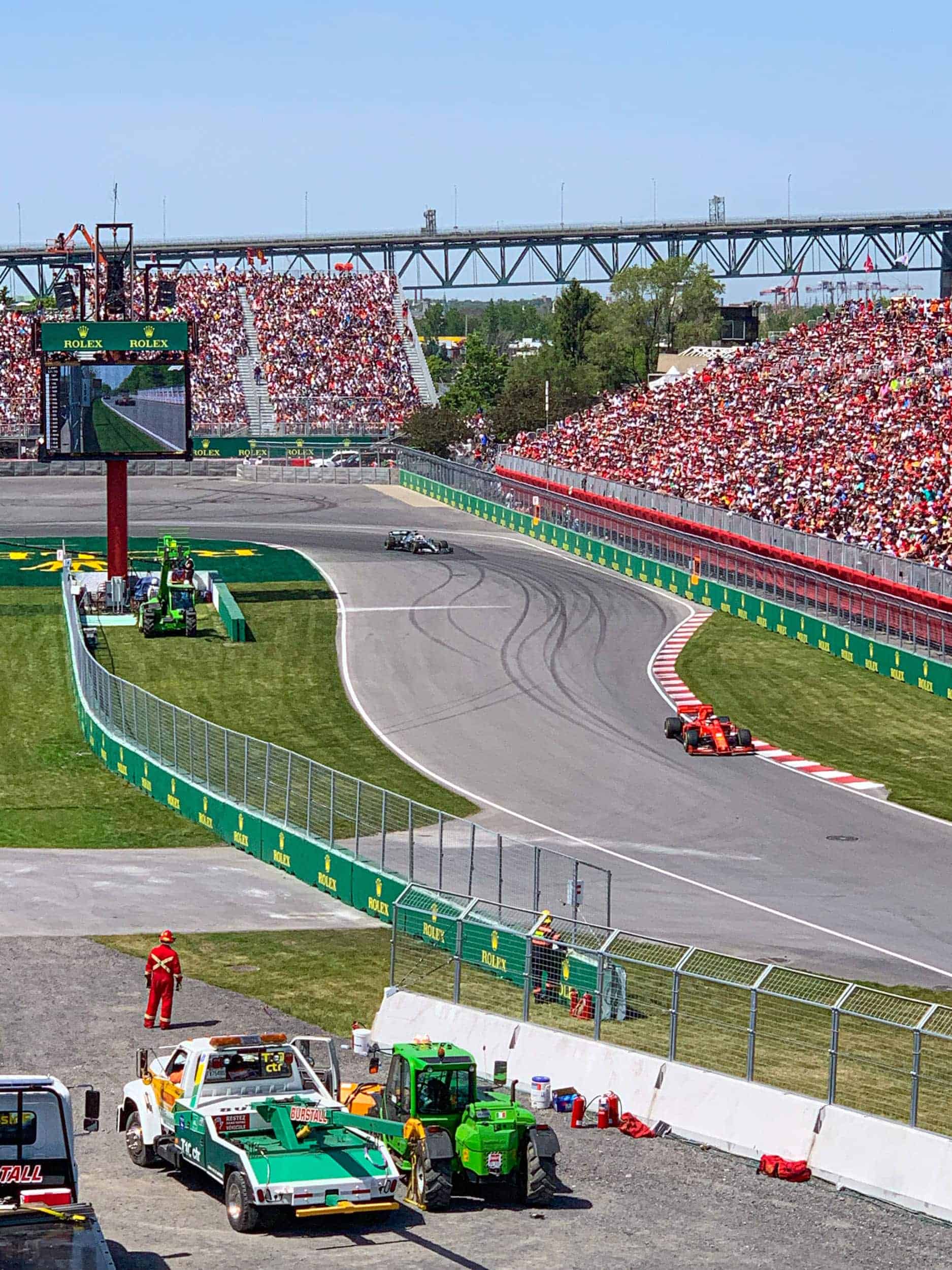 Watching the Race
In red for Ferrari, Sebastian Vettel began the race in the pole position and dominated through 48 laps.
It was his race to lose. Unfortunately, he made a mistake that gave Lewis Hamilton, driving for Mercedes, the lead (and ultimately, the win).
With Lewis Hamilton hot on his heels, Vettel veered off the track into grass momentarily.
He brought the car back onto the track. However, officials penalized him for five seconds, stating his recovery was dangerous to other drivers.
Specifically, Hamilton, who at best lost a chance to pass Vettel to take the lead and, at worst, was almost struck by the Ferrari driver.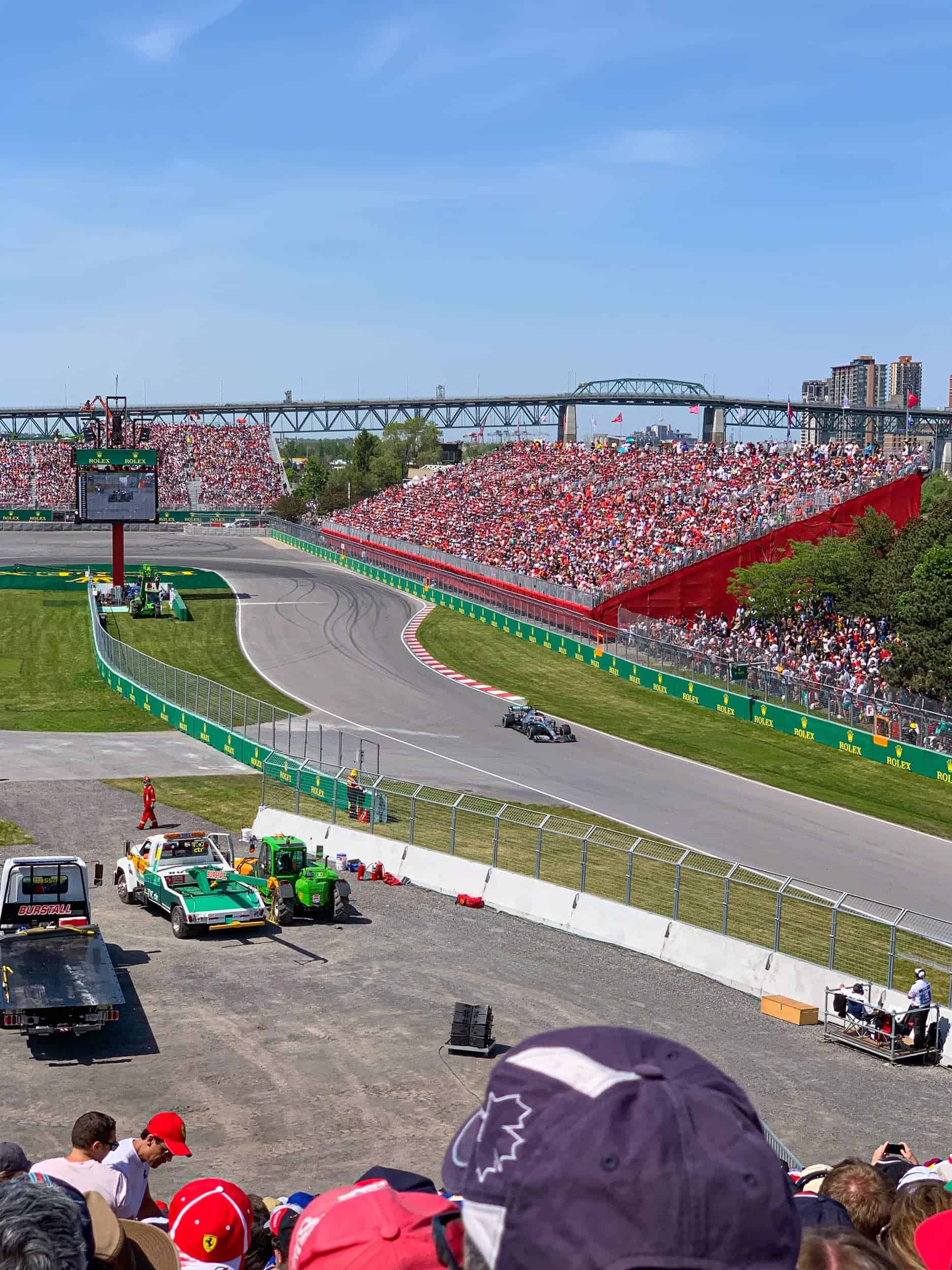 These events happened in a different part of the track, so I couldn't see them live.
There's a jumbo TV screen inside Turn 10; however, I was a bit far from it, and it could be hard to follow what was going on.
My T-Mobile connection in Canada wasn't working correctly, so I lacked mobile internet to follow the race.
I had to rely on the guy sitting next to me to clue me in when I asked what was going on.
The race was over faster than I expected. It was all but clear Hamilton would win in the final laps, so I left early to beat the crowds of Canadian F1 fans to the metro.
I was able to get back to the Hotel M Montreal in about 15-20 minutes, where I chilled out in the air-conditioning for a while.
As other guys returned to the room from the race, they discussed the controversial penalty that handed Hamilton the win.
Sebastian Vettel finished second, and Charles LeClerc, also driving for Ferrari, came in third. Max Verstappen, the future winner of the 2021 World Championship, came in fifth for Red Bull.
I wrapped up my first Canadian Grand Prix weekend with delicious, artery-clogging poutine at Frite Alors near the hostel.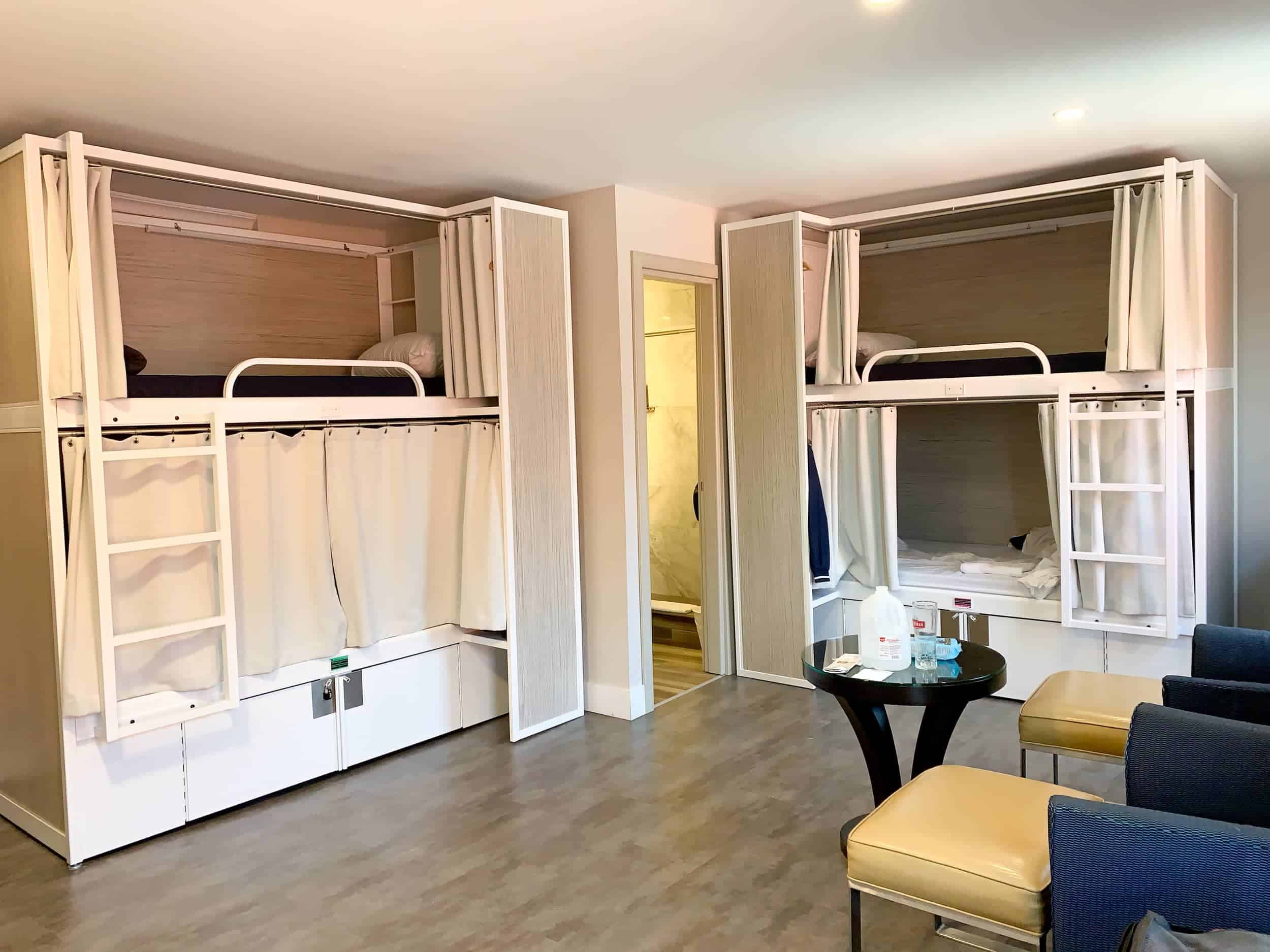 Plan Your Canadian Grand Prix Weekend
Tickets
Buy direct from Formula 1 Grand Prix du Canada for the best rates on tickets. And keep an eye out for pre-sale tickets.
I found there were still plenty of tickets available one month out from the race; it's just that I waited another few weeks to buy, and by then, it was sold out (and I had to use StubHub).
Where to Stay
Hotel M Montreal (Author's Pick) – this boutique hostel is the clear favorite in Montreal based on the 9.5 guest rating on Hostelworld.
The bunk beds are sturdy and include privacy curtains, secure lockers, reading lights, and electric outlets.
Whether you're in town for the Grand Prix or sightseeing, the location is excellent. There are several rooftop jacuzzis and a bar in the basement for socializing. Check prices on Hostelworld.
HI Montreal – As an alternative, the HI Montreal Hostel is downtown, closer to some of Montreal's terrific museums and the pre-race fan festival on Crescent Street.
However, the trip to/from the race track via metro will be longer. The hostel has a solid 9.2 guest rating on Hostelworld.
Where to Eat
Montreal is full of cheap eats and excellent mom-and-pop restaurants.
A few of my favorites included Wilensky's Light Lunch (34 Avenue Fairmount O, wilenskys.com) and Beauty's Restaurant (93 Mont-Royal Ave W, beautys.ca).
Check out Feastio for my complete list of the best places to eat in Montreal.
Dave is the Founder and Editor in Chief of Go Backpacking and Feastio. He's been to 66 countries and lived in Colombia and Peru. Read the full story of how he became a travel blogger.
Planning a trip? Go Backpacking recommends: