Note: This is part one of a two-part series.
[I]n 2012, I saw some of the most epic landscapes our planet has to offer.
I achieved my primary travel goals of 1) seeing more of South America, and 2) touring Europe in between two travel conferences.
But, the fast pace of travel left me burnt out by year's end. Giving myself two and a half weeks to decompress in Florida, followed by the upcoming four months in Medellin, is exactly what I needed.
I have yet to write about much of what I've seen in 2012, so please consider this a brief look back, as well as a preview of what's to come in early 2013.
Lima, Peru
I quietly celebrated New Year's Eve in Lima with a Peruvian friend, and continued to enjoy the Summer atmosphere there.
The weather is nicer, and you can see a bit more blue sky in Miraflores, the neighborhood where I lived. Plus, I visited several beaches south of the city.
By early February, I'd realized I was a man without a dream, having already achieved my trip around the world and location independence.
I resolved to simply take life one day at a time, and not lose sight of the fact that I'm still doing the work I want to do, where I want to do it.
Patagonia
In early March, I flew from Lima to Buenos Aires, ahead of my trip to Patagonia with G Adventures.
Within a few days, we were hiking around Fitz Roy mountain, and fulfilled a childhood dream to go ice climbing! They even surprised us with a walk under Viedma glacier, which was a first for me.
From El Chalten, we took a short drive to El Calafate to see Perito Moreno Glacier, which was spectacular.
Every night, Christian, our guide, would take us to terrific restaurants where we'd feast on the best food in Patagonia, including fresh fish, lamb, and King crab chowder (my favorite).
In Torres del Paine, which had recently suffered damage due to wildfires, we hiked to the Three Towers, as well as up the French Valley.
Later, from Ushuaia, the southernmost city in South America (and the world), we visited wild penguins, and I flew a plane for the first time!
Buenos Aires, Argentina
Back in Buenos Aires, I settled into a new studio apartment in the charming Palermo Soho neighborhood.
I began taking tango lessons, reviewed a popular tango dinner show, attended a Boca Juniors soccer match, went on a graffiti tour, and sampled the famous Argentinian steaks in several popular parillas.
Despite being one of Latin America's most popular cities, I didn't feel a connection. I was happy to visit, but it's not some place I'd choose to live.
Uruguay
I hopped a ferry from Buenos Aires to Montevideo, capital of Uruguay.
I didn't think much of it, and quickly left for Punta del Este, which is considered the French Riviera of Latin America. While the reputation may be well deserved, it's only true during the Summer (December to February). By the time I got there in May, the city was eerily empty.
I knew Cabo Polonio, a small hippy village by the beach would also be empty, but I decided to check it out anyways. I left the next day for Punta del Diablo, which you can probably guess, was empty too.
Only this fishing village wasn't a big city like Punta del Este, nor too small to support tourism in the off-season like Cabo Polonio. It was just right, and I enjoyed a few days of having the beach town to myself.
My last stop in Uruguay was the historic city of Colonia, which is a popular destination for daytrippers from Buenos Aires.
I'd heard Uruguay was expensive, but I was surprised to find that even in the off-season, the cost of travel is higher than Argentina.
More of Argentina
From Uruguay, I crossed back into Argentina and headed west to Rosario, which didn't do much for me. Cordoba was better, and I took a fun day trip to Che Guevara's childhood home in nearby Alta Gracia. His old house is now a museum.
After Patagonia, Mendoza was my second favorite place in Argentina. I took a regular wine tour, and later reviewed a bicycle wine tour too.
Fall was a particularly picturesque time to be there, and if I were to live in Argentina, Mendoza would be the frontrunner.
Chile & The Atacama Desert
The bus from Mendoza to Santiago offered excellent mountain scenery, and I'd recommend it over flying. I spent five days in Santiago, but the pollution was on par with what I'd seen in Hong Kong and China.
People complain about air pollution in Medellin, but it's not nearly as bad. Unfortunately, I left without experiencing the true natural beauty of the surrounding mountains.
The highlight of my stay was a visit to the Concha y Toro winery about an hour outside the city. I then spent a rainy weekend in Valparaiso, before flying north to San Pedro de Atacama.
The Atacama Desert's scenery was stunning, and it is without a doubt, one of my favorite new destinations of 2012. This is the desert where NASA goes to test their robotic rovers for missions to Mars.
Snow-capped mountains jutting up from the desert landscapes, and multi-colored lagoons were just a few of the scenes I saw. Plus, there are tons of activities on offer, from nightly astronomy tours to sandboarding.
Bolivia
Most backpackers arrange their trips to the Bolivian Salt Flats from Uyuni in Bolivia, but it's also possible to do so from San Pedro in Chile.
My 3-day journey from San Pedro to Uyuni was incredible. Sleeping at an altitude of 4,300 meters the first night left me with painful finger tips for the next week and a half, as my body couldn't adapt to the 2,000-meter altitude difference overnight. Surprisingly, I didn't suffer from much else, such as headaches or nausea.
In a rush to return to Peru, I'd only spend two weeks in Bolivia, when South America's cheapest destination really deserves a solid four to six weeks.
I made an ill-fated attempt at a mining tour in Potosi, the world's highest city, and attempted to bribe my way into San Pedro Prison in La Paz. I also missed out on biking the world's most dangerous road, and hunting for anaconda in the Amazon.
I'd love to see more of Bolivia some day, but I'm not in any rush to get back.
Peru
I returned to Peru via the longest bus ride of my life, from La Paz to Lima. Within a few days, I was suffering severe back pain, resulting in a few visits to an orthopedist.
Despite the bad back, I had a wonderful time spotting jaguars and other wildlife on a week long trip into the Amazon.
Back in Lima, unable to sit for long periods of time, due to the pain in my lower back, I didn't get much done.
The cool Winter weather, and the small micro-studio apartment I was renting, weren't conducive to writing. I spent time with friends, and managed to belt out my first karaoke song in Spanish (Colgando en Tus Manos).
Colombia
My last stop on the continent was a brief two-week visit to Medellin. Upon arrival, I immediately remembered why I loved the expat life there, only now I had a much better idea of how it stacked up against other major cities in South America.
I spent my time catching up with friends, trying new restaurants like Carmen and Naan, the city's first Indian spot, and visiting the city's castle and zoo.
Recounting all these experiences, it's hard to believe they all happened within the first eight months of 2012. Check back tomorrow to see how I spent the final four months of the year.
Click here to read my 2011 year in review.
____________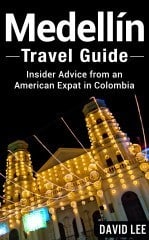 Dave's 138-page, all-original Medellín Travel Guide is now available for Kindle and PDF.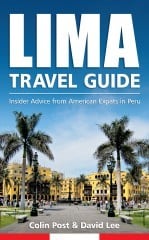 Dave's 160-page, all-original Lima Travel Guide is now available for Kindle and PDF.
Dave is the Founder and Editor in Chief of Go Backpacking and Feastio. He's been to 66 countries and lived in Colombia and Peru. Read the full story of how he became a travel blogger.
Planning a trip? Go Backpacking recommends: